Spicy Poke Nachos are out of this world! Inspired from a dish at Kawaihae Kandyz in Hawaii, they're super fresh and delicious. A little spicy, they're served with the perfect gluten-free chips.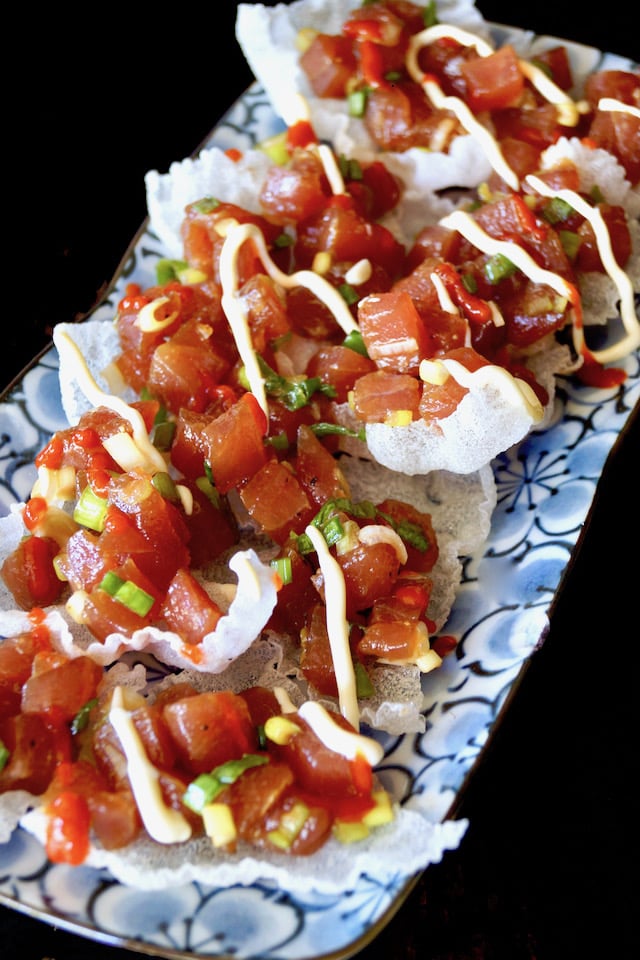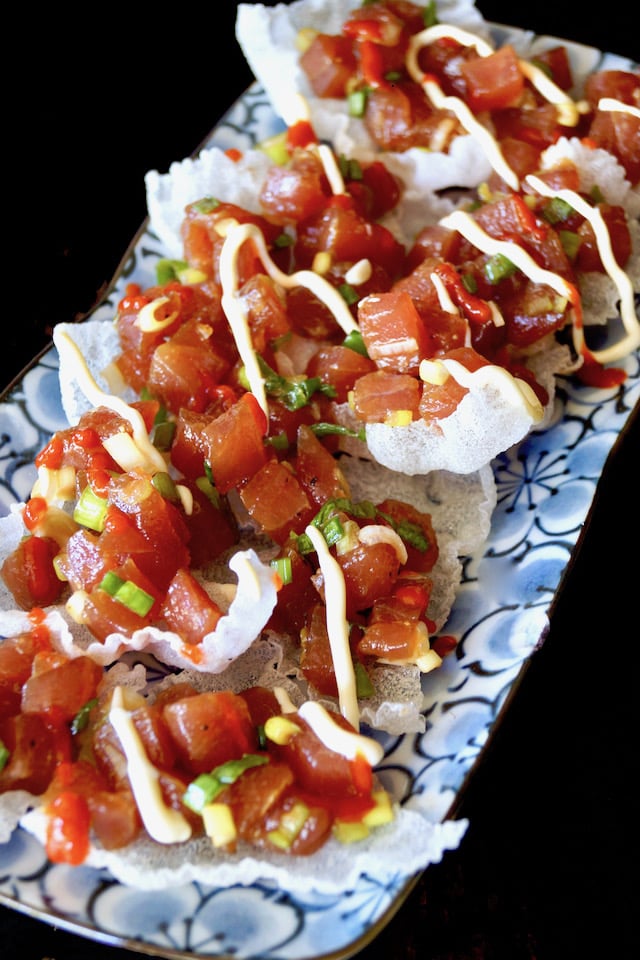 By the end of our week on the Big Island of Hawaii, I'd asked every local I'd met what their favorite place to eat was.
I promise you, this is how you will find the best, most authentic food! It's almost always where the locals eat!
Remember when I went to Hawaii a few years ago, that's how I found the Hale I'A Da Fish House, that I loved so much?
Don't get me wrong, there are plenty of other restaurants with fabulous menus and gorgeous, tasty food — and we ate at those, too.
For me though, part of traveling to other places is learning about their culture through their food, and the best way to do that is to go to the off-the-beaten-path places.
Inspiration
At least three locals told me about Kawaihae Kandyz, so I had to try it.
It was about 45 minutes away from our resort, the Fairmont Orchid (about 30 minutes north of Kona). And it was well worth the (beautiful) drive!
I was so excited to pull up to this colorful building where the restaurant was located.
The colors were so fun — just like the food!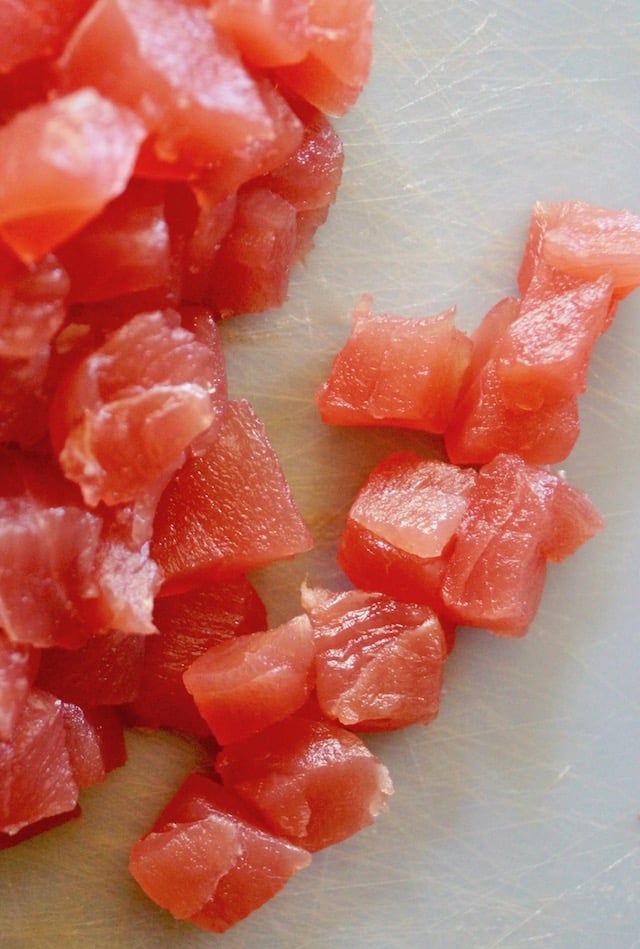 What is Poke?
In Hawaiian, the word poke simply means "chunk."
Throughout history, poke could refer to any meat or seafood that was cut into small pieces and marinated. Today though, it will usually refer to seafood, and most often ahi tuna.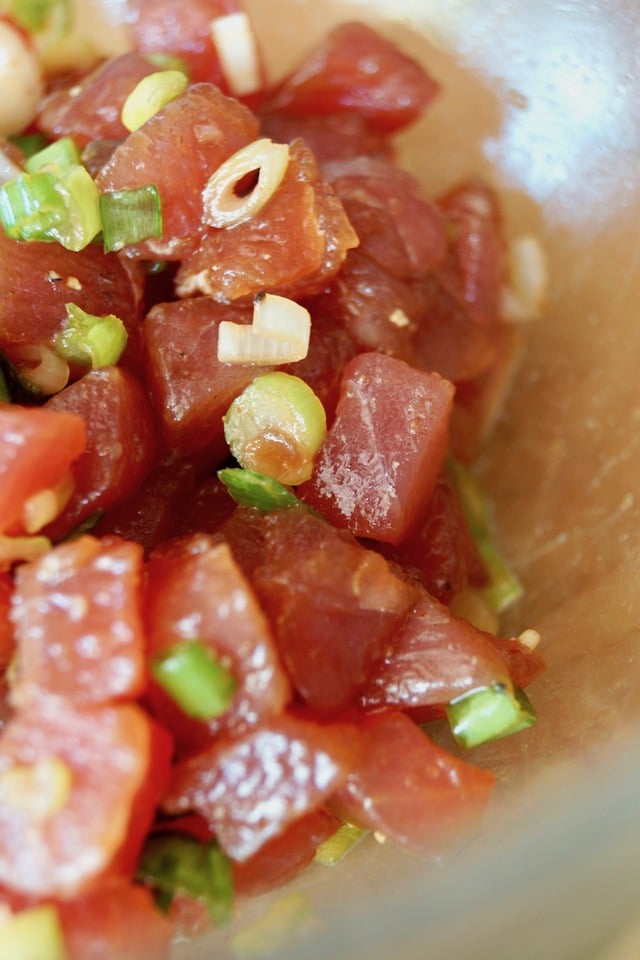 At Kawaihae Kandyz you order at a window, and there's only outdoor seating — a handful of small tables and a long counter with chairs. It's perfect.
Though they have fish tacos and several sides, like kimchi, pickled cucumber and mac salad, the menu is all about poke.
So of course I ordered the Poke Sampler and the Kandyz Sampler — this way I was able to try almost everything.
Each and every bite was absolutely delicious. Spot on!
Spicy Poke Nachos
Today I'm sharing a recipe I created for Spicy Poke Nachos, inspired by those included in the Kandyz Sampler.
It's similar to theirs, but not exactly the same. Their nachos were served on crispy wontons and included a bit of seaweed and different sauces. Oh, and their ahi tuna was likely only out of the ocean for an hour! It was SO fresh!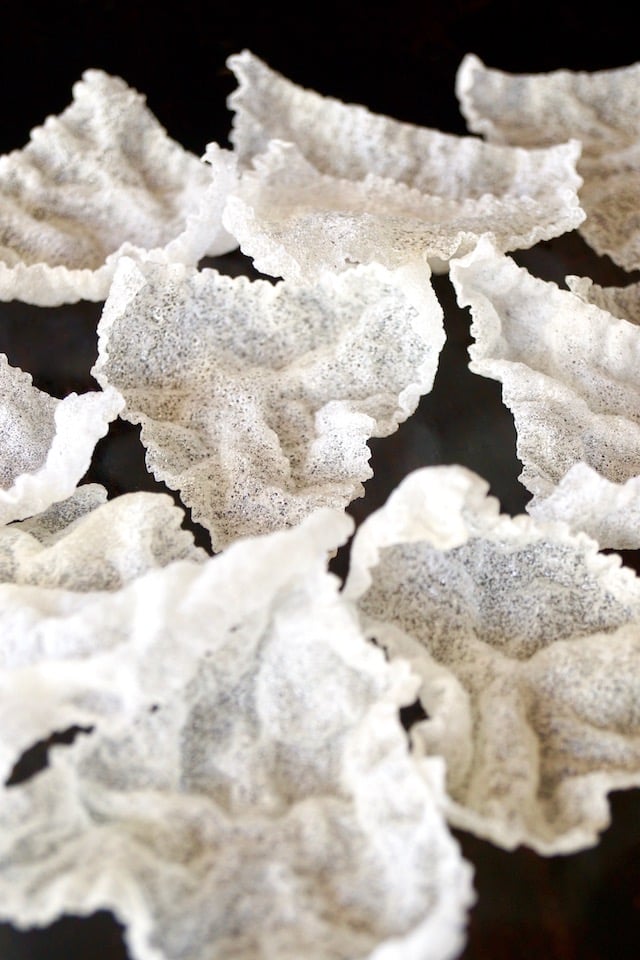 I made "chips" out of rice paper to keep the dish gluten-free so my son with Celiac wouldn't miss out.
I might have even preferred them— they're so light!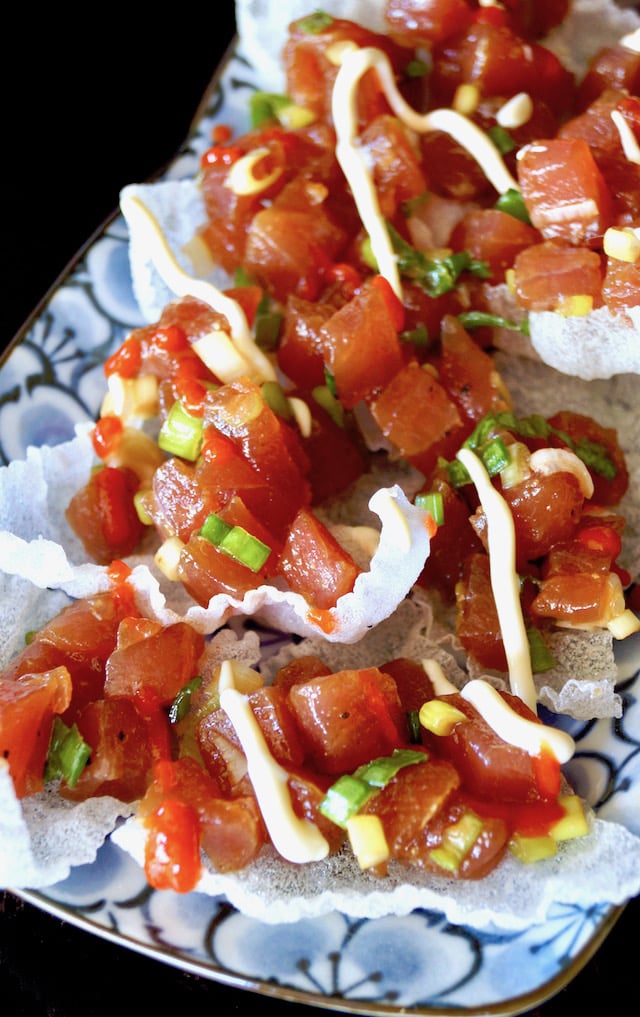 These Spicy Poke Nachos are an explosion exquisite flavors and textures. I really hope you try it! And should you find yourself on the Big Island in Hawaii, you should definitely try Kawaihae Kandyz.
Kawaihae Kandyz:
54-3886 Akoni Pule Hwy, Kapaau, HI 96755 | (808) 896-2767 | Hours: Wed – Sat, 11 a.m. to 7 p.m.

Spicy Poke Nachos Recipe
Spicy Poke Nachos are out of this world! Inspired from a dish at Kawaihae Kandyz in Hawaii, they're super fresh and delicious. A little spicy, they're served on the perfect gluten-free crunch.
Keyword:
appetizers for parties, appetizers for sharing, fish for dinner party
Ingredients
1

teaspoon

light sesame oil

1

teaspoon

Tamari

1/2

teaspoon plus a bit more for drizzling

Sriracha sauce

1

scallion (white and green portion),

finely chopped

1/4

pound

sushi grade Ahi Tuna

3

tablespoons

grapeseed oil for frying

(amounts will vary -- see instruction no. 3)

2

(approximately 6-inch diameter)

rice papers

mayonnaise for drizzling
Instructions
In a small mixing bowl, combine the sesame oil, Tamari, Sriracha sauce and scallion. Stir to blend and and set aside.

Cut the tuna into a small dice and add it to the bowl. Mix to be sure it's well coated with all of the ingredients and set aside.

In a large heavy-bottomed saucepan, over medium-high heat, heat about 3-inches of the grapeseed oil to 340 degrees F. (Amounts will depend on the size of the pan you choose.)

Cut the rice papers into six triangles each with scissors, and line a baking sheet with a layer of paper towels.

Once the oil is hot, drop the rice paper triangles into it, being sure there is space between them. They will turn bright white and puff up in literally 1 or 2 seconds. Use a slotted spoon to remove them and place them on the towel-lined baking sheet. Once they've cooled, arrange them on a serving platter and then evenly distribute the poke on top.

Drizzle gingerly with a bit of the Sriracha and mayonnaise.

Serve!
Recipe Notes
If you don't have a thermometer, to check the temperature of the oil, you can test it with a tiny piece of the rice paper. If it instantly sizzles and puffs up, it's ready.
Cooking On The Weekends is a participant in the Amazon Services LLC Associates Program, an affiliate advertising program designed to provide a means for sites to earn advertising fees by advertising and linking to Amazon.com.