This Lamb Lasagna Recipe is unique, hearty and has a Greek vibe. It's packed with aromatic, delicious strong flavors. From the Feta cheese and fresh basil, to the tender chunks of meat and warming spices, this is the epitome of comfort food!
It's going to be a long day. My dad was just wheeled into surgery — 6 hours of open heart surgery, that is.
As you probably know, I typically keep my writing to food, but there is a connection — and well, there's not much else on my mind today.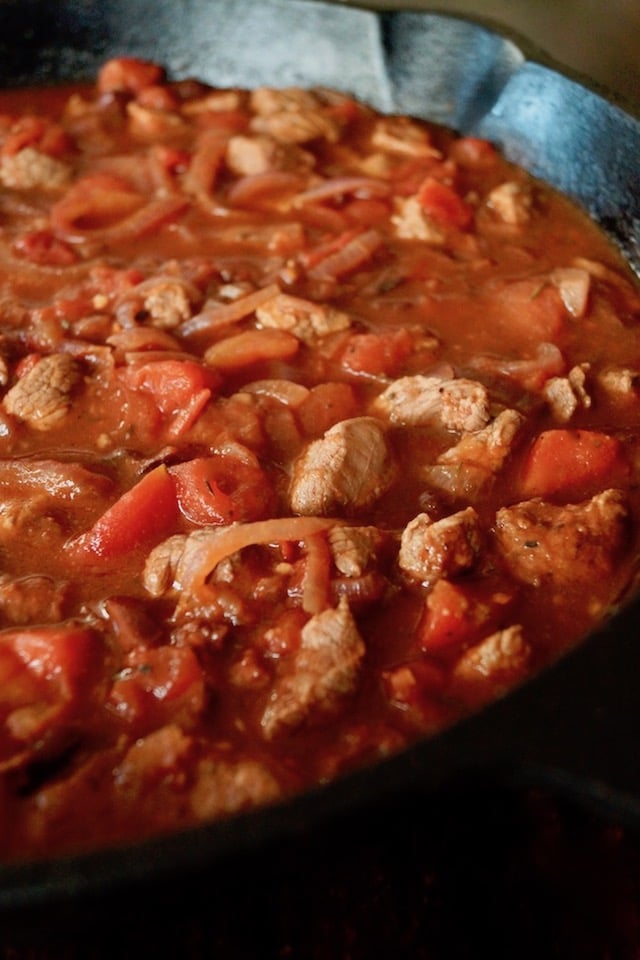 I made this recipe, as well as a few other interesting casseroles specifically for this difficult week.
Some for my sweet mom, who's not well and can't visit my dad in the hospital, and some for my loving aunt who's staying with her and her caregivers.
And the rest is packaged in single servings in the freezer for my dad when he returns home home.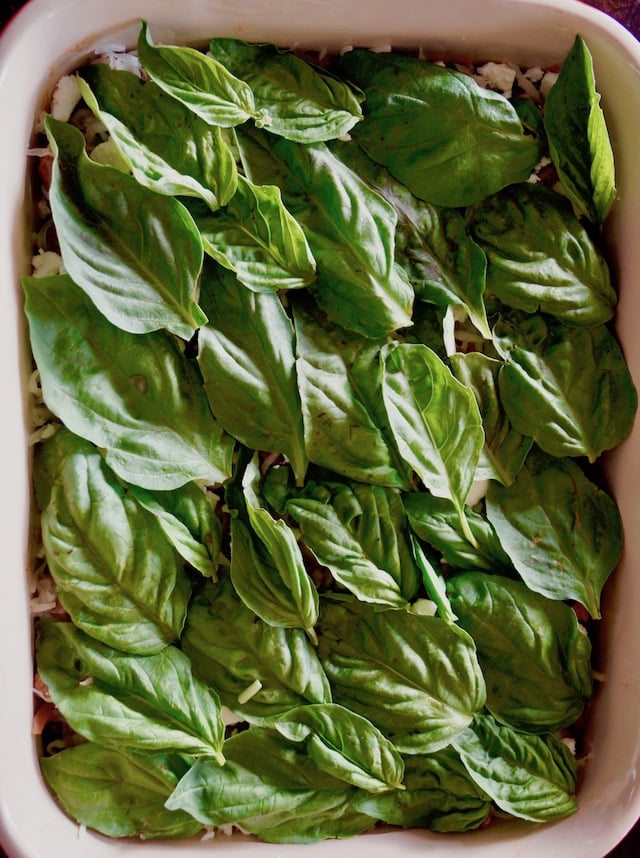 This Lamb Lasagna Recipe is perfect in this situation . . .
First, it's incredibly tasty, as food always should be!
Second, the textures and flavors combined, make for a comforting eating experience. (Yes, it's an experience!)
And third, it freezes very well, so you can make large quantities and have it on hand for a while.
Don't get me wrong, this meal is not just for those who are in need of comfort — though I think everyone appreciates a little comfort. 😉
When to Serve it
This lasagna is also wonderful to serve at a party, for a family weeknight dinner, or even to reheat for a quick lunch. Everyone will love it!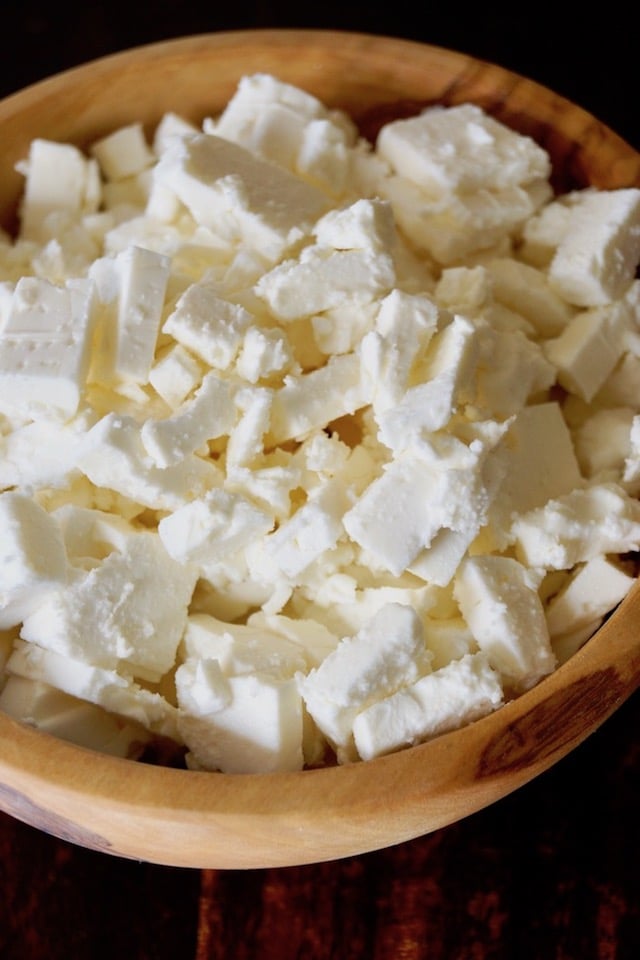 This lasagna is a Greek-Style recipe.
What's in this Lamb Lasagna Recipe that makes it Greek (ish)?
This recipe has a delicious combination of Feta, Kalamata olives, red onions, tomatoes and lamb that makes me think Greek. There you have it.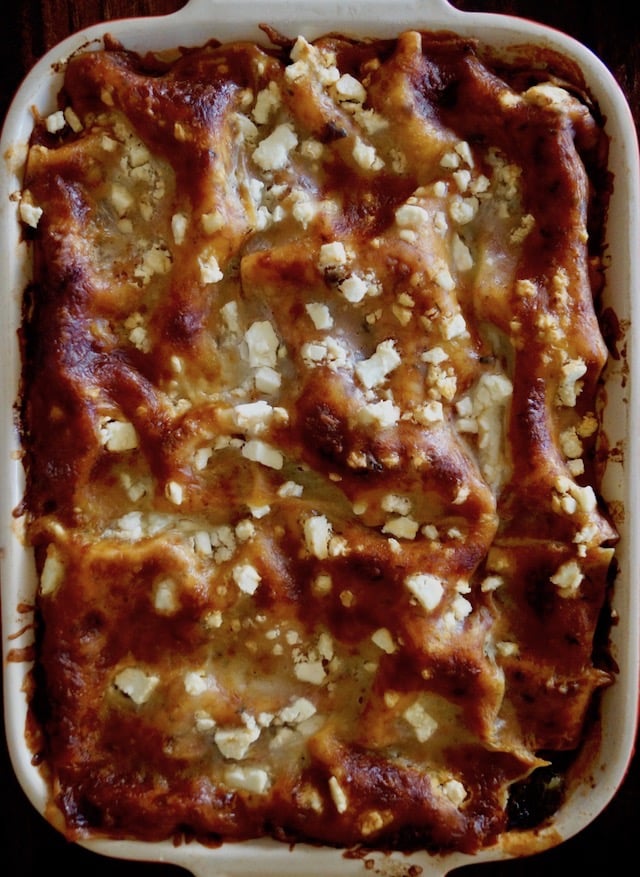 I hope you love this Lamb Lasagna Recipe as much as I do!
Here are a couple other tempting lasagna recipes: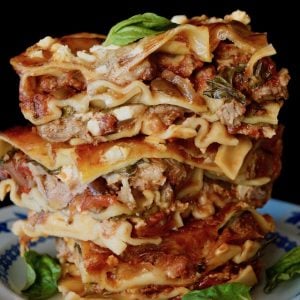 Greek-Style Lamb Lasagna Recipe
This unique, hearty lamb lasagna is packed with aromatic, delicious strong flavors. From the Feta cheese and fresh basil, to the tender chunks of meat and warming spices, this is the epitome of comfort food!
Keyword:
unique pasta recipes, fall comfort food recipes
Ingredients
3

tablespoons

olive oil,

plus a bit more for the pan and drizzling over the lasagna

1

tablespoon

garlic,

minced

1

teaspoon

rosemary

finely chopped

1

teaspoon

dried thyme

1 3/4

pounds

boneless leg of lamb,

excess fat removed & cut into small bite-sized pieces (about 1/2-inch pieces)

2

cups

red onion,

thinly sliced

1

tablespoon

tomato paste

1

(28-ounce) can

diced tomatoes in juice

1/4

cup

dry red wine

1

cup

Kalamata olives,

pitted, roughly chopped

1/2

teaspoon

ground cinnamon

sea salt and freshly ground black pepper

about 1 dozen

no-boil lasagna noodles

see notes

2

cups

Feta cheese

crumbled or cut into small pieces (about 10-ounces)

2 1/2

cups

mozzarella cheese,

grated

3 to 4

bunches of basil - washed and dried, stems removed

you will need about 4 dozen large leaves
Instructions
In a large bowl or baking dish, mix the 3 tablespoons of olive oil with the garlic, rosemary and thyme. Add the lamb and mix to be sure all of the pieces are well coated. Cover with plastic wrap and let it marinate for 30 minutes.

While the lamb is marinating, coat the bottom of a large sauté pan with olive oil and place it over medium heat. Add the onion and cook, stirring often, until soft and golden, about 10 minutes. Add the tomato paste and mix, and cook until it's very aromatic, about 1 minute. It's okay if some of the tomato paste browns on the bottom of the pan.

Turn the heat off until the lamb has marinated for 30 minutes — then, turn the heat to medium-high and add it to the onions. Stirring often, cook for about 5 minutes.

Preheat the oven to 375°F.

Add the tomatoes, wine, olives and cinnamon. Use a flat-bottomed spatula to scrape any ingredients that are stuck to the bottom of the pan and mix them into the liquid. Bring to a boil and then immediately turn the heat to low and gently simmer for 10 minutes. Season to taste with salt and pepper. (

Here's How to Season to Taste

.)

Then add a layer of the no-boil lasagna noodles. Now add about half of the lamb mixture to the noodles, followed by a sprinkling of about 1/3 of the mozzarella and feta cheeses. Top this with a solid, single layer of basil leaves and then add another layer of the lasagna noodles. Then repeat.


Pour any juices left in the pan over the lasagna noodles and then top with the remaining third of both cheeses, and a generous drizzling of olive oil.

Place in the preheated 375°F oven until the top is golden and it's sizzling along the edges of the pan, about 30 minutes. Cover the pan loosely with foil, and bake for another 15 minutes.

Let it cool for about 30 minutes before slicing and serving.
Recipe Notes
No-Boil Lasagna noodles come in various widths and lengths -- any of them are fine, just be sure when you add the layer, you cover the entire surface, even if it means breaking some of the noodles into thinner or smaller pieces.
Cooking On The Weekends is a participant in the Amazon Services LLC Associates Program, an affiliate advertising program designed to provide a means for sites to earn advertising fees by advertising and linking to Amazon.com.