This Lamb Lasagna Recipe is unique, hearty and has a Greek vibe. It's packed with aromatic, delicious strong flavors. From the Feta cheese and fresh basil, to the tender chunks of meat and warming spices, this is the epitome of comfort food!
This Greek style lasagna is incredibly unique and utterly delicious!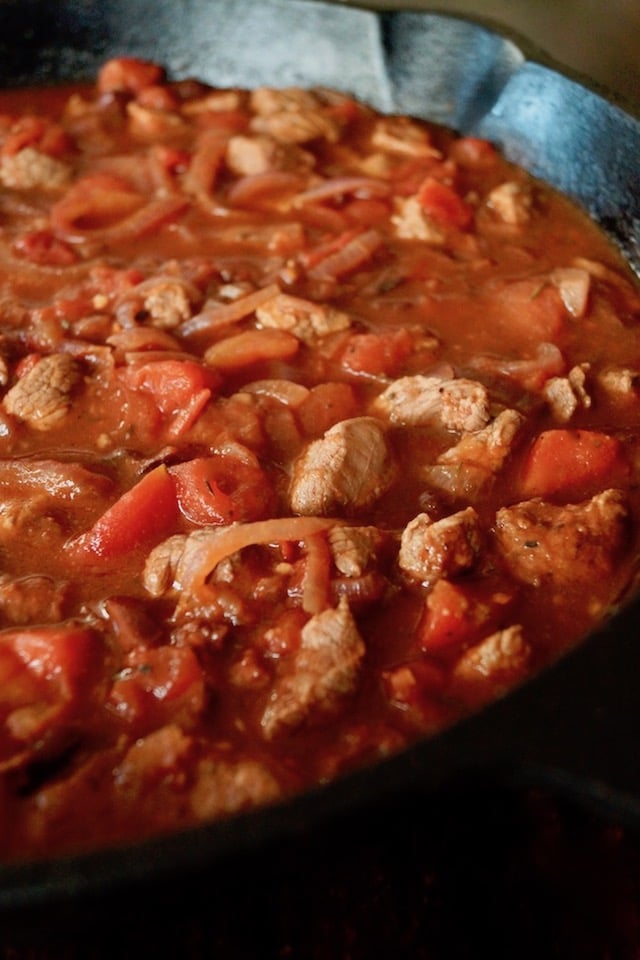 I make this recipe, as well as a few other interesting casseroles often during the cooler months.
I love that it can provide tasty and comforting meals for a few days.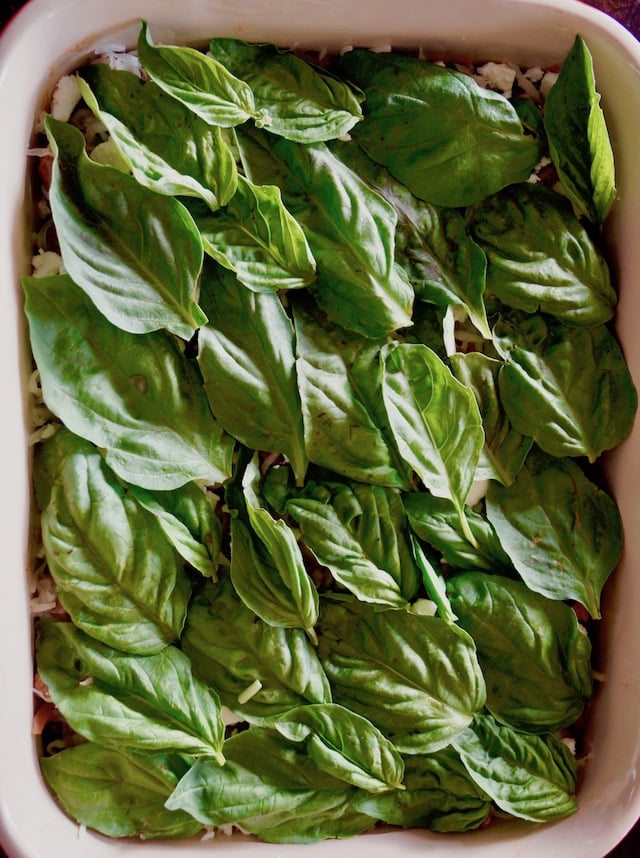 Comfort Food to Make Ahead
This lamb lasagna freezes very well, so you can make large quantities and have it on hand for a while. (Lasagnas and casseroles are perfect when you want to bring someone food if they're going through something and need help.)
You can freeze it (wrapped tightly) for up to two months.
This lasagna is also wonderful to serve at a party, for a family weeknight dinner, or even to reheat for a quick lunch. Everyone will love it!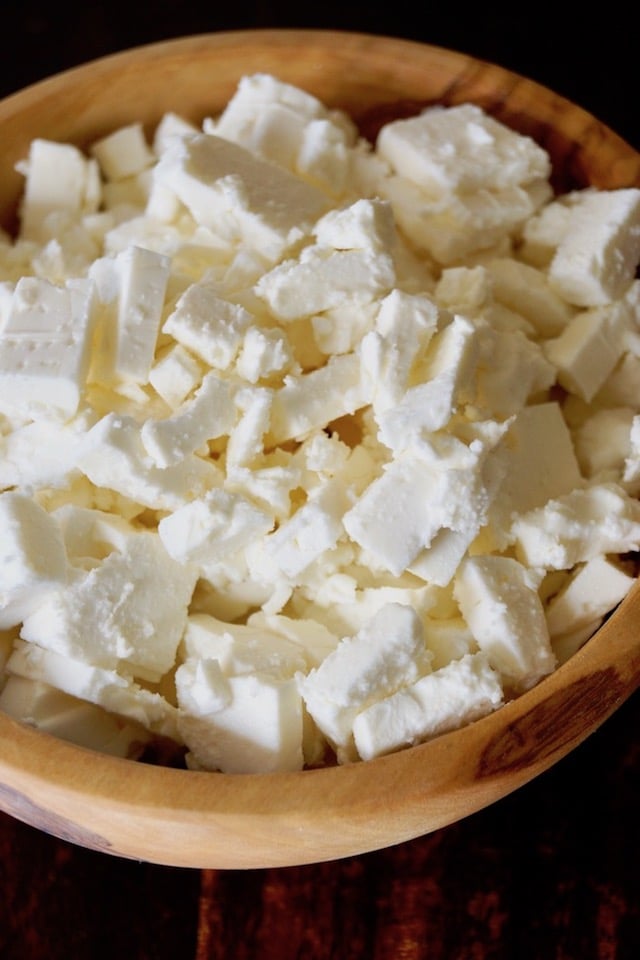 This is a Greek Lasagna of sorts.
What makes it Greek-ish?
This recipe has a delicious combination of Feta cheese, Kalamata olives, red onions, tomatoes and lamb that together give it a Greek vibe.

Recipe Substitutions
I like using no-boil lasagna noodles, as it saves the step of cooking them first, and this is a pretty involved recipe. You can however, use any lasagna noodles you like.
Use ground lamb if you prefer it to the chunks. I'd try to leave it relatively chunky, and follow the same marinating instructions.
I hope you love this Lamb Lasagna Recipe as much as I do!
More tempting lasagna recipes: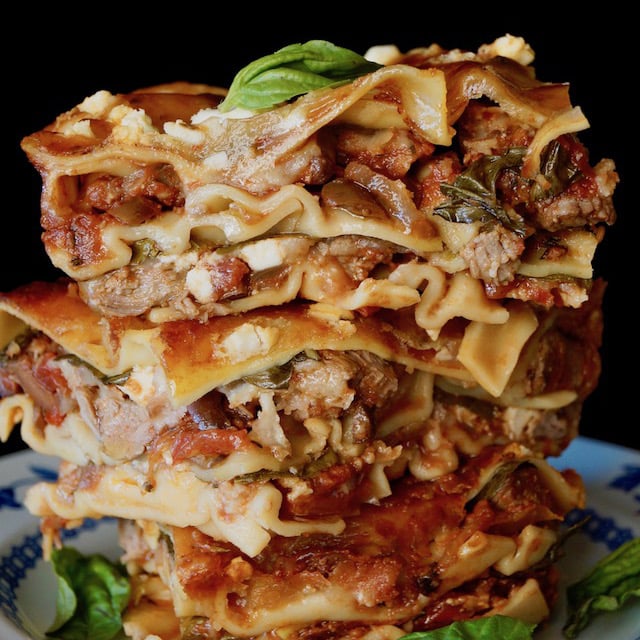 Lamb Lasagna
This unique, hearty lamb lasagna is packed with aromatic, delicious strong flavors. From the Feta cheese and fresh basil, to the tender chunks of meat and warming spices, this is the epitome of comfort food!
Ingredients
3

tablespoons

olive oil,

plus a bit more for the pan and drizzling over the lasagna

1

tablespoon

garlic,

minced

1

teaspoon

rosemary

finely chopped

1

teaspoon

dried thyme

1¾

pounds

boneless leg of lamb,

excess fat removed & cut into small bite-sized pieces (about ½ inch pieces)

2

cups

red onion,

thinly sliced

1

tablespoon

tomato paste

1

(28-ounce) can

diced tomatoes in juice

¼

cup

dry red wine

1

cup

Kalamata olives,

pitted, roughly chopped

½

teaspoon

ground cinnamon

sea salt and freshly ground black pepper

about 1 dozen

no-boil lasagna noodles

see notes

2

cups

Feta cheese

crumbled or cut into small pieces (about 10-ounces)

2½

cups

mozzarella cheese,

grated

3 to 4

bunches of basil - washed and dried, stems removed

you will need about 4 dozen large leaves
Instructions
Marinate lamb. In a large bowl or baking dish, mix the 3 tablespoons of olive oil with the garlic, rosemary and thyme. Add the lamb and mix to be sure all of the pieces are well coated. Cover with plastic wrap and let it marinate for 30 minutes.

Cook onion with tomato paste. While the lamb is marinating, coat the bottom of a large sauté pan with olive oil and place it over medium heat. Add the onion and cook, stirring often, until soft and golden, about 10 minutes. Add the tomato paste and mix, and cook until it's very aromatic, about 1 minute. It's okay if some of the tomato paste browns on the bottom of the pan.

Add marinated lamb. Once the lamb has marinated for 30 minutes, turn the heat to medium-high and add it to the onions. Stirring often, cook for about 5 minutes. (Turn the heat off between the previous step and this one.)

Preheat the oven to 375°F.

Deglaze and spice. Add the tomatoes, wine, olives and cinnamon. Use a flat-bottomed spatula to scrape any ingredients that are stuck to the bottom of the pan and mix them into the liquid. Bring to a boil and then immediately turn the heat to low and gently simmer for 10 minutes. Season to taste with salt and pepper.

Assemble. Coat the bottom of a 9 X 13 X 2-inch baking pan with a thin layer of the liquid from the lamb mixture.

Then add a layer of the no-boil lasagna noodles. Now add about half of the lamb mixture to the noodles, followed by a sprinkling of about ⅓ of the mozzarella and feta cheeses. Top this with a solid, single layer of basil leaves and then add another layer of the lasagna noodles. Then repeat.

Pour any juices left in the pan over the lasagna noodles and then top with the remaining third of both cheeses, and a generous drizzling of olive oil.

Bake. Place in the preheated 375°F oven until the top is golden and it's sizzling along the edges of the pan, about 30 minutes. Cover the pan loosely with foil, and bake for another 15 minutes.

Cool. Let it cool for about 30 minutes before slicing and serving.
NOTES
No-Boil Lasagna noodles come in various widths and lengths -- any of them are fine, just be sure when you add the layer, you cover the entire surface, even if it means breaking some of the noodles into thinner or smaller pieces.
Calorie count is only an estimate.
NUTRITION
Have you tried this recipe?
I'd love to see it on Instagram! Tag me at @cookingontheweekends or leave a comment & rating below.
Cooking On The Weekends is a participant in the Amazon Services LLC Associates Program, an affiliate advertising program designed to provide a means for sites to earn advertising fees by advertising and linking to Amazon.com.