To get a true sense of this French Onion Mushroom Casserole, imagine the best bowl of French Onion Soup you've ever had, only in casserole form. The perfectly toasted French bread, the melting Swiss cheese, the caramelized onions, and all of the hearty, warm flavors of beef, garlic and mushrooms — they're all what make this one of the best comfort foods ever!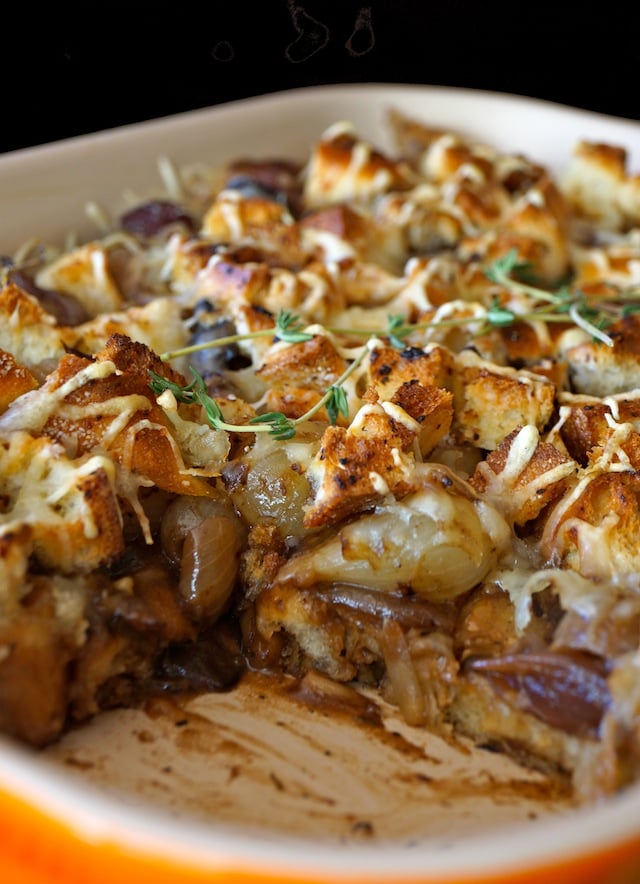 Creative and comforting food for casual entertaining. That's what I do — here on my blog, and in my kitchen. I love cooking for others, but the "entertaining" part could be switched out for "eating," if your prefer. 😉
Creative and Comforting Recipes
The "creative and comforting" part is not only about the end result, but is so much about the cooking process. While I always loved cooking, it wasn't until I studied it in Culinary school, that the process became more important to me. I realized that creating the best comfort foods was more than just putting ingredients together — it's all about how they're put together.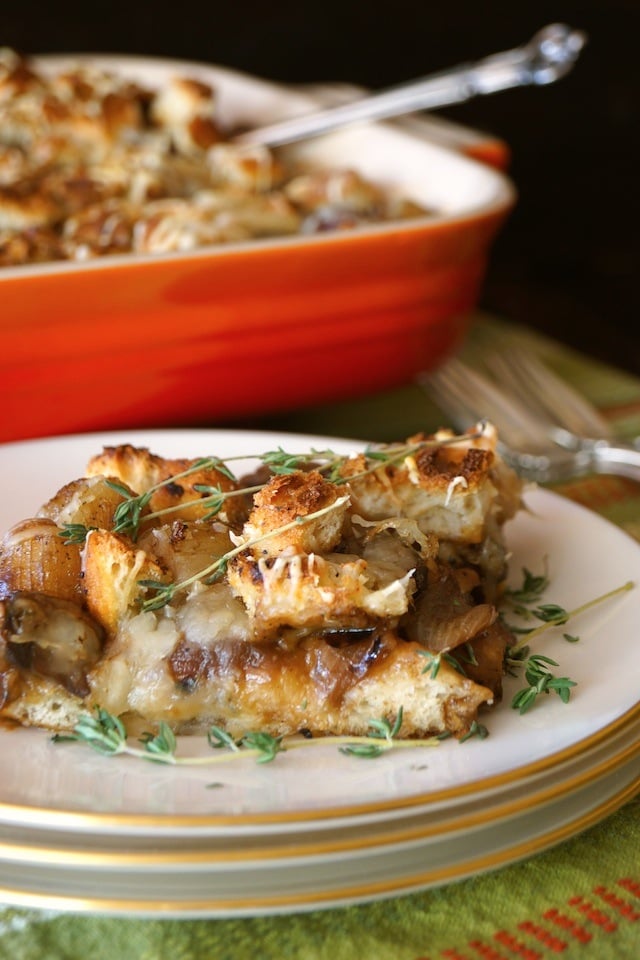 Learning how and when to add certain ingredients to a pan, what to finish with and why — it all just fascinated me. And I learned patience is imperative.
French Onion Mushroom Casserole Requires Patience
You'll need a bit of patience for this recipe, and I promise you, it'll be worth every second! Check it out . . .
You must not deglaze the pan until you've properly browned the ingredients.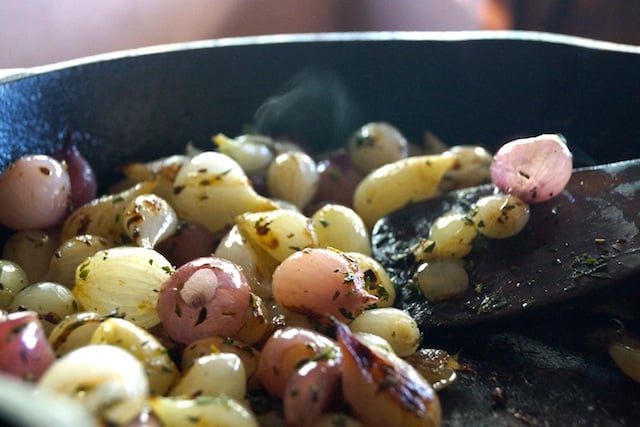 You must wait several seconds after adding herbs, before moving on.
Let the aromatics come out into the room first.
You must let a sauce thicken properly.
If don't wait for a sauce to bubble after adding a thickener, you will not see what consistency you've reached.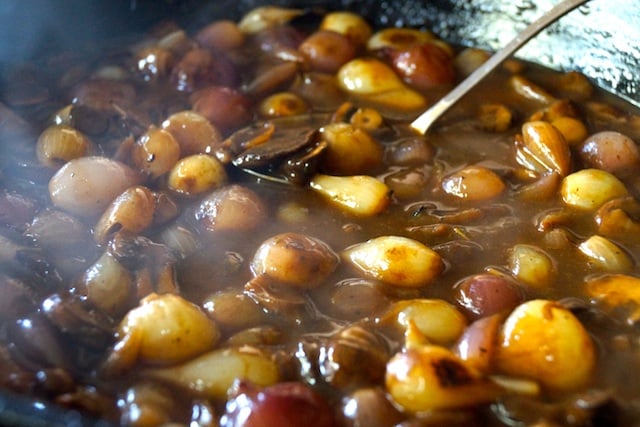 Layer ingredients carefully.
The order in which foods are layered can make a difference in how each bite feels in your mouth.
You must not pull things from the oven too quickly — it's not about time, it about the aroma and the appearance.
Get it?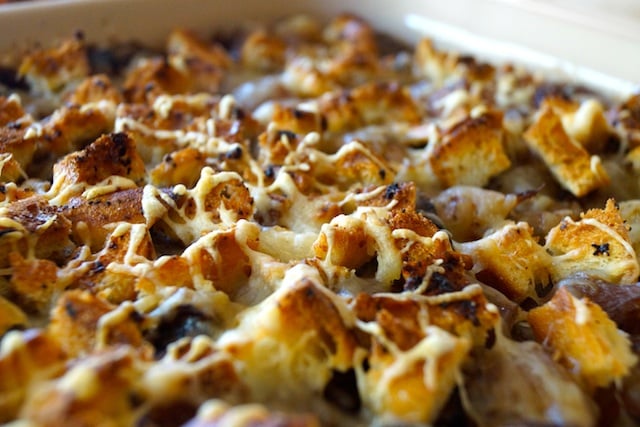 It's been years since Culinary school, but I still find so much pleasure in the process. Sure, a quick and easy dinner is essential on some nights, but when time allows, I could spend all day in the process. That's part of how I achieve the best comfort foods.
The entire process begins with an idea, of course. In this case, the idea was born when Melissa's Produce delivered a huge bundle of gorgeous multi-colored pearl onions to my door.
What was I to do? Make them the star of a dish, obviously.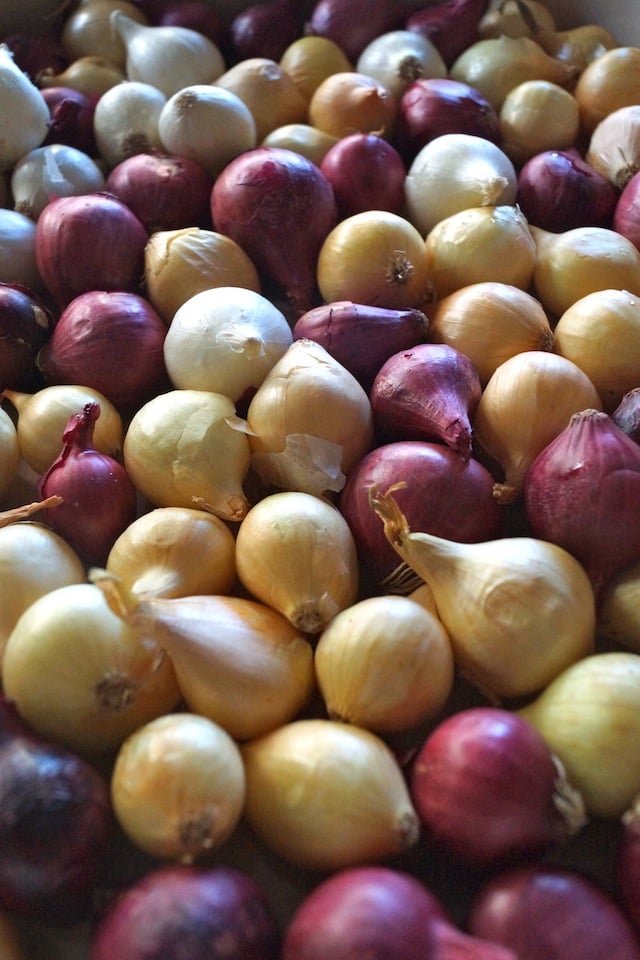 I absolutely love this French Onion Mushroom Casserole Recipe and I think you'll agree that it's one of the best comfort foods of all time.
A few more of my favorite comforting casseroles:
This is not a sponsored post. Melissa's sent me the pearl onions for recipe testing. As always, all opinions are my own and I only write about things I truly love.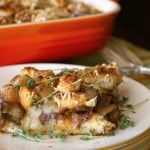 French Onion Mushroom Casserole Recipe
Cuisine:
American, French
Keyword:
make ahead casseroles
Ingredients
olive oil for the pan

8-

ounces

Crimini mushrooms,

washed and dried, thinly sliced

1 1/2

tablespoons

thyme,

finely chopped

2

cups

beef broth

1/2

cup

dry red wine

5

tablespoons

unsalted butter,

softened, divided

2

tablespoons

all-purpose flour

1

(approximately 2 foot)

skinny French baguette

1 1/2

tablespoons

garlic,

minced, divided

1 1/2

cups

Swiss cheese,

grated, divided

sea salt and freshly ground black pepper
Instructions
Preheat the oven to 375°F, and adjust a rack to the top third.

Once you've peeled the onions (

here's how

) -- coat the bottom of a large sauté pan with olive oil and place it over medium heat.

Add the peeled onions and sauté them, stirring periodically, until they're nicely caramelized, 15 to 20 minutes.

Add a bit more oil to the pan, and add the mushrooms. Again, stirring periodically, sauté until they're nicely caramelized, about 10 minutes. Mix in the thyme and cook until it's very aromatic, about 30 seconds.

Turn he heat to low and pour in the beef broth and wine to deglaze the pan. Use a wooden spatula (if you have one -- otherwise a spoon), to gently scrape any bits of stuck onion and/or mushroom from the bottom of the pan, and incorporate it into the liquid. Turn the heat to high and bring to a boil. Then reduce the heat to low again and simmer.

Meanwhile, add 2 tablespoons of the butter to a small sauté pan and melt it. With the heat on low, whisk in the flour. (This is a roux and will thicken the sauce.)

Using a whisk, mix the roux into the onions. Again, turn the heat to high and bring to a boil. Then immediately reduce the heat to the lowest setting and let this simmer, uncovered, for about 15 minutes. Season to taste with salt and pepper. (Here's

How to Season to Taste

.)

While the sauce is simmering, cut about about 3/4 of the baguette into thin slices, diagonally -- about 1/2-inch thick. Place the slices on a baking sheet and set aside.

In a small bowl, mix 2 tablespoons of the butter with 1 tablespoon of the garlic and spread each slice of bread with it. Sprinkle with salt and pepper and place the baking sheet in the preheated 375 degree F oven until the edges are golden, 10 to 15 minutes. Remove from the oven and add the now toasted slices to the bottom of an (approximately) 9 x 13 x 2-inch baking dish. Set aside, and leave the oven on.

Cut the remaining 1/4 of the baguette into small cubes and add them to the same baking sheet you used for the slices. Mix the remaining 1 tablespoon of butter with the remaining 1/2 tablespoon of garlic and melt it in the microwave, or a tiny sauté pan. Drizzle this over the cubed bread on the baking sheet and sprinkle with salt and pepper. Toss gently with your hands to be sure it's well mixed. (Be careful as the baking sheet might still be hot!) Place this in the oven (still at 375°F), until golden, 10 to 15 minutes. Remove from the oven and set aside. Leave the oven on.

Sprinkle 1/2 cup of the cheese evenly over the toasted slices of bread in the baking dish.

Pour the onion sauce evenly on top and then evenly distribute the cubed, toasted bread on top of that.

Sprinkle evenly with the remaining 1 cup of cheese.

Bake in the (still) preheated 375°F oven until it's bubbling along the edges, about 20 minutes.

Let it cool for about 10 minutes and then serve.
Cooking On The Weekends is a participant in the Amazon Services LLC Associates Program, an affiliate advertising program designed to provide a means for sites to earn advertising fees by advertising and linking to Amazon.com.