Hale I'A Da Fish House in Kawaihae, Hawaii is an outdoor, roadside restaurant and fish market. It is absolutely not to be missed if you're in the area!
I love, LOVE, trying the local food when I'm traveling.
When we were in Hawaii on the Big Island, I was on a hunt for the best local food I could find. The resort where we were staying was lovely -- and the food was too -- but, it was not unlike food I could find in lovely restaurants where I live.
It's Where the Locals Eat
On the second day of our vacation, I asked the beach bartender if he was from the area, and if so, could he recommend some places to eat.
He started to name handful of nearby restaurants, that were the opposite of what I wanted -- touristy, expensive, and like the resort, with menus of  -- albeit delicious -- food I could find at home.
So to clarify what I was looking for, I said, "actually, where do you eat?"
Da Fish House
Without any hesitation, he told me about a "fish truck" on the side of the road in Kawaihae.
His face literally lit up when he told me what to order, and that the fish was unbelievably fresh -- brought in each morning from the sea.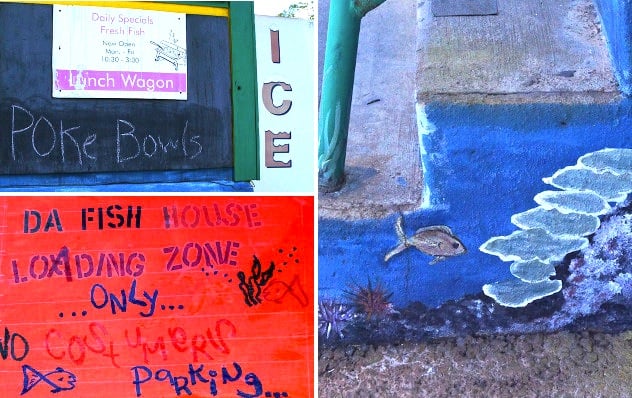 First we spotted a small bright building -- a fish market where you could buy either prepared raw fish dishes, like Poke, or fresh fillets of fish.  And just to its side was an awesome, old, funky truck -- the "restaurant," if you will. Fish from this market also filled the taco shells and plates served from the truck.
Together, the market and truck are called "Hale I'A Da Fish House."
Ahi Poke from the Hale I'A Da Fish House Market.  (Stay tuned for recipe - coming in a few days.)
Fish Prep
Just as we approached the fish store, off to my left, I spotted a door to a small prep kitchen -- an open door through which I could see a man holding up a big, fresh fish. I practically ran to that door, introduced myself and asked if I could watch and take pictures when he cleaned and filleted this gorgeous Mahi Mahi.
He smiled and nodded yes. He didn't say a word, but he smiled from time to time and carried on with his work.
The Mahi Mahi was handled with care, and each cut was very precise.
His process was very peaceful, almost like a meditation.
This was an art.
As we headed over to the truck, my son asked me, "Mommy, why do you like these dumpy places?" I tried to explain the difference between a "dump," and an awesome "dive," telling him that eating food at these cool local places when we travel helps us learn about other cultures.
(And yes, I know Hawaii is in the the U.S., but you know what I mean.)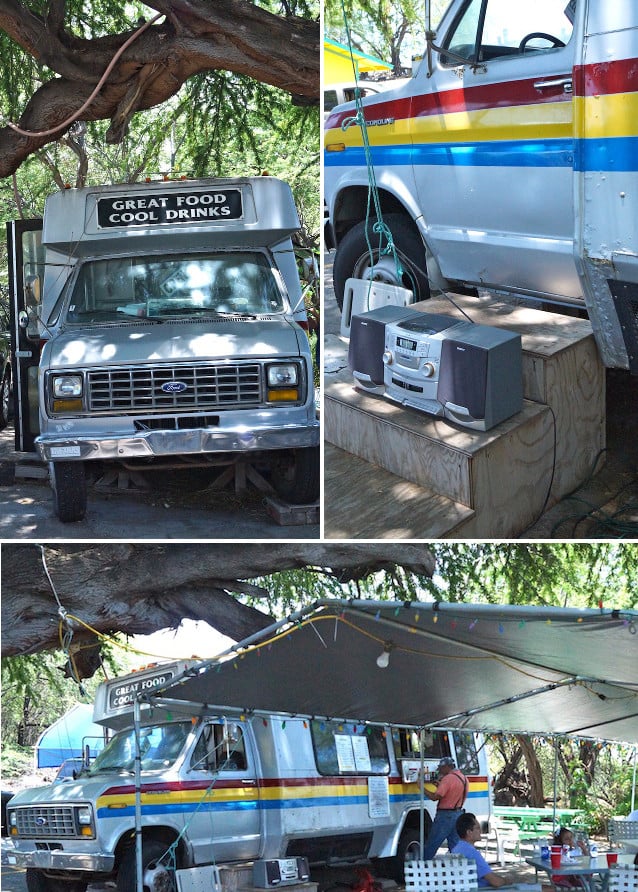 We got some of the freshly made Ahi Poke from the fish market while we waited for our fish tacos from the truck. Two amazingly delicious courses!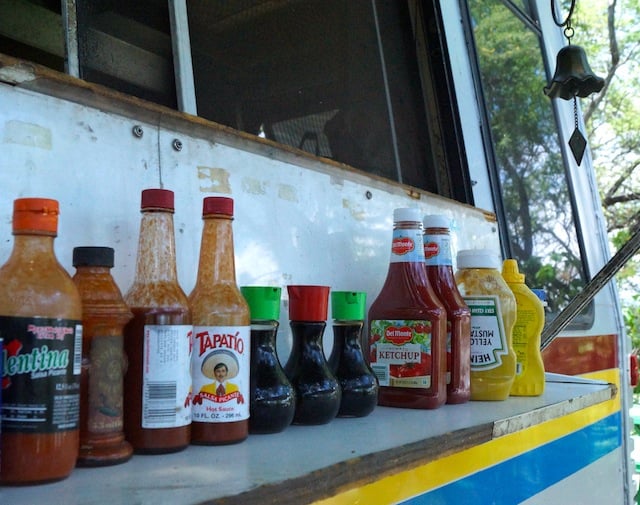 Hale I'A Da Fish House Menu
The menu would change daily, depending on what fish was caught that morning.
The fish tacos were somewhat mind blowing -- Mahi Mahi (yes, from the fish pictured above - the one I'd just watched being filleted), with Cajun spices, pickled cabbage, tomato salsa, guacamole and sour cream. Such a fantastic blend of flavors.  (Stay tuned for this recipe, too -- coming soon!)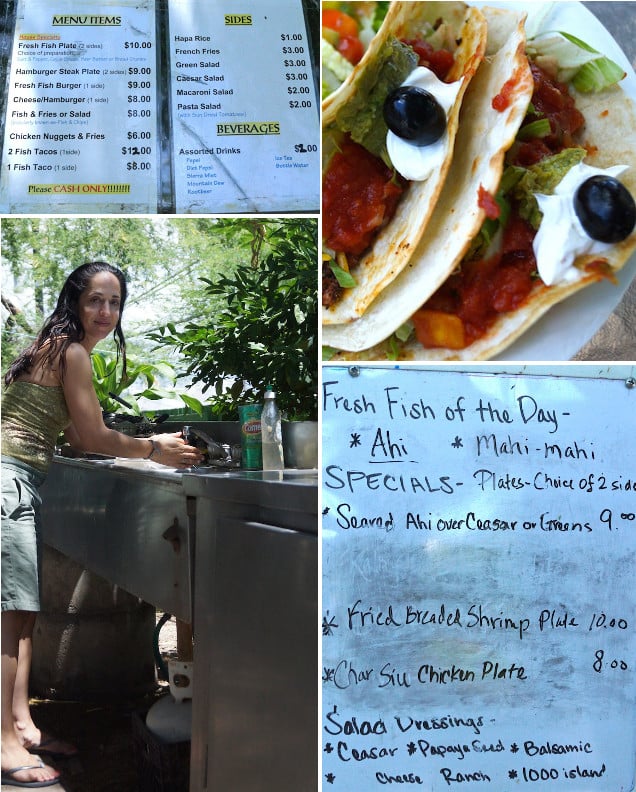 And the cherry on top . . . washing our hands at the sink facing the road and ocean.  My son put this part high on his "dumpy" list -- and I put it on my "cool and funky" list. 😉
We went back almost every day for lunch for the rest of our vacation.  Should you be lucky enough to find yourself in Hawaii on the Big Island, I wouldn't miss this.
Hale I'A Da Fish House Lunch Wagon, 61-3665 Akoni-Pule Hwy, Kawaihae, HI96743

Save