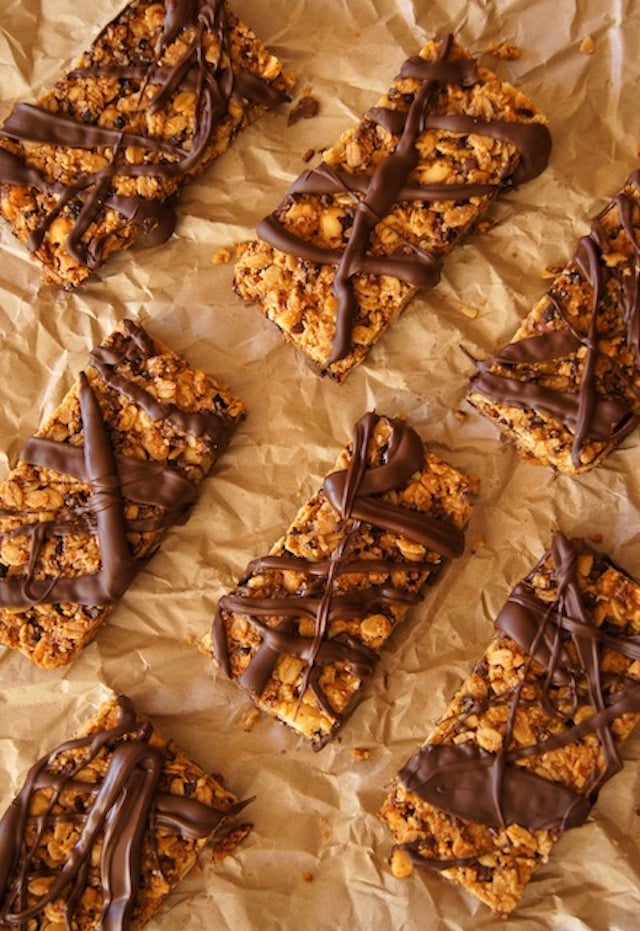 There are granola bars, and there are Roasted Hazelnut-Orange Chocolate Granola Bars.
Since tasting Nutella for the first time as a little kid, hazelnuts have been one of my favorite things in the world.  Their rich, buttery flavor is matched by no other nut.  And when you cook good , your house will be filled with their incredibly delicious and alluring aroma.  (They smell so good, you might just bring people in off the streets.)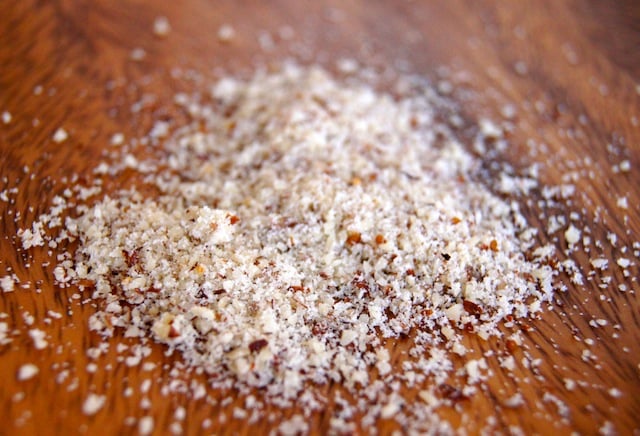 Sometimes I want the crunch of whole or chopped hazelnuts, sometimes I  just want to add the hazelnut flavor with finely ground nuts, and of course sometimes I want both.
And that's exactly what going on in this recipe.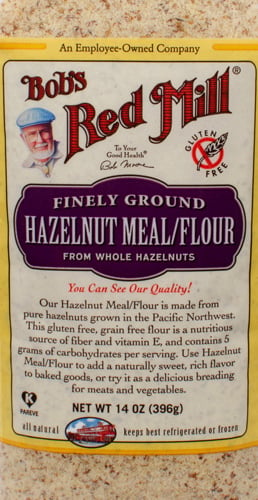 Bob's Red Mill Hazelnut Meal/Flour has become a staple in my pantry.
I've been using it in everything from these mouthwatering granola bars, to pie crusts, waffles and even as a crust for chicken.  Not only will it bring its wonderful flavors to everything it's added to, but it can also be a fantastic gluten-free alternative to other flours.
Whether you want to try these amazing granola bars, or something else, enter the giveaway to win a 1-pound bag of Bob's Red Mill Finely Ground Hazelnut Meal.  (I hope you will try these bars!)
Details for entering are below the recipe.
Roasted Hazelnut-Orange & Chocolate Granola Bar Recipe
Ingredients
1

cup

hazelnuts

2

cups

oats

1-1/2

cups

Bob's Red Mill Hazelnut Meal/Flour

1

cup

cacao nibs

see notes

1

teaspoon

sea salt

1/2

cup

unsalted butter

softened to room temperature

1

cup

dark brown sugar

Zest from 2 medium-sized Naval oranges

about 1-1/2 tablespoons

Juice from 2 medium-sized Naval oranges

about 1/2 cup

3

tablespoons

honey

1

tablespoon

vanilla extract

1 1/2

cups

finely chopped semisweet chocolate

melted
Instructions
Preheat the oven to 375 F, and place the hazelnuts in a single layer on a baking sheet. When the oven is preheated, roast them until they are very aromatic and the skins are cracking, about 5 minutes. Let them cool for at least 5 minutes, and then they can be rubbed together in your hands, or in a dish towel, and the skins should flake away. (Some tiny bits of skin will remain, and that's okay.) Roughly chop the nuts and set them aside.

Turn the oven down to 350 degrees F, and line two baking sheets with parchment paper.

In a medium-sized mixing bowl combine the oats, hazelnut meal, cocoa nibs, the chopped hazelnuts and salt. Mix and set aside.

In a large mixing bowl, combine the softened butter, sugar, orange zest and juice, honey, and vanilla. Mix until smooth.

Add the dry ingredients to the butter mixture and mix it until everything is evenly blended -- it will resemble cookie dough.

Use a spatula to "pour" the granola mixture onto one of the parchment-lined baking sheets. Use a flat-bottomed metal spatula to flatten out the mixture. It should be about 1/2-inch thick and cover the sheet. Go around the edges with the metal spatula to make them straight.

Roast in the preheated 350 degree F oven until it's a dark golden brown, about 30 minutes.

Let it cool on the baking sheet until it's hard, but still soft enough to cut through without it cracking, about 10 minutes.

With a large Chef's knife, cut the cooked granola into about 27 evenly sized, rectangular bars.

Place the cut granola bars on the second, parchment-lined baking sheet, with 1 to 2 inches between them. Now use a small spoon to drizzle the melted chocolate over the bars. (This will work the best if your chocolate has just been melted and is still very warm.)

Place the chocolate-drizzled bars on a large plate or platter to let the chocolate cool and harden completely. This might take an hour or so at room temperature. To speed it up, you can place the baking sheet in the refrigerator for about 10 minutes. (You will need to add the melted chocolate to the bars in two separate batches.)
Recipe Notes
Cacao nibs are tiny bits of fermented, dried, roasted and crushed cacao beans. That's all they are -- no sugar, no milk, just the bean. You can find them at most health food stores.
This Giveaway is now closed — congratulations to the 3 winners: Becca, Donna, and Zenetta!
a Rafflecopter giveaway

This is not a sponsored post.  Bob's Red Mill sent me hazelnut meal for recipe testing, and will provide the giveaway winners with their samples.  And as always, I only cook with products I love and all opinions are my own.
Save