A few scenarios to ponder . . .
One — It's Christmas morning, Santa's cookie plate is left with a few crumbs, presents are opened, wrapping paper is all over the floor, and you're hungry for scrumptious breakfast.
Two — It's a lovely winter evening, you've had a delicious dinner, have a bowl of vanilla bean ice cream in hand, sit down by the warm fire place, and realize the ice cream is lacking something.
Three — You're on the road heading to to your Aunt's house for the holiday's, and desperately need a (really tasty) snack.
What do you do you want?  For a brilliant breakfast, to complete your dessert, or for a super satisfying snack?
Chocolate Coffee-Almond Granola  — I thought so!
Okay fine, maybe you were thinking a granola bar?  If so, you will love this Hazelnut-Orange-Chocolate Granola bar.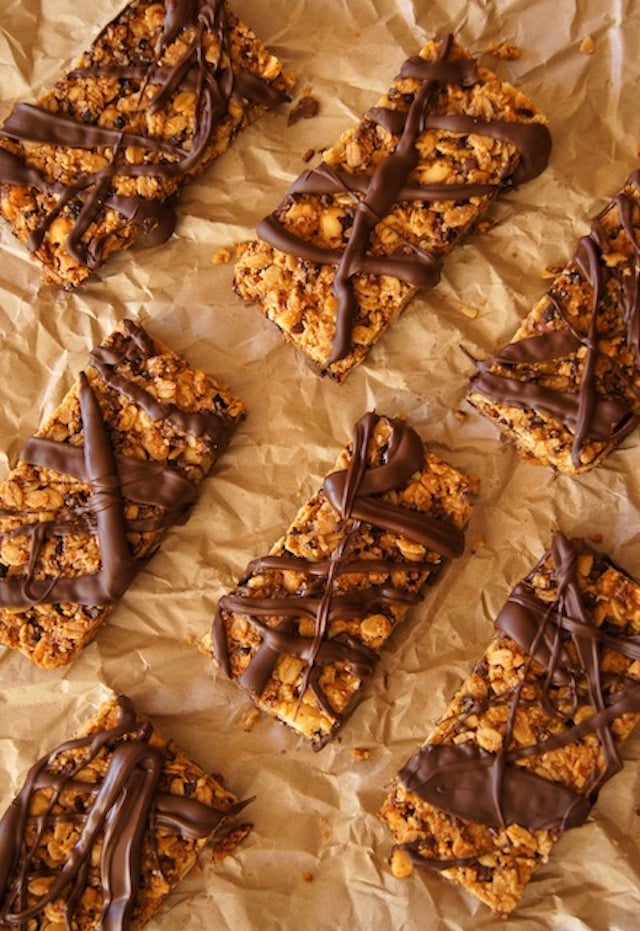 And by the way, this makes awesome holiday gift, too!
Just put it in a Mason jar with a bow.
(And the granola bars do too.)
Enjoy!
Chocolate Coffee-Almond Granola Recipe
Makes 8 cups
Ingredients
1/2

cup

unsalted butter

softened to room temperature

1/2

cup

granulated sugar

1/2

cup

coffee syrup

I highly recommend Dave's brand

1

tablespoon

vanilla extract

2

tablespoons

cocoa powder

2

teaspoons

instant espresso powder

1

teaspoon

sea salt

1

cup

almond meal

1

cup

sliced almonds

2

cups

oats

1

cup

chocolate covered coffee beans
Instructions
Preheat the oven to 350 degrees F, adjust a rack to the center, and line a baking sheet with parchment paper.

In a large mixing bowl, blend the butter with the sugar until smooth. Then mix in the coffee syrup, vanilla, cocoa powder, espresso powder, and salt.

Use a large spatula to fold in the almond meal, almonds and oats.

Pour the granola mixture onto the parchment-lined baking sheet and use your hands or a flat-bottomed metal spatula to flatten out the mixture. It should be about 1/2-inch thick and cover most of the sheet.

Roast in the preheated 350 degree F oven until the edges become golden brown, about 25 minutes.

Remove from the oven and let cool completely on the baking sheet, at least 30 minutes

Use your hands the break the granola apart into small pieces, and set aside.

Add the chocolate covered coffee beans to a heavy duty zip-lock bag and seal it, making sure all the air is out. Use the bottom of a small sauté pan, or a flat-bottomed meat mallet to crush the beans. Then mix them into the granola.

Or, to make granola bars, use a Chef's knife to cut the granola into any size you'd like (without the coffee beans).


Keep the granola cereal or granola bars in an airtight container in a cool, dark place. (This will be good for a few days, but the fresher, the better -- if it seems to have lost its crunch, just spread it out on a baking sheet and roast it for 5 to 10 minutes in a 350 degree F oven.)
Recipe Notes
You can still make this if you don't get (or have) the coffee syrup. Instead you can use 1/2 cup dark maple syrup and add an extra tablespoon of the espresso powder.
If you're on a gluten-free diet, just be sure to purchase oats that specifically say they are gluten-free.
Save