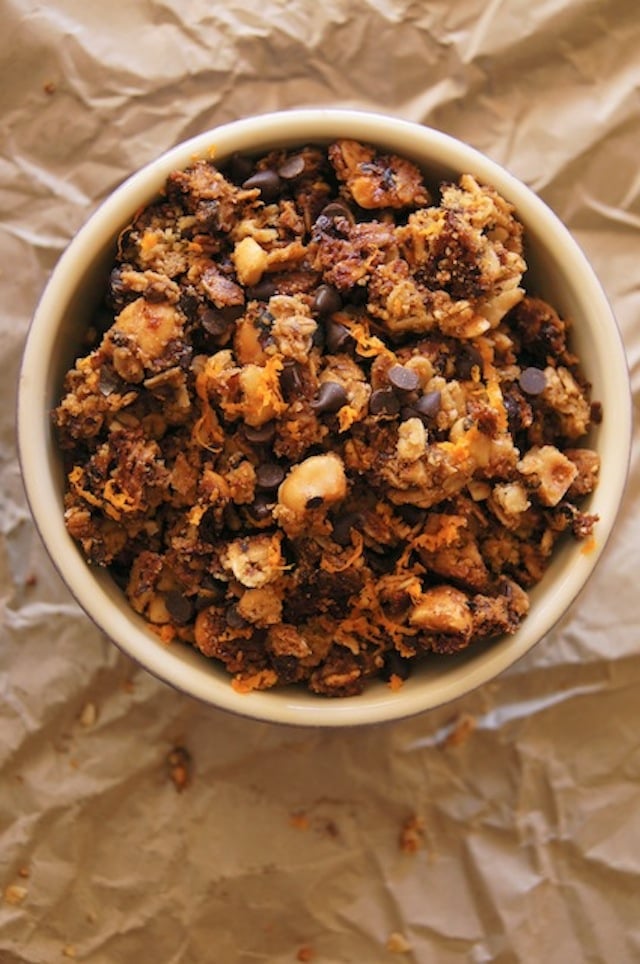 So here's what happened . . .
Last week, when I was devouring one of the Roasted Hazelnut-Orange & Chocolate Granola Bars (pictured below), I couldn't help but think of how incredibly delicious they would be broken up into small pieces in a pretty bowl, with cold milk, and a cup of coffee on the side, of course.
I was right.  And there you have it.
Enjoy!
P.S. Though this recipe is very similar to the granola bar recipe, the ingredients and instructions are not quite the same . . .  so please read on.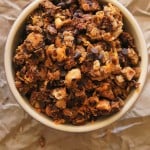 Hazelnut-Orange Granola Recipe
Makes about 4 cups
Ingredients
1½

cups

roughly chopped hazelnuts

2

cups

oats

1

teaspoon

sea salt

1/2

cup

unsalted butter

softened

1

cup

golden brown sugar

Zest from 3 medium-sized Naval oranges

about 2-1/2 tablespoons

Juice from 2 medium-sized Naval oranges

about 1/2 cup

3

tablespoons

honey

1

tablespoon

vanilla extract

Mini semisweet chocolate chips if desired

it's a good idea!
Instructions
Preheat the oven to 375 degrees F, and place the hazelnuts in a single layer on a baking sheet. When the oven is preheated, roast them until they are very aromatic and the skins are cracking, about 5 minutes. Let them cool for at least 5 minutes, and then they can be rubbed together in your hands, or in a dish towel, and the skins should flake away. (Some tiny bits of skin will remain, and that's okay.) Roughly chop the nuts and set them aside.

Turn the oven down to 350 degrees F, and a baking sheet with parchment paper.

In a medium-sized mixing bowl combine the oats, hazelnut meal, and salt. Mix and set aside.

In a large mixing bowl, combine the softened butter, sugar, orange zest and juice, honey, and vanilla. Mix until smooth.

Add the dry ingredients and roasted, chopped hazelnuts to the butter mixture and mix until everything is evenly blended.

Pour the granola mixture onto the parchment-lined baking sheets. Use a flat-bottomed metal spatula to flatten out the top surface. It should be about 1/2-inch thick and cover the sheet.

Place the baking sheet in the preheated 350 degree F oven, and roast until it's a dark golden brown, about 30 minutes.

Let it cool on the baking sheet until it's very hard, about 30 minutes.

Break and/or crumble the granola into the size pieces you like. (I like a mix of big and small chunks.)

Serve with a sprinkling of mini chocolate chips on top if desired. (As you can see, I desired them.)
Recipe Notes
Store the granola in a tightly sealed container in a cool, dark place. It should keep its crispness for at least 4 days.
If you are gluten-free, make sure the oats you use say they're gluten-free.
Save