Grated Tomatoes with Olive Oil are something I had for the first time in Spain. It's a Spanish breakfast -- and, it's also a fabulous appetizer or tomato sauce. Summer tomatoes are worth celebrating and this might just be the best way to do it.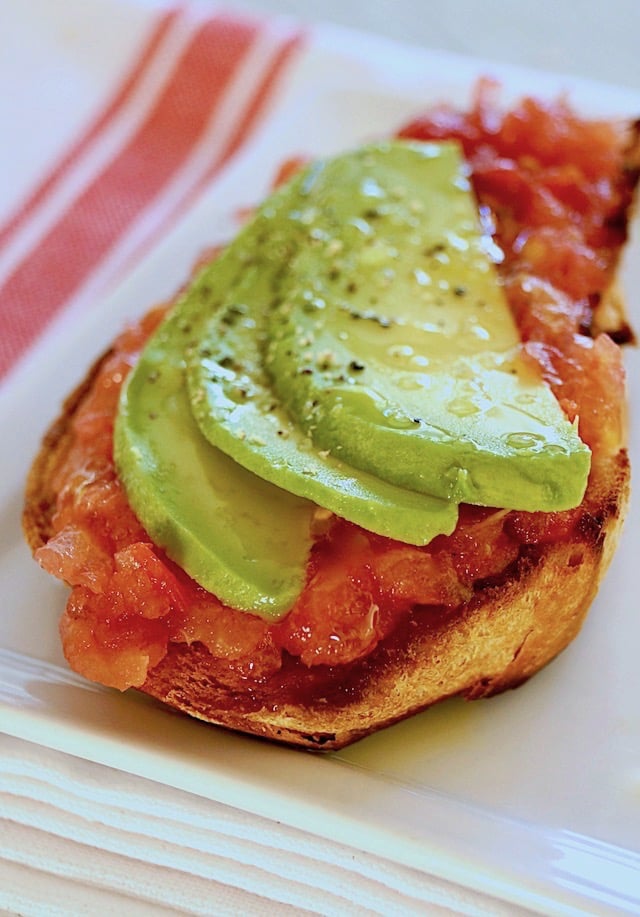 On one of my trips to Spain, visiting my Spanish sister Pilar, her brother Rafael made a breakfast I will never forget. It couldn't have been more simple, or more delicious.
In Spain it's called "Tomate con Pan," which translates to Tomato with Bread.
Ingredients You Will Need
---
This is so pure . . .
tomatoes - Color and feel are the best cues to ripeness. Ripe tomatoes should be slightly firm, but have a little give when gently squeezed, and they should have a deep red color (or whatever the color is intended to be).
salt - I almost always bake and cook with Kosher salt. (It's coarse and salts foods in a subtle way that enhances their flavor without making them taste salty.)

black pepper - Freshly ground is best.

extra virgin olive oil -

This one

is my favorite.

Oh, and bread too, as a vehicle to eat it.
How to Grate Tomatoes and Make this Recipe
---
- Hold the tomato carefully and place it on the coarse holes of a box grater. Do this over a bowl or on a cutting board.
- Grate until you remove as much of the pulp as possible, but stopping well before you are too close to your fingers! (You can finely chop the rest.)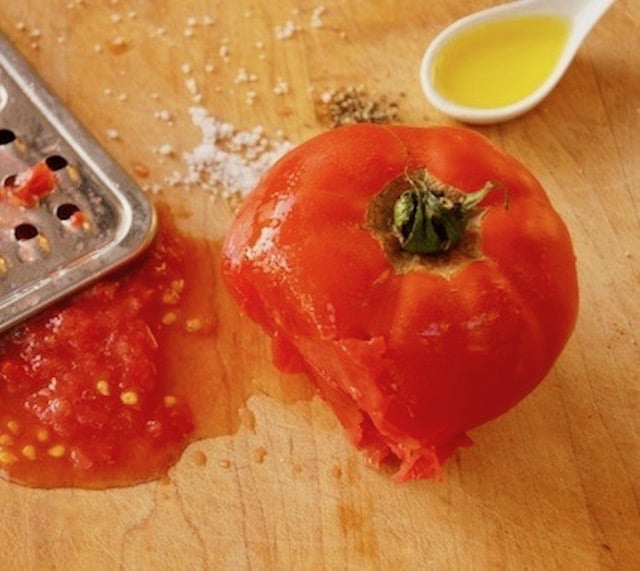 - If you haven't grated the tomato into a bowl, use a flat-bottomed metal spatula to scoop it into one. Then add a bit of coarse salt and freshly ground black pepper.
- Give it a quick drizzle of extra virgin olive oil and serve with a rustic loaf of bread -- just pull off pieces and dip them in.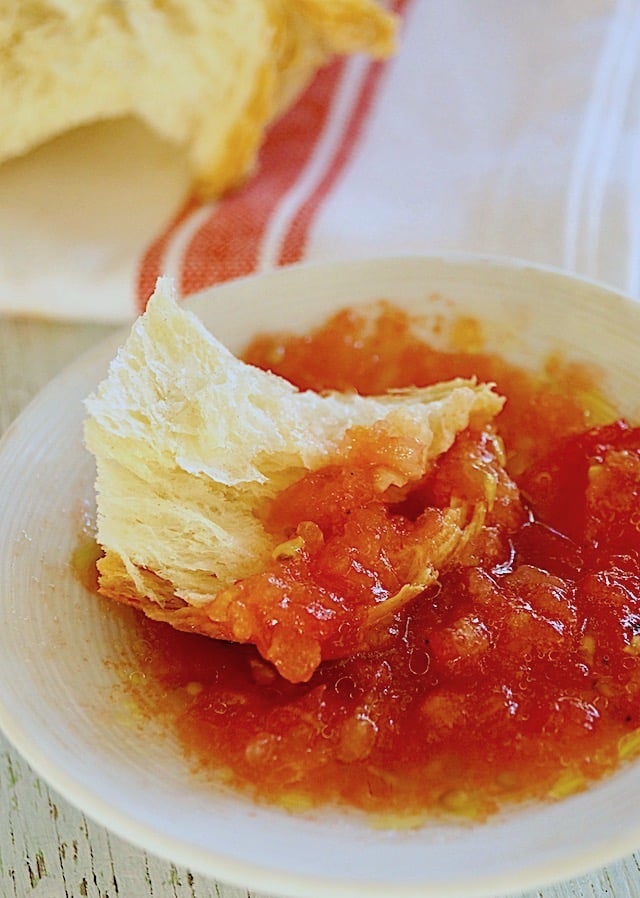 Can you use a food processor?
---
Yes you can. That said, I think part of joy of this is grating the tomatoes one at a time, at the table, while you're eating. This is easy for just a few people, but the food processor will definitely help for a big crowd.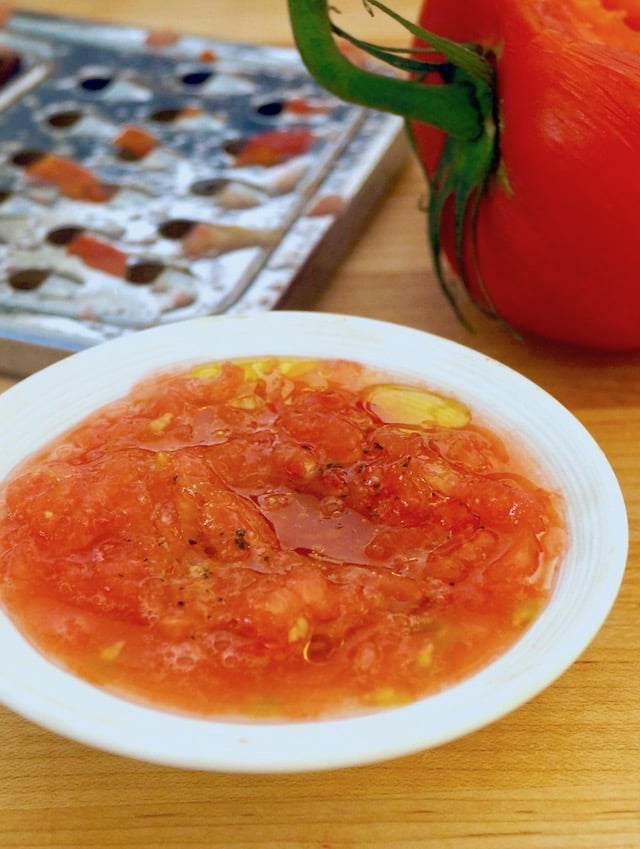 More Serving Suggestions
---
Not only are grated tomatoes a Spanish breakfast, they also make for a delightful summer appetizer or a raw grated tomato sauce .
Spread it on toasted baguette slices and top them with avocado slices. Tomato toast! It's sort of the reverse of my

avocado toast

.
Serve it over or with chicken or fish.
Add it to a sandwich.
During the summer, this is one tastiest breakfasts or snacks imaginable. And its simplicity is part of its beauty.
The key to this being amazing, is of course to start with an absolutely wonderful tomato -- right off the vine if possible! Summer is the best time to make it!
Enjoy!
More tomato recipes: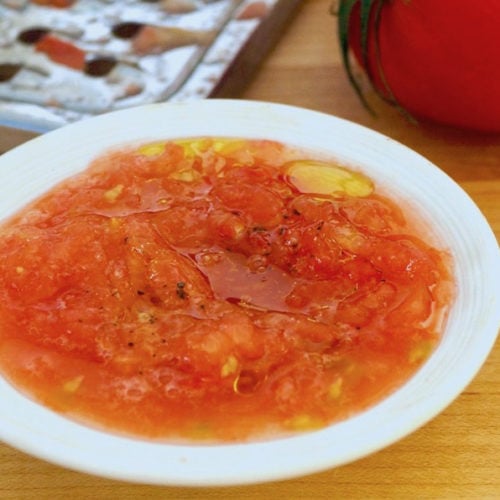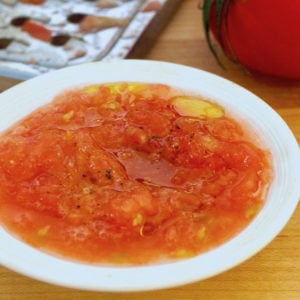 Grated Tomatoes with Olive Oil
Grated Tomatoes with Olive Oil are something I had for the first time in Spain. It's a Spanish breakfast -- and, it's also a fabulous appetizer or tomato sauce.
Ingredients
2

large

tomatoes (about ½-pound each),

washed and dried

pinch

salt

pinch

freshly grated black pepper

drizzle of

extra virgin olive oil (about 1 tablespoon)

1

small to medium-sized

baguette
Instructions
Grate the tomatoes and add the pulp to a serving bowl. Sprinkle with salt and pepper and drizzle with olive oil. Serve immediately with a baguette.
NOTES
Calorie count is only an estimate.
NUTRITION
Have you tried this recipe?
I'd love to see it on Instagram! Tag me at @cookingontheweekends or leave a comment & rating below.
Cooking On The Weekends is a participant in the Amazon Services LLC Associates Program, an affiliate advertising program designed to provide a means for sites to earn advertising fees by advertising and linking to Amazon.com.