This Honey-Ginger Broiled Grapefruit Recipe is deliciously light, subtly sweet, a bit tart, and beautifully scented with fresh thyme.  A broiled grapefruit recipe with herbs is lovely for a quick and easy breakfast, or served as a brunch dish for guests.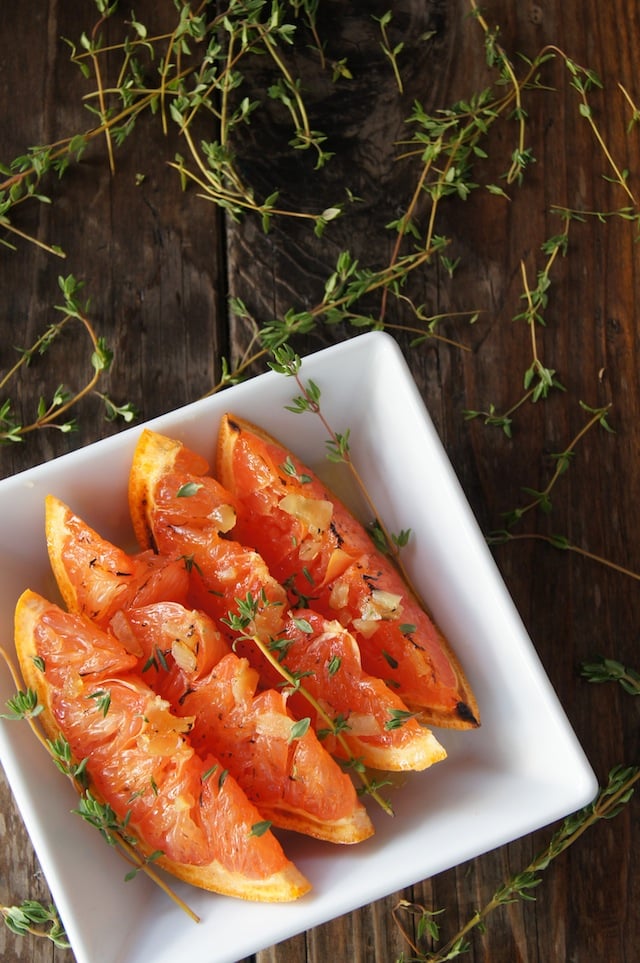 Remember the fantastic Organic Mixed Fruit Box from Melissa's, that was waiting for me at my door a few weeks ago?
The smooth and creamy avocados made their way into my favorite guacamole, the pears were poached in port wine, the lemons topped a Lemon-Basil Pizza, and just look at what what I've created with the gorgeous grapefruit!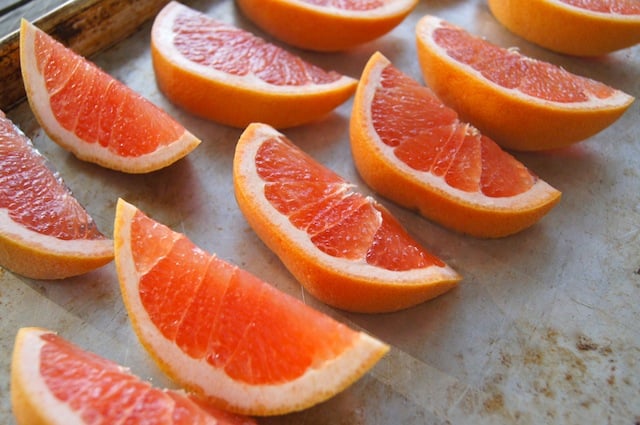 After being cut into large, gorgeous slices revealing their perfect, rosy red flesh, I drizzled them with honey infused with fresh thyme and ginger. Then I broiled the wedges to caramelize and sweeten the surface.
And voilà, a stunning and delicious result: Honey-Ginger Broiled Grapefruit Recipe!

Oh my! It's so good!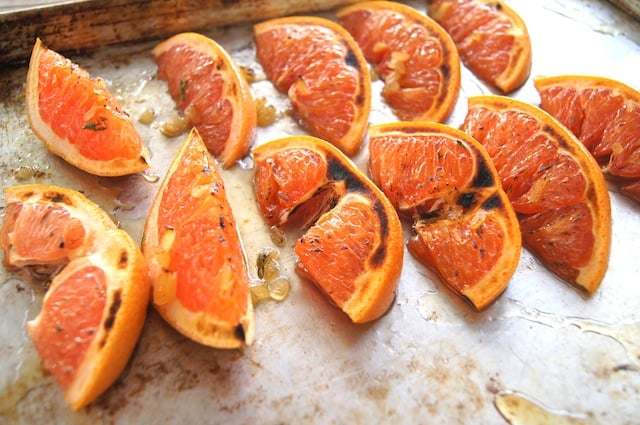 The broiled grapefruit recipe with herbs would be super tasty to serve as is, after it comes out from under the broiler, but I have other ideas for it too . . .
Ideas for how to serve the Honey-Ginger Broiled Grapefruit recipe:
Can you imagine how incredible it would be to serve a few wedges on top of a couple of scoops of vanilla bean ice-cream?  Just peel the skin off first and and keeping them warm, they will slightly melt the ice cream. Perfect!
How how about tossing them into a fresh green salad?  It would be so pretty to serve as a first course. (Peel before you add them.)
You could also mix them into a fruit salad with many other textures and colors, like blueberries and bananas. The honey-ginger infused with thyme would lightly flavor everything. (Peel before you add them.)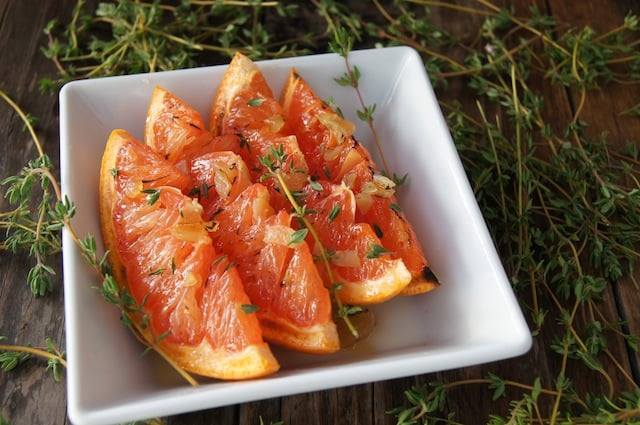 I love this broiled grapefruit recipe with herbs.  I think the thyme is especially delicious with it, but rosemary or sage would also be really interesting.
Enjoy every last wedge of the Honey-Ginger Broiled Grapefruit recipe!
Honey Ginger Broiled Grapefruit Recipe
Ingredients
1

large Ruby Red Grapefruit

1/4

cup

honey

2

tablespoons

water

leaves

from 1 sprig of fresh thyme

1

tablespoon

finely chopped crystallized ginger
Instructions
Cut the grapefruit in half horizontally, and then cut each half into about six even wedges.

Place the grapefruit, a few inches apart, on a baking sheet. Set aside.

Turn on the broiler and place the rack/shelf as close as you can to the flame, with enough room for the grapefruit to be at least a couple inches below it.

Add the honey, water, thyme and ginger to a small saucepan, and place it over medium-high heat. Cook only until it's a thinner, evenly combined mixture, about 2 minutes.

Spoon about half of the honey mixture over the grapefruit wedges, and place the backing sheet under the broiler. Broil only until they are beginning to char and are sizzling a bit.

Then flip each slice of grapefruit over and spoon the remaining honey mixture on top. Return the baking sheet under the broiler until it looks like the other side. (Each side will only take a couple of minutes, so keep a close eye on them!)
Recipe Notes
Another variety of grapefruit would also be lovely.
You can also make this as two larger portions by leaving it in two halves, (like this), and then dividing the sauce between them.
Save