Pickled Ginger Salad with Citrus and Wasabi Dressing is packed with fresh fruit, and full of spicy, sweet and bright flavors. It holds its own as a main course and is also a fantastic side. It's mind-blowingly delicious.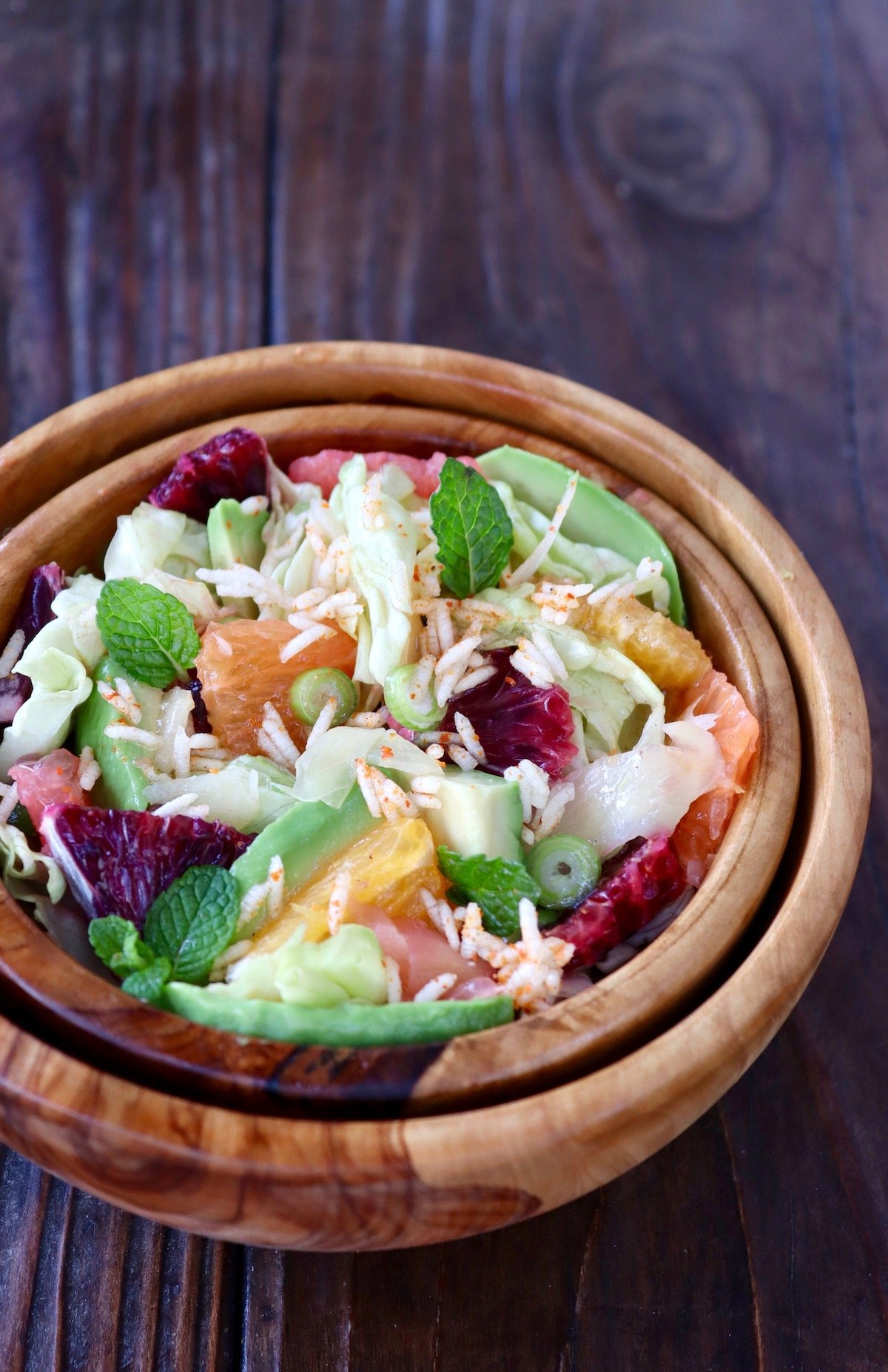 We always have a small portion of pickled ginger and wasabi at the sushi bar, but have you ever had them mixed into a salad?
Imagine tangy ginger with heat from wasabi salad dressing, mixed into soft bites of lettuce, citrus, avocados, bits of green onion, and crispy fried rice.
In my totally biased, yet humble opinion, this Pickled Ginger Salad with Wasabi Salad Dressing is quite special. It's stunning to look at, incredibly unique, and is a festival of sweet and spicy flavors.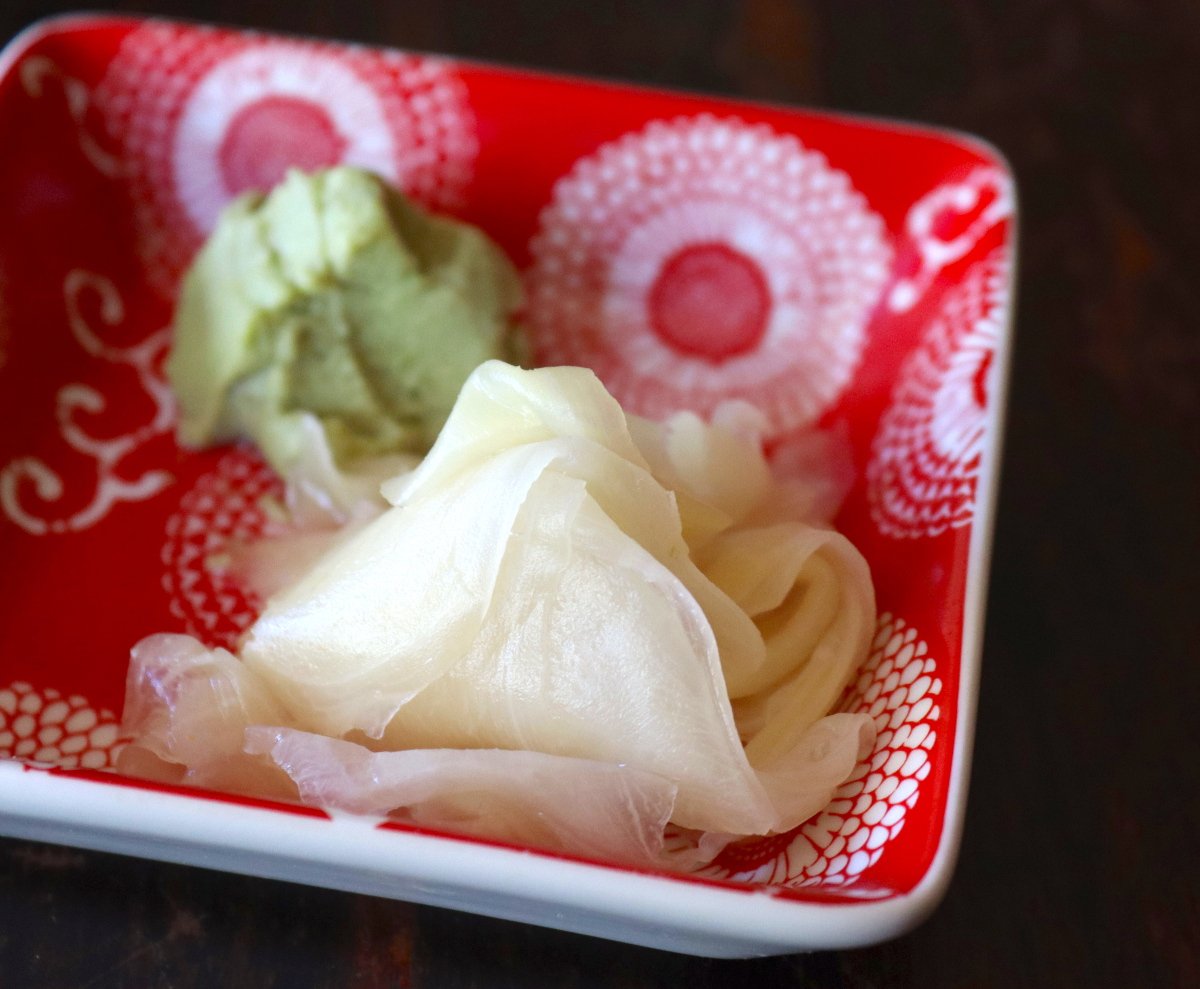 In addition to the gorgeous citrus, there are three things that make this salad special: pickled ginger, wasabi and spicy, crispy fried rice.
What is pickled ginger?
Gari in Japanese, pickled ginger is sweet, very thinly sliced ginger that has marinated in a solution of vinegar and sugar, and sometimes salt.
Younger ginger is usually preferred for pickling because it's sweeter and more tender. The pigment in the tips of young ginger is a pink-red color, and why pickled ginger is often a soft pink. You can see in the above image that the pickled ginger likely came from older ginger since it's not pink-ish. (It's still delicious.)
Pickled ginger is usually served with sushi because it's a palate cleanser that helps prevent our taste buds from becoming desensitized.
*Ginger, by the way, is not a root, though it's usually labeled as one. It's a rhizome, which is a stem that grows underground. Since it's a stem, it has nodes and is able to grow other stems.*
If you're interested in making your own pickled ginger, here's a great guide.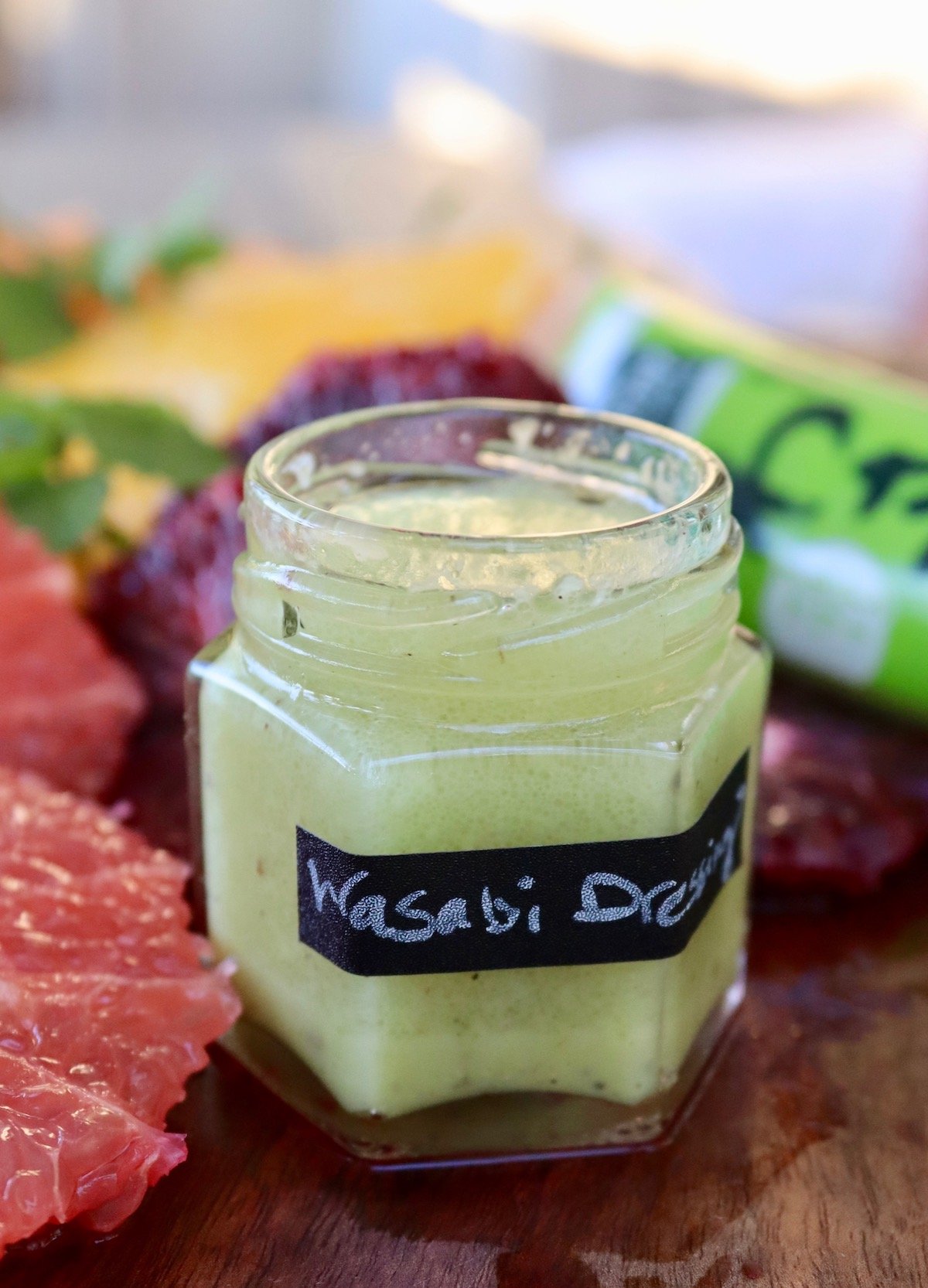 The wasabi salad dressing is smooth, spicy and sweet, and takes just a couple of minutes to make.
What is wasabi?
Like ginger, wasabi is a rhizome, not a root. Authentic wasabi is served freshly grated, and it's said that it should be eaten within 20 minutes for the best, sharpest flavor.
True wasabi rhizomes are very expensive and hard to find outside of Japan. They are one of the most difficult plants to grow because in order to thrive they have to be partially submerged in moving water, in very specific weather conditions.
According to

Real Wasabi

, outside of Japan, wasabi grows in China, Korea, New Zealand, and in the U.S. only on the Oregon Coast and in parts of the mountains in North Carolina and Tennessee.
What does wasabi taste like? Wasabi has a pungent, very fiery, but quickly fading heat to it. When you eat it, there's a burning sensation in your nose that dissipates within seconds. It's

aromatic ,and while it's hot, it's also subtly sweet.

The heat does not stay with you or burn your mouth, like that of a hot chile pepper.
Most sushi restaurants in the U.S. (about 90%!) serve "fake wasabi," which is made from horseradish and mustard, and it's usually dyed green. It's this same concoction that you will find in both a paste and powdered form in grocery stores. (In some Asian markets, you might be able to find the real thing.)

This

is what real wasabi looks like.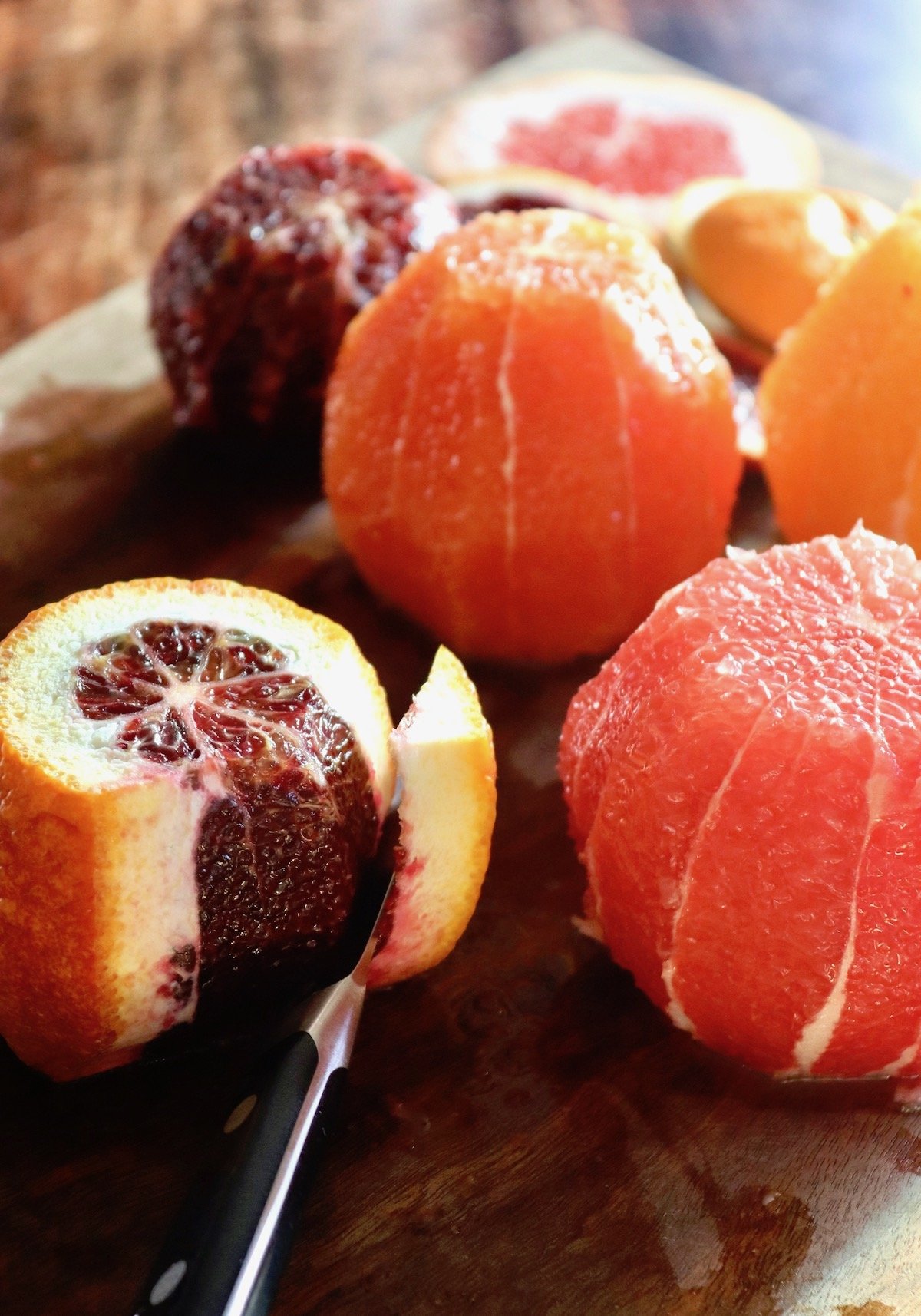 Recipe Tips and Substitutions
I like using a few types of citrus: a couple of different orange varieties and grapefruit, but you can get creative here and "make it your own." If you have a favorite, use more of it. And if you're all about the colors (like me), then mix things up.
The texture of the citrus is lovely without the membranes, which is why I prepare it this way (see above photo). However, to save time you can also use your hands to peel them.
The

Crispy Fried Rice

is added for crunch and spice. You can substitute with wasabi peas

, quinoa or toasted almonds.

My recipe calls for Butter lettuce, which I love because of its soft texture. Use any lettuce you like.
As with most salads, don't add the dressing until you're ready to serve, and be sure to mix it well.
You will very likely have more wasabi salad dressing than you need, so you'll have some leftover for another time. (It will keep for about 3 weeks in the refrigerator.)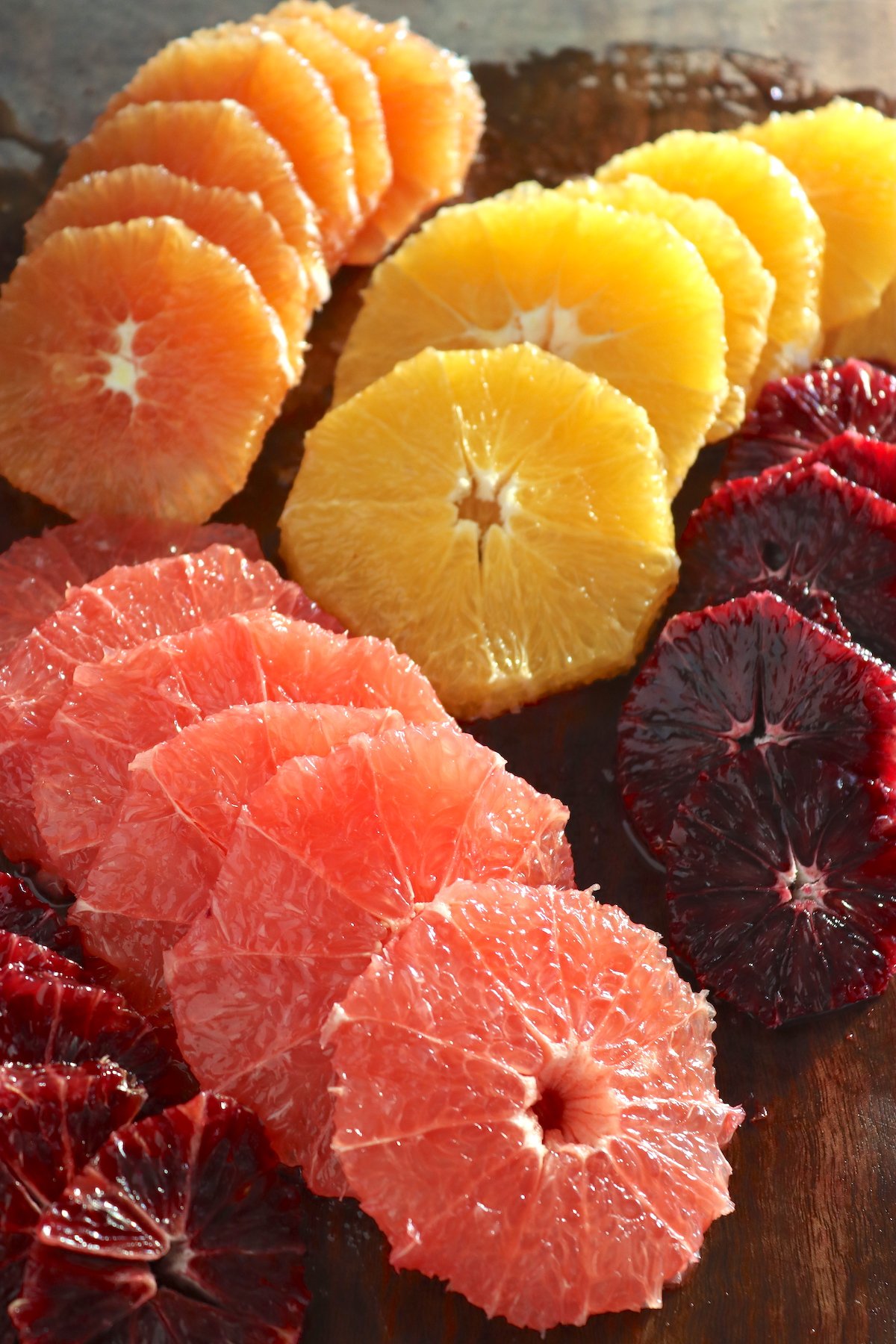 There's no better time than winter to make this salad, when a colorful selection of citrus are at the peak of their season.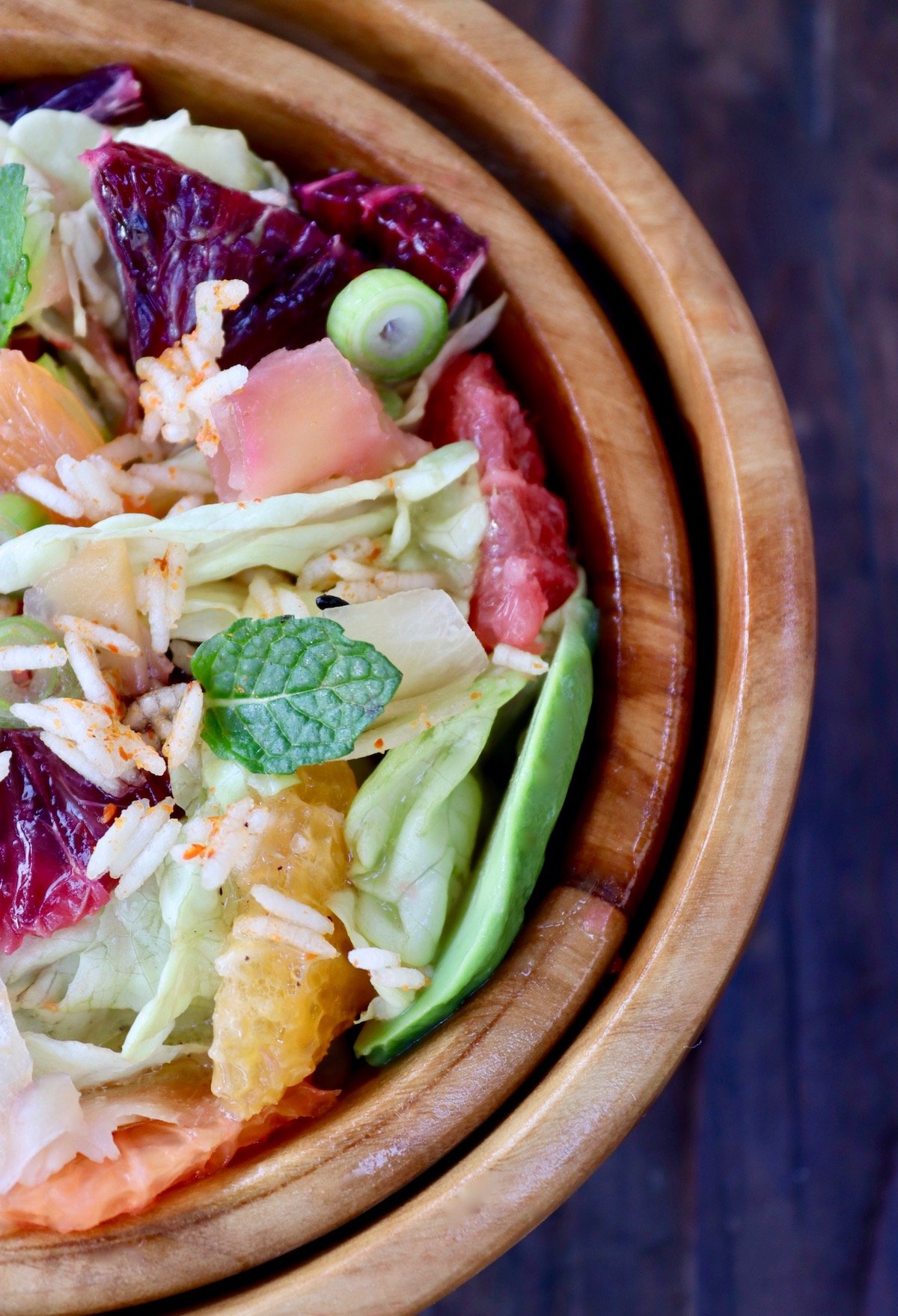 I hope you love this delicious and unique pickled ginger salad as much as I do.
More recipes with wasabi: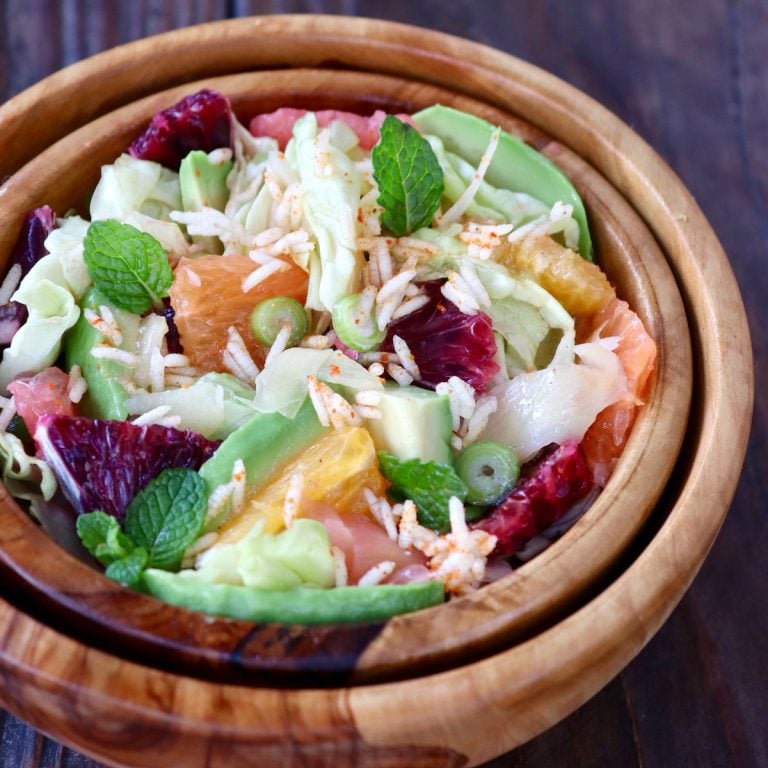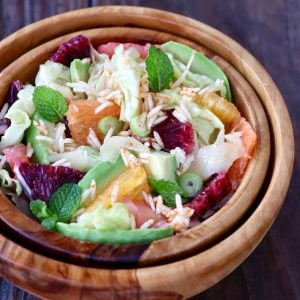 Pickled Ginger Salad with Citrus and Wasabi Dressing
Pickled Ginger Salad with Citrus and Wasabi Dressing is packed with fruit, and is a fantastic combination of spicy, sweet and fresh flavors. It's mind-blowingly delicious!
Ingredients
For the dressing (see notes)
1½

tablespoons

wasabi paste

3½

tablespoons

rice vinegar

1

tablespoon

fresh lemon juice

1½

teaspoons

granulated sugar

¾

teaspoon

salt

½

teaspoon

freshly cracked black pepper

6

tablespoons

grapeseed oil
For the salad
2

medium-large

Blood oranges,

peeled, sliced into rounds (about ¼ inch thick)

2

medium-large

oranges,

peeled, sliced into rounds (about ¼ inch thick)

1

small

Ruby grapefruit

peeled, sliced into rounds (about ¼ inch thick)

about 8

ounces

Butter lettuce,

washed and dried, chopped into bite-sized pieces

4

scallions,

thinly sliced (white and green portions)

¼

cup

packed mint leaves

washed and dried, stems removed (roughly chopped if they're big)

½

cup

packed pickled ginger,

drained, roughly chopped

1

large

avocado,

cut into bite-sized pieces
Instructions
For the dressing
Add the wasabi, vinegar, lemon juice, sugar, salt and pepper to a small bowl and whisk it together. Gradually add the oil while whisking, and blend until smooth and creamy. (Or add all of the ingredients to a small jar, close lid tightly and shake.) Set aside.
For the salad
Cut the citrus rounds into halves or fourths and add them to a large mixing bowl with the lettuce, scallions, mint, ginger, and avocado.

Drizzle with the desired amount of wasabi dressing and then toss.
NOTES
The amounts of dressing people like to use on salads differs, so this recipe should make more than you need.
Calorie count is only an estimate.
NUTRITION
Have you tried this recipe?
I'd love to see it on Instagram! Tag me at @cookingontheweekends or leave a comment & rating below.
Cooking On The Weekends is a participant in the Amazon Services LLC Associates Program, an affiliate advertising program designed to provide a means for sites to earn advertising fees by advertising and linking to Amazon.com.