Kona Coffee Kahlúa Brownies are rich, delicious, exotic and simply over-the-top! These super chocolaty treats have a combination of a fudge-like and cake-like texture with coffee in every bite!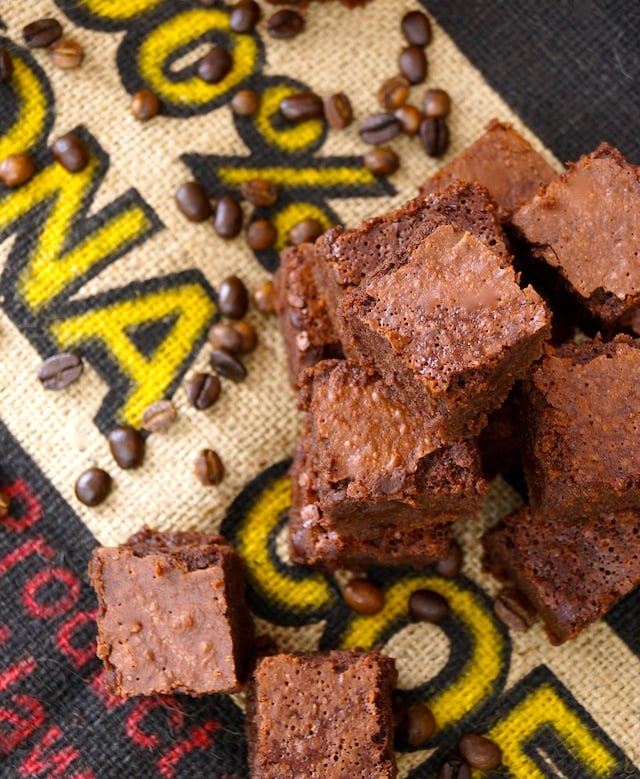 On a trip to Hawaii I fell in love with Kona coffee.
It's absolutely delicious, and I've had the urge to put it in every baked good I make.
I can't just drink it. I also have to cook and bake with it.
What does Kona Coffee taste like?
The climate and volcanic soil in Hawaii where Kona coffee is grown, has ideal conditions and results in a full bodied flavor and a lovely aroma.

It's not just dessert recipes with Kona coffee that are divine. Coffee also flavors savory dishes beautifully. It can truly bring both sweet and savory recipes to another level.
(My Coffee Balsamic Flank Steak is a perfect example of a delicious, savory recipe with coffee.)
What is Kahlúa?
Kahlúa is a coffee-flavored liquor, and when it's added to a recipe with chocolate and coffee, it intensifies both flavors, making the outcome of the recipe as dreamy as can be.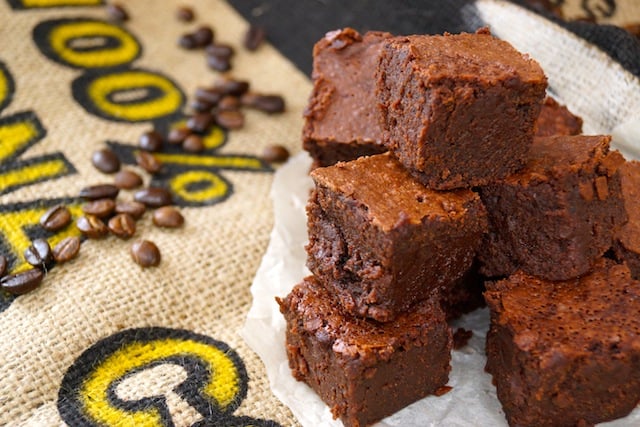 I love dessert recipes with coffee and I love dessert recipes with Kahlúa!  So this brownie recipe is the best of both of those worlds!
More chocolate coffee deliciousness . . .
I honestly don't know if it gets much better than coffee and chocolate together.
The flavor combination is like no other -- it's rich, bold, and sweet with an edge -- it's simply intoxicating.  Take one bite of these brownies, and you'll understand.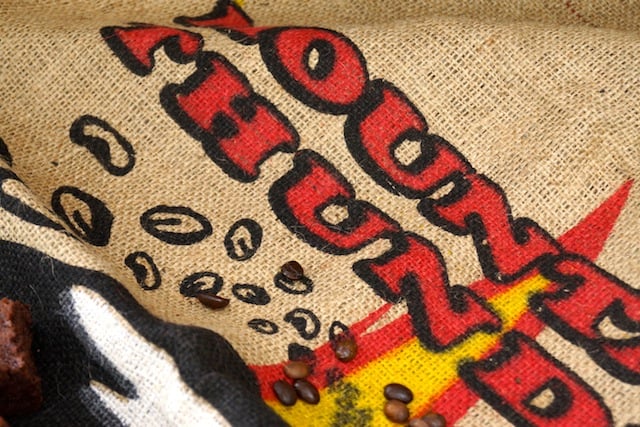 Enjoy every last bite of this Kahlúa Brownie recipe.
And remember, when you combine a love for dessert recipes with coffee and Kahlúa, you will most likely create something amazing!
Kona Coffee Kahlúa Brownies
These super chocolaty treats have a combination of a fudge-like and cake-like texture with coffee in every bite!*Makes about 3 dozen small brownies.
Instructions
Set the oven and prepare the pan. Adjust a rack one-third up from the bottom of the oven and preheat to 375°F. Use 1 tablespoon of the butter to grease an approximately 9 x 13 x 2-inch pan.

Melt the chocolate and butter. Melt the chocolate and butter together in a heavy-bottomed saucepan, over low heat. Stir occasionally and heat until the chocolate and butter are completely melted together. Remove from the heat, and set aside to cool to room temperature.

Finish making the batter. In a large bowl, use an electric mixer to beat the eggs with the sugar, coffee grounds, vanilla, and salt at high speed for 5 minutes. Then on a low speed, add the cooled chocolate mixture and beat only until mixed. Now add the flour and again beat only until mixed. In a small bowl, combine the hot coffee with the Kahlúa, and then pour the mixture into the batter. Mix to blend.

Bake, cool and serve. Pour the batter into the prepared pan and place it in the preheated 375°F oven. Bake just until the edges look solid and there is little to no movement in the center, when you gently jiggle the pan, about 35 minutes. Let the brownies cool at least to room temperature before cutting and/or serving.
NOTES
Calorie count is only an estimate.
I love Kona coffee, but please use any brew you love.
NUTRITION
Have you tried this recipe?
I'd love to see it on Instagram! Tag me at @cookingontheweekends or leave a comment & rating below.
Cooking On The Weekends is a participant in the Amazon Services LLC Associates Program, an affiliate advertising program designed to provide a means for sites to earn advertising fees by advertising and linking to Amazon.com.