Baked Sweet Potato Slices with Rosemary are so incredibly easy to make. With a touch of honey, this pretty, vegan side dish pairs with just about everything, during any season.
Baked Sweet Potato Slices with rosemary and honey are one of my favorite go-to side dishes.
The sweet and earthy flavors are amazing together and everyone loves them!
What's in this recipe?
sweet potatoes
fresh rosemary
olive oil
honey
salt, pepper
Sometimes just a few simple ingredients equal a tremendous amount of flavor and deliciousness!
How to Bake Sweet Potato Slices
Wash, dry and slice the sweet potatoes.
Spread them out on a sheet pan with olive oil.
Brush them with a mixture of honey and rosemary and sprinkle with salt.
Bake them in a 375

°

F oven for about twenty minutes and then sprinkle with a bit more salt and a little pepper to taste.
(More detailed instructions are below.)

What to Serve them With
This recipe is fantastic with grilled chicken and meat.
Served with a salad, they can make the meal hearty and so satisfying.
I love them as a Thanksgiving vegan side dish.
Sweet potato slices are excellent with these dishes:

Recipe Tips and Substitutions
Try to choose sweet potatoes that are equal in size, so that once they're cut, the slices cook evenly.
If you're not a rosemary fan, thyme and oregano can be lovely too.
If you don't have honey, mix the rosemary with 2 tablespoons of olive oil to brush on top of the sweet potato slices, and then sprinkle them lightly with about 1 tablespoon of brown sugar.
Can you make Baked Sweet Potato Slices ahead?
Yes, you can make them up to one day ahead, keeping them in a tightly sealed container in the refrigerator. Reheat them in a 350°F oven or in the microwave. Either way, only long enough for them to get hot.
(They will still be safe to eat for up to at least five days in the refrigerator — they're just more presentable after one.)

How long do sweet potatoes last?
You can leave raw sweet potatoes out, in a cool dark place (like the pantry), for up to about three weeks. They can be stored in the refrigerator for about six weeks.
Can you Freeze Sweet Potatoes?
Yes. Cooked sweet potatoes, wrapped tightly, can be frozen for about a few months. (Some say up to a year — but they will taste better sooner.)
Do not freeze them raw unless you first peel and blanch them. To do this, place the peeled potatoes in boiling water for just a couple of minutes, then "shock" them in ice water until they're cool. Wrapped tightly, they can be frozen this way for about six months.
I hope you love this awesome Baked Sweet Potato Slices side dish as much as my family and I do!
More sweet potato side dishes: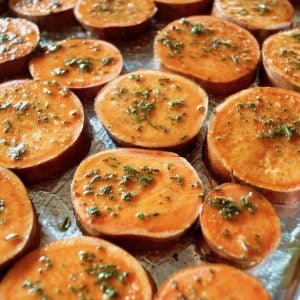 Baked Sweet Potato Slices with Rosemary
Baked Sweet Potato Slices with Rosemary are so incredibly easy to make. With a touch of honey, this pretty, vegan side dish pairs with just about everything, during any season.
Ingredients
1

pound

sweet potatoes (about 2 medium-large),

washed and dried

4

tablespoons

olive oil,

divided

2

tablespoons

honey

2

teaspoons

fresh rosemary,

washed and dried, finely chopped

salt and freshly ground black pepper
Instructions
Preheat the oven and prepare the pan. Preheat the oven to 375°F and adjust a rack to the center. Line a sheet pan with foil and coat all of it with about 2 tablespoons of the olive oil.

Prepare the sweet potatoes. Slice the sweet potatoes into rounds that are approximately ¼ to ½ inch thick. Place them in a single layer on the prepared sheet pan. Use a pastry brush or your finger to rub the remaining olive oil on the top surface of the slices.

Make and add the honey-rosemary mixture. In a small bowl, combine the honey and rosemary and then warm it in the microwave just long enough to thin it, about 8 seconds. Brush an even amount of this on top of the sweet potato slices and sprinkle lightly with salt.

Bake. Place the sheet pan in the preheated 375°F oven and bake until the sweet potato slices are very tender, about 20 minutes. (You can check them with a fork.)

Adjust seasonings and serve. Taste one of the slices and then sprinkle a bit more salt and little pepper to taste. (Here's How to Season to Taste.)
Notes
Calorie count is only an estimate.
Have you tried this recipe?
I'd love to see it on Instagram! Tag me at @cookingontheweekends or leave a comment & rating below.
Cooking On The Weekends is a participant in the Amazon Services LLC Associates Program, an affiliate advertising program designed to provide a means for sites to earn advertising fees by advertising and linking to Amazon.com.