This recipe for Spiced Buttermilk Apple Muffins is the essence of fall. These muffins are warmly spiced, full of tender, sweet apples, and are as comforting as can be!
Imagine, if you will, something between luscious apple pie and warm apple cake.
That's exactly what this recipe tastes like!
What's in Spiced Buttermilk Apple Muffins?
apples
brown sugar
granulated sugar
lemon juice
cinnamon, cardamom
vanilla
butter
eggs
all-purpose flour
baking powder, salt
golden raisins
pecans or walnuts
I'm mean c'mon, how much do you want to combine all of those delicious ingredients!? 🙂
And let's go ahead and call this sweet, amazingly comforting deliciousness a muffin — that way we can feel good about having it for breakfast. 😉
Is a muffin breakfast or dessert?
I think we all know a "muffin" is often dessert.
I hope you'll try this recipe over the weekend — have it for breakfast or for dessert!
You will be so happy you did. My advice . . . warm it slightly, and have it with a perfect cup of coffee.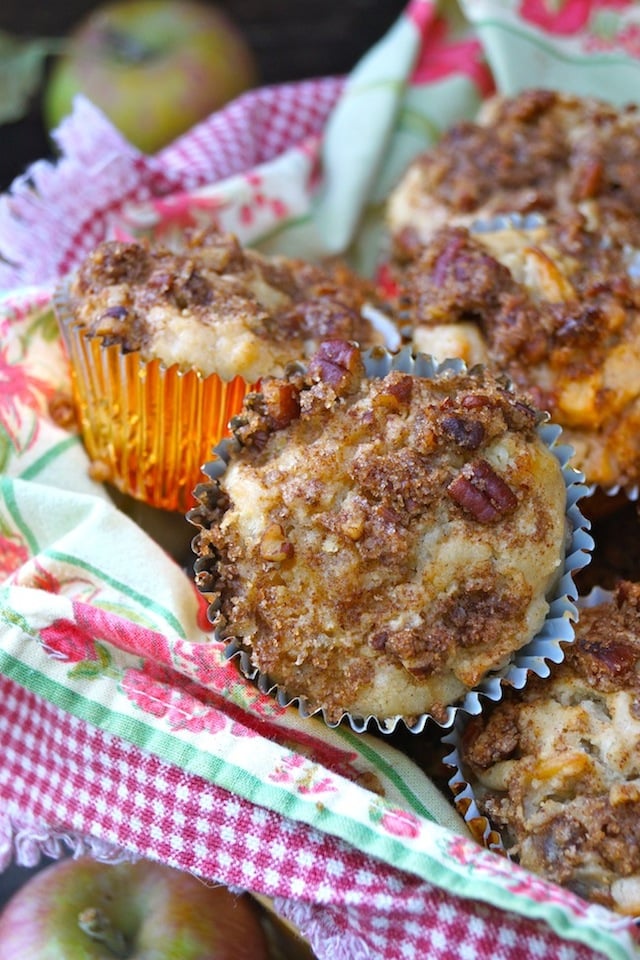 Make sure you begin with fantastic apples — they should be sweet and crisp.
Taste them before you buy them — all you have to do is ask, and most produce departments will happily slice into one for you.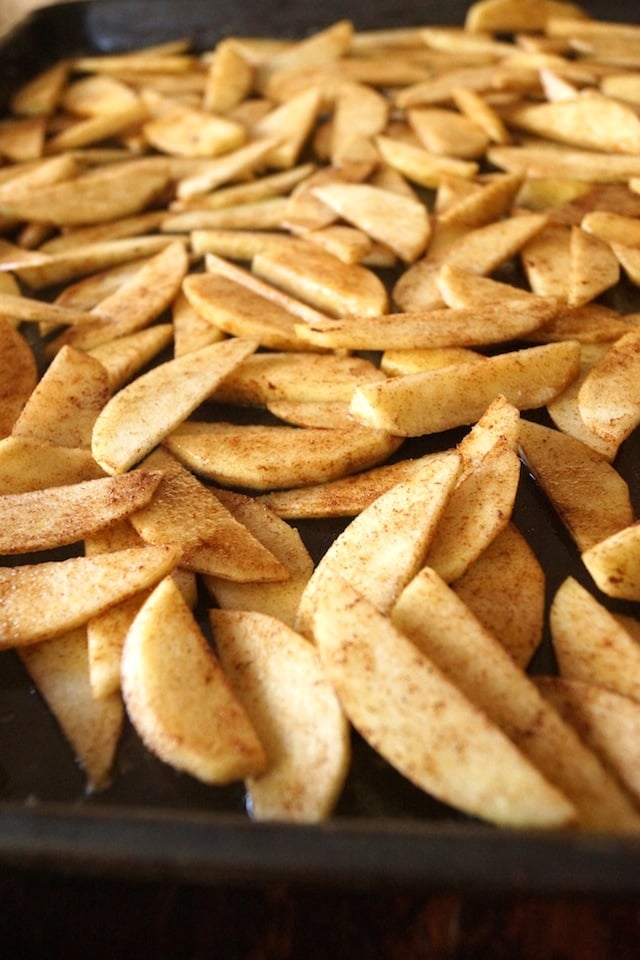 What are the best apples to bake with?
The best apples to bake with are apples that will keep their structure when heat is applied. We want to use apples that will stay in pieces, rather then turning int0 applesauce in our cakes, muffins, etc. Here are a few (of several) that work really well.
Braeburn
Fuji
Granny Smith
Honeycrisp
Pink Lady
I think making this Spiced Buttermilk Roasted Apple Muffin recipe is sure to bring you some fall joy!
A few more delicious, fall apple recipes for you:
Enjoy every last crumb of these oh-so-delicious roasted apple muffins!
Spiced Buttermilk Apple Muffin Recipe
This Spiced Buttermilk Apple Muffin recipe is the essence of fall. They're warmly spiced, full of tender, sweet apples, and are as comforting as can be!
Course:
Breakfast, Brunch, Snack
Keyword:
apple recipes, desserts for breakfast, unique muffin recipes
Ingredients
For the apples
3

cups

Fuji or Granny Smith apples,

peeled, thinly sliced (from about 3 to 4 apples)

2

tablespoons

dark brown sugar

2

tablespoons

fresh lemon juice

1

tablespoon

ground cinnamon

3

tablespoons

unsalted butter
For the batter
1 1/4

cup

all-purpose flour

2

teaspoons

ground cardamom

1

teaspoon

cinnamon

1

teaspoon

baking powder

1/2

teaspoon

salt

1

cup

buttermilk

1/2

cup

granulated sugar

2

large eggs

2

teaspoons

pure vanilla extract

5

tablespoons

unsalted butter,

melted

3/4

cup

golden raisins
For the topping
1/3

cup

dark brown sugar

1/3

cup

raw pecans or walnuts,

very finely chopped

1/2

teaspoon

ground cinnamon

3

tablespoons

unsalted cold butter,

cut into small chunks
Instructions
Prepare a muffin tin with 12 paper cups. Set aside.
To prepare the apples
Preheat the oven to 400°F, and adjust a rack to the center.

In a large bowl, gently mix the apples with the brown sugar, lemon juice and cinnamon. Set aside.

Add the butter to a sheet pan and place it in the preheated oven for about 30 seconds to melt it. Remove the pan from the oven and move it around to evenly distribute it. Then add the prepared apples and use a flat-bottomed spatula to gently mix them with the butter. Spread them out in a fairly even layer.

Place the sheet pan back in the oven until the apples are soft, about 8 minutes. Set aside to cool.

Turn the oven heat down to 375°F.
For the batter
In a large mixing bowl, combine the flour with the baking powder, cardamom, cinnamon and salt. Set aside.

In a medium-sized mixing bowl, whisk the buttermilk with the sugar, eggs and vanilla.

Make a well in the center of the dry ingredients and pour in the wet ingredients. Mix just until smooth.

Fold in the melted butter, the raisins and the roasted apples. (Use a rubber spatula to scrape every last bit of the butter and apples from the pan.)

Fill the prepared muffin cups evenly -- each should be about 3/4 filled with the batter. Set aside.
For the topping
In a small bowl, mix the brown sugar with the nuts and cinnamon. Then use your fingers to incorporate the butter -- it should be a crumbly mixture.

Evenly distribute the topping on the surface of each muffin.

Place in preheated 375°F oven until they've risen a bit above the top of the cups and are becoming golden, about 20 minutes.

Let them cool for at least 20 minutes before serving.
Cooking On The Weekends is a participant in the Amazon Services LLC Associates Program, an affiliate advertising program designed to provide a means for sites to earn advertising fees by advertising and linking to Amazon.com.