Spinach-Sausage Stuffed Spaghetti Squash recipe is SO GOOD! Spaghetti squash recipes are becoming more and more popular since they're typically gluten-free, low-carb, yet still rich and hearty. This recipe delivers a ton of delicious flavor from fresh, simple, ingredients.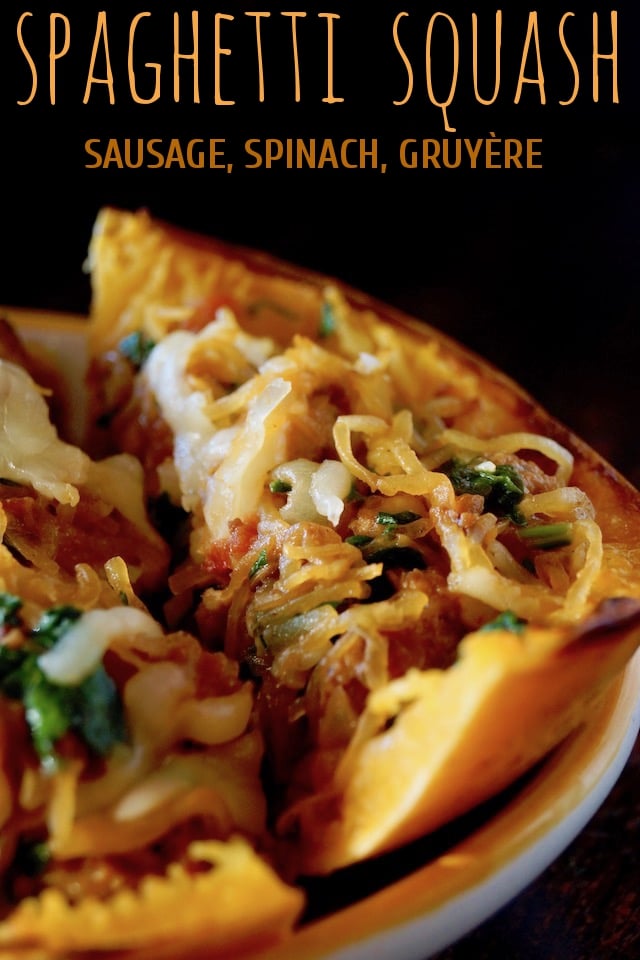 If I sound excited, it's because I am. I always hope you'll make my recipes, and today maybe even more so. Maybe you'll make it this weekend!?
Inside of a week, this Spinach-Sausage Stuffed Spaghetti Squash has become a new family favorite at our house. I tested this for the first time last week, and we've now had it for dinner three times.
Seriously. It's that good.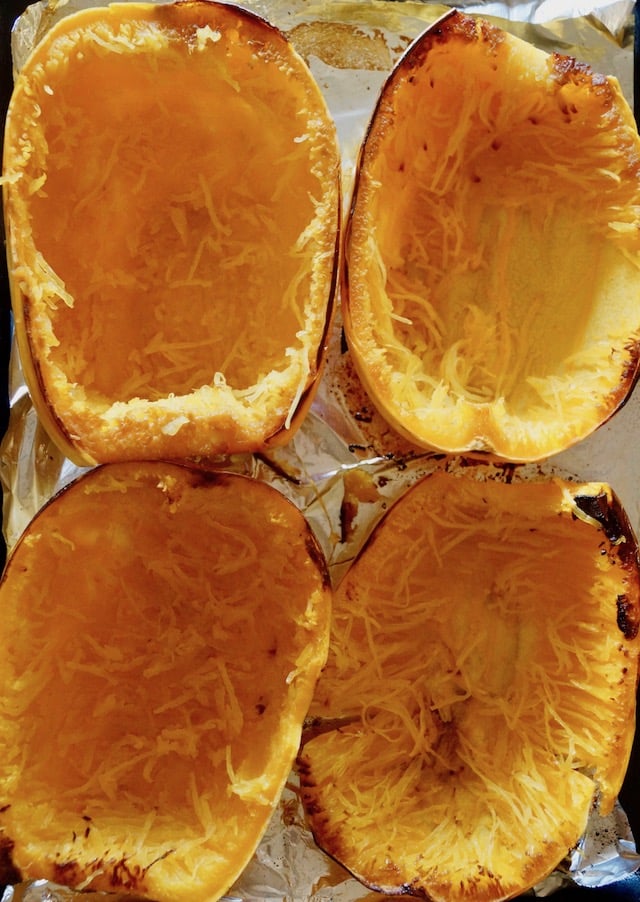 Spaghetti Squash
Spaghetti squash is certainly not what I'd call a substitute for pasta. Sure, it's shaped the same and it's got the name, but the similarities end there. It's different, and it's fantastic.  And quite frankly, it's a bizarre squash. (I get into that issue

here

.)
Spaghetti squash is gluten-free, low carb, and easy to cook.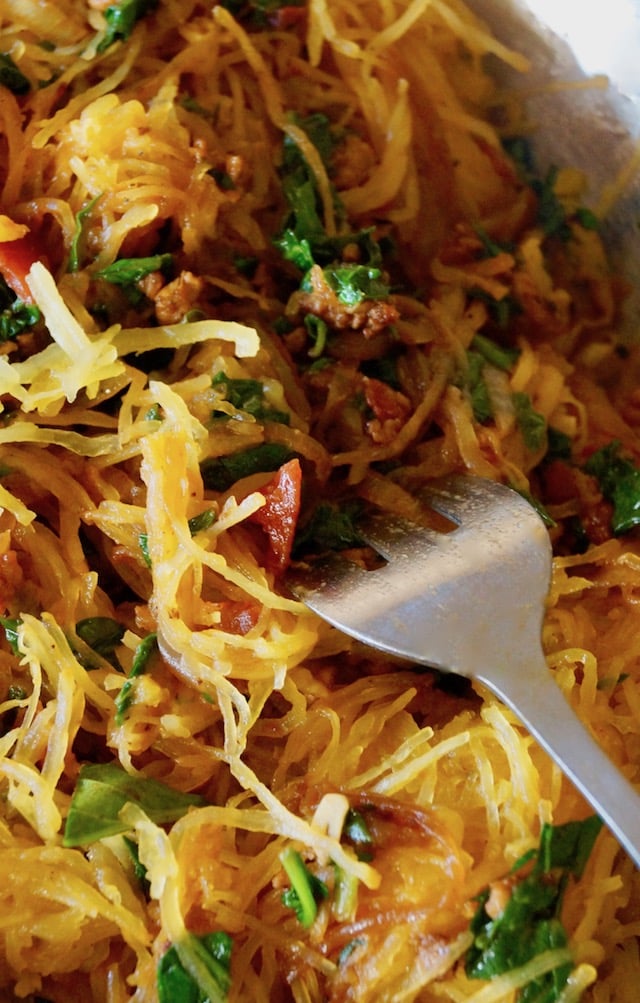 I think spaghetti squash is lovely to eat on it's own — and though we've established it's not pasta, you can treat it like pasta, with a little butter, salt and Parmesan. Yum!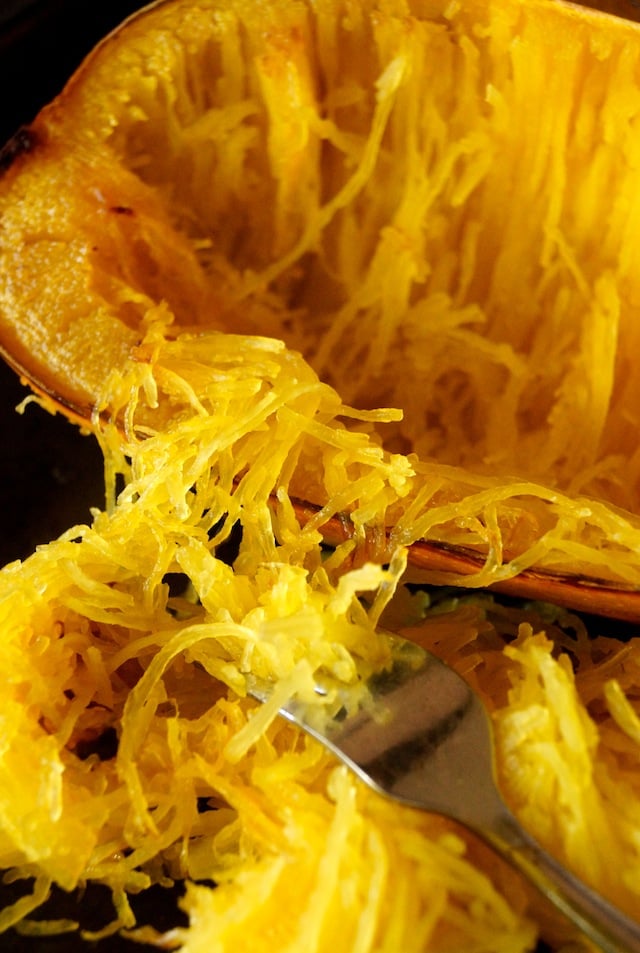 It's actually quite easy to roast the squash, as we will in this recipe. I created a photographic guide that details exactly How to Cook Spaghetti Squash.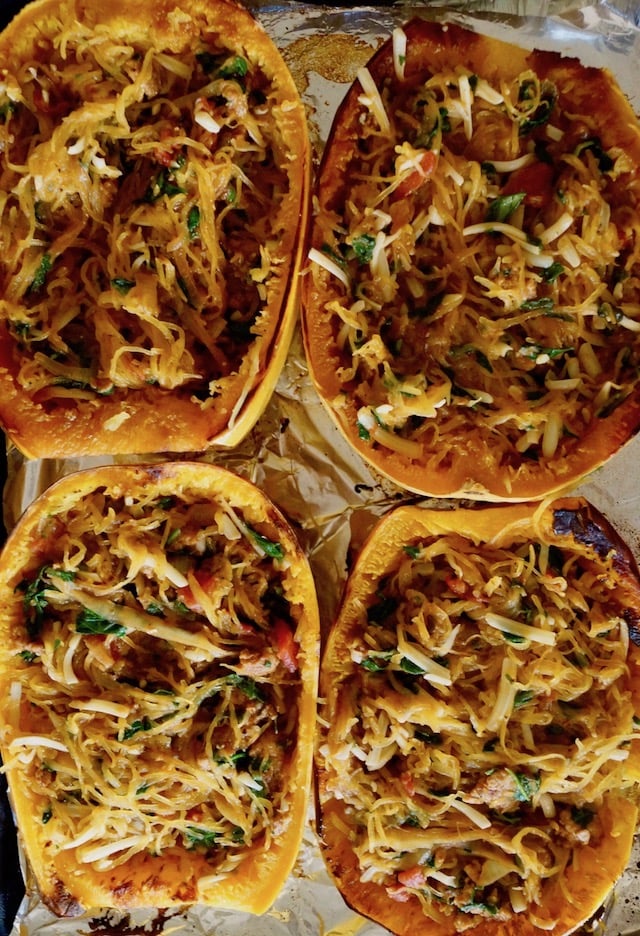 What Does Spaghetti Squash Taste Like?
While the "strings" of the spaghetti squash are soft once cooked, they have a bit of a bite to them, a slight crunch — you could say they're aldente, which in referring to pasta, means "to the tooth."
Spaghetti squash has a mild flavor that is buttery and nut-like. It's mild enough to take on other flavors, but still stands out because of its texture.
This yellow squash is subtly sweet, not nearly as sweet as butternut or other orange winter squashes.
It could be the name, or maybe it's the Italian sausage, or perhaps the large quantity of garlic, but this stuffed spaghetti squash totally has an Italian vibe. A vibe I'm thinking you're going to love.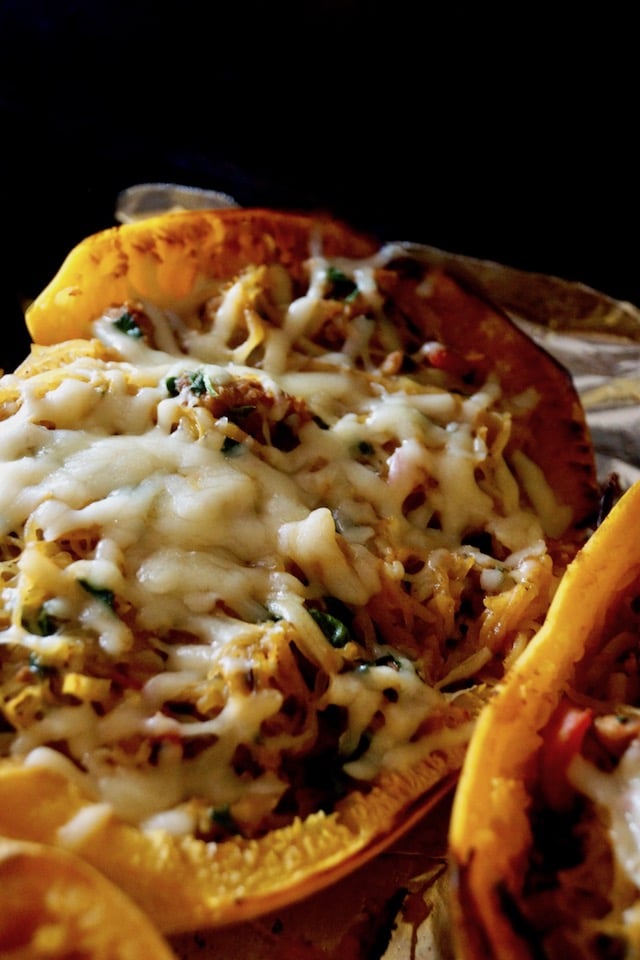 You can easily make this stuffed spaghetti squash recipe vegetarian too — just leave out the sausage and replace it with more spinach, or something like sautéed zucchini or mushrooms.  I think shiitake mushrooms would be excellent in this.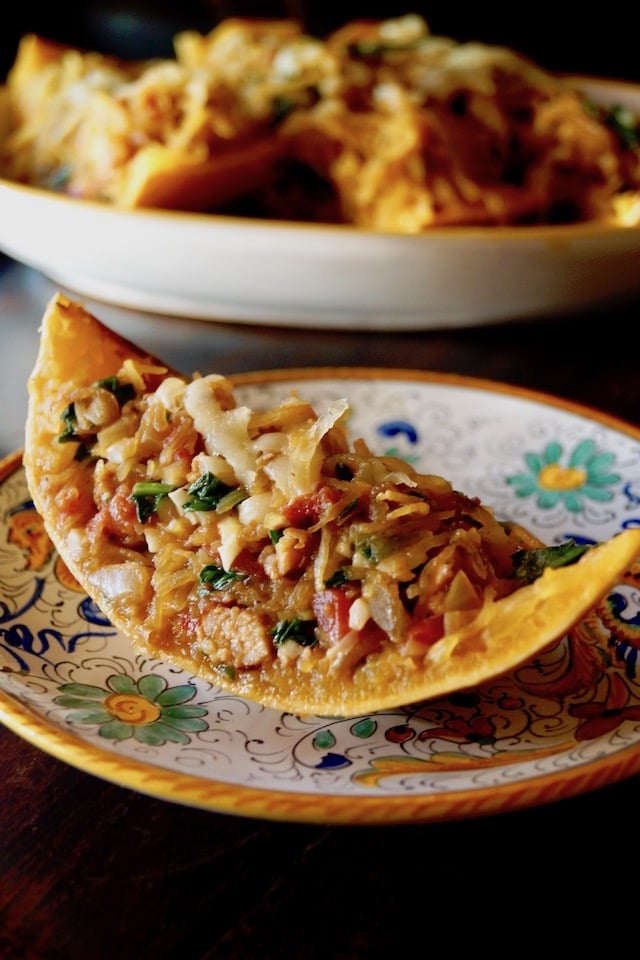 A couple more spaghetti squash recipes:
Let me know if you make this Spinach-Sausage Stuffed Spaghetti Squash Recipe for dinner over the weekend. 🙂
Enjoy!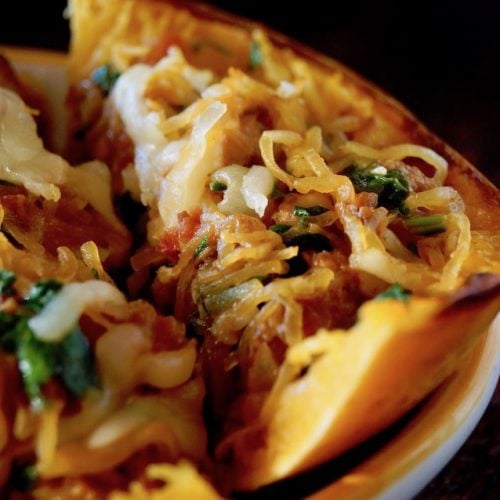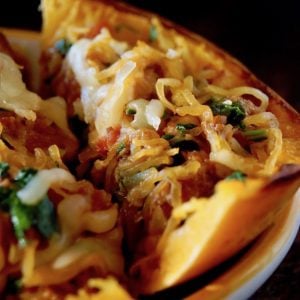 Spinach-Sausage Stuffed Spaghetti Squash Recipe
This main course spaghetti squash dish is rich, hearty, and it delivers a ton of delicious flavor from fresh, simple, ingredients.
Ingredients
2

(approximately 3¼-pound)

Spaghetti Squash

1

pound

sweet Italian sausage

olive oil for the pan

4

cups

yellow onion,

thinly sliced

2

tablespoons

garlic,

minced

¼

cup

dry vermouth

½

teaspoon

nutmeg

1½

cups

tomato purée

6

cups

spinach,

washed and dried, stems removed, roughly chopped

3

cups

Gruyère cheese,

grated, divided
Instructions
Set the oven. Preheat the oven 400° F and adjust a rack to the center.

Roast squash. Cut about an inch off of the stem ends of the squash. Place them squash on their bases you've just made, and use a large Chef's knife to slice down the center, vertically. Now scrape out the seeds with a metal spoon. Drizzle a bit of olive oil on a baking sheet and place all 4 halves of the squash on top, round side up. Roast in the preheated 400° F oven until they're very soft, about 40 minutes.

Cook sausage. While the squash is cooking, squeeze the sausages out of their casings, and add them to a large sauté pan, and break them into bite-sized pieces. Turn the heat to medium and sauté until it's cooked through. If the sausage doesn't have enough fat to keep it from sticking, add olive oil to the pan.

Sauté onions and garlic and deglaze. Add the onions and garlic to the sausage and cook until the onions are soft and becoming golden, about 10 minutes. Pour the vermouth in the pan and use a flat-edged — preferably wooden — spatula to deglaze the pan, scraping any bits of food off the bottom of the pan and then mixing them back into everything else.

Add tomato and spinach. Once the vermouth has cooked off, add the nutmeg, tomato sauce and spinach. Stir until the spinach has totally wilted. Season generously to taste with salt and pepper. (Here's How to Season to Taste.)

Prepare the roasted squash. After 40 minutes, or when all of the squash are quite soft, use kitchen tongs to remove them from the oven, and turn the temperature down to 375° F. Use kitchen tongs to turn the squash over to let them cool for a few minutes. Use a fork to very gently pull the flesh away from the skin.  It will naturally come off in strings. Add the squash "strings" to a very large mixing bowl, and place the now empty squash skins, round sides down, back on the baking sheet.

Combine all of the ingredients. Add the spinach-sausage mixture to the large bowl of spaghetti squash, along with about 2¾ cups of the cheese. Mix very well, and season again with salt and pepper to taste — if necessary. (Here's how.)

Fill the squash skins and bake. Divide the mixture between the 4 squash halves and top each on with a bit of the remaining ¼ cup of cheese. Place in the 375° F oven for 10 to 15 minutes, to melt the cheese and to be sure everything is heated through.

Serve. You can spoon out the mixture to serve, or cut the entire squash halves into slices. Whatever suits you.
NOTES
Calorie count is only an estimate.
NUTRITION
Have you tried this recipe?
I'd love to see it on Instagram! Tag me at @cookingontheweekends or leave a comment & rating below.