This Spicy Mayan Hot Chocolate recipe is made with red Savina Habanero peppers, and it's a super delicious balance of sweet and spicy. A cup of this will sooth your soul of a cold winter day.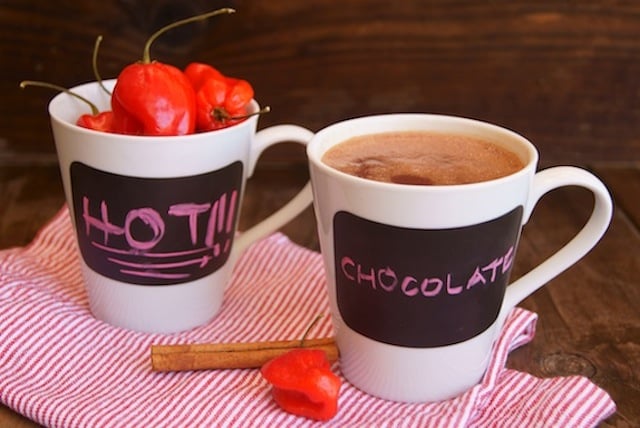 This is one hot chocolate that I would not serve to my kids.
Oh no -- this fiery H-O-T Mayan hot chocolate is for the grown-up palate only.
Melissa's Red Savina Habanero is one of the hottest chile peppers in the world!
In the world!
That's why just a touch is all you need to do the trick.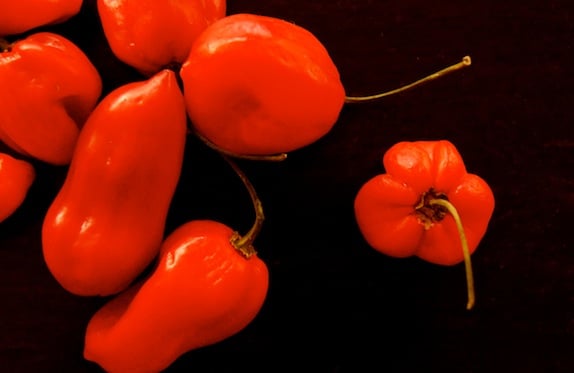 And it's this pepper that makes this Mayan Hot Chocolate so unique and delicious.
How hot is the Red Savina Habanero pepper?
The Red Savina Habanero is about sixty-five times hotter than a jalapeño, and combined with smooth, sweet chocolate and sweet cream, it's balanced beautifully here.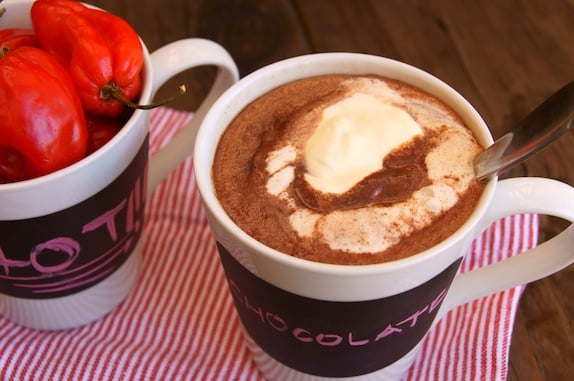 The History of Mayan Hot Chocolate
The first chocolate beverage is believed to have been created by the Mayans around two-thousand years ago. Then, it was not sweet at all. Instead, it was quite spicy with the addition of chiles and was thought to have medicinal qualities.
Do you happen to remember my Spicy Mayan Chocolate Truffles (below)? These two recipes are reminiscent of each other -- though totally different.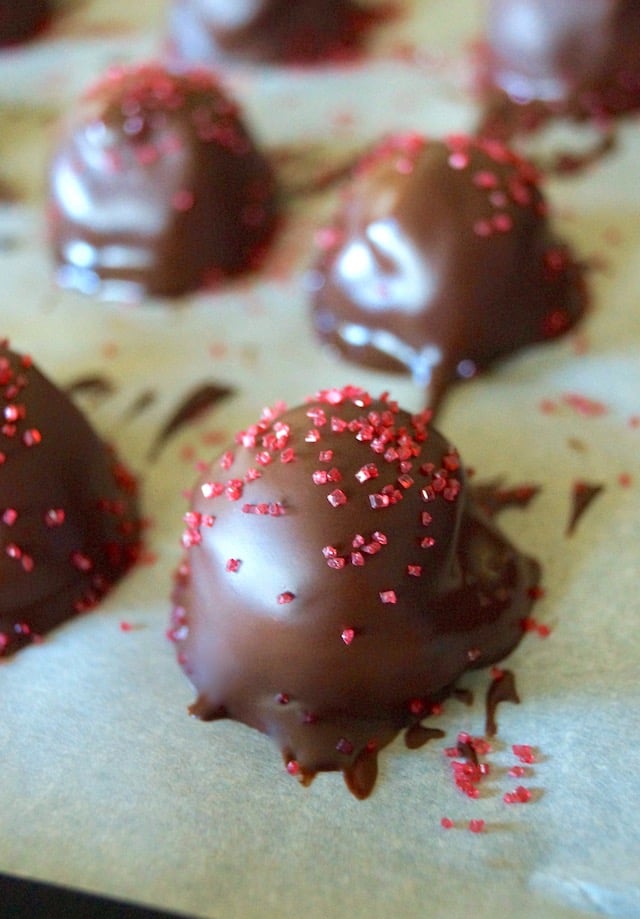 Recipe Tips for Spicy Mayan Hot Chocolate
If you want to skip the heat and, say, share a cup with your kids, simply follow the same directions without the peppers.
You can make this hot chocolate with any hot pepper you like, just be sure to taste it before cooking so you can check the level of heat.
Personally, my palate isn't able to handle red Savina Habanero peppers on their own, but I'm absolutely loving them in this Spicy Mayan Hot Chocoalate recipe, and I hope you will too.
More recipes using Savina Habanero peppers:
Spicy Mayan Hot Chocolate
This Spicy Mayan Hot Chocolate recipe is made with red Savina Habanero peppers, and it's a super delicious balance of sweet and spicy.
Ingredients
8

ounces

semisweet chocolate,

finely chopped

2½

cups

low fat milk

2

teaspoons

Red Savina Habanero peppers,

seeds removed, roughly chopped (Wear gloves to roughly chop the peppers!)

1

approximately (4-inch)

cinnamon stick

2

teaspoons

granulated sugar

1

vanilla pod

⅓

cup

whipping cream

2

teaspoons

powdered sugar
Instructions
Place the finely chopped chocolate in a large (approximately 4 cup), glass measuring beaker. Set aside.

In a small to medium-sized saucepan, combine the milk, peppers, cinnamon stick, and sugar.

Use a paring knife to slice open the vanilla bean horizontally. With the back of the knife, scrape the vanilla beans into the saucepan and add the emptied pod as well.

Bring the mixture to a strong simmer and turn the heat to the lowest setting. Continue to let it simmer gently for about 15 minutes.

Place a fine mesh strainer over the glass beaker with the chocolate and strain the milk mixture.

Whisk until the chocolate has completely melted into the milk, about 1 minute.

Add the powdered sugar to the whipping cream and whisk until it's thick. Pour the hot chocolate into two mugs and add a dollop of the cream on top of each one.
NOTES
Calorie count is only an estimate.
NUTRITION
Have you tried this recipe?
I'd love to see it on Instagram! Tag me at @cookingontheweekends or leave a comment & rating below.
Cooking On The Weekends is a participant in the Amazon Services LLC Associates Program, an affiliate advertising program designed to provide a means for sites to earn advertising fees by advertising and linking to Amazon.com.