Spicy chocolate truffles have been growing in popularity over the years, and for good reason. These Mayan Chocolate Truffles totally fit the bill, with their sweet and spicy combination that's so incredibly delicious.
The Mexican food fest I created for my husband's birthday was a whopping success!
I've listed our final and delicious menu below, and while it was all scrumptious, I think the best part was celebrating my husband with his fantastic friends.
It was absolutely lovely — I think everyone left happy and full.
These Spicy Mayan Chocolate Truffles were one of the desserts — they have a fiery bite and a creamy, rich sweetness.  They were gone almost as quickly as I set the platter down on the table.  I love when that happens — as long as I get my share, that is.
I'm no history buff, but I do know that the timeless Mayan combination of chiles, spices, and chocolate has seduced food lovers for thousands of years.
I was going to decorate the truffles with white chocolate, but the red sugar in the pantry caught my eye. It was an obvious choice, because it would add perfectly to the "red-hot" flavor!
Love the heat in your chocolate?
Then you'll also go crazy for this cozy Spicy Mayan Hot Chocolate — especially on a chilly afternoon with a friend.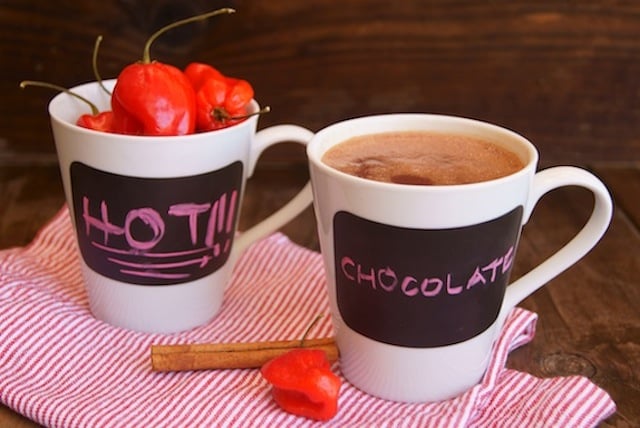 Enjoy every last one of these spicy chocolate truffles!
Timeline for these spicy chocolate truffles:
up to 4 days and at least 6 hours ahead: make the ganache.
up to 8 hours ahead: melt the chocolate and dip the truffles.
Our Mexican Food Fest Menu:
Spicy Mayan Chocolate Truffles
Spiced chocolate has been growing in popularity over the years, and for good reason. These Mayan Chocolate Truffles are a sweet and spicy combination that's so incredibly delicious.

* Please note that the majority of the prep time is refrigeration time.

Servings
:
30
2 per serving
Instructions
Remove 12-ounces of the chocolate and place it in a medium-sized mixing bowl. Set aside.

In a medium-sized saucepan, scald the cream with the vanilla. Tiny bubbles will appear on the edges of the pan, and it should be very hot, but not boiling.

Pour the hot cream over the 12-ounces of chocolate and let stand for 4 minutes. Use a spoon to stir to blend and set aside. This mixture is called ganache. Gently stir in the cayenne and cinnamon. Let it come to room temperature, cover with plastic wrap and chill in the refrigerator until it becomes completely firm, at least 6 hours.

Cover two baking sheets with parchment paper and, in a double boiler, melt the remaining 20-ounces of chocolate.

Remove the firm ganache from the refrigerator and use a 1-inch ice-cream scoop to scoop out about 5 dozen truffles, placing them on one of the parchment-covered baking sheets. Now place the shaped truffles in the refrigerator for at least 30 minutes.

Using a fork, carefully dip each truffle into the melted chocolate to coat it evenly and place them on the other parchment covered baking sheet. You can use a small knife to help you remove the covered truffle from the fork. The truffles will set at room temperature. If desired, sprinkle them with red sugar when they are about halfway set.

Once set, you can put each truffle into a cute paper cup!
Recipe Notes
Please not that the Prep Time does not include chilling the ganache overnight.
If you want to forgo the spice and have a pure chocolate truffle, use my ganache recipe instead.
Save
Save