The Ultimate Breakfast Taco recipe is packed with beautiful, fresh ingredients -- avocado, tomato, egg and a super delicious mixture of bacon, sausage and mushrooms. It's everything you dream of for breakfast, in one over-the-top delicious taco!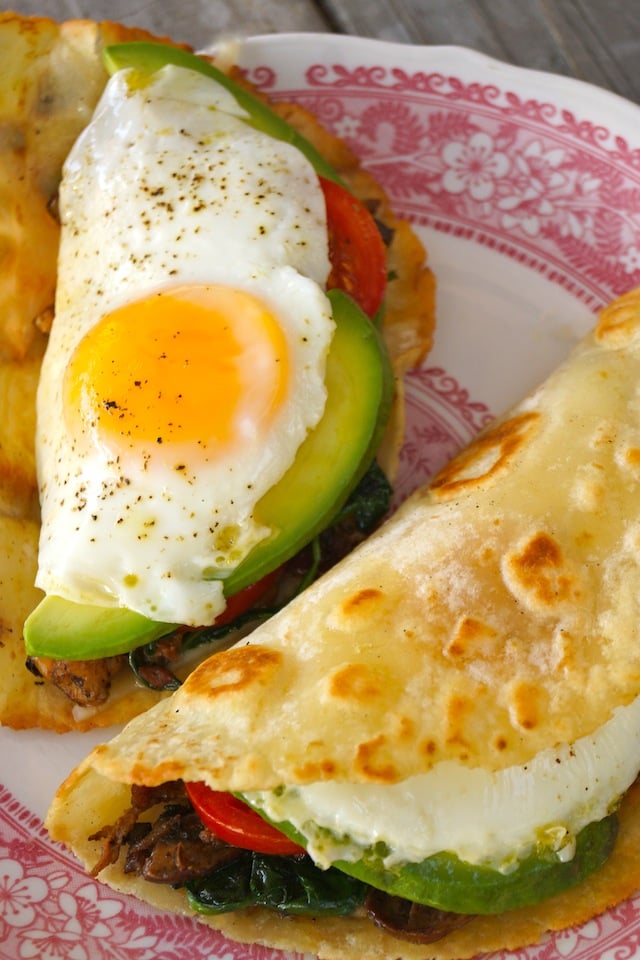 It's not just a breakfast taco -- it's the breakfast taco.
Inspiration
My 11-year-old son loves tacos, and by "loves," I mean he devours them, makes up songs about them and even turns them into super heroes in stories he writes. Yes, a taco. A super hero.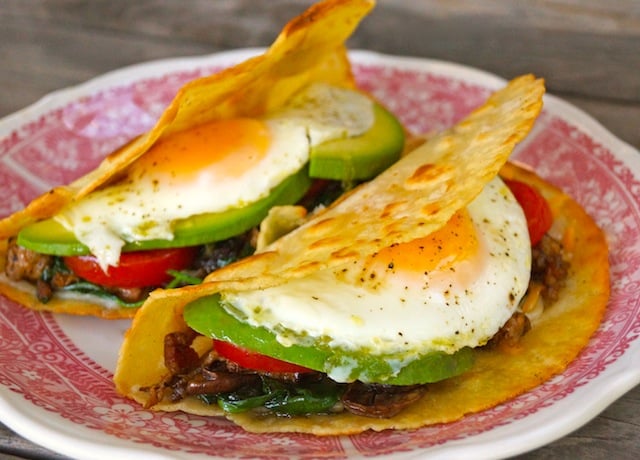 So the other day, he suggested I come up with a breakfast taco recipe. Fun!
Nothing better than this sort of request as far as I'm concerned.
Fun fact: If you search for breakfast tacos, the first thing that comes up is Taco Bell. Well, let me tell you, this is no Taco Bell taco. 🙂
I sort of ran with my son's idea.
There's really no end to the deliciousness involved inside this taco.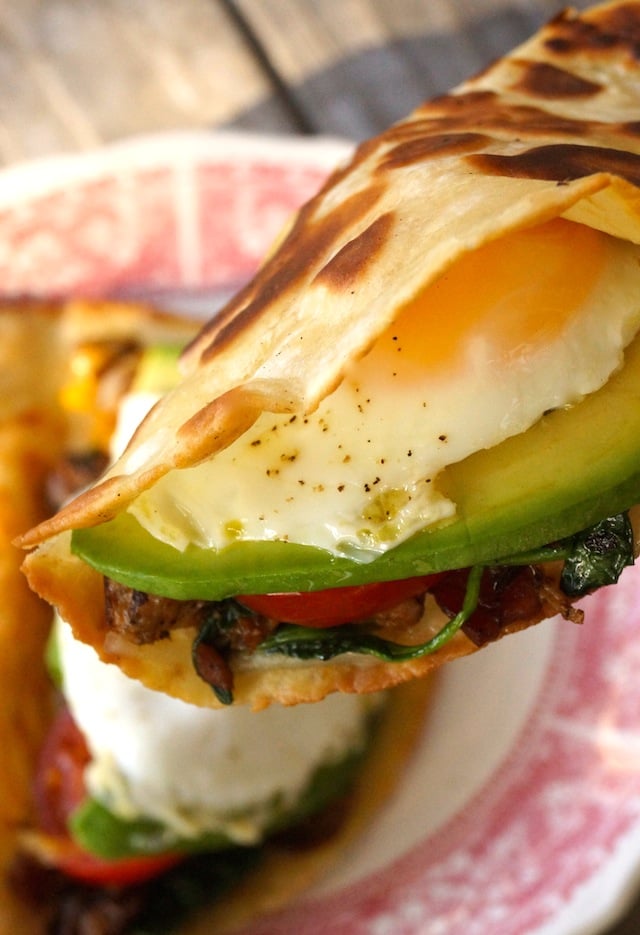 What's in The Ultimate Breakfast Taco Recipe?
Imagine tasting, if you will, sweet caramelized onions, made smoky and a bit spicy with bacon and sausage, intertwined with the earthy flavor of mushrooms.
And all of this richness is brought to life with fresh spinach, tomatoes and avocado, and then. . . . wait for it . . . . the egg -- the perfectly cooked, warm, soft whites with the oozing yolk making the perfect sauce. And all of this in the perfectly crisped tortilla.
Like I said, this is not Taco Bell taco. 😉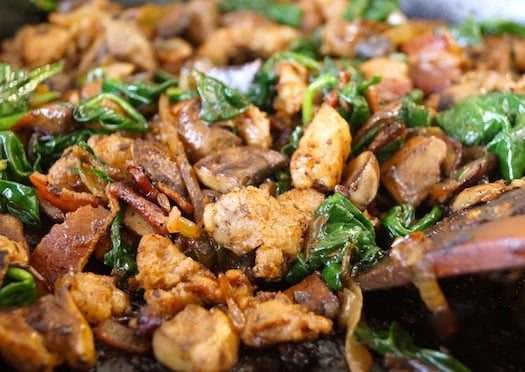 Warning: do not do this tasting imagination bit if you are hungry and don't have immediate access to a kitchen!
I should have mentioned that first. Sorry. You see, you will want to devour The Ultimate Breakfast Taco Recipe as soon as possible.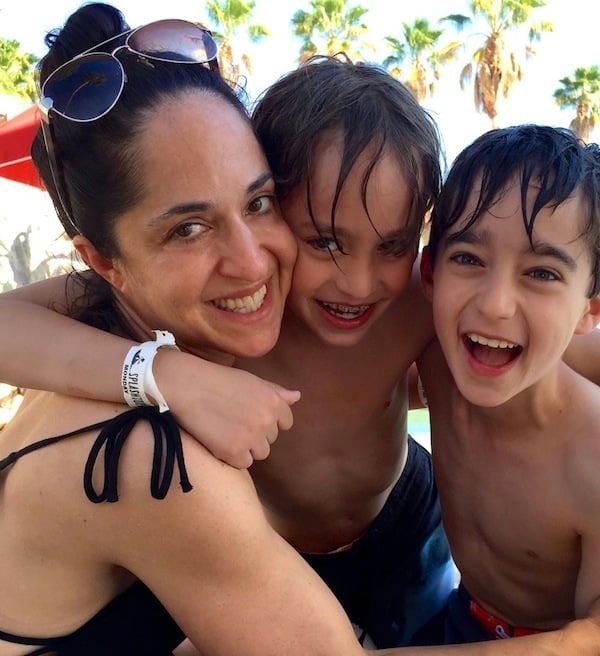 Here I am with my boys -- 11-year-old on the right, 9 year old in the middle.
Those faces. Those sweet faces. Clearly these are boys who deserve the best, and in this case that would be The Ultimate Breakfast Taco recipe.
And I certainly think you deserve one too!
Enjoy!
More delicious taco recipes: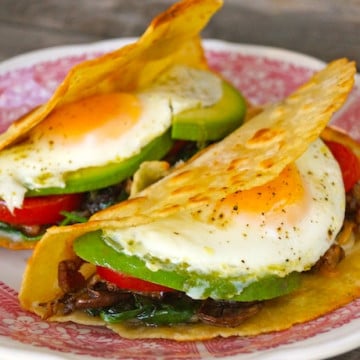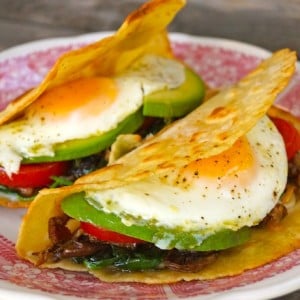 THE Breakfast Taco Recipe
This Breakfast Taco recipe is packed with beautiful, fresh ingredients — avocado, tomato, egg and a super delicious mixture of bacon, sausage and mushrooms.

Ingredients
olive oil for the pan

6

(8-inch )

flour tortillas

(use corn tortillas if you want gluten-free)

2

strips

applewood smoked bacon

1

cup

onion,

thinly sliced

2

cups

Crimini mushrooms

thinly sliced and then roughly chopped

2

links

sweet Italian chicken sausages

(pork is fine too)

2

cups

packed spinach leaves

6

large

eggs

1

cup plus 2 tablespoons

grated cheddar cheese

3

small to medium-sized

tomatoes,

thinly sliced

1

medium-large

avocado,

thinly sliced

salt and freshly ground black pepper
Instructions
Coat the bottom of a large sauté pan with a small amount of olive oil and place it over medium-high heat. Add as many of the tortillas as you can fit. Sauté each side for a minute or so, until they're crisp. Use kitchen tongs or a fork to gently fold each one in half. Repeat until all of the tortillas are done, placing them on a large plate as you go. Set aside.

In the same pan, add the bacon and place it over medium heat. Cook until it's brown and crisp, about 3 minutes per side. Remove it from the pan and set aside to drain a double layer of paper towels. Do not clean the pan!

Add the onions to the pan with the bacon grease and cook over medium-high heat, stirring occasionally, until they are soft and golden brown, about 10 minutes.

Move the onions to one side of the pan and turn the heat up a bit. Add the mushrooms to the empty side of the pan and sauté until they begin to soften, about 5 minutes. (You might need to add a bit of olive oil at this point -- if all of the bacon grease has been absorbed by the onions.) Then mix the mushrooms into the onions, turn the heat to medium and add the sausages, squeezing them out of their casings as you do. Use a wooden spatula to break them into small pieces and incorporate them into the other ingredients. Continue to sauté until the sausage is cooked through, about 8 minutes. Crumble the bacon and add it into this mixture with the spinach. Cook just until the spinach has wilted, about 3 minutes. Season to taste with salt and pepper (

here's how

), remove from the heat and set aside.

Now in a non-stick pan fry the eggs: lightly coat the bottom of the pan with olive oil and over medium-low heat, crack the eggs into the pan, sprinkle with salt and pepper and cook to the the desired doneness. (I like runny yolks.) You'll likely have to do this in a couple of batches, but begin assembly of the tacos as you cook them.
Assembly
Warm the sausage mixture and add about ⅓ cup to one side of each taco shell. Then evenly sprinkle this with about 3 tablespoons of the cheese. (We want the sausage mixture warm enough so that the cheese melts.) Now add a few slices of the tomato and avocado to each one. Then, getting back to the eggs, as each one is finished, gently add it to a taco directly from the pan.

Serve immediately.
NUTRITION
Have you tried this recipe?
I'd love to see it on Instagram! Tag me at @cookingontheweekends or leave a comment & rating below.
Save
Save
Save