This ceviche tastes like the beach.
Okay, not literally.  I would never serve you something as salty as the ocean, or as gritty as the sand.  And this is actually quite the opposite — it's perfectly seasoned and will melt in your mouth.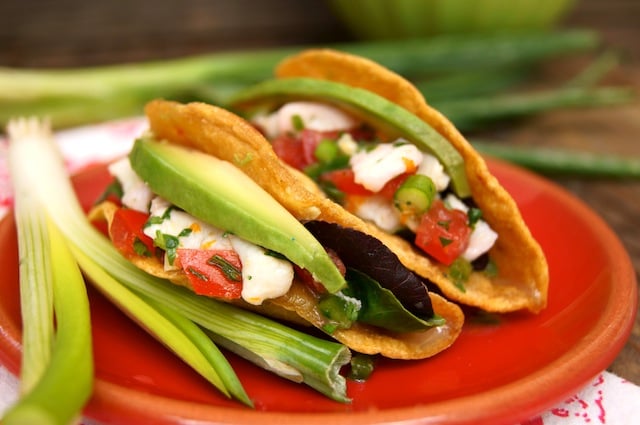 The ceviche in these tacos tastes like the beach in that it simply brings my mind there.  It's so incredibly refreshing and is packed with fresh, bright flavors.
As soon as you sink your teeth into these tacos, you might just find yourself on a beach, too.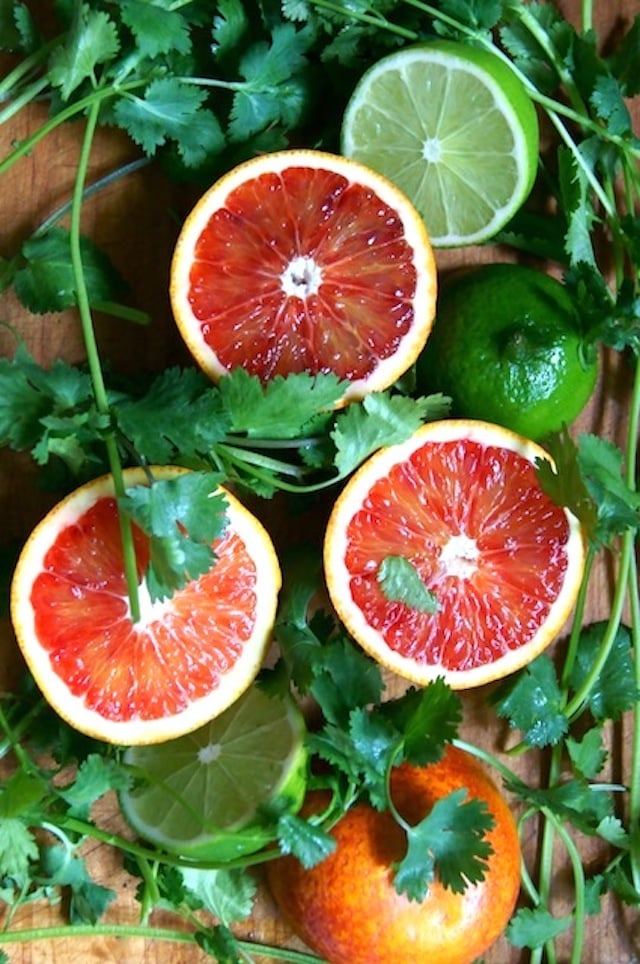 With such gorgeous ingredients, this is another fantastic, super delicious dish to add to your casual Cinco de Mayo menu.
You can even set this up as a taco bar. And while you're at it, why not add the pulled pork option? Something for everyone — so fun!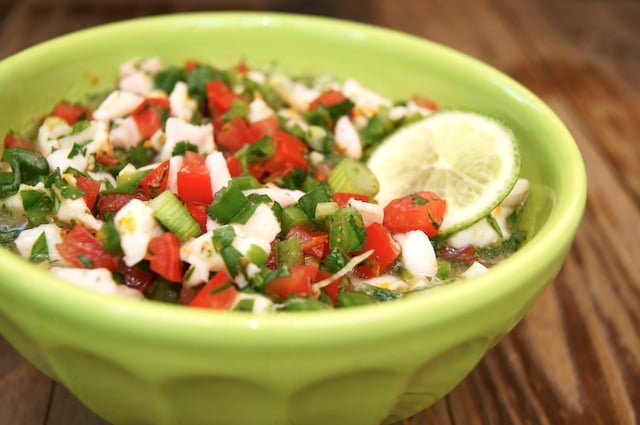 Enjoy!
Holiday or not! 😉
Cinco de Mayo Recipes: Blood Orange Halibut Ceviche Tacos
Please note that almost all of the prep time is refrigeration time.
Ingredients
Zest of 1 blood orange

Juice of 1 blood orange

Juice of 2 limes

1/2-

pound

finely diced halibut

3/4

cup

finely diced tomatoes

seeds removed

1/3

cup

loosely packed

finely chopped cilantro

2

finely sliced scallions

white and green portions

2

tablespoons

minced jalapeño peppers

seeds removed

1

teaspoon

minced garlic

2

teaspoons

olive oil

1/2

teaspoon

ground cumin

Pinch

of cayenne pepper

20

4-inch corn tortillas

Olive oil for the pan

About 1 cup mixed baby greens

1

medium to large avocado
Instructions
Combine the orange zest and orange juice with the lime juice in a small to medium-sized bowl.

Add the halibut and gently mix to be sure all of it is covered with the citrus juices. Cover the bowl tightly with plastic wrap, place it in the refrigerator, and let it marinate until the halibut is opaque in color, about 8 hours, and ideally overnight. (You are essentially "cooking" the fish.)

Add the tomatoes, cilantro, scallions, jalapeños, garlic, olive oil, cumin and cayenne. Then season to taste with salt and pepper. (

Here's how

.)

Cover the ceviche with plastic wrap again, and let it marinate in the refrigerator for about 15 minutes.

To make the taco shells, coat the bottom of a large sauté pan with olive oil and place it over medium-high heat. Add as many of the tortillas as you can easily fit. Sauté each side for a minute or so, until they are crisp and golden. Use kitchen tongs or a fork to fold each one in half. Repeat until all of the tortillas are cooked. As you remove them from the pan, place them on a paper towel-lined plate to soak up any excess oil.

When you're ready to serve, add a few baby greens, about 1-1/2 tablespoons or so of the ceviche, and an avocado slice (or two).
Recipe Notes
These are small tacos -- I like them that way, but you can also us larger tortillas and use more of the ceviche to fill them.
Of course you can also have the ceviche with chips, in a salad, over bread, or simply with a spoon.
If you can't find blood oranges you can use another juicy orange. I love the blood orange flavor and it's just so pretty!
Save