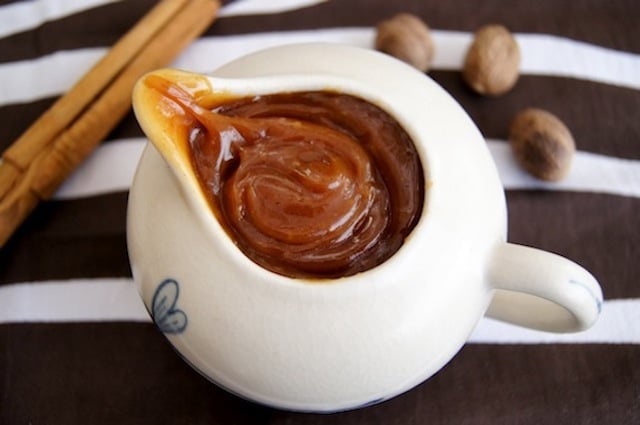 This weekend I'm serving Salted, Spiced Caramel Pumpkin Gelato!  Yum!  It's all about using the flavors of fall.
Whenever I make a recipe with many components, I try to get some of them done ahead of time.  So… today we're making the caramel portion of the gelato.
This is very similar to the salted caramel recipe I used in the Salted Caramel Chocolates (image below) at my dessert party over the summer.
The process of making caramel is truly beautiful. Watching the sugar go from a pale, translucent white to a deep, dark, rich amber is so fantastic.  The transformation is magical and lovely.
So let's make this during the week, and on Saturday we'll have a bit less to do.  Who's coming over to enjoy your meal this weekend?
Salted, Spiced Caramel Sauce
Makes about 1 cup
Ingredients
1/4

cup

water

1

cup

granulated sugar

1/4

cup

1/2 stick unsalted butter

1/4

cup

heavy cream

1

tablespoon

crème fraîche

3/4

teaspoon

coarse sea salt

3/4

teaspoon

ground cinnamon

1/4

teaspoon

ground cardamom

1/8

teaspoon

ground nutmeg
Instructions
In a medium-sized saucepan, combine the water and sugar. Cook this mixture over low-medium heat, until the color is a very dark amber. This should take about 15 to 20 minutes. Do not ever stir this mixture!

Once you've achieved the dark color, reduce the heat to low and carefully whisk in the butter, cream, and crème fraîche. Stand back! When you add these ingredients, the mixture will likely hiss and bubble up. Continue to whisk until it's smooth. Then add the salt, cinnamon, cardamom and nutmeg. Stir to blend, and remove from the heat.
Recipe Notes
This caramel can be made up to at least a week ahead of time. Keep it stored in the refrigerator and warm it to soften.
Save
Save