This cinnamon raisin cookie recipe is truly amazing! The cookies are a melt-in-your-mouth dreamy treat.  They're soft and crisp, and buttery and cinnamon-y — all at once!  So yes, they're the Best Cinnamon Raisin Cookies of all time!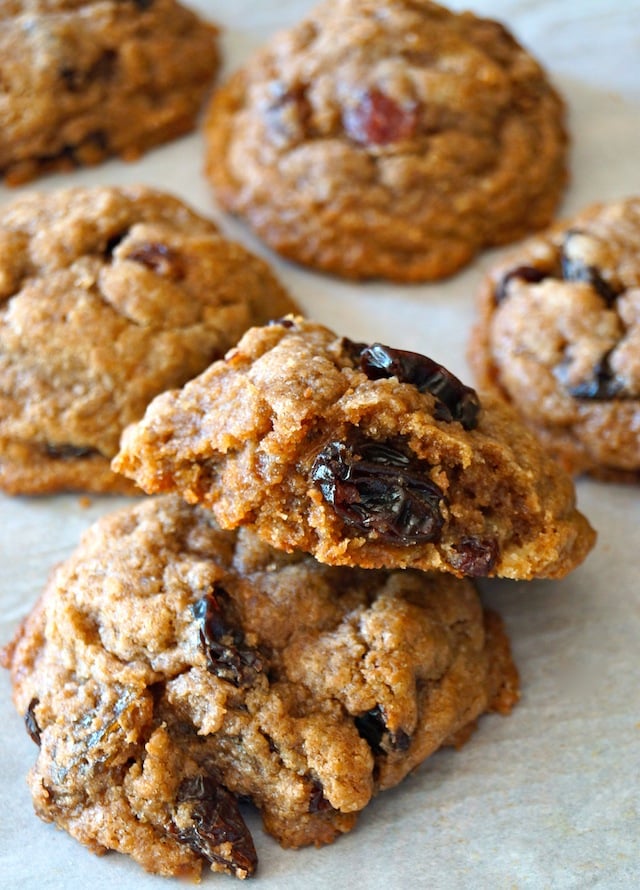 Of all time!?  Well, I do want to be humble, but . . .
Yes . . .  of all time!  This is the best cinnamon raisin cookie recipe of all time!
These cookies are SO incredibly buttery and cinnamon-y!  And the raisins – oh, the raisins – you don't even have to be a raisin fan to appreciate them!
They soak for about an hour in warm, melted butter with vanilla and cinnamon – they become soft, plump and rich with flavor.
Now imagine all of this held together by a lovely, perfect combination of a soft and crisp cookie.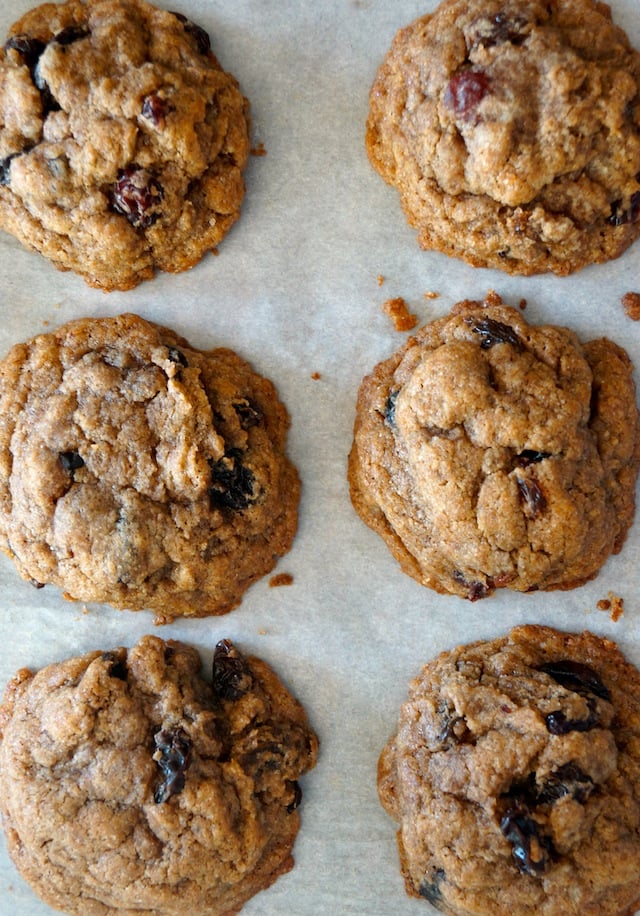 I'm guessing you're so ready for a bite after hearing that.  I just ate one, just describing them to you makes me want another.  And another.
My son's tennis coach just had a baby so I asked her husband what sort of cookies she might like.  Without skipping a beat, he practically yelled, "oh, she loves cinnamon raisin cookies!"  I knew right away cinnamon raisin was his favorite. 🙂
So naturally, I wanted to attempt to make the best cinnamon raisin cookies of all time, for both of them.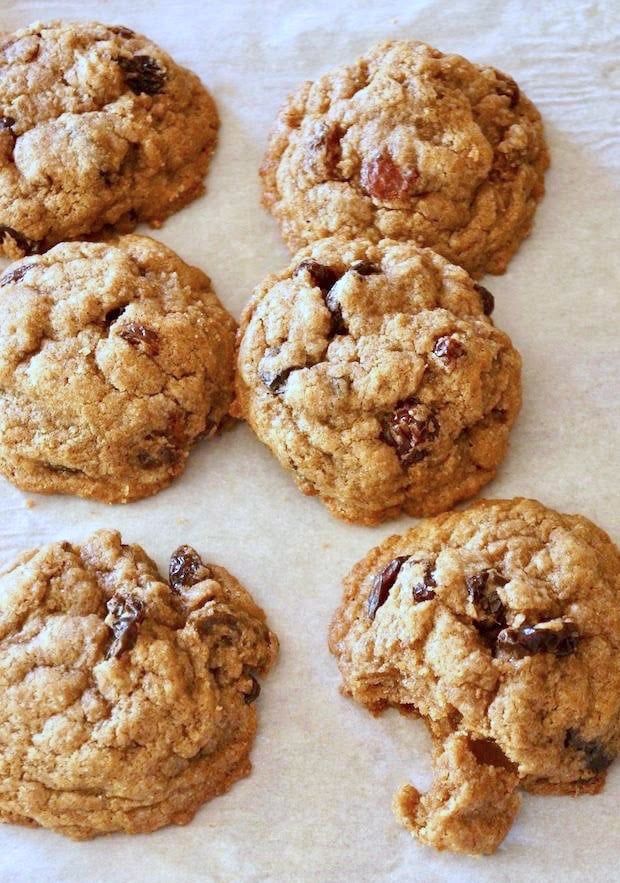 Honestly, this is in fact the best cinnamon raisin cookie recipe. Ever!  That I've tasted, anyway.  And I'm certain the secret is soaking the raisins.  I love these cookies, and for me to be this crazy about a cookie without chocolate, well . . . that's really saying something.
Get those raisins soaking, and get these cookies made by the time the kids return home from school.  Or in time for dessert, or a weekend get together, or just in one and a half hours for the best snack ever!
Enjoy last crumb!
P.S. If you just can't live without the chocolate, you'll love this Super Chewy Chocolate Chip Cookie Recipe.
The Best Cinnamon Raisin Cookie Recipe of All Time
Makes 16 large cookies ** Please note that 1 hour of the prep time is inactive (while the raisins are soaking).
Prep Time
1
hour
15
minutes
Total Time
1
hour
25
minutes
Ingredients
1

cup

2 sticks unsalted butter

2

cups

raisins

1 1/2

tablespoons

pure vanilla extract

1

tablespoon

plus 1 teaspoon ground cinnamon

2 1/4

cup

all-purpose flour

1 1/2

teaspoons

salt

1/2

teaspoon

baking soda

1/2

cup

granulated sugar

1

cup

golden brown sugar

2

large eggs
Instructions
Add the butter to a medium-sized sauce pot and place it over low-medium heat. Once the butter has melted, turn the heat to low. Add the raisins, vanilla and cinnamon and stir to blend. Cover and let this gently simmer for 10 minutes. Then turn the heat off, keep the pot covered, and let it sit for 50 minutes.

While the raisins are soaking, preheat the oven to 350 degrees F. Cover 2 baking sheets with parchment paper, set aside, and adjust two racks towards the center of the oven.

In a medium-sized mixing bowl, combine the flour, salt and baking soda. Set aside. Add both sugars to a large mixing bowl and set aside.

Once the raisins have soaked in the butter for 50 minutes, add the mixture to the bowl with the sugar and mix to blend. Then add the eggs and mix until they are fully incorporated. Fold the dry ingredients to the wet ingredients and mix just until you no longer see any dry spots.

Use a cookie scoop (approximately 2 1/4-inch) to drop the batter onto the parchment-lined baking sheets. There should be a couple of inches between them. (See notes!)

Bake in the preheated 350 degree F oven until they're set and slightly golden along the edges, 10 to 12 minutes.

Let them cool on the baking sheet for at least 20 minutes.
Recipe Notes
You can, of course, make the cookies any size you'd like to -- just be sure to leave a couple of inches between them, as they will spread.
Save
Save
Save
Save
Save
Save
Save