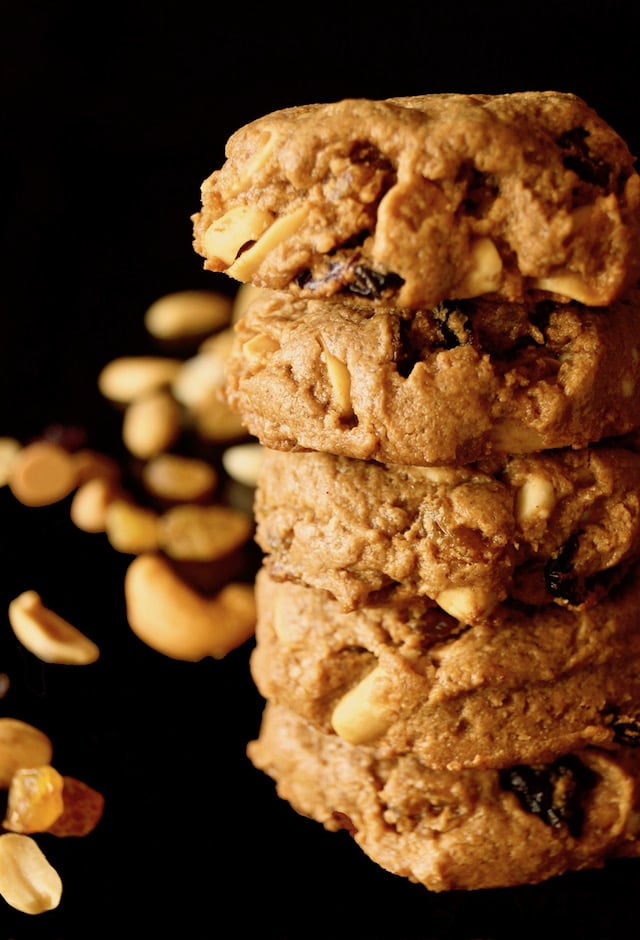 Peanut Butter Trail Mix Cookies are super quick and easy to make with only four ingredients. They're incredibly delicious and gluten-free to boot.
Sometimes I buy a bag of trail mix just for the chocolate. I mean, c'mon who doesn't?
You know what I'm talking about, right?
Inspiration for Peanut Butter Trail Mix Cookies
A bag of trail mix is the healthier snack choice. I couldn't very well buy a bag of chocolate chips to snack on all day -- but trail mix, now that's a legitimate snack food.
And then sadly, I'm always left with a bag of nuts. Who wants just the nuts?
To avoid leftovers, I was inspired to make these cookies. 😉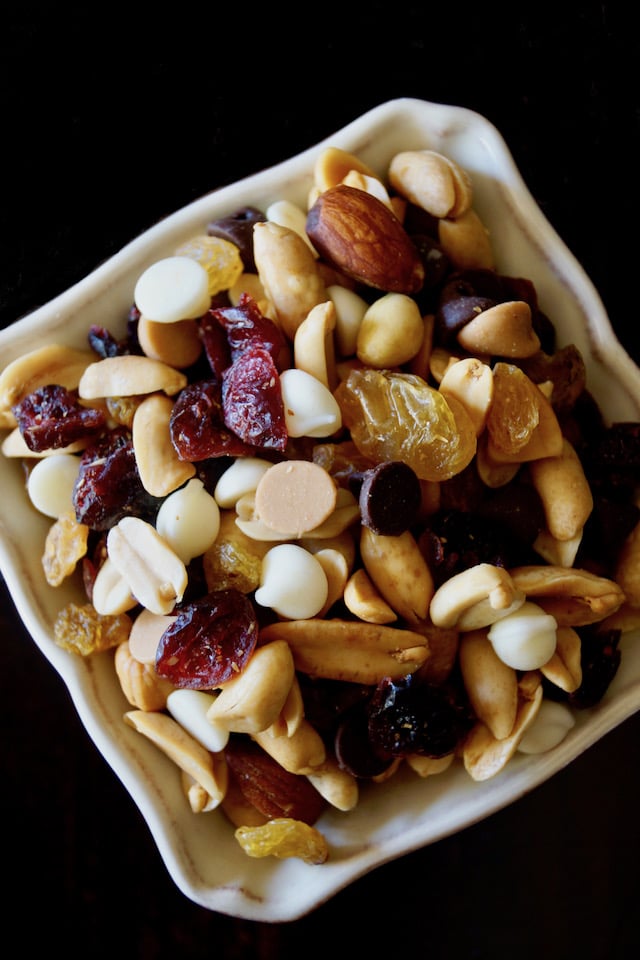 What exactly is trail mix, anyway?
Technically "trail mix" refers to a mix of bite-sized ingredients that travels well.
Another name for trail mix is "gorp" which is said to be an acronym for "good old raisins and peanuts."
Call it what you will, trail mix typically includes nuts, seeds, dried fruits, and often granola and chocolate.
It's great for travel, especially for hiking and camping because no refrigeration is necessary.
Okay, on to the recipe . . .
Do you ever just really need a cookie?
That's a totally ridiculous question, I know.
Of course you just need a cookie sometimes. Who doesn't!?
If you've been following my blog, you know I'm someone who loves to spend hours cooking in the kitchen.
However, sometimes I really do just need a cookie! And fast. 😉
Enter Peanut Butter Trail Mix Cookies -- a stellar recipe for that purpose!

Four ingredients in Peanut Butter Trail Mix Cookies
Peanut butter, egg whites, sugar and a bag of your favorite trail mix. That's it!
Four ingredients, an oven, and a total of 25 minutes -- that's all it takes until you're eating these delicious cookies!
Recipe Tips
In my professional opinion your trail mix must include chocolate! I used Sweet, Savory & Tart Trek Mix from Trader Joe's.
FYI, these cookies are 100% gluten-free!
I love these cookies when they're frozen. They become sort of like a candy bar. Frozen or not, enjoy every last crumb of these Peanut Butter Trail Mix Cookies!
More Scrumptious Peanut Butter Treats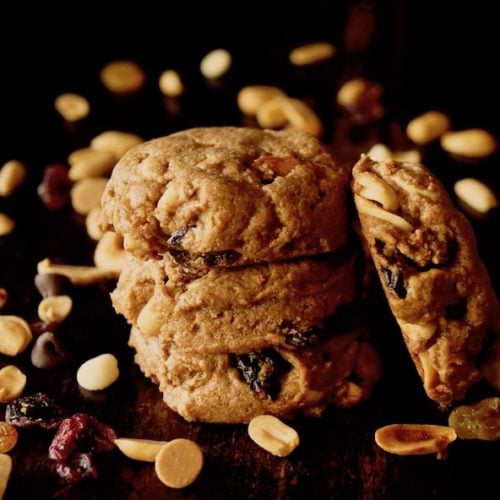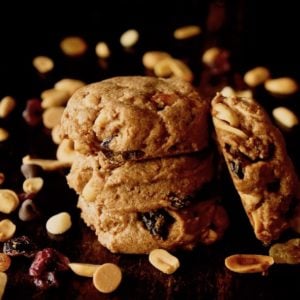 Peanut Butter Trail Mix Cookies
Peanut Butter Trail Mix Cookies are super quick and easy to make with only 4 ingredients. They're incredibly delicious and gluten-free to boot.Makes about 1½ dozen large cookies
Ingredients
1

cup

golden brown sugar

2

large

egg whites

1¾

cups

creamy, salted peanut butter

2

cups

of your favorite trail mix

(see notes)
Instructions
Prep the oven and pans. Preheat the oven to 350°F and line two baking sheets with parchment paper. Set aside.

Make the batter. In a medium-sized mixing bowl, use a fork to blend the egg whites with the sugar.  Then mix in the peanut butter until you have a smooth mixture. Fold in the trail mix and stir until it's incorporated into the dough evenly.

Shape the cookies. Use a 2 inch cookie scoop or a couple of teaspoons to shape the batter, adding them parchment-lined baking sheets as you go. Gently flatten them down a bit with your hands. (These cookies shouldn't spread much, if at all.)

Bake and cool. Bake in the preheated 350°F oven for approximately 10 to 12 minutes. They should still look a bit doughy when you remove them from the oven, and will solidify as they cool. Let the cookies cool for at least 5 minutes before removing them from the baking sheet. Use a flat-bottomed metal spatula to move them to a cooling rack or a plate.
NOTES
Calorie count is only an estimate, and please note that the calorie count in this recipe is based on the trail mix I used, and it may vary, depending on what you choose.
NUTRITION
Have you tried this recipe?
I'd love to see it on Instagram! Tag me at @cookingontheweekends or leave a comment & rating below.
Cooking On The Weekends is a participant in the Amazon Services LLC Associates Program, an affiliate advertising program designed to provide a means for sites to earn advertising fees by advertising and linking to Amazon.com.


Save