These Oatmeal Raisin Chocolate Chip Cookies are made with a unique technique that makes them out of this world! Once you try it, you might just never use another recipe. (They can be made gluten-free, too!)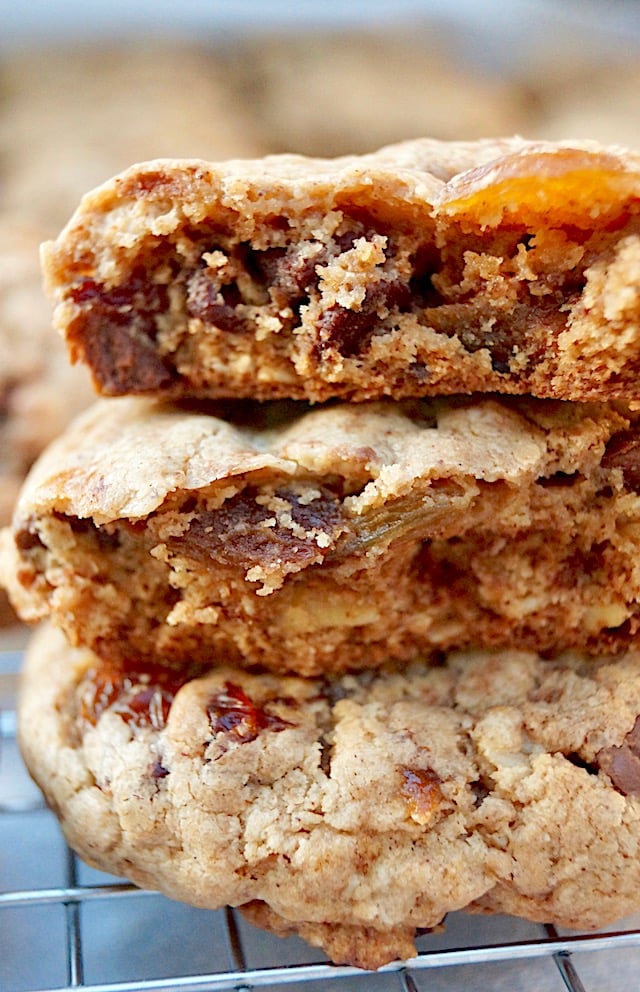 The inspiration for this recipe stemmed from The Best Cinnamon Raisin Cookies, which are wildly popular.
They are made with the same secret, special technique that I use in this Oatmeal Raisin Chocolate Chip recipe. I'm telling you, you won't believe how unbelievable they are!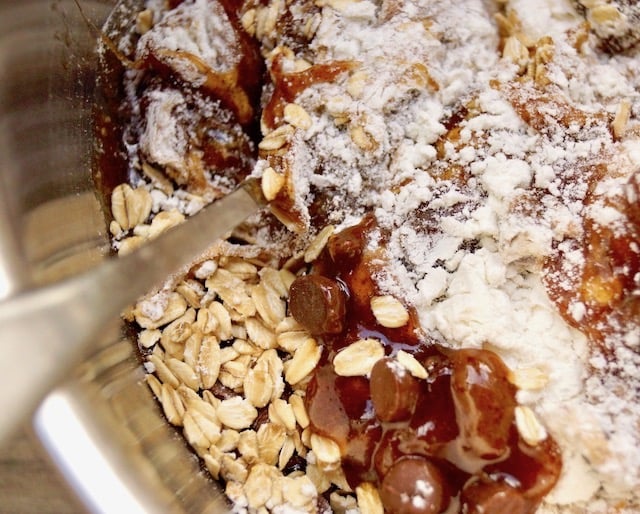 What's the secret?
When raisins and other dried fruits are used in baking and in other recipes, they're often hydrated first, to soften and plump them up. Typically this is done in hot water.
I do this in hot melted butter -- for an hour! And not just melted butter, the raisins hydrate with vanilla and cinnamon. So not only do they become soft and plump, but they're also infused with those flavors.
Are you in?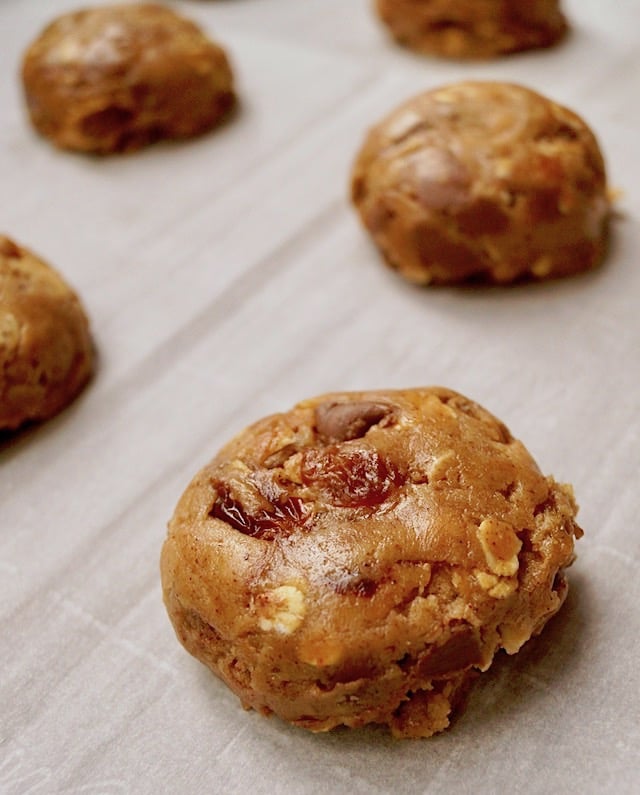 The Ingredients
unsalted butter

vanilla
cinnamon
brown sugar
granulated sugar
all-purpose flour
baking soda
eggs
kosher salt - If you use table salt, use half the amount.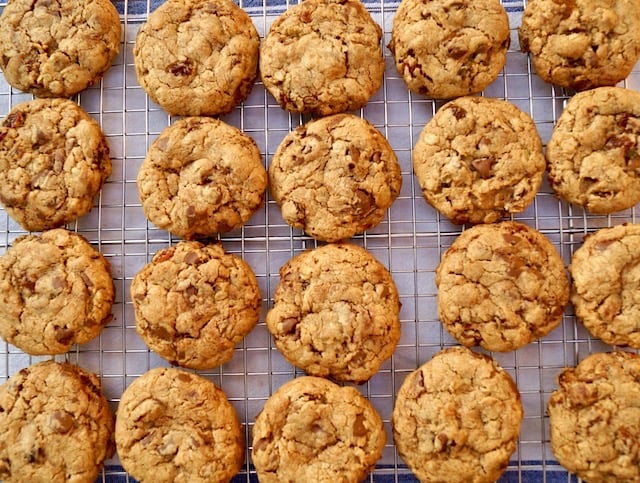 Recipe Tips
I like using golden raisins in this recipe, but they're just as good with black raisins. (I find the golden variety are a bit softer, even before they're hydrated, and the flavor is slightly lighter.)
Make these when you have plenty of time. You definitely don't want to shorten the time the raisins soak in the butter. On the flip side, don't let them go more than a couple minutes over because if too much of the butter is soaked into the raisins, the dough won't be the right consistency.
These Oatmeal Raisin Chocolate Chip Cookies can easily be made gluten-free! I've tested this recipe using this

Cup4Cup Gluten-Free All-Purpose Flour

, and the result is fantastic.
Of course you can make the cookies any size you'd like to -- just be sure to leave a couple of inches between them, as they will spread.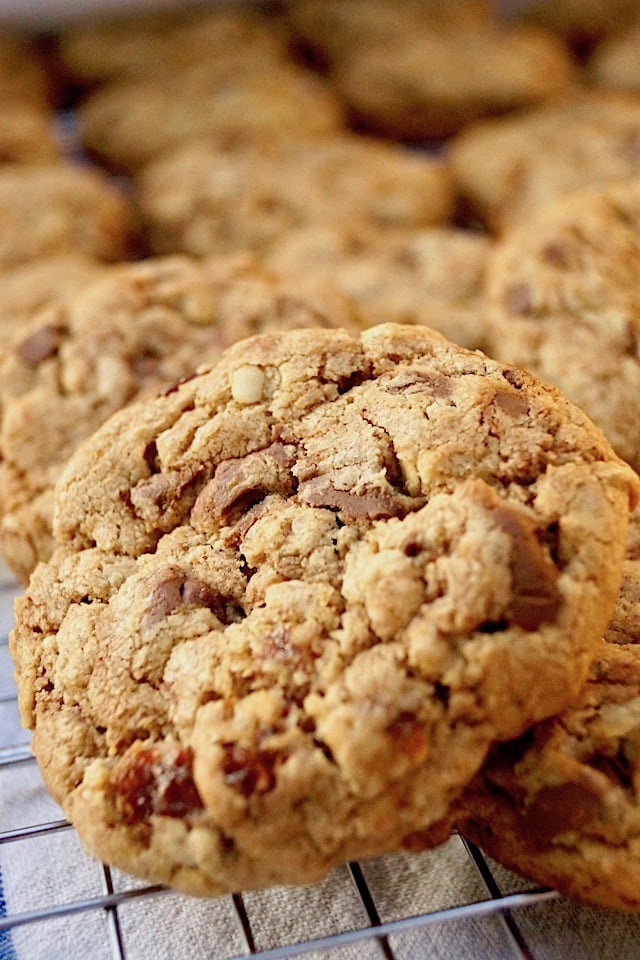 Storing the Cookies
These cookies should be stored in an air-tight container. If you don't plan to serve them within the first day or so after baking them, you can freeze them.
They can be kept frozen in an air-tight container for up to a month. (Longer is okay, but the longer they're frozen, the more moisture they'll lose.)
More Unique Chocolate Chip Cookie Recipes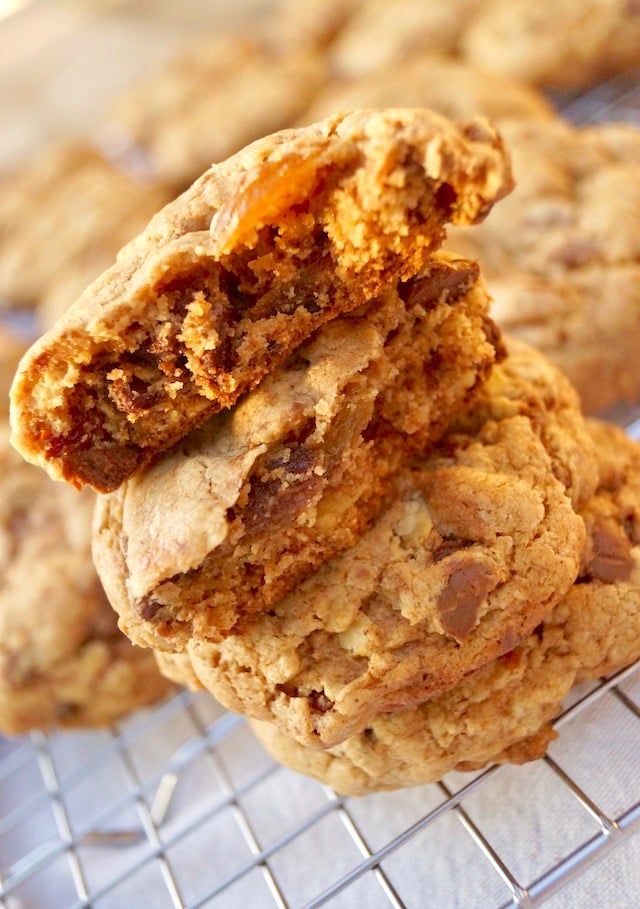 These are far from your typical Oatmeal Raisin Chocolate Chip Cookies!
I hope you every last crumb. Share and you'll make a lot of people happy. 🙂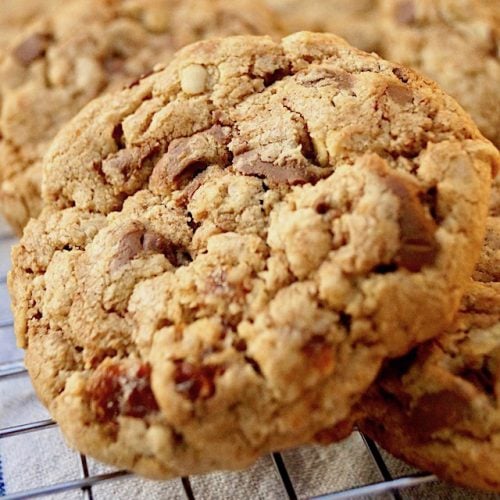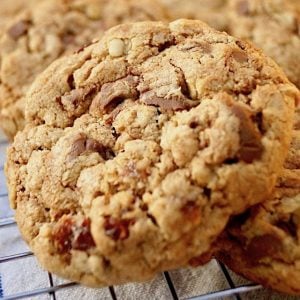 Oatmeal Raisin Chocolate Chip Cookies
These Oatmeal Raisin Chocolate Chip Cookies are made with a unique technique that makes them out of this world! Once you try it, you might just never use another recipe. (They can be made gluten-free, too!)
Instructions
Prepare the raisins. Add the butter to a medium-sized sauce pot and place it over low-medium heat. Once the butter has melted, turn the heat to low. Add the raisins, vanilla and cinnamon and stir to blend. Cover and let this gently simmer for 10 minutes. Then turn the heat off, keep the pot covered, and let it sit for 50 minutes.


Preheat oven and prep baking sheets. While the raisins are soaking, preheat the oven to 350°F. Cover 2 baking sheets with parchment paper, set aside, and adjust two racks towards the center of the oven.



Mix dry ingredients. In a medium-sized mixing bowl, combine the flour, salt and baking soda. Set aside. Add both sugars to a large mixing bowl and set aside.


Combine all of the ingredients. Once the raisins are done soaking, add the mixture to the bowl with the sugar and mix to blend. Then add the eggs and mix until they are fully incorporated. Add the dry ingredients to the wet ingredients. Mix just until you no longer see any dry spots. Then fold in the chocolate chips and oats. 


Shape the batter. Use a cookie scoop (approximately 2 inch) to drop the batter onto the parchment-lined baking sheets. Gently press each one down about a bit with the palm of your hand. There should be a couple of inches between them. 


Bake. Bake in the preheated 350°F oven until they're set and slightly golden along the edges, about 12 minutes.

Cool. Let them cool on the baking sheet for at least 10 minutes and then transfer them to a cooling rack or serve.
NOTES
Calorie count is only an estimate.
NUTRITION
Have you tried this recipe?
I'd love to see it on Instagram! Tag me at @cookingontheweekends or leave a comment & rating below.
Cooking On The Weekends is a participant in the Amazon Services LLC Associates Program, an affiliate advertising program designed to provide a means for sites to earn advertising fees by advertising and linking to Amazon.com.