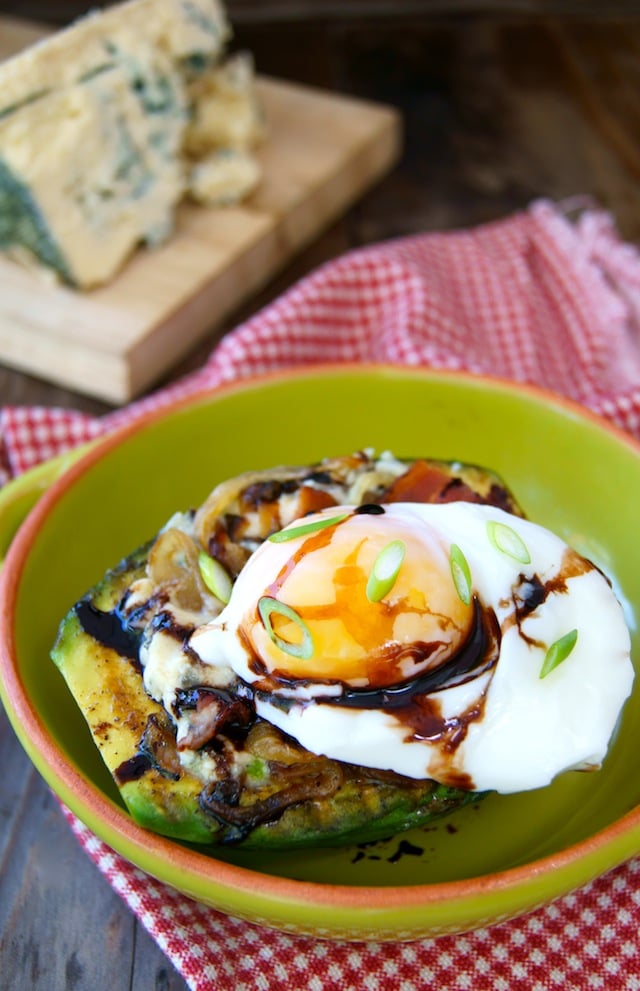 There's flying coach, and then there's flying first class.
There's fat-free frozen yogurt, and then there's Italian gelato.
And there's blue cheese, and then there's Kerrygold Cashel Blue cheese!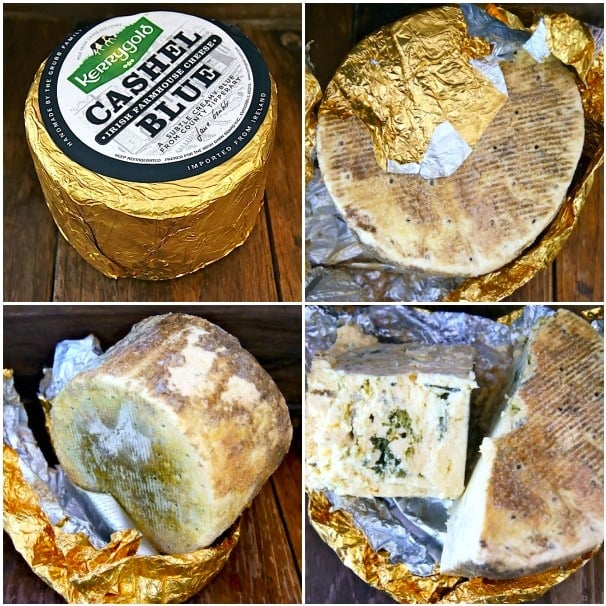 This semi-soft, unbelievably creamy cheese has an tangy, robust flavor that spreads onto toast and melts in your mouth like butter.  It's softer and and much less pungent than most other blue cheeses I've had.
And while I could be perfectly happy eating this Irish farmhouse cheese on a cracker, I created a breakfast recipe with it that might just blow your mind.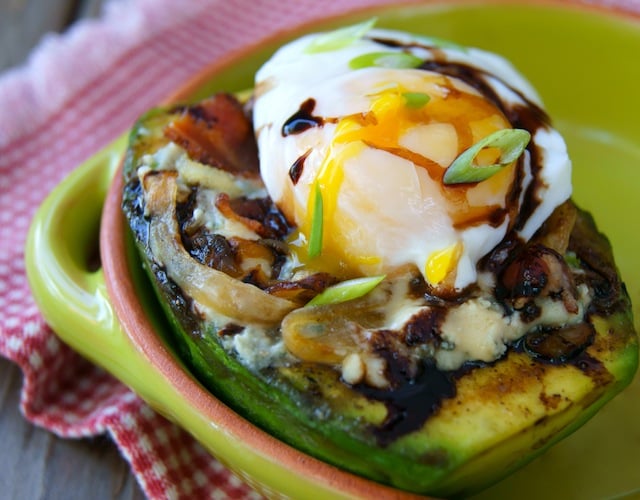 The smoky charred flavor from grilling a delicious avocado, and the sweet and crispy combination of the bacon-onion compote, compliments the slightly melted Cashel Blue in a way you will only understand it if you taste it.
After your first bit, you'll understand.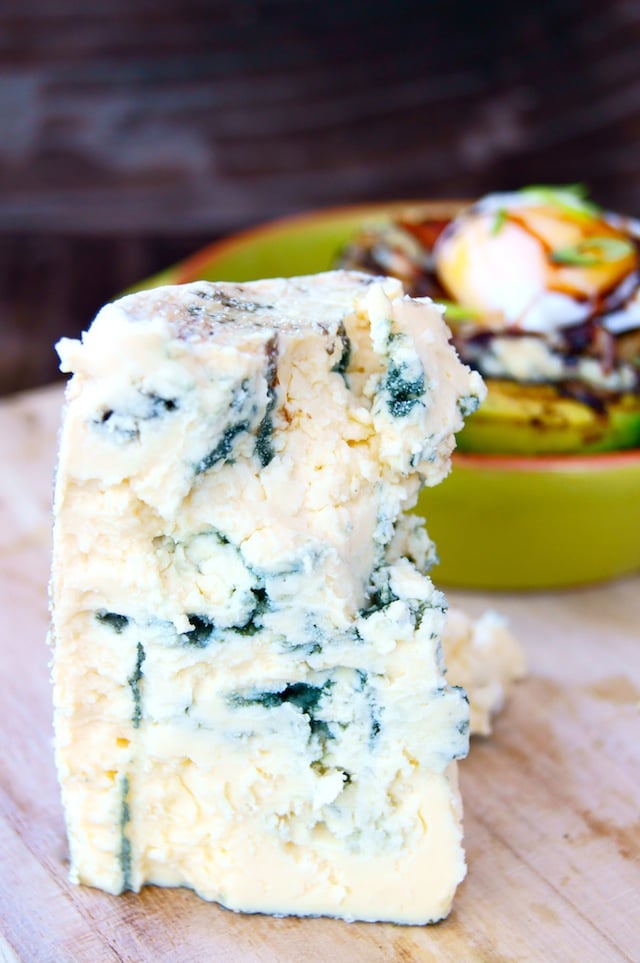 And topped with a perfectly poached egg, drizzled with balsamic glaze, you will simply have a culinary experience like no other.
Trust me on this one.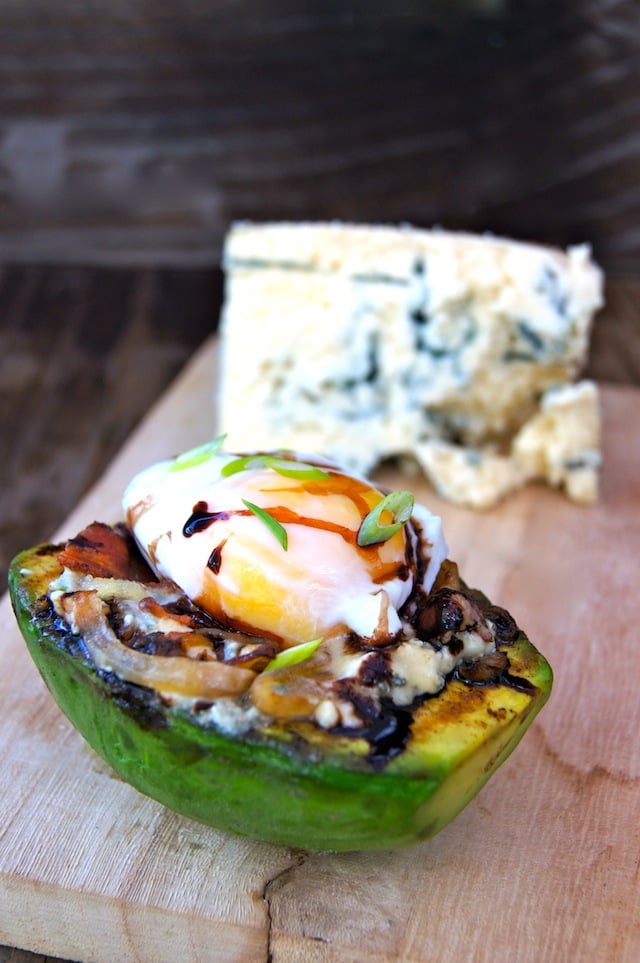 Pure deliciousness!
I strongly encourage you to try this recipe — invite a few friends to partake in this scrumptious dish for brunch this weekend.  Add a couple fun accompaniments like a bowl of fresh strawberries, warm chocolate bread and excellent coffee (of course).
Enjoy!
P.S. I'm not knocking frozen yogurt, but let's be honest, if it's next to Italian gelato, which would be the winner be?
P.P.S. I am, on the other hand, knocking flying coach, it's just not comfortable!
This is not a sponsored post — Kerrygold sent me Cashel Blue for recipe testing.  All opinions are my own.
Poached Egg on Grilled Avocado with Bacon-Onion Compote and Kerrygold Cashel Blue
Ingredients
1

strip applewood smoked bacon

1-1/8

teaspoon

olive oil

divided

1/2

cup

thinly sliced onion

1

large ripe but firm avocado

3

tablespoons

plus 1 teaspoon Kerrygold Cashel Blue

Sea salt and freshly ground black pepper to taste

Here's How to Season to Taste

2

eggs

1/4

cup

balsamic vinegar

1

teaspoon

finely chopped scallions for garnish
Instructions
Add the bacon to a small sauté pan over medium heat. Cook until it's brown and crisp, about 3 minutes per side. Remove the bacon -- but not the bacon fat -- from the pan. Set it aside to drain a paper towel. Add the onion to the pan with the bacon fat and turn the heat to medium-high. Add 1 teaspoon of the olive oil (only if the pan is too dry), and cook, stirring frequently, until the onions are nicely caramelized , about 10 minutes. Crumble the bacon and mix it into the onions.

Season to taste with salt and pepper

. Set aside.

Preheat a stove-top (or outdoor) grill, cut a large avocado in half, lengthwise, and remove the pit. Drizzle the remaining 1/8 teaspoon of the olive oil on the surface of each avocado half. (Use your finger tip to be sure it's evenly coated.) Sprinkle each one with salt and pepper. Flat side down, place the avocados on the preheated grill. You should hear a strong sizzling sound -- if you don't, the grill is not hot enough. Wait for the sizzle! This is what will create the lovely char marks and flavor. Grill the avocados only until they are nicely charred, about 1-1/2 minutes. Take them off the grill and very carefully remove the skin. (Cut off 1/4 to 1/2-inch from each end and then using one of the corners, gently peel the skin away.) If the avocados roll at all when the grilled side is up, cut a tiny sliver off the round side to make a base. Place both halves on a baking sheet.

Add 1 tablespoon plus 2 teaspoons of the Cashel Blue Cheese to the center of each avocado half. Use your fingers to flatten it out a bit, making sure not to break the avocado. Also make sure some of the cheese is on the top surface, around the edges of the center. Then divide the bacon-onion compote between the two halves, gently pressing it into the cheese. There should still be a "hole" in the center, about half as deep as it was before adding the cheese.


Poach the eggs by bringing about 3 inches of water to a boil in a small pot, or deep sauté pan. (Preferable non-stick.) Once the water is boiling, reduce it to a simmer. Crack each egg into its own small bowl and then slowly, one at a time, pour them into them simmering water, with as much space between them as possible. Turn off the heat, cover, and set the timer for 3 minutes. Then, using a slotted spoon, remove each egg and place them in a clean, dry bowl.

While the eggs are poaching, make the balsamic glaze: Add the vinegar to a very small sauté pan and bring it to a strong simmer over medium-high heat. Simmer until the vinegar has reduced by a bit more than half.

Now place the baking sheet with the avocados under the broiler for about 30 seconds -- just long enough to slightly melt the cheese.

Place a poached egg in the center of each avocado half, drizzle with the balsamic glaze, and garnish with the scallions.
Recipe Notes
Vegetarian? Easy, simply omit the bacon and add a bit more olive oil to the onions.
To save time, you can make the bacon-onion compote up to two days ahead of time.
Save
Save