These crispy Hash Browns with Peppers and Onions are topped with perfect poached eggs and creamy avocado. This comfort food dish is smoky, slightly spicy and absolutely ideal for a casual brunch.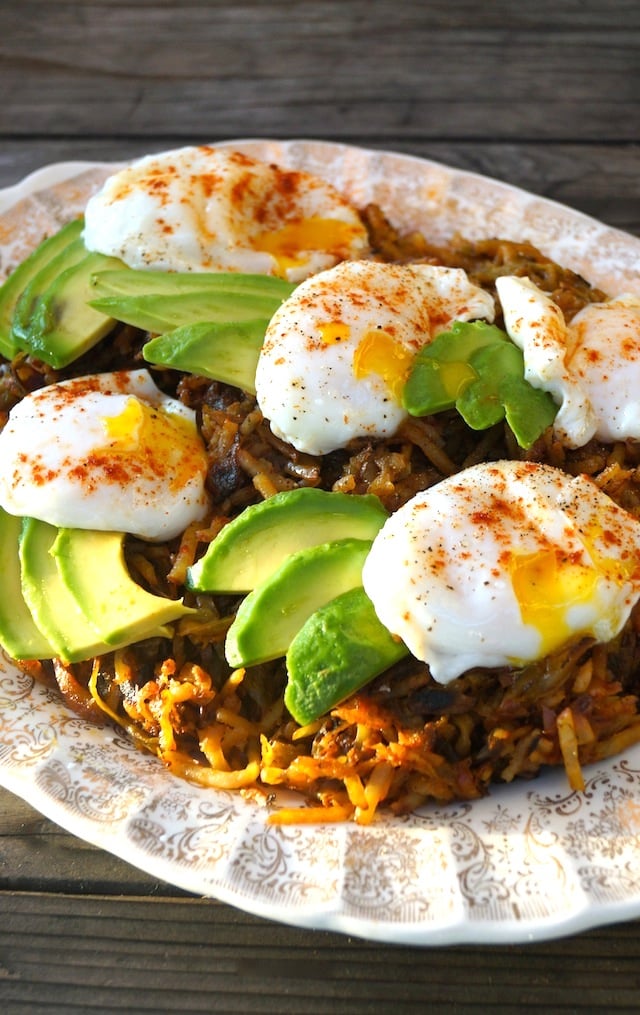 Full of rich and intense flavors and all kinds of contrasting textures, while I call this a brunch dish, it's also excellent for breakfast, lunch or dinner.
Roasted Hatch chiles and a smoky Hatch chile powder are mixed into the potatoes, making them different from more traditional hash browns.
And with the runny poached eggs on top, you seriously won't find a better breakfast bite!
The Ingredients
Russet potatoes - Choose potatoes that are firm, smooth and free of sprouts.
onion - Try to choose onions that are firm, heavy for their size and without bruises.
fresh garlic - Look for firm heads of garlic without any soft spots or green shoots, which are an indication it's old and likely bitter. Raw garlic cloves should be firm without any dark spots. (Pro tip: if there are green shoots in garlic you already have, just cut the cloves in half and remove them with the tip of a paring knife. The rest of the clove should still be good.)
Hatch chiles - Hot, medium or mild, depending on preference. Hatch chiles are almost always marked with their heat level where they're sold.
chili powder - I use this Hatch chile powder.
eggs
avocado - Ripe avocados should yield to firm gentle pressure. They will feel slightly soft but not mushy to the touch.
salt
black pepper - Preferably freshly ground.
olive oil
(See recipe card below for quantities.)
Substitutions and Variations
If I don't list an ingredient with a substitution, it means I think it's best not to substitute it.
Russet potatoes - Russet potatoes are very starchy which helps them become crispy. Red potatoes and Yukon Golds are good substitutes. Others will work, but might not become as crispy.
fresh garlic - Though fresh is best for this hash brown recipe, if you are in a pinch, use 1 teaspoon garlic powder as a substitute.
Hatch chiles - Anaheim or Poblano chiles are both good Hatch chile substitutions. Anaheim chiles will be the most mild.
Hatch chile powder - Any chili powder you like can be used.
If you prefer fried eggs (over easy or sunny side up), go for it. And you can also make the hash browns with peppers and onions without the eggs.
Recipe Tips
Don't have time to roast the peppers? You can buy jarred roasted peppers. (You won't find Hatch, but other varieties can work, too. And you can also use the chiles raw.
Spicy version. Be sure you buy the hot Hatch chiles (they should be marked this way). The Poblanos will vary in heat and it's hard to know when you buy them, but typically they're between mild and hot, airing on the more mild side. Just taste them first to know what you're getting. You can also use Pepper Jack cheese to heat it up.
How to Make a Perfect Poached Egg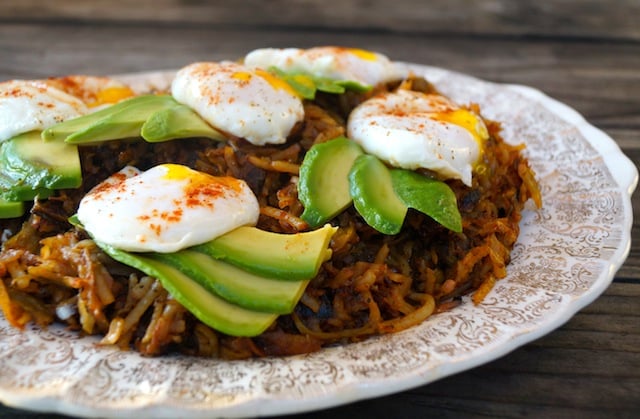 The poached eggs in the this recipe are the "icing on the cake," if you will. They complete them in the most delicious way -- they become a sauce for the potatoes.
Bring a few inches of water to a boil in a small pot.
Reduce the water to a simmer and then crack an egg into its own small bowl. From there, slowly and gently pour it into the simmering water.
Turn off the heat, cover, and set a timer for 3 minutes.
Use a slotted spoon to remove the egg.
Roasting Hatch Chiles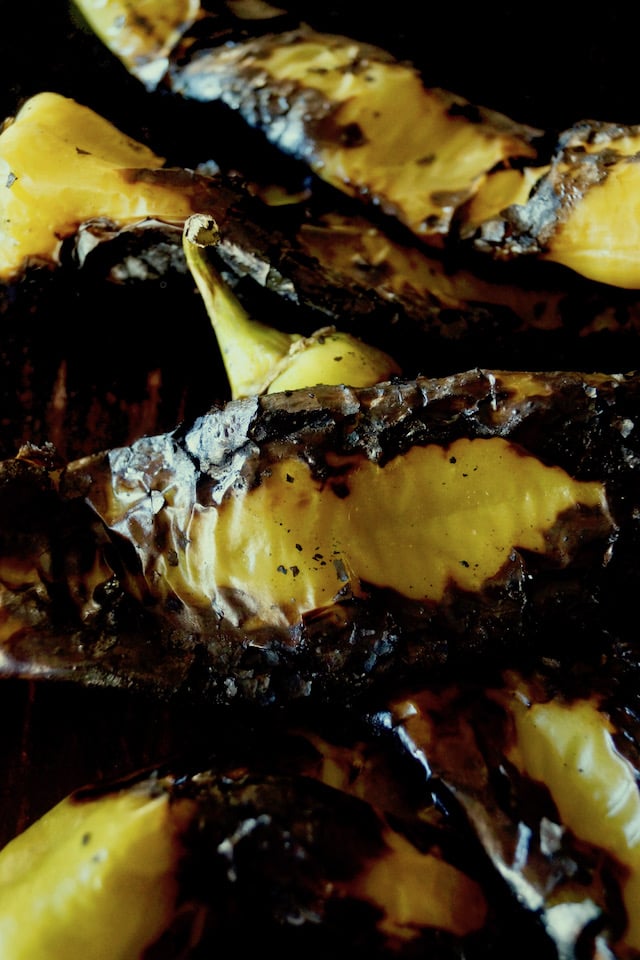 I love roasting chiles -- so much so that I created a step-by-step tutorial for you on How to Roast and Peel a Pepper. It's here.
However, if you're not as enthusiastic as I am, you can get already roasted Hatch Chiles in dozens of locations. Find them all here.
More Recipes with Hatch Chiles
And here's another version of Hash Browns in casserole form.
Can you make it ahead?
Hash browns are best right out of the pan, but they can be made a day ahead if they're reheated properly. The best way to do this is to spread them out on a baking sheet and heat them in a 400℉ oven until they're hot. This will help them regain their crispiness.
You can sauté the pepper, onion and garlic a day ahead.
The chiles can be roasted up to 2 days ahead of time. (Keep them whole until you're ready to prepare the tapas.)
Don't slice the avocado or make the eggs until it's almost serving time.
If ever there was a perfect bite . . .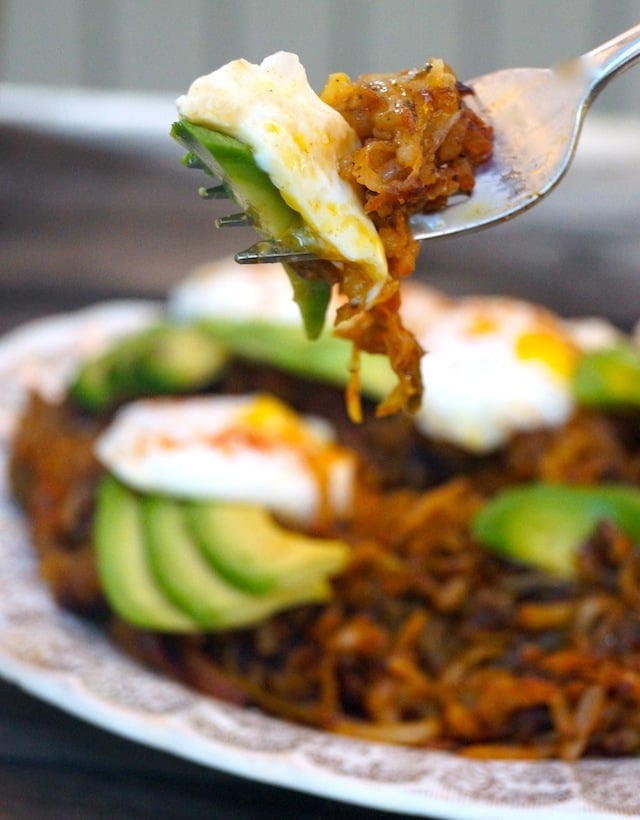 I hope you'll make Hash Browns with Peppers and Onions for friends and family, as it will surely be a meal they'll never forget.
Enjoy!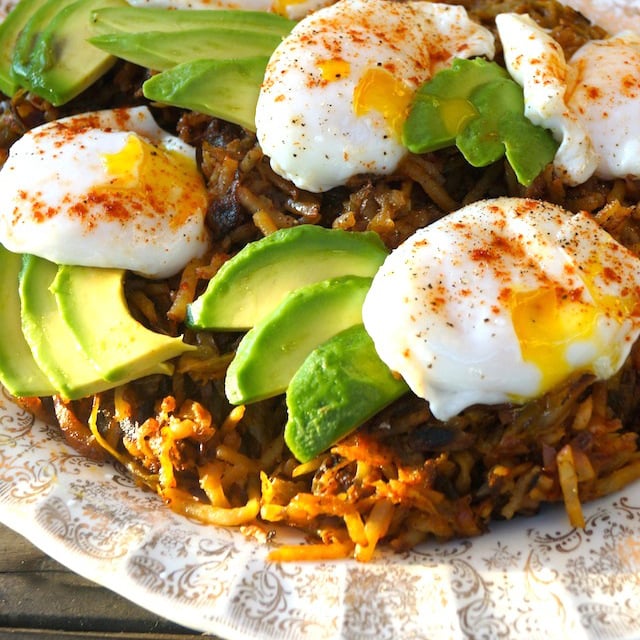 Hash Browns with Peppers and Onions Recipe
These crispy Hash Browns with Peppers and Onions are topped with perfect poached eggs and creamy avocado. This comfort food dish is smoky, slightly spicy and absolutely ideal for a casual brunch.
Instructions
Prepare the potatoes. Wash the potatoes and dry them very well. Then grate them -- either with a hand-held grater or with the grater attachment in a food processor. (The latter is easier if you've got it.) Set aside in a bowl.

Sauté the onion and garlic. Coat the bottom of a large sauté pan with olive oil and place it over medium heat. Add the onions and garlic and, stirring frequently, cook until the onions are soft and the edges are beginning to brown, about 10 minutes.

Drain potatoes and add them to the pan. One handful at a time, squeeze as much liquid as possible out of the potatoes, adding them to the pan as you go. (The drier they are when you add them to the pan, the crisper they'll become.) Continue until all of the potatoes are in the pan. Keeping the heat at medium, stirring from time to time, cook until the potatoes are soft and crispy, about 15 minutes.

Add the chiles, chile powder, and season. Add the roasted chiles and the chile powder. Stir to blend and continue to cook until it's very aromatic and everything is nicely browned, another 10 minutes or so. Season to taste with salt and pepper and set aside. (Here's How to Season to Taste.)

Poach the eggs. Poach the eggs by bringing about 3 inches of water to a boil in a small pot, or deep sauté pan. (Preferable non-stick.) Once the water is boiling, reduce it to a simmer. Crack each egg into its own small bowl and then slowly, one at a time, pour them into them simmering water, with as much space between them as possible. Turn off the heat, cover, and set the timer for 3 minutes. Then, using a slotted spoon, remove each egg and place them in a clean, dry bowl.

Assemble and serve. Making sure the potatoes are hot, or very warm, add them to a serving platter, and with a small spoon, create indentations for the eggs. Add a poached egg to each indentation and garnish with the avocado and a sprinkling of a bit more Hatch Chile powder.
NOTES
Nutritional information is only an estimate.
NUTRITION
Calories:
403
kcal
|
Carbohydrates:
60
g
|
Protein:
17
g
|
Fat:
12
g
|
Saturated Fat:
3
g
|
Polyunsaturated Fat:
2
g
|
Monounsaturated Fat:
6
g
|
Trans Fat:
0.03
g
|
Cholesterol:
279
mg
|
Sodium:
130
mg
|
Potassium:
1517
mg
|
Fiber:
7
g
|
Sugar:
5
g
|
Vitamin A:
451
IU
|
Vitamin C:
24
mg
|
Calcium:
99
mg
|
Iron:
4
mg
Have you tried this recipe?
I'd love to see it on Instagram! Tag me at @cookingontheweekends or leave a comment & rating below.
Save
Save
Save
Save
Save