This hash brown recipe is one that your brunch guests will never forget! It's smoky, slightly spicy and it's a true comfort food.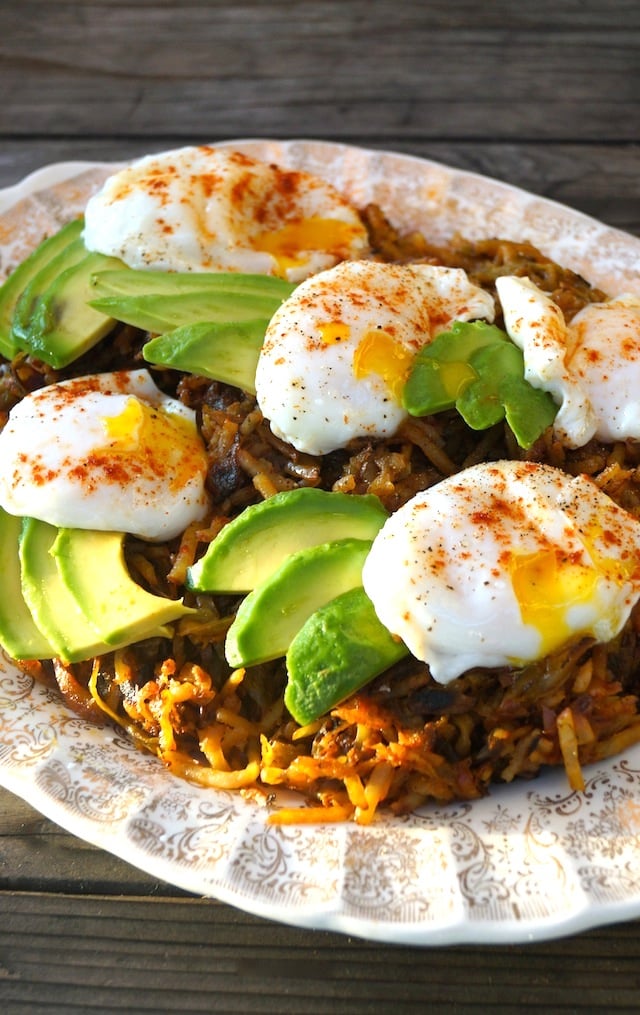 This is an absolutely ideal, comforting brunch dish that's full of rich and intense flavors and all kinds of contrasting textures.
I can't express enough to you how incredibly delicious this is.  I urge you to make it for friends and family, as it will surely be a meal they'll never forget.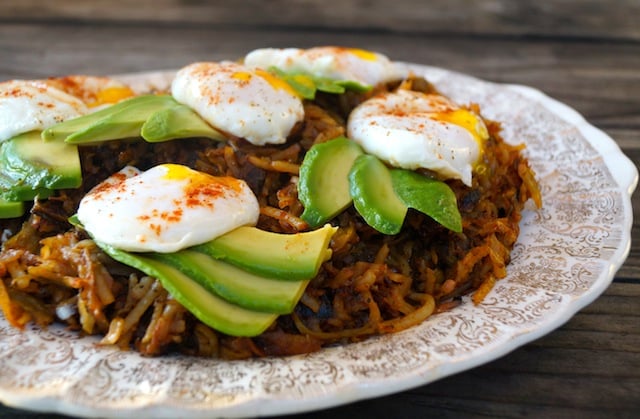 Every bite has both soft and crispy potatoes, oozing egg yolk, soft whites and creamy avocados.
And it's all laced with the the wonderful smoky, earthy, subtly sweet and mildly spicy flavor of Hatch Chiles.
If there was ever a perfect bite . . .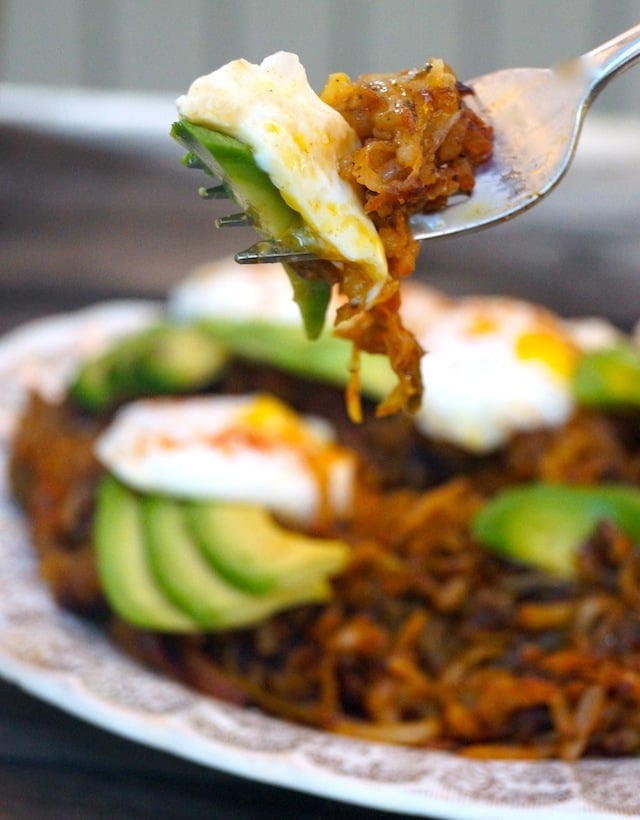 I LOVE roasting chiles — so much so that I created a tutorial for you on How to Roast and Peel a Pepper.  It's here. However, if you're not as enthusiastic as I am, you can get roasted Hatch Chiles in dozens of locations.  Find them all here.
And for more mouth-watering Hatch Chile recipes, click here.
Enjoy!
Perfect Poached Eggs Over Double Hatch Hash Browns
Ingredients
2½-

pounds

Idaho Russet potatoes

Olive oil for the pan

1½

cups

thinly sliced yellow/brown onion

2

teaspoons

finely minced garlic

6

approximately 7-inch mild Hatch Chiles, roasted, peeled, seeds removed and thinly sliced (Here's How to Roast and Peel Peppers)

2

teaspoons

mild Hatch Chile powder

sea salt and freshly ground black pepper to taste

Here's How to Season to Taste

6

large eggs

1

medium-sized avocado

peeled and thinly sliced (Here's How to Peel and Cut an Avocado)
Instructions
Wash the potatoes and dry them very well. Then grate them -- either with a hand-held grater or with the grater attachment in a food processor. (The later is easier if you've got it.) Set aside in a bowl.

Coat the bottom of a large sauté pan with olive oil and place it over medium heat.

Add the onions and garlic and stirring frequently, cook until the onions are soft and the edges are beginning to brown, about 10 minutes.

One handful at a time, squeeze as much excess liquid as possible out of the potatoes, adding them to the pan as you go. (The dryer they are when you add them to the pan, the crisper they'll become.) Continue until all of the potatoes are in the pan. Keeping the heat at medium, stirring from time to time, cook until the potatoes are soft and becoming crispy, about 15 minutes.

Add the roasted chiles and the chile powder. Stir to blend and continue to cook until it's very aromatic and everything is nicely browned, another 10 minutes or so.

Poach the eggs by bringing about 3 inches of water to a boil in a small pot, or deep sauté pan. (Preferable non-stick.) Once the water is boiling, reduce it to a simmer. Crack each egg into its own small bowl and then slowly, one at a time, pour them into them simmering water, with as much space between them as possible. Turn off the heat, cover, and set the timer for 3 minutes. Then, using a slotted spoon, remove each egg and place them in a clean, dry bowl.

Making sure the potatoes are hot, or very warm, add them to a serving platter and with a small spoon, created indentations for the eggs. Add a poached egg to each indentation and garnish with the avocado and a sprinkling of a bit more Hatch Chile powder.

Serve!
Recipe Notes
Yes, you can use the hot Hatch Chiles. Whatever suits you. 🙂
Save
Save
Save
Save
Save