Hatch Chile Zucchini Bread is a wonderful gluten-free quick bread recipe. Sweet, smoky and subtly spiced, it's lovely for breakfast, an afternoon snack or dessert.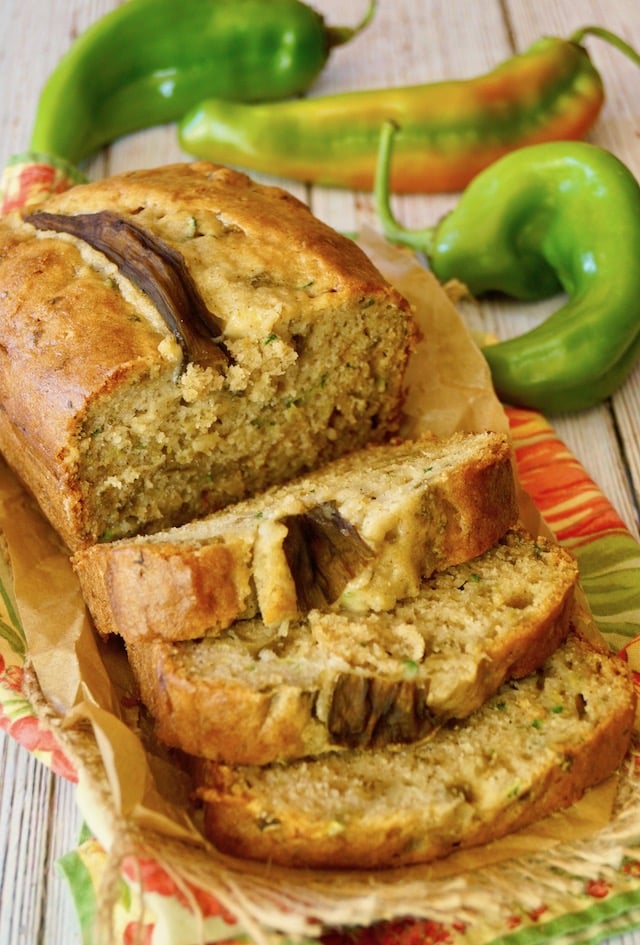 I love quick breads for breakfast, and this gluten-free Hatch Chile Zucchini Bread in no exception.
It's lovely with coffee or tea and makes a great start for the day.
About Hatch Chiles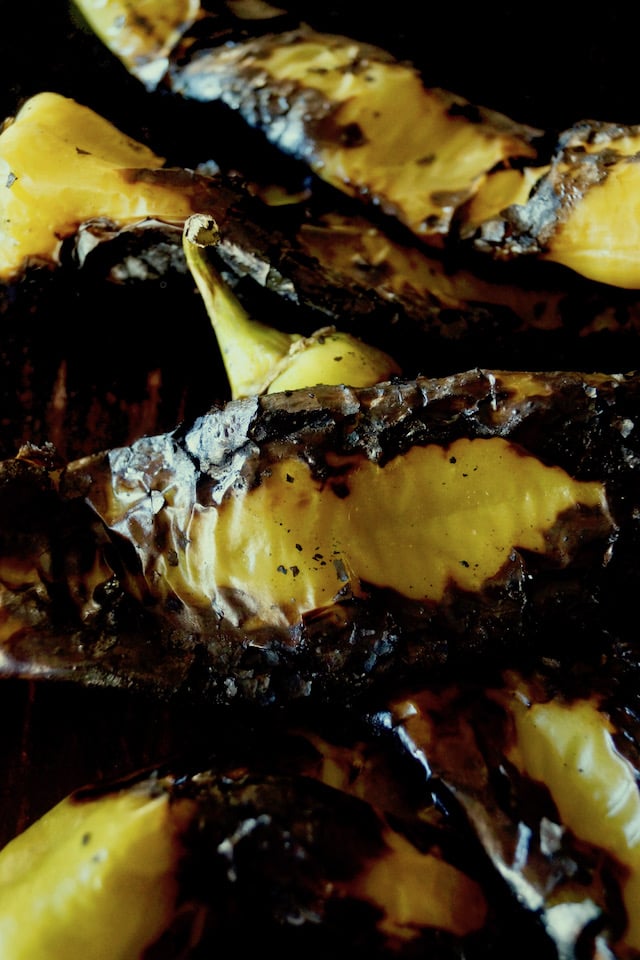 Hatch chiles are amazing when roasted. They add a wonderful smoky flavor to recipes.
What's in this Hatch Chile Zucchini Bread?
What does Hatch Chile Zucchini Bread taste like?
The inside texture of this gluten-free quick bread is light and moist and the outside has a slightly crisp crust.
Every bite of this super delicious bread is sweet, subtly spicy and a bit smoky.
If you use the hot Hatch Chiles, a second or so after the initial taste, the heat kicks in and it'll perk you right up — or gently wake you up.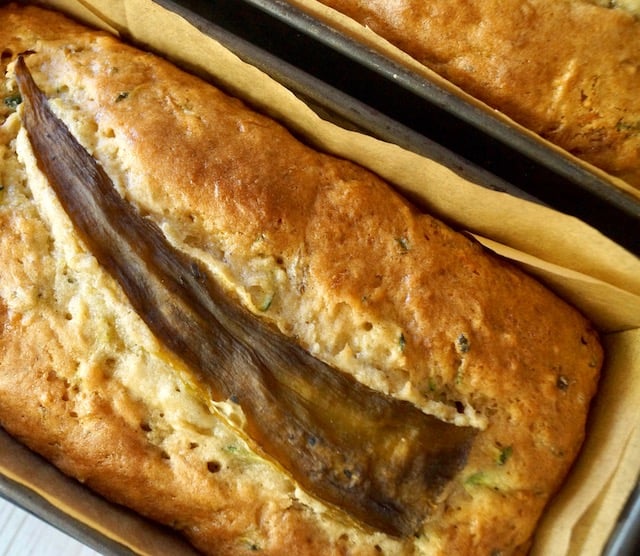 Recipe Tips and Substitutions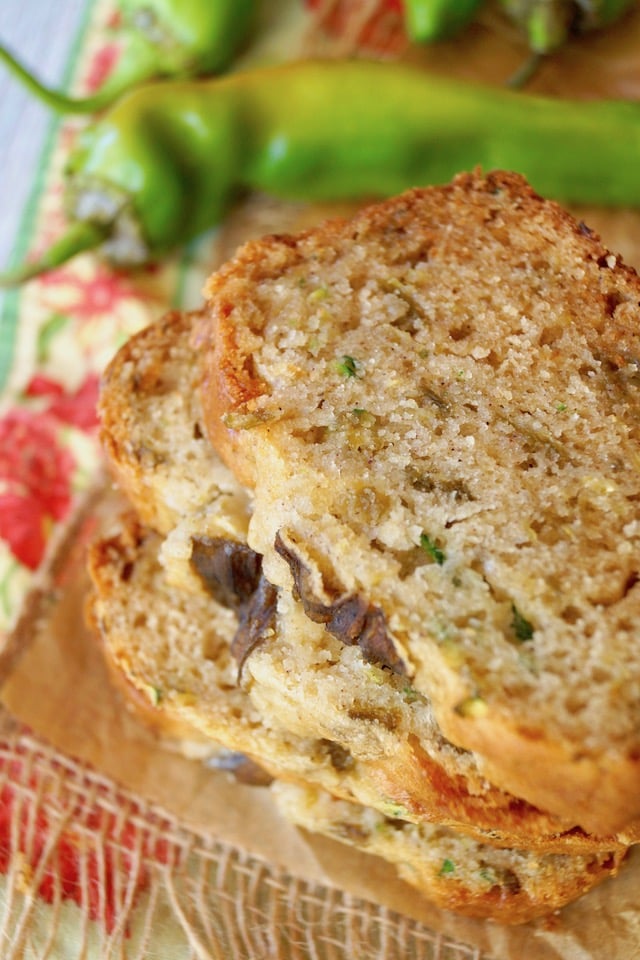 Can you make this gluten-free zucchini bread ahead?
While there's nothing quite like a bread right out of the oven, this quick bread will still be delicious if made ahead.
Room temperature. It will keep well for a couple of days in a tightly sealed container at room temperature.
Refrigerator. It will keep well for about a week in a tightly sealed container in the refrigerator.
Freezer. It will keep well for about two months wrapped tightly in plastic wrap or in a heavy-duty zip-lock bag with all of the air removed in the freezer.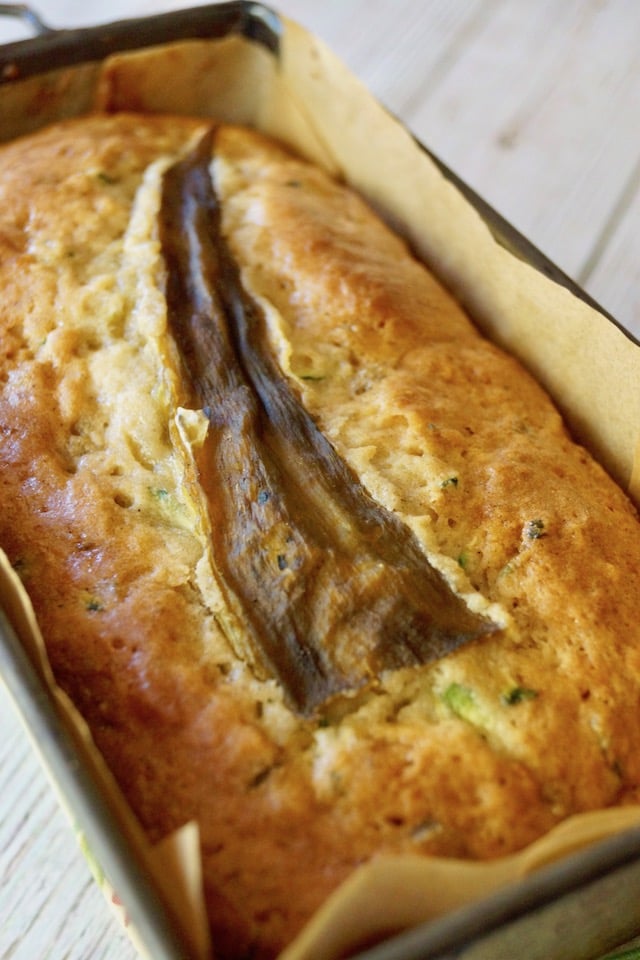 A big thank you again to Melissa's Produce for my gorgeous Hatch Chiles! And if you can't find Hatch Chiles at a market near you, you can order them here.
Don't miss out on the taste of the season!
I hope you enjoy this gluten-free Hatch Chile Zucchini Bread as much as I do!
More sweet Hatch chile and zucchini recipes:
This is not a sponsored post.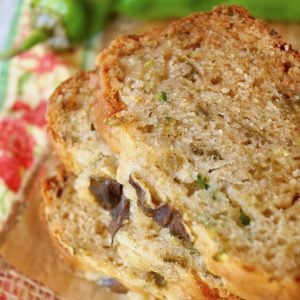 Hatch Chile Zucchini Bread Recipe
Hatch Chile Zucchini Bread is a wonderful gluten-free quick bread recipe. Sweet and subtly spiced, it's lovely for breakfast with coffee or in the afternoon for a snack. Makes 2 (8-inch) loaves
Instructions
Prepare the peppers and zucchini. Roast and peel the peppers. (Here's How to Roast and Peel Peppers). Set one aside for later. Then, cut the stem end off of each one and carefully, use a small paring knife or your fingers, to make a slit in each of the peppers to open them. Gently remove all of the seeds, and finely chop the chiles. You will need 1 cup of the finely chopped chiles. Set aside. Grate the zucchini. You will need 2 cups of the grated zucchini.

Preheat the oven and prepare the pans. Preheat the oven to 350°F, and line 2 (approximately 8-inch) loaf pans with parchment paper -- on the bottom and sides. Set aside.

Make the batter. In a medium-sized mixing bowl, combine the eggs, oil, vanilla, sugar, salt and cinnamon. Use a whisk or a fork to mix it until it's very smooth. Fold in the grated zucchini and finely chopped, roasted peppers, and combine. Add the flour and baking soda, and mix just until everything is evenly blended. (Do not over mix!)

Fill the pans and bake. Divide the batter evenly between the two pans. Slice the stem off of the one remaining roasted pepper and then cut it in half, evenly and lengthwise. Very carefully, keeping the pieces intact, remove the seeds with the back of a knife, place one piece, smooth side up, on top of the batter in each pan. (This is decorative and optional.) Bake in the preheated 350°F oven until the top is golden brown, and beginning to crack, about 1 hour.

Cool. Let the bread cool in the pans for about 5 minutes. Use a dull knife to go around the edges of the bread to ensure it's loose, and then cool the bread for at least another 20 minutes in the pans on a cooling rack. Lift the bread out with the edges of the parchment paper, slice and serve.
Notes
Calorie count is only an estimate.
Have you tried this recipe?
I'd love to see it on Instagram! Tag me at @cookingontheweekends or leave a comment & rating below.
Cooking On The Weekends is a participant in the Amazon Services LLC Associates Program, an affiliate advertising program designed to provide a means for sites to earn advertising fees by advertising and linking to Amazon.com.