Calling all true chocolate lovers! This Double Chocolate Gelato recipe is made for you. There's chocolate upon chocolate, all blended together to create a super smooth, super creamy and rich bowl of pure deliciousness.
My husband's marriage proposal was incredibly unique and extremely romantic.
We were hiking in a canyon way out in Malibu (the same trail where we got lost on our third date — which is a long story for another time).
It seemed out of nowhere that a guy from a band I loved appeared from behind a cliff and began to sing "The Sweetest Thing." (And no, it wasn't Bono from U2. 😉 ) In shock, I looked at my now husband, who was suddenly holding a beautifully framed "timeline" of our seven month relationship up to that day, a gorgeous ring, and . . . a super cool ice cream maker.
Yup, an ice-cream maker was a part of my marriage proposal.
I love my ice-cream maker. And not only for its sentimental value, but because I've been making fantastic ice cream and gelato in it ever since.
Inspiration for Double Chocolate Gelato Recipe
Today is my Mom's birthday and there's no better excuse to make this Double Chocolate Gelato!
My Mom's a very serious chocoholic and this gelato is perfect for her — it's intensely rich, creamy and unbelievably delicious.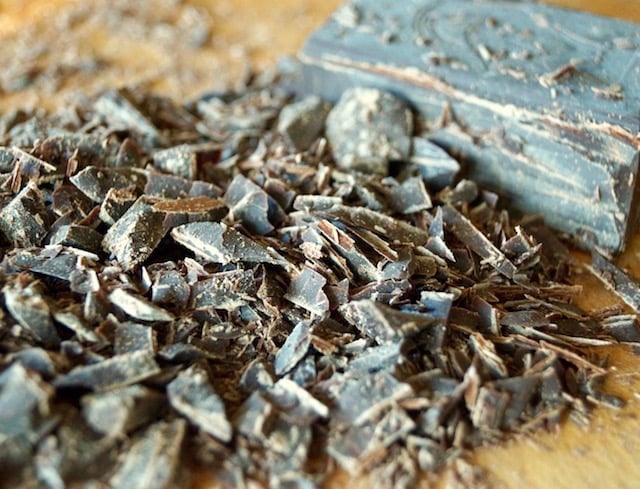 What's in this Double Chocolate Gelato recipe?
whole milk
semisweet chocolate
bittersweet chocolate
sugar
egg yolks
That's it!
My favorite part in the gelato or ice-cream making process, is when I first remove the lid to reveal this sight. Just look at that sight! I love it!
Please enjoy every last scoop of this over-the-top divine Double Chocolate Gelato recipe!
Oh, and in case you're wondering, here is the ice cream maker. I love the wooden style, and it's still super easy!
More delicious gelato recipes:
Double Chocolate Gelato Recipe
*Give yourself at least a day to make this, as there are a couple of waiting periods, and freezing times.
*Makes about 2 quarts

Keyword:
best gelato recipes, good for chocoalte lovers
Instructions
Pour the milk into a medium-sized sauce pot and over medium heat, scald it. Tiny bubbles will appear on the edges of the pot and it should be very hot, but not boiling. Then add the semisweet chocolate and use a wooden spoon to stir. Once it's completely melted into the milk, remove the pot from the heat. Let this cool to room temperature, about 1 1/2 hours.

In a medium sized mixing bowl, use an electric mixer to whip the egg yolks with the sugar. Mix until it's very thick and pale yellow. When you drizzle it with a spoon it should rest for a second or two before sinking back into the rest of the mixture -- this is called the "ribbon stage."


On a low speed, gradually pour in the cooled chocolate mixture and blend only until it's evenly combined. Pour this back into the sauce pot and over medium-low heat, stirring almost constantly with a wooden spoon, cook until becomes a beautiful, thick custard, 8 to 10 minutes. Remove from the heat immediately and let it cool completely, at least 2 hours. (If you want to do a step a day ahead of time, you can do this step -- just let it come to room temperature, cover it tightly with plastic wrap, and refrigerate it overnight.)

Gently mix in the bittersweet chocolate, transfer to an ice-cream maker, and freeze according to the machine instructions. (While you can finely chop the chocolate with a knife, for large quantities I like to do it in my food processor with the grater attachment, to get these superfine pieces.)

Freeze for about 4 hours, or have it soft right away!

Cooking On The Weekends is a participant in the Amazon Services LLC Associates Program, an affiliate advertising program designed to provide a means for sites to earn advertising fees by advertising and linking to Amazon.com.