This Chocolate Gelato Recipe with Cacao Nibs (also called Chocolate Nibs) is made with chocolate upon chocolate, all blended together to create a super smooth, super creamy and rich bowl of pure deliciousness. It's a chocolate lover's dream!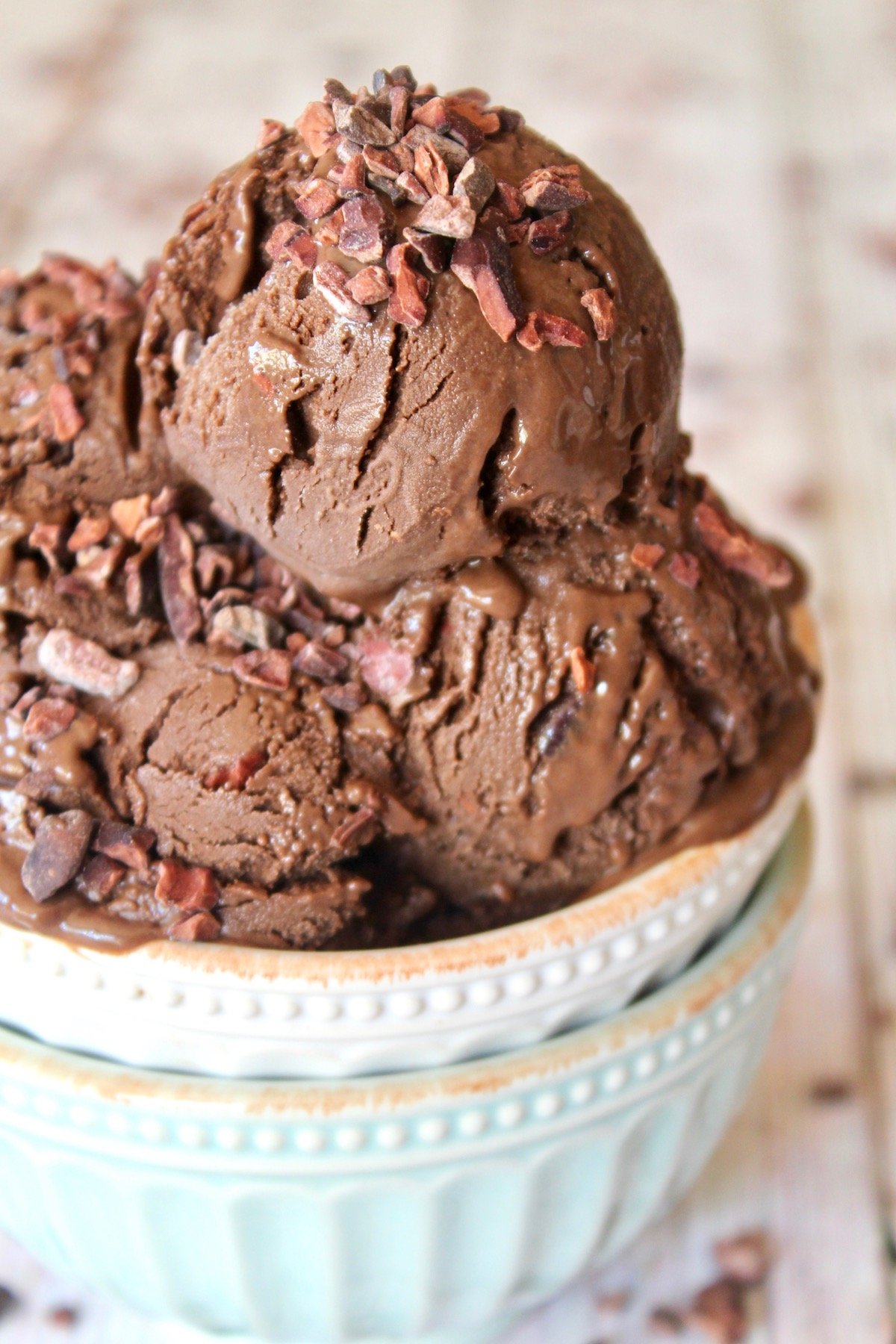 You can absolutely buy amazing ice cream and gelato. There are many incredible brands out there.
However, it doesn't get much better homemade -- the process is fun and the result is dreamy.
The cacao nibs (chocolate nibs) give this chocolate gelato recipe the perfect crunch that doesn't add more sugar, and balances the flavor.
What are cacao nibs?
Cacao nibs are pieces of cocoa beans from the Theobroma cacao tree.
How do we get them? Cocoa beans are fermented, dried, roasted and then cracked. After the beans have been cracked, a brittle shell, along with the nibs are left. The shells are then removed and we use the nibs.
Cacao nibs are also incredibly good for you! When pure, they're naturally high in fibre, protein, and healthy fats. They are also low in sugar and an excellent plant-based source of iron.
(And to make chocolate bars . . . . once the shells are removed the cacao nibs are then ground into a paste with sugar and sometimes milk powder.)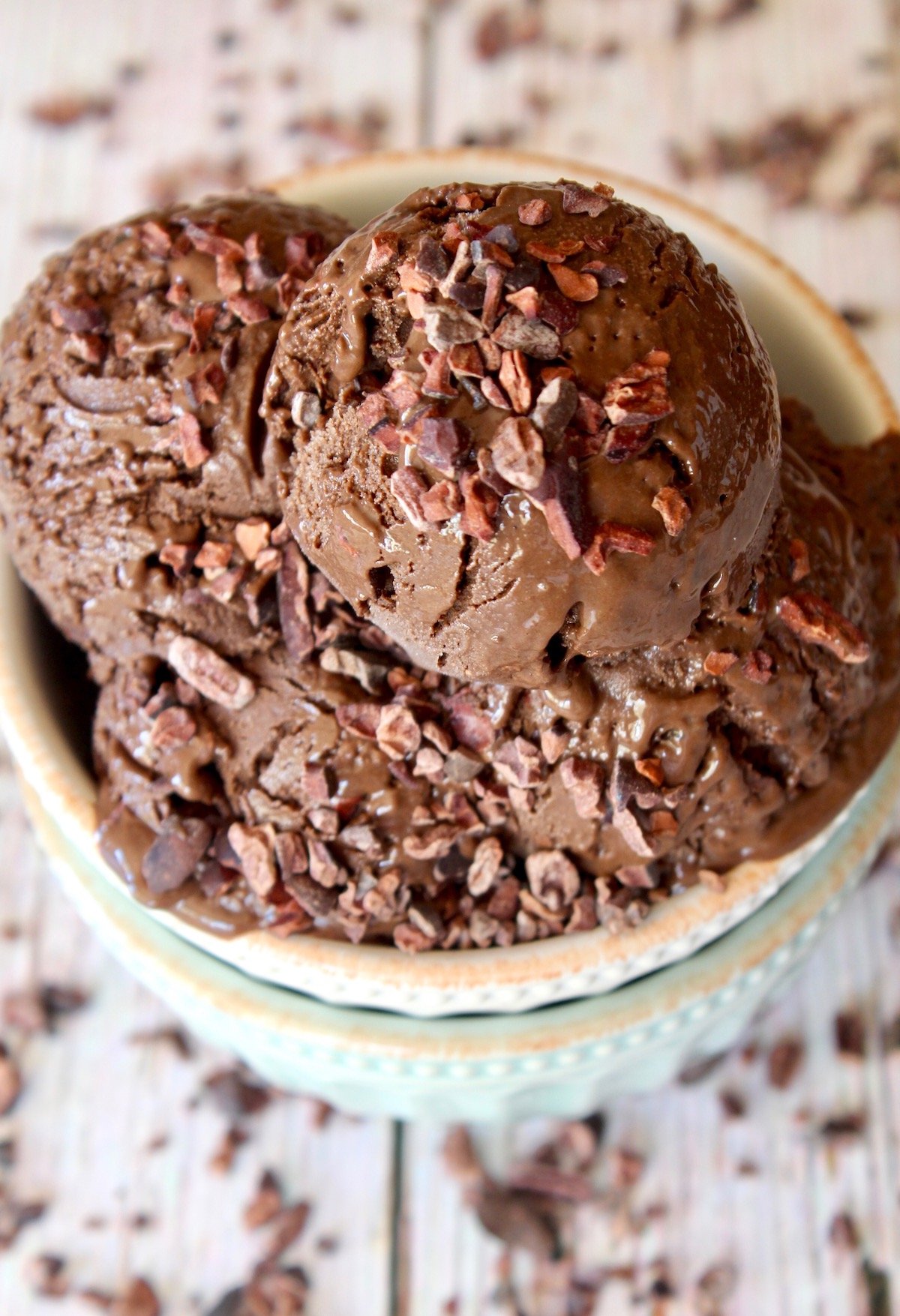 This recipe is really a double chocolate gelato recipe, and it's unbelievably rich, creamy and beyond delicious.
How to Make it
There are 3 stages to this Chocolate Gelato Recipe.
Stage 1: Scald the milk, add the chocolate and mix until it's melted. Cool completely.
Stage 2: With an electric mixer, blend the egg yolks with the sugar and then combine it with the chocolate mixture. When you blend the egg yolks with the sugar, mix until you get to the "ribbon stage" -- this is when you drizzle it and it rests for a few seconds on top before sinking in. (See below image.) Then cook, stirring almost constantly to make a custard. Cool completely.
Stage 3: Churn the gelato.
(More detailed instructions are below.)
What is churning?
Churning is essentially mixing ice cream or gelato as the mixture freezes.
It can be done by machine or by hand. The former is much easier! It helps prevent ice crystals from forming and creates a super smooth texture.
My favorite part in the chocolate gelato (or ice-cream) making process, is when the lid is first removed after churning to reveal this luscious sight.
Just look at that!
Gelato vs. Ice Cream
Gelato is typically churned much more slowly than ice cream, therefore less air is incorporated into it, making it more dense.
Gelato is served at a slightly warmer temperature than ice cream, which naturally makes it softer.
And finally, gelato is actually made with less fat than ice cream, making its flavor more intense.
Recipe Tips and Substitutions
You must have patience. As noted above, there are 3 stages to making this Chocolate Gelato with Cacao Nibs: 1), melting chocolate into milk, 2), cooking the egg-sugar mixture with the chocolate-milk mixture to make a custard, and 3), churning. After stage 1 and 2, the ingredients must completely cool before moving on. The best way to do this is over a couple days -- I typically do stage one in the morning and let it cool for a few hours. Then I do stage two that afternoon and let it cool overnight. And stage three happens the next day.
Make sure to mix the egg yolks with the sugar long enough -- to achieve the "ribbon stage." (See above image.)
After you make the custard, strain the mixture to be sure it's lump free.
I use semisweet chocolate in this recipe, you can also use bittersweet if your prefer.
As I said the cacao nibs are the perfect crunch in this recipe -- however, if you're not into them and still want the crunch, mini chocolate chips would be next best. And of course, you can opt out of all add-ins and go for just a super smooth creaminess.
If the gelato is especially hard when you're ready to serve it, let it sit at room temperature until it's as soft as you'd like.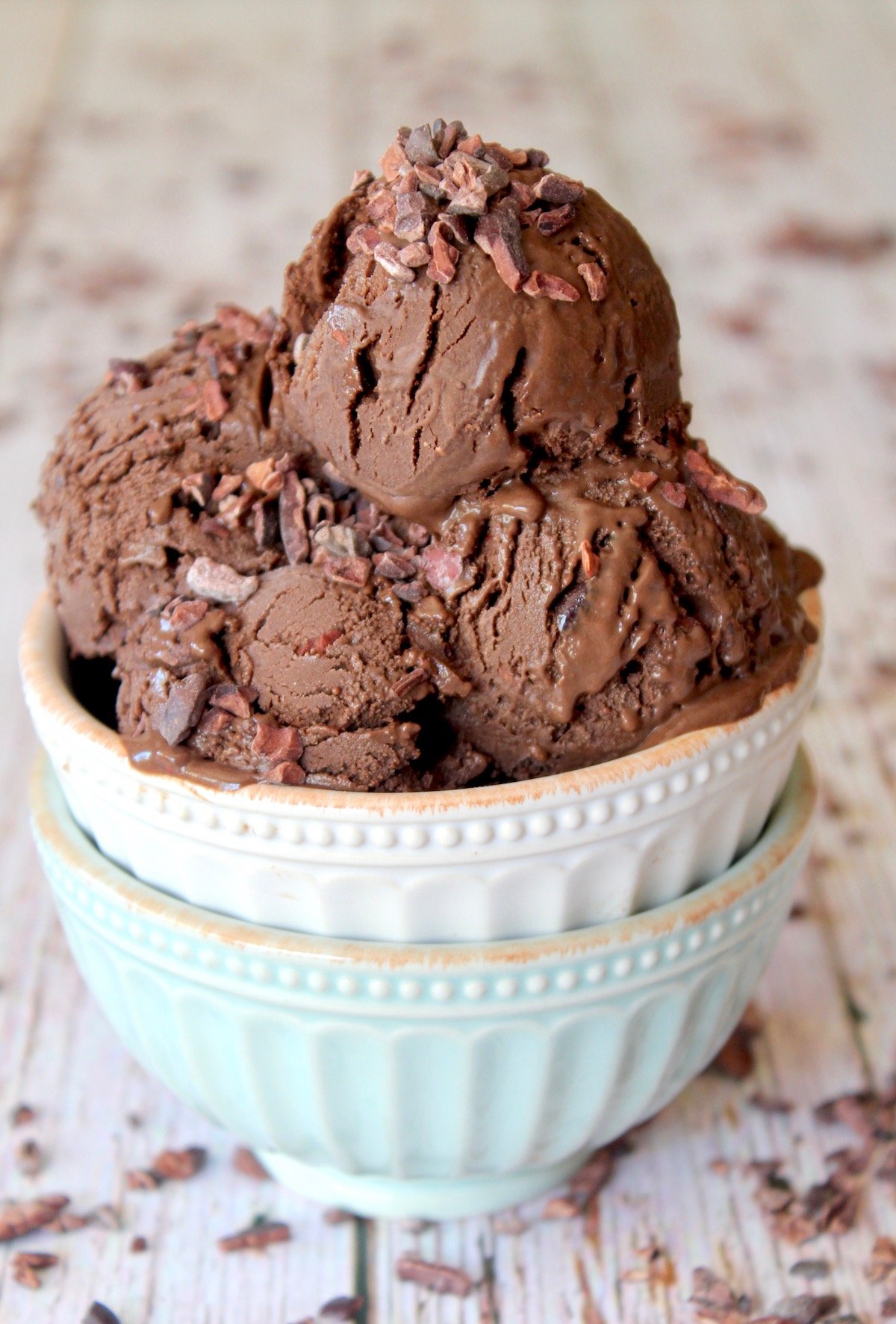 I hope you enjoy every last scoop (and lick!) of this Chocolate Gelato recipe!
More delicious gelato recipes:
Chocolate Gelato Recipe with Cacao Nibs
This Chocolate Gelato Recipe with Cacao Nibs (also called Chocolate Nibs) is made with chocolate upon chocolate, all blended together to create a super smooth, super creamy and rich bowl of pure deliciousness. It's a chocolate lover's dream!*Give yourself at least a day to make this, as there are a couple of waiting periods, and freezing times.*Makes about 1 ¾ quarts.
Instructions
Scald the milk and add the semisweet chocolate. Pour the milk into a very large pot. Place it over medium-low heat and scald it. Tiny bubbles will appear on the edges of the pot and it should be very hot, but not boiling. Add the semisweet chocolate and gently stir until it's completely melted into the milk. Remove the pot from the heat. Let this cool to room temperature, at least 2 hours.

Mix the egg yolks and sugar. In a medium sized mixing bowl, use an electric mixer to whip the egg yolks with the sugar. Mix until it's very thick and pale yellow. When you drizzle it with a spoon it should rest for a second or two on top before sinking back into the rest of the mixture -- this is called the "ribbon stage."

Combine both mixtures to make a custard. On a low speed, gradually pour the cooled chocolate mixture into the egg mixture, and blend just until it's evenly combined. Pour this back into the pot and place it over medium-low heat. Stirring almost constantly with a wooden spoon, cook until becomes about twice as thick -- a custard. This should take about 8 minutes. Remove from the heat immediately, strain into a large bowl or another pot, and let it cool completely, at least 3 hours and ideally overnight. (Once it's room temperature, cover it with plastic wrap and refrigerate.)

Add the cacao nibs and churn. Gently mix in the cacao nibs, transfer to an ice-cream maker and chrun/freeze according to the machine instructions.

Freeze. Place it in the freezer for about 6 hours for it to become more firm, or have it soft right away!
NOTES
Calorie count is only an estimate.
NUTRITION
Have you tried this recipe?
I'd love to see it on Instagram! Tag me at @cookingontheweekends or leave a comment & rating below.
Cooking On The Weekends is a participant in the Amazon Services LLC Associates Program, an affiliate advertising program designed to provide a means for sites to earn advertising fees by advertising and linking to Amazon.com.