This Roasted Hatch Chile Bacon and Eggs recipe is over-the-top delicious for breakfast, brunch, lunch or dinner. It's the perfect way to celebrate Hatch Chile season!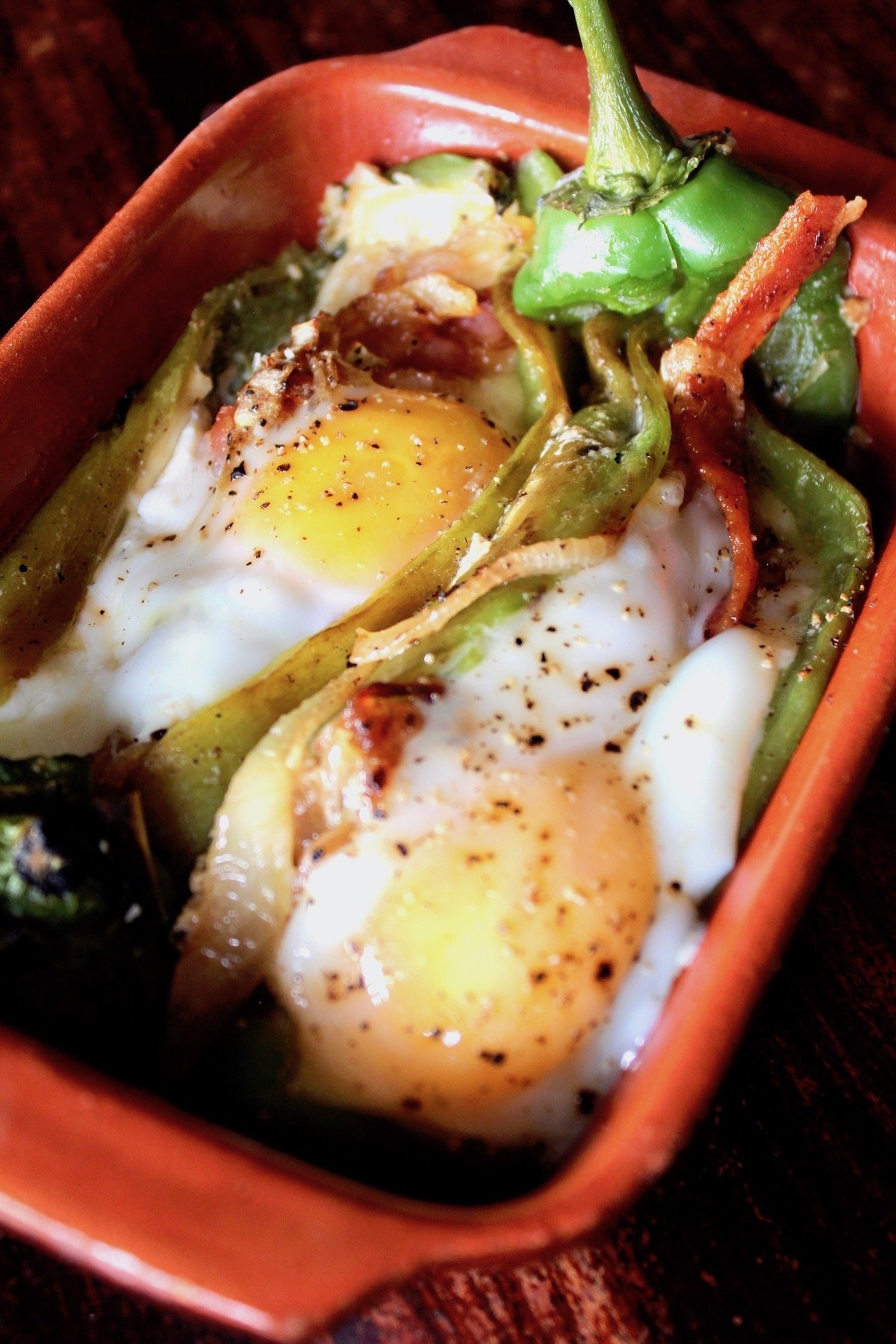 These stuffed Hatch Chiles are full of soft and crunchy textures and smoky and spicy flavors, making every bite amazingly delicious.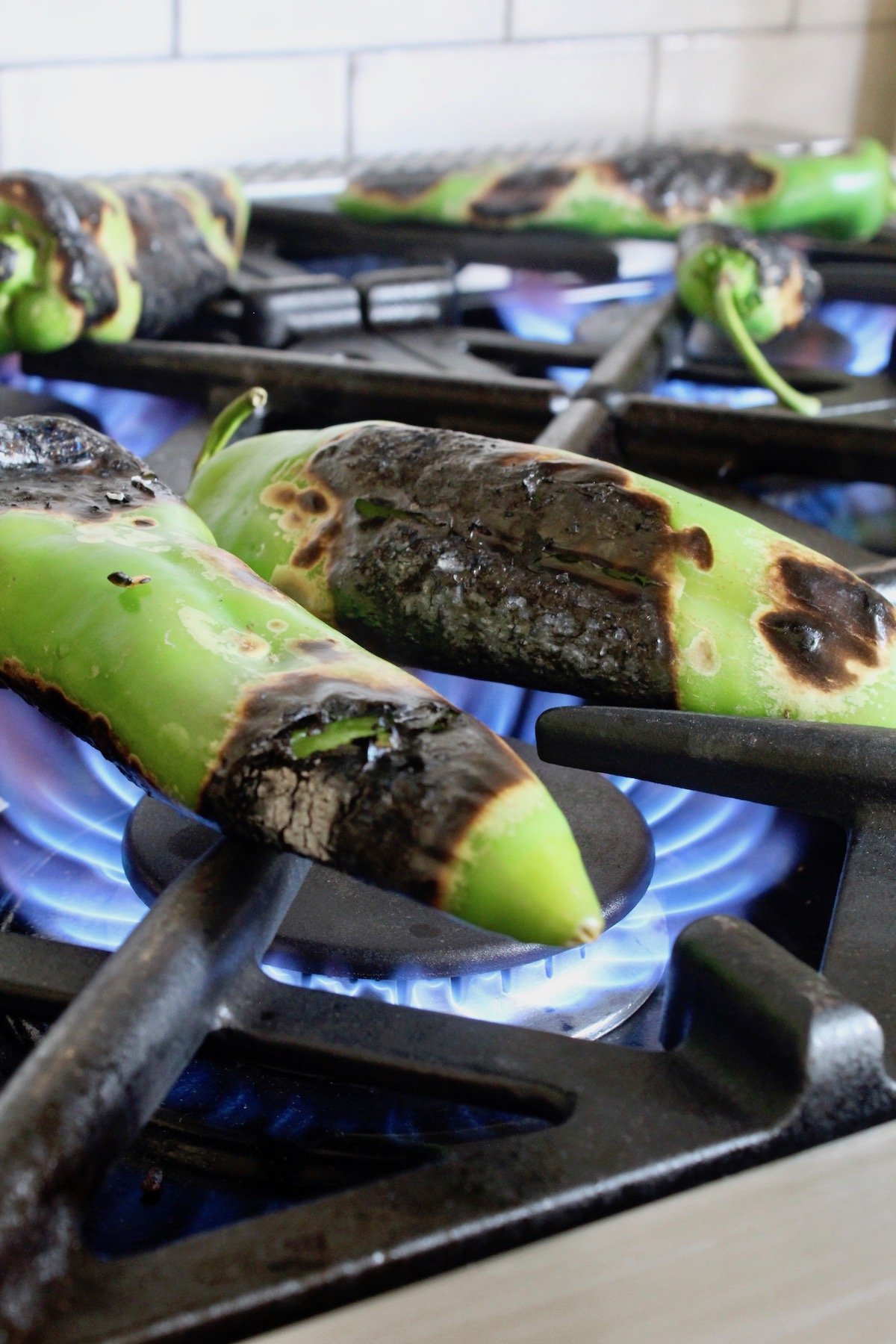 What are Hatch Chiles?
Hatch Chiles are a prized New Mexican chile and are only available in August and September.
These favorite Southwestern chiles are grown in the Mesilla Valley, just north of Las Cruces, where the sunlight is intense and and the nights are cool.
Click here for 15 more of my favorite Hatch Chile recipes.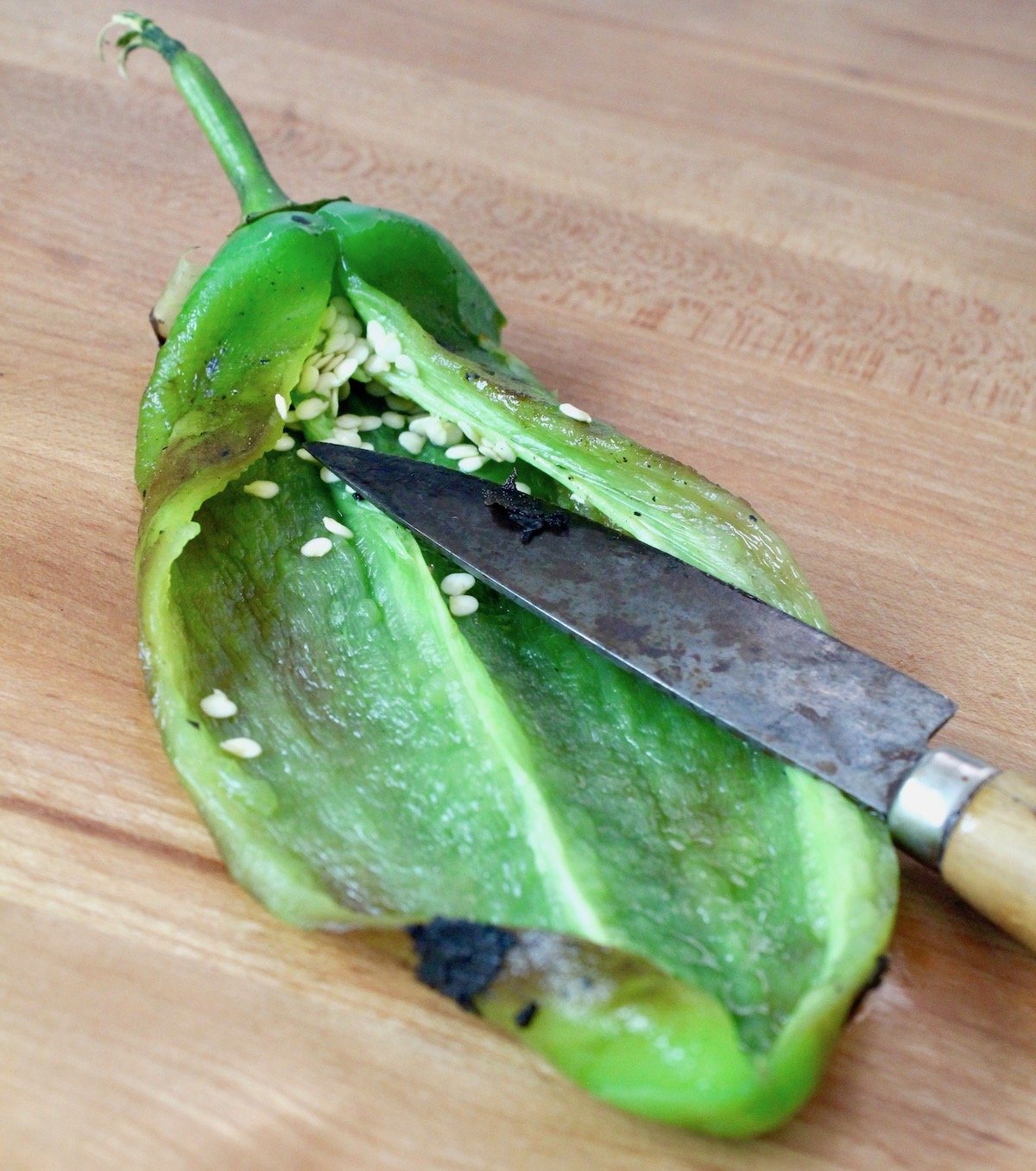 For this recipe, the peppers are roasted, sliced down the middle of one side, and have the seeds removed.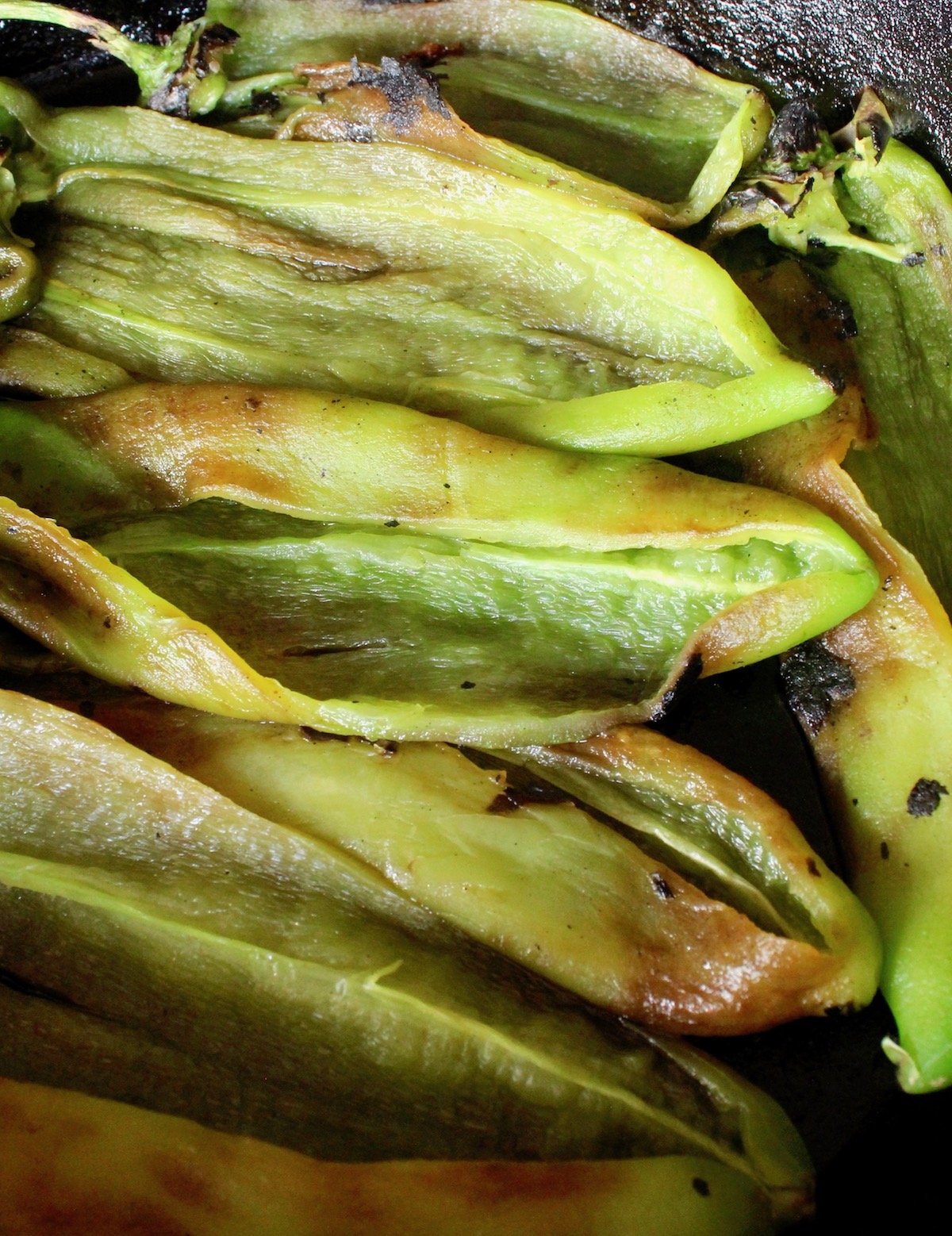 What do Hatch Chiles taste like?
This climate combination where they're grown results in a chile that has a wonderful earthy flavor, with a subtle sweetness and kick to it. They are either hot or mild, and we are lucky enough that they are labeled this way in markets.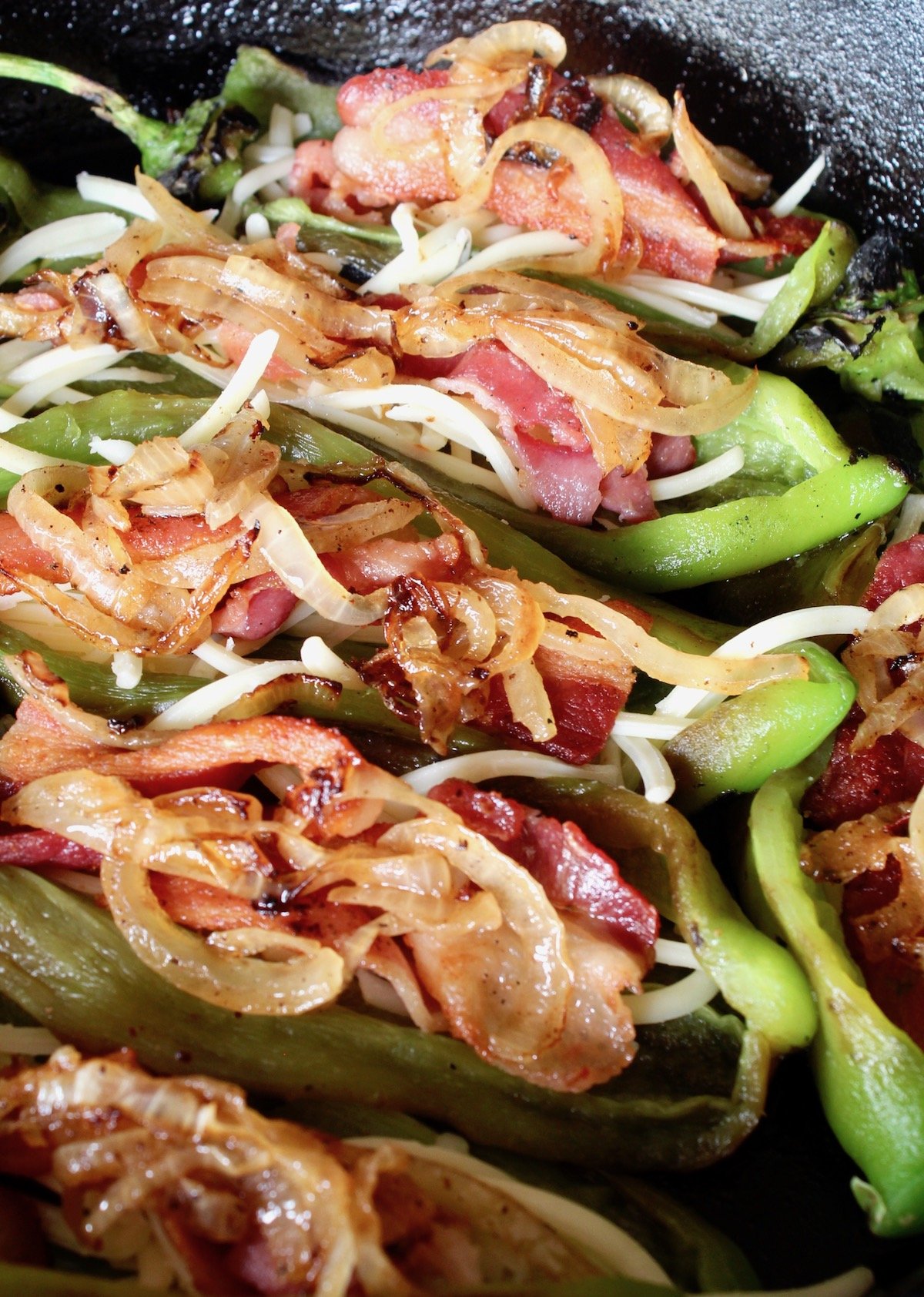 What's a good Hatch Chile substitute?
Poblanos would definitely be my second choice after Hatch. (Here's a delicious stuffed Poblano recipe.) Bell peppers and Anaheims (often called green chiles) would also work.
This article goes into great detail about Hatch Chiles.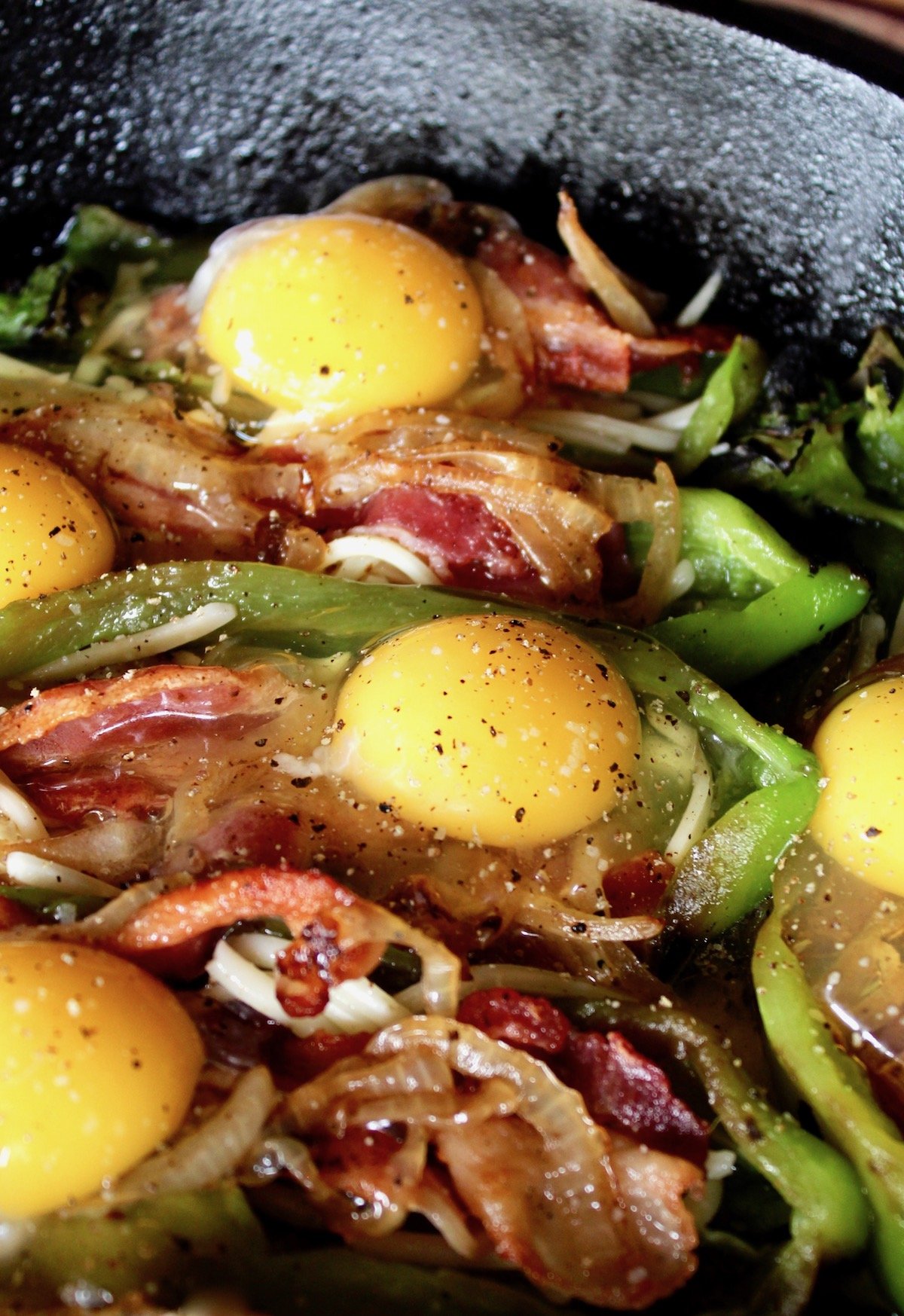 Recipe Tips and Substitutions
As mentioned above, you can substitute Hatch with other peppers including, Poblanos, Bells and Anaheims.
Make this stuffed Hatch Chile recipe without the bacon for vegetarians. Just use olive oil in the pan when it says to use the bacon fat. If you want replace it, Mexican black beans are perfect.
When you are slicing open the roasted peppers and removing the seeds, trying to keep them intact might be difficult, depending on the thickness of the pepper and how long it's been roasted. Don't worry about it if they tear -- you can still easily layer in the stuffing ingredients.
While in many markets you can purchase pre-roasted Hatch Chiles, in this particular recipe, I'd encourage you to do it yourself. (

Here's How to Roast and Peel Peppers

.) This way you can select peppers that are more or less the size/weight you want, and the closer it is to the time you roast them, the easier it will be to keep them intact to stuff .
The raw eggs might spill out of the chiles as you add them. Try to lift up the edges of them to capture them, but don't fret if they spill into the pan a bit. They will also be hard to center in the pepper, so I don't even try. They will land where they land. 🙂
If you'd like to make this recipe less spicy, use regular Jack cheese, not Pepper Jack. And when you purchase the chiles, look for those that are labeled mild.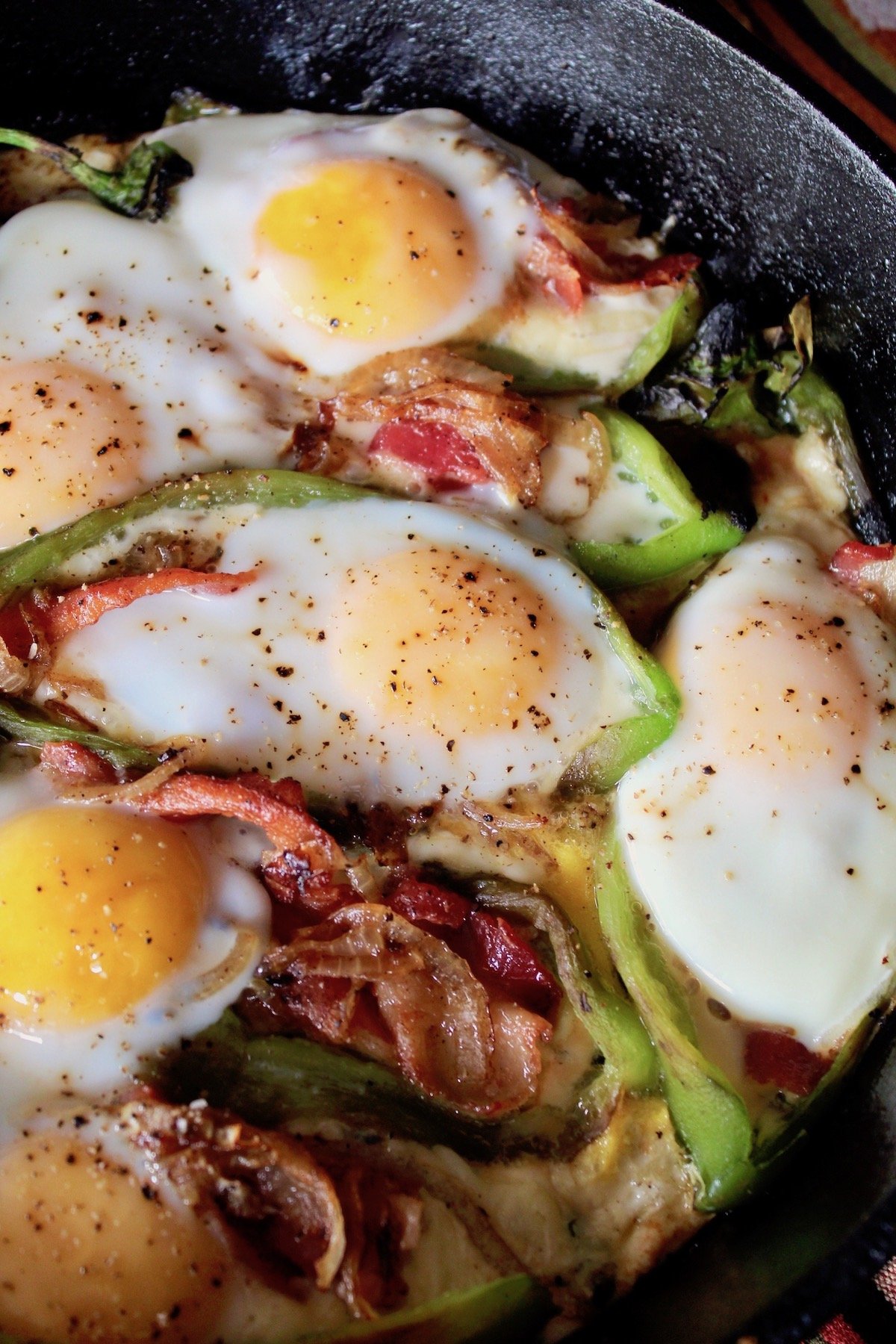 I hope you love these Roasted Hatch Chile Bacon and Eggs as much as my family and I do.
Enjoy!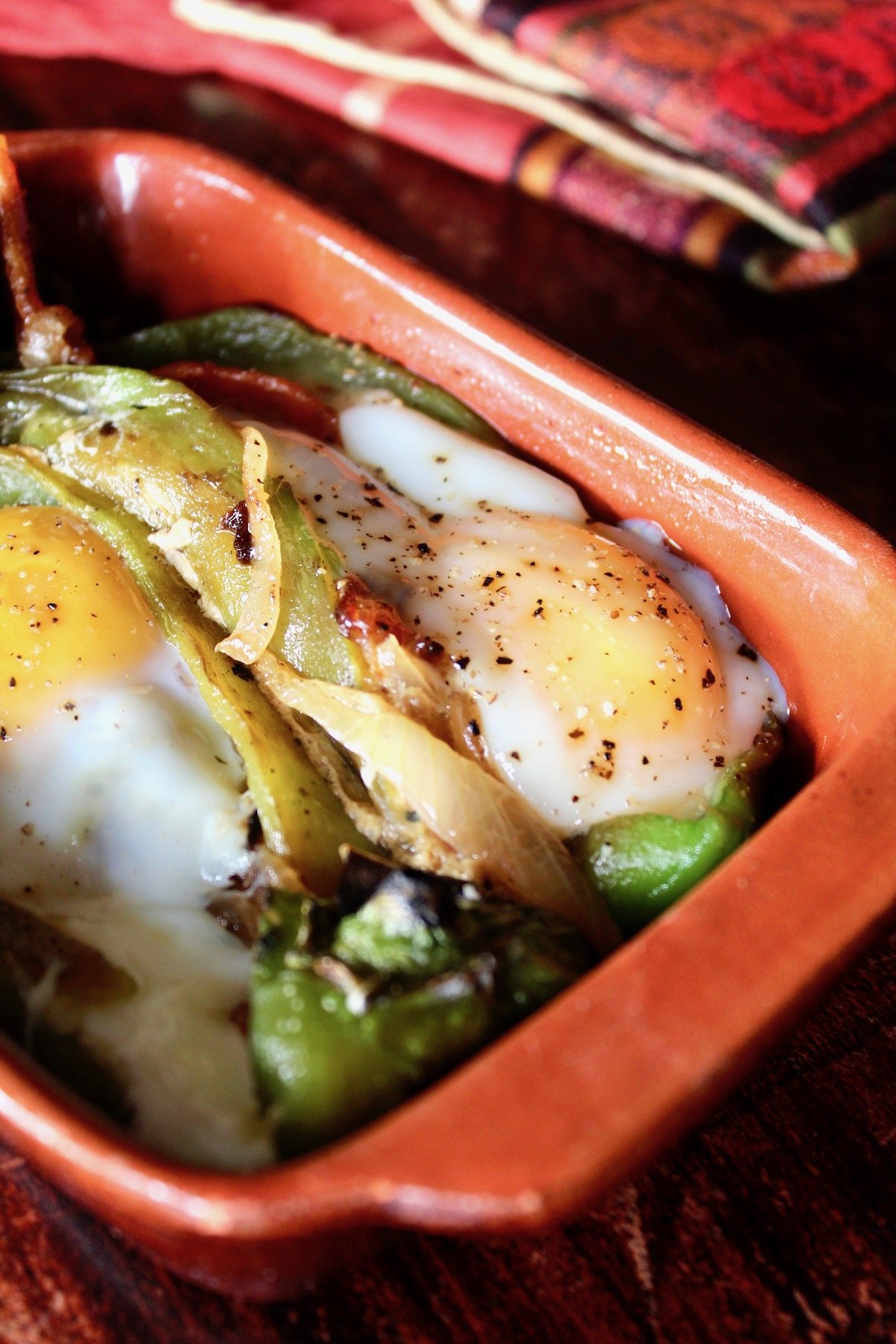 Roasted Hatch Chile Bacon and Eggs
This recipe is over-the-top delicious for breakfast, brunch, lunch or dinner. It's the perfect way to celebrate Hatch Chile season!
Ingredients
8

large

Hatch Chiles (about ¼ pound each when raw)

6

strips

of your favorite bacon

1

cup

yellow onion,

thinly sliced

1¼

cup

pepper jack cheese,

grated

8

large

eggs

salt and freshly cracked black pepper
Instructions
Cook the bacon. Place a paper towel on a large plate and set it aside.In a large oven proof skillet (one that will ultimately fit 8 opened Hatch chiles quite snugly), cook the bacon over medium heat until it's crisp, a few minutes per side. Remove the bacon from the pan and place it on the paper towel-lined plate to let the grease drain. Leave a thin coating of bacon grease in the pan. You might need to pour some off if it seems excessive.

Cook the onions. Add the onions to the pan, and over medium-high heat, cook until they are nicely browned, about 4 minutes. Put the browned onions in a small bowl, keeping any remaining bacon grease in the pan. Set aside.

Open the chiles and remove the seeds. Use a paring knife to make a slit in each of the peppers to open them, keeping them as intact as possible. Then remove all of the seeds. (Unless you want the added heat.) Place the peppers, slit side up in the pan.

Fill the chiles. Sprinkle each pepper with an equal, thin layer of the cheese. Break the bacon into smaller pieces and add a layer to each pepper, on top of the cheese. Then evenly distribute the onion on the bacon.

Add the eggs. Crack an egg into each pepper, directly on top of the onion and bacon. You might need to gently hold the edges of the peppers up, to capture the whites as they run out of the shell -- it's fine if some runs out into the pan. (This is why the peppers should be a rather tight fit in the pan.) Sprinkle each one with salt and pepper.

Bake. Place the pan in the 375°F preheated oven just until the eggs are cooked, 15 to 20 minutes.

Cool and serve. Let them cool in the pan for about 5 minutes and serve!
NOTES
Calorie count is only an estimate.
NUTRITION
Have you tried this recipe?
I'd love to see it on Instagram! Tag me at @cookingontheweekends or leave a comment & rating below.
Save
Save
Save