This Roasted Hatch Chile Bacon and Eggs recipe is over-the-top delicious for breakfast, brunch, lunch or dinner. It's the perfect way to celebrate Hatch Chile season!
At the moment, Hatch chile peppers are to the culinary world what skinny jeans are to the fashion world.
They're hot!
What are Hatch Chiles?
Hatch Chiles are a prized New Mexican chile and are available in August and
September.
These favorite Southwestern chiles are grown in the Mesilla Valley, just north of Las Cruces, where the sunlight is intense and and the nights are cool.
This climate combination results in a chile that has a wonderful earthy flavor, with a subtle sweetness and kick to it. To be honest they're not actually very hot — they're generally more a mild-medium heat pepper, which makes them incredibly versatile in the kitchen.
I was so thrilled when Melissa's World Variety Produce sent me a box of these delicious Hatch Chiles. (Thank you!)
They're so gorgeous, I could have just put them all in a pretty bowl as a centerpiece on my table — but since we're smack in the middle of their short season, I'm going to be cooking and celebrating them all week.
When to Serve Roasted Hatch Chile Bacon and Eggs
I say breakfast, lunch or dinner — however, they are absolutely perfect for brunch.
I'm definitely adding this to my list of weekend recipes as it's a fantastic brunch dish. This recipe takes a bit of time to prepare, and it's well worth it. Not only are the results unbelievably tasty, but making this dish is a really fun cooking project.
I spent Saturday afternoon making these and we had them for dinner with friends. I guess you could call that brunch for dinner. 😉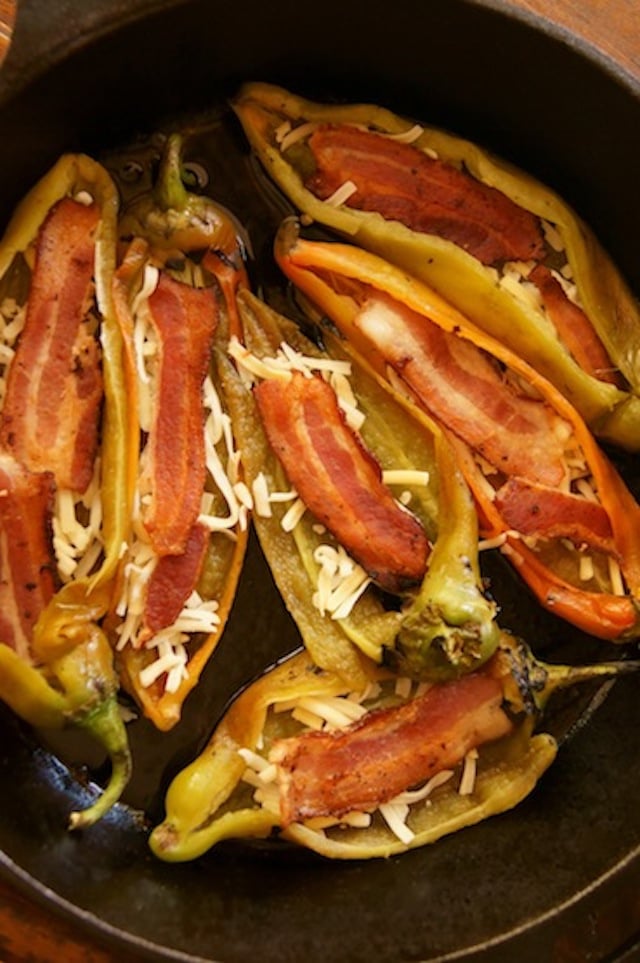 Hatch Chile Roastings
Melissa's will be roasting the famous Hatch Chile at selected Bristol Farms and Gelson's stores throughout Southern California and Fry's in Arizona. There are still opportunities to be a part of this!
Don't miss out on the taste of the season!
And if you live in New Mexico, or might happen to be there over Labor Day Weekend, you might want to attend the Hatch Chile Festival.
Enjoy every last bite of this Roasted Hatch Chile Bacon and Eggs recipe!
Roasted Hatch Chile Bacon and Eggs Recipe
This recipe over-the-top delicious for breakfast, brunch, lunch or dinner. It's the perfect way to celebrate Hatch Chile season!
Course:
Breakfast, Brunch
Keyword:
bacon dishes for brunch, summer brunch recipes
Ingredients
8

roasted & peeled Hatch chiles (Click here for How to Roast & Peel a Pepper)

6

strips

applewood smoked bacon

1/2

cup

yellow onion,

thinly sliced

1 1/4

cup

pepper jack cheese,

grated

8

large

eggs

salt and freshly cracked black pepper
Instructions
Preheat the oven to 375°F and place a paper towel on a large plate and set it aside.

In a large oven proof skillet (one that will ultimately fit 8 opened Hatch chiles quite snugly), cook the bacon over medium heat until it's crisp, about 3 minutes per side. Remove the bacon from the pan and place it on the paper towel-covered plate to let the grease drain.

Pour off about half of the bacon grease (I pour it into a foil lined, small bowl), and keep the rest in the pan.

Add the onions to the pan, and over medium-high heat, cook until they are nicely browned, about 4 minutes. Put the browned onions in a small bowl, keeping any remaining bacon grease in the pan. Set aside.

Carefully, using a small paring knife or your fingers, make a slit in each of the peppers to open them, keeping the stem intact and the pepper whole, gently remove all of the seeds. Place the peppers, open side up in the pan.

Sprinkle each pepper with a thin layer of the cheese (you'll need about half of it remaining for the tops).

Break the bacon into smaller pieces and add a layer to each pepper, on top of the cheese. Then evenly distribute the onion on the bacon.

Crack an egg into each pepper, directly on top of the onion and bacon. You might need to gently hold the edges of the peppers up, to capture the whites as they run out of the shell -- it's fine if some runs out into the pan. (This is why the peppers should be a rather tight fit int he pan.)

Sprinkle each one with salt and pepper and evenly distribute the remaining cheese on top, on the sides of the yolks.

Place the pan in the 375°F preheated oven just until the eggs are cooked, about 15 minutes.

Let them cool in the pan for about 5 minutes and serve!
This is not a sponsored post.
Save
Save
Save