These Blue Corn Blueberry Chocolate Muffins are gluten-free, sweet, light and perfectly delicious -- all at once!  Blue corn recipes typically have a beautiful color, which makes these muffins unique. Lovely for breakfast, a tasty snack, and a dessert -- you will love these any time.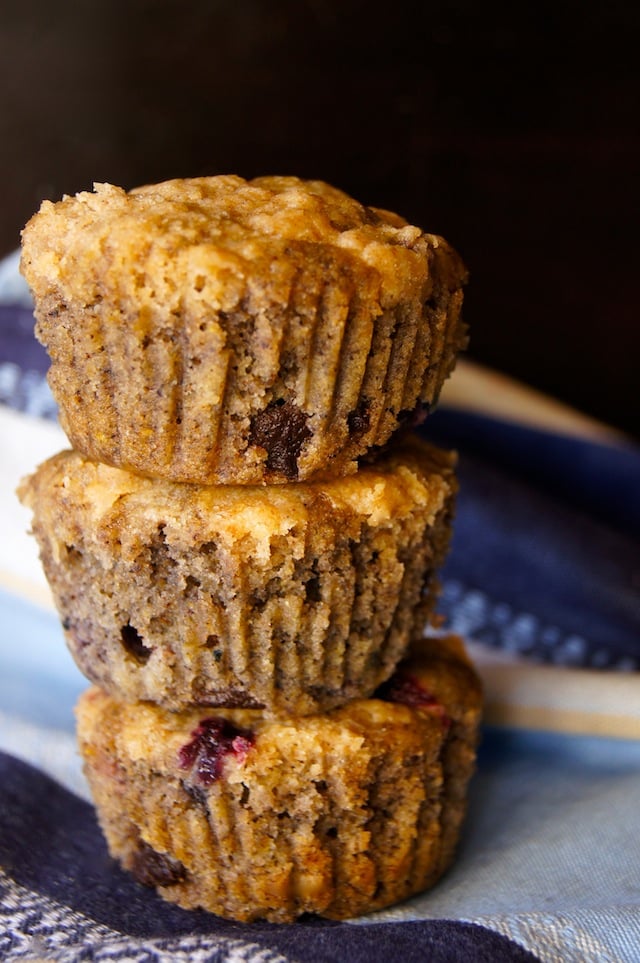 Inspiration
For the last few months there's been a bag of blue cornmeal in my pantry, starring at me, asking -- begging, really -- to be turned into something wonderful.
This bag of blue cornmeal caught my eye in a cute little gift shop in Old Town Scottsdale, Arizona on a family trip. Having no idea what I'd use it for, I had to get it.  After all, I didn't have any blue cornmeal recipes in any of my collections, and I knew there would be a day a recipe would come to me.
Today was the day I decided exactly what that something wonderful would be . . .
Gluten-Free Blue Corn Blueberry Chocolate Muffins!
I had the blueberries, and well, when added to a title with "blue corn" in it, it has a delightful ring to it. (Love it when that happens.)
And I have been craving a super comforting, sweet, delicious muffin every morning for the last several days.  Come to think of it, when haven't I been craving sweet delicious muffins!? Ha!
These muffins scrumptiously fit the bill!
And by now you know me well enough to know that I can't very well make a muffin without a bit of chocolate, and it puts them over the top.
What's in this blue corn recipe?
blue cornmeal
gluten-free flour, baking powder and salt
cinnamon
blueberries
semisweet chocolate
grapeseed oil
sugar
milk and sour cream
vanilla eggs
butter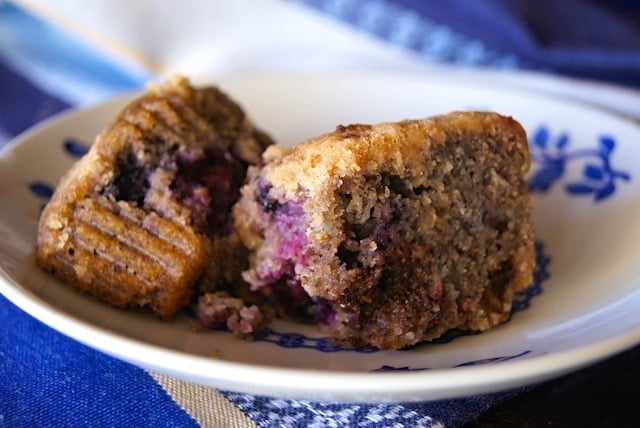 What is Blue Corn?
Blue corn is one of the oldest varieties of corn.
Blue corn is botanically the same as yellow corn with one important difference. The blue-purple color is from its rich anthocyanin content. In addition to other health benefits,  anthocyanin is an antioxidant.
The corn is sweet and has a slightly earthier flavor than other corn varieties.
Recipe Tips
You can use fresh or frozen blueberries. If using frozen, thaw them about halfway.
Even though this recipe is highlighting blue cornmeal, if you can't get your hands on it, you can also use regular cornmeal.
Don't you just want to be sitting out on the patio with your coffee and one of these muffins? Right out of the oven? I do.
I'm looking forward to coming up with many more blue cornmeal recipes, and now it's the poppy seeds in the pantry that won't leave me alone. 😉
Enjoy every last crumb of these ever so scrumptious gluten-free Blue Corn Blueberry Chocolate Muffins.
You can get blue cornmeal here.
More blue corn recipes: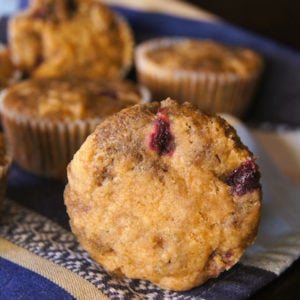 Gluten-Free Blue Corn Blueberry Chocolate Muffin Recipe
These Blue Corn Blueberry Chocolate Muffins are gluten-frree, sweet, light and perfectly delicious -- all at once!
Ingredients
2½

teaspoons

baking powder

2½

teaspoons

cinnamon,

divided

1

teaspoon

sea salt

1

cup

fresh or frozen blueberries

(about 6-ounces)

¾

cup

grapeseed oil

½

cup

granulated sugar

½

cup

milk

¼

cup

sour cream

1

tablespoon

vanilla

4

large eggs

5

tablespoons

cold unsalted butter,

cut into small chunks

4

tablespoons

golden brown sugar
Instructions
In a large mixing bowl, combine the cornmeal, flour, baking powder, 2 teaspoons of the cinnamon, and the salt. Mix until blended. Add the blueberries and chocolate to the bowl and gently toss to be sure they are all coated with the dry ingredients. Set aside.

In another mixing bowl, combine the oil with the sugar, milk, sour cream, vanilla and eggs. Whisk everything together until it's a smooth mixture, about 1 minute.

Make a well in the center of the dry ingredients and pour in about half of the wet ingredients. Use a large spoon to fold everything together. Then add the remaining wet ingredients and mix just until everything is evenly blended together. Set aside.

In a small bowl, combine the butter, brown sugar and remaining ½ teaspoon of cinnamon and rub it together with your fingertips until it's crumbly. Set aside.

Fill each paper cup about ¾ of the way up with the batter and then sprinkle each one with the brown sugar mixture, dividing it evenly among the muffins.

Bake in the preheated 375°F oven until they no longer look wet and a wooden toothpick inserted into the center of a muffin comes out clean, about 20 minutes.

Let the muffins cool in the pan on a rack for about 20 minutes.

Serve warm or at room temperature.
Have you tried this recipe?
I'd love to see it on Instagram! Tag me at @cookingontheweekends or leave a comment & rating below.
Cooking On The Weekends is a participant in the Amazon Services LLC Associates Program, an affiliate advertising program designed to provide a means for sites to earn advertising fees by advertising and linking to Amazon.com.