This Gluten-Free Peach Cobbler with Blueberries is full of warming chai spices, combining comfort with the fresh flavors of the fruit. This is lovely for brunch or dessert with ice cream.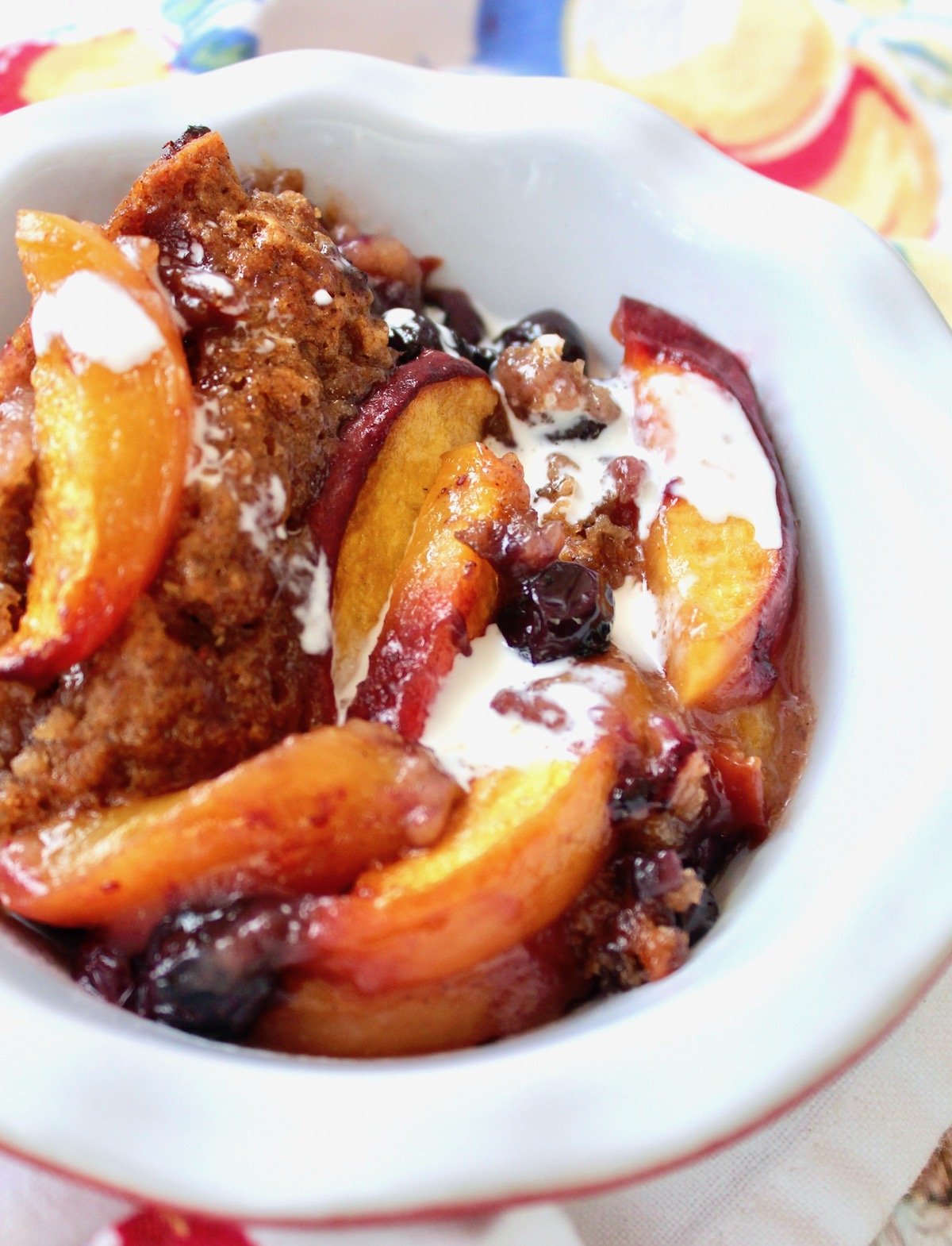 Creative and comforting food for casual entertaining.
That pretty much describes my cooking — and this cobbler.
There's something very rustic about a cobber. I love the way it sort of looks like a "mess." The crust is sort of haphazardly shaped and uneven. Somehow all of that makes it even more delicious.
This gluten-free peach cobbler is full of warming spices, combining comfort with the fresh seasonal flavors of peaches and blueberries.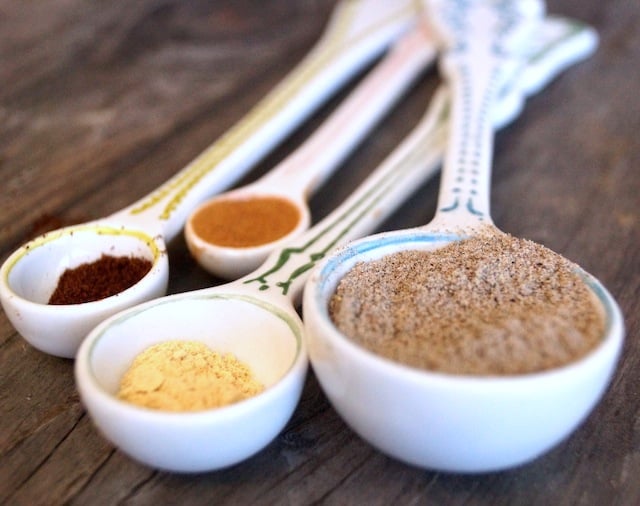 Comfort foods are not limited to fall and winter. This cozy, delicious dish is both the essence of summer and comfort.
Peaches are at the peak of their season in the summer, making it the perfect time for this.
What exactly is a cobbler?
Traditionally cobblers have a topping made of biscuits over fresh fruit. The biscuits are usually dropped onto the fruit in small rounds, giving it the appearance of a cobbled road, which is of course where the name comes from. (My recipe is made quite differently, with the batter starting beneath the fruit.)
Cobblers are also often made with cake or cookie batters instead of biscuits, and are equally tasty.
When and How to Serve it
This Gluten-Free Peach Cobbler with Blueberries is fabulous when you're serving gluten-free eaters, of course! And it's equally as fabulous for those who eat everything. Everyone loves it!
I love a cobbler at a brunch. It's a delightful mid-morning treat, and it's always nice to have a sweet dish along with savory options.
It's also delicious as an after dinner dessert, served warm with a dollop of vanilla bean ice cream.
I especially love it served warm with a drizzle of heavy cream over it.
Can you use frozen peaches and/or blueberries?
If you want to make this when peaches and/or blueberries are not in season, frozen is okay. Be sure to thaw and drain the fruit completely before using it.
Can you make it ahead?
While you can make it the day before and warm it to serve when you're ready, it's best right out of the oven.
Recipe Tips and Substitutions
You can use more or less of the peaches and blueberries, or, you can use other fruits. Apricots, nectarines, plums, mango, raspberries, whatever suits you. (Stay away from citrus and melon, as they tend to disintegrate and make it soupy.)
At first you might think the batter won't come up over and between the pieces of fruit — be patient and you'll see it happen around 45 minutes into the baking time. It helps to leave a few small spots without the fruit covering the batter.
Please remember, all pans and ovens are different, so baking times may vary a bit. In my oven, this takes about 1

hour, 15 minutes.

For this gluten-free peach cobbler, I highly recommend

Cup4Cup Gluten-Free All-Purpose Flour

, and it's listed in the ingredient list. You can also use another 1 to 1 gluten-free flour, though cooking times and the amount of rise of the batter might vary if you do.
You can of course use regular all-purpose flour, if keeping it gluten-free isn't important for you.
I hope you enjoy every last crumb of this Gluten-Free Peach Cobbler with Blueberries.
More summer peach recipes: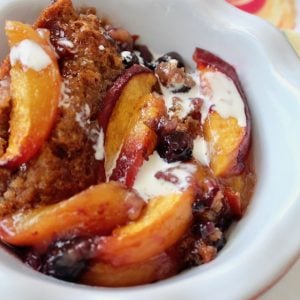 Gluten-Free Peach Cobbler with Blueberries Recipe
This Gluten-Free Peach Cobbler with Blueberries is full of warming spices, combining comfort with the fresh flavors of the fruit. This is lovely for brunch or dessert with ice cream!
Ingredients
½

cup

unsalted butter,

melted

1¼

cup

golden brown sugar,

divided

2½

teaspoons

baking powder

1

teaspoon

ground cinnamon

¾

teaspoon

ground cardamom

½

teaspoon

ground ginger

¼

teaspoon

ground cloves

¼

teaspoon

salt

⅔

cup

low-fat or whole milk

3

cups

fresh peaches (about 1¼ pound peaches),

washed and dried, skin on, cut into about ½ inch slices

1

cup

fresh blueberries,

washed and dried
Instructions
Set the oven. Preheat the oven to 350°F.

Prepare the pan. Pour the melted butter into an 8 or 9 inch square baking pan. Set aside.

Make the batter. In a medium-sized mixing bowl, combine ¾ cup of the brown sugar, flour, baking powder, spices and salt. Once the dry ingredients are well blended, add the milk and stir. Evenly pour the mixture on top of the melted butter in your baking pan, spread it gently and do not stir it into the butter.

Assemble the cobbler. Arrange the peaches and blueberries evenly on top of the batter, leaving a few tiny spaces between the fruit in some areas. Sprinkle the entire top surface with the remaining ½ cup of brown sugar.

Bake. Place the baking pan on a baking sheet (just in case it bubbles over), and bake in the preheated 350°F oven until it's golden brown, about 1 hour, 15 minutes. (Times can vary, so keep an eye on it after an hour!)

Cool. Let the cobbler sit at room temperature for about 15 minutes and serve warm (with ice cream or a drizzle of heavy cream if desired).
Notes
Calorie count is only an estimate.
Have you tried this recipe?
I'd love to see it on Instagram! Tag me at @cookingontheweekends or leave a comment & rating below.
Cooking On The Weekends is a participant in the Amazon Services LLC Associates Program, an affiliate advertising program designed to provide a means for sites to earn advertising fees by advertising and linking to Amazon.com.