This Gluten-Free Almond Butter Bread recipe is also grain-free, and it's SO rich and delicious! It's perfect toasted for breakfast or a snack.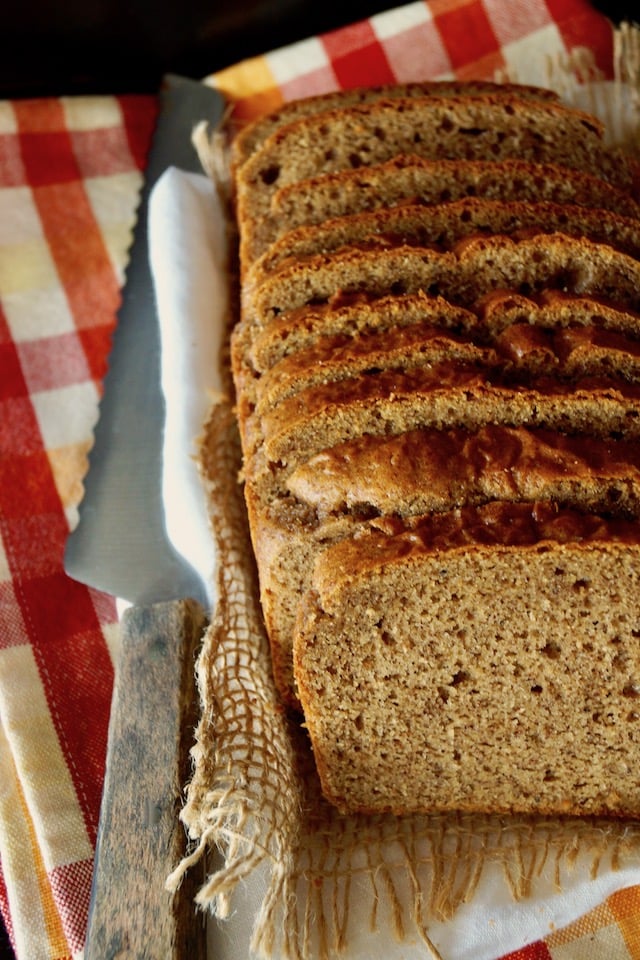 A few weeks ago I made Gluten-Free Macadamia Nut-Honey Bread, and it was such success, that I've been experimenting with other nut butters.
If you've been cooking with me for a while now, you know that one of my son's has Celiac Disease and is therefore gluten-free. I'm always hoping to make him happy with my new gluten-free goodies.
This recipe is unique, and who doesn't love a comforting baked good in the fall and winter months? The mixing of the ingredients, having the oven on, the scent of the bread wafting through the house — it's all part of the comfort factor.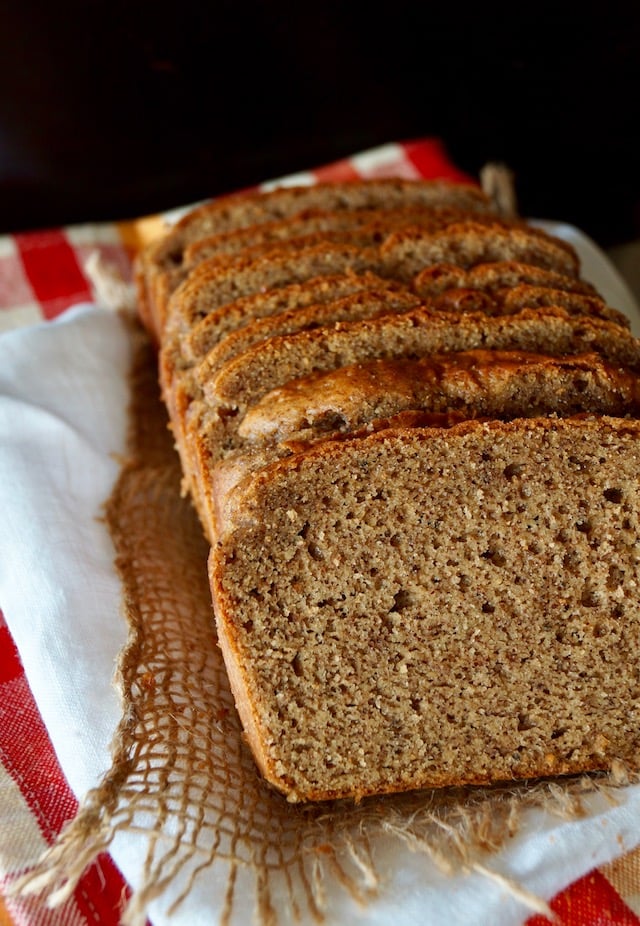 Toasted Almond Butter Bread
I was especially happy when I toasted a slice of this almond butter bread — mainly because it toasted!
I know that might sound funny, but you see, not all gluten-free breads toast well. They don't all behave like "normal" (gluten-full) bread. And by that I mean they don't all caramelize and become golden and crispy.
This super yummy, gluten-free almond butter bread however, toasted beautifully! Just look at the lovely browned surface — and how the butter melts so wonderfully into it!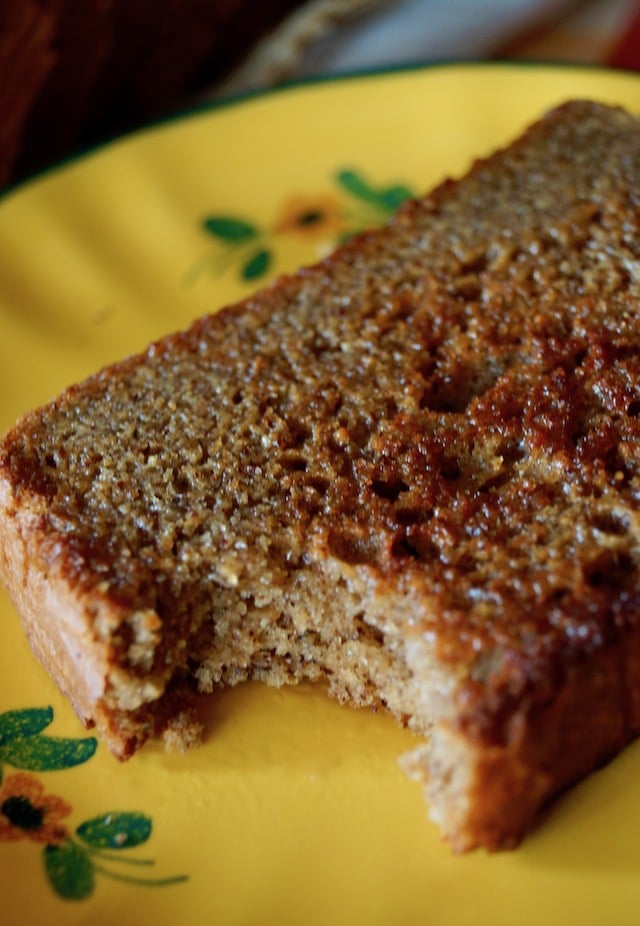 I will be trying more quick breads with different nut butters soon, and of course I'll let you know how they turn out.
In the meantime though, you might have fun with this recipe using other flavors, replacing the almond butter . . . .
A few more nut butters to try:
-Peanut butter
-Cashew butter
-Sunflower seed butter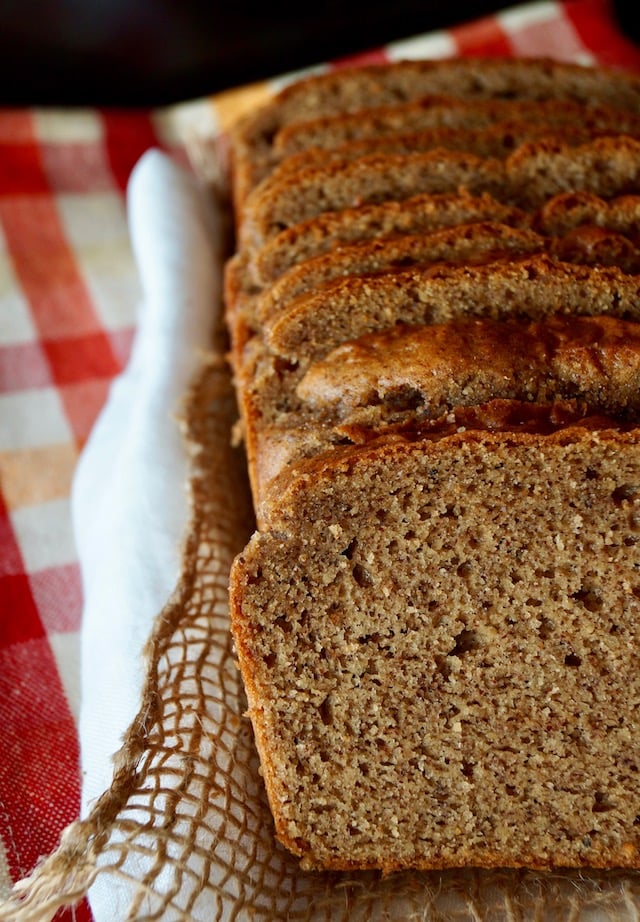 Enjoy!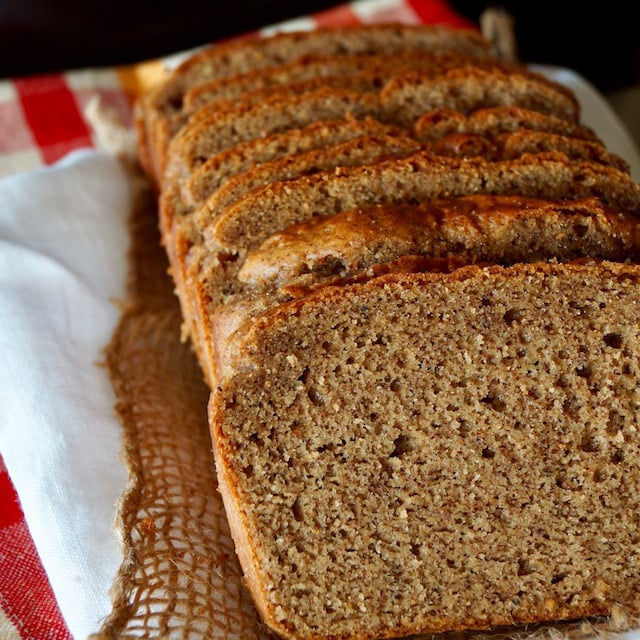 Gluten-Free Almond Butter Bread Recipe
This Gluten-Free bread recipe is also grain-free. And it's still SO rich and delicious! It's perfect toasted for breakfast or a snack.
*Makes 1 loaf

Instructions
Preheat the oven to 300°F and adjust a rack to the center. Line an 8½ x 4½ x 3-inch loaf pan with parchment paper.

Spoon the almond butter into a large mixing bowl and add the honey, cider, coconut flour, baking soda, salt and cinnamon. Mix to blend and set aside.

Now separate the eggs. Add the yolks to the almond batter and the whites to another, clean, large mixing bowl. Use a large spoon or an electric mixer with the beater attachment to blend the yolks into the batter. Set aside.

Use an electric mixer with the whisk attachment, or a hand-held whisk to whip the whites just until stiff peaks form. Immediately add the whites to the bowl with the batter and whisk just until it's well incorporated. (An electric mixer will be easier for both, if you have one.)

Very quickly pour the batter into the prepared loaf pan, and place in the preheated 300°F oven.

Bake until the bread no longer jiggles, is golden, and has risen a good amount, about 40 minutes. (If the bread is golden before it seems to be solid, loosely cover it with foil and continue baking until it's done.)

Let it cool in the pan for at least 5 minutes. Then use the edges of the parchment to very gently lift it out, and onto a cooling rack. The bread might sink a little in the center while it's cooling.

Once it's room temperature, slice and serve.
NUTRITION
Have you tried this recipe?
I'd love to see it on Instagram! Tag me at @cookingontheweekends or leave a comment & rating below.
Cooking On The Weekends is a participant in the Amazon Services LLC Associates Program, an affiliate advertising program designed to provide a means for sites to earn advertising fees by advertising and linking to Amazon.com.