Espresso and chocolate is a dreamy combination, and it's together here in these super delicious Cappuccino Muffins! It's a cake-like breakfast muffin, a perfect way to start the day!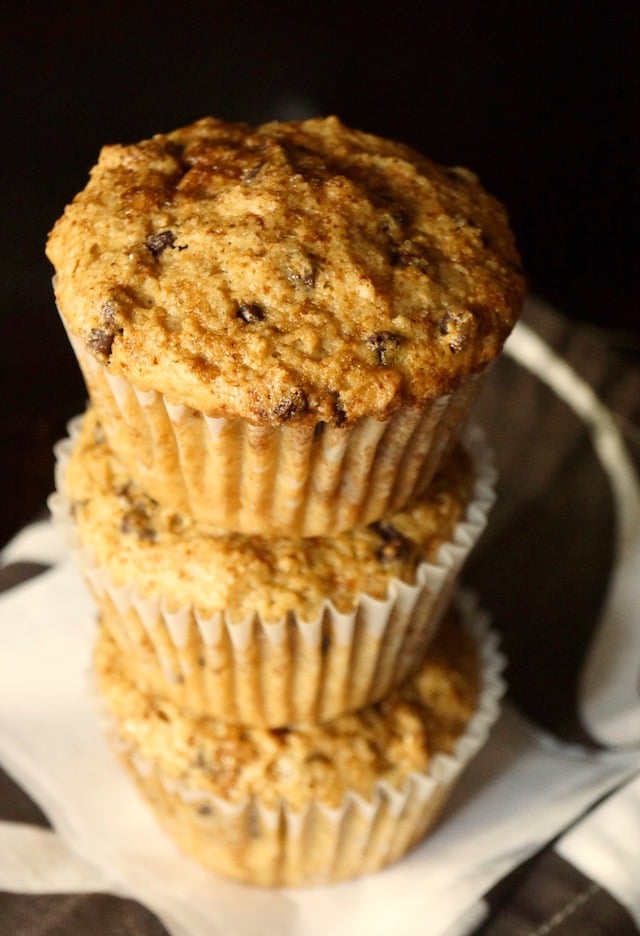 I've had this recipe for cappuccino muffins in my mind for a month, and some of the ingredients on my kitchen counter for almost as long. I'm thrilled to have baked yesterday!
After over eight weeks in the hospital, my dad is finally back home. (If you haven't been following my dad's story, it's began here.)
I almost didn't recognize him after two months — not because of his thinner, paler self, but because he wasn't the same. I guess this might make sense after major open-heart surgery that was followed by a series of horrible complications and so much time away from home— but I'd never expected him to seem so vacant. I know that sounds dark, but when I'd talk to him, it was like he wasn't there. And yet, he was lucid.
I imagine he was thinking about how he was supposed to be better, not worse. How he was only supposed to be in the hospital for 4 to 7 days, not close to 60. How he was told he'd be able to hike soon, not never again.
Watching him work with the physical therapists was difficult. There he was, taking excruciatingly slow, weak, wobbly steps with a walker, to get to a chair just a few feet away. When he'd arrive at the chair, it was as if he'd run a marathon – twice. He was taken over with exhaustion.
This guy has climbed some of the highest mountains, and hiked more miles than anyone could ever count— all while carrying heavy camera equipment. This could not be my dad. And yet, there he was . . .
Seeing him every day was probably too often for me to really notice the tiny improvements that were happening. The doctors kept telling me he was getting better — just very slowly.
I was so worried about bringing him back to his big house, to my mom who was missing him terribly, to his rambunctious, adorable dog, to everything. I was told he'd need a full-time caregiver. My mom has had one for 2 years now.
I was so scared about how I would be able to manage my parents' house, the two of them, their caregivers, the dog and everything else that comes with that. How would I add all of that to my life — my own house, my two boys, my husband, my dogs, my work?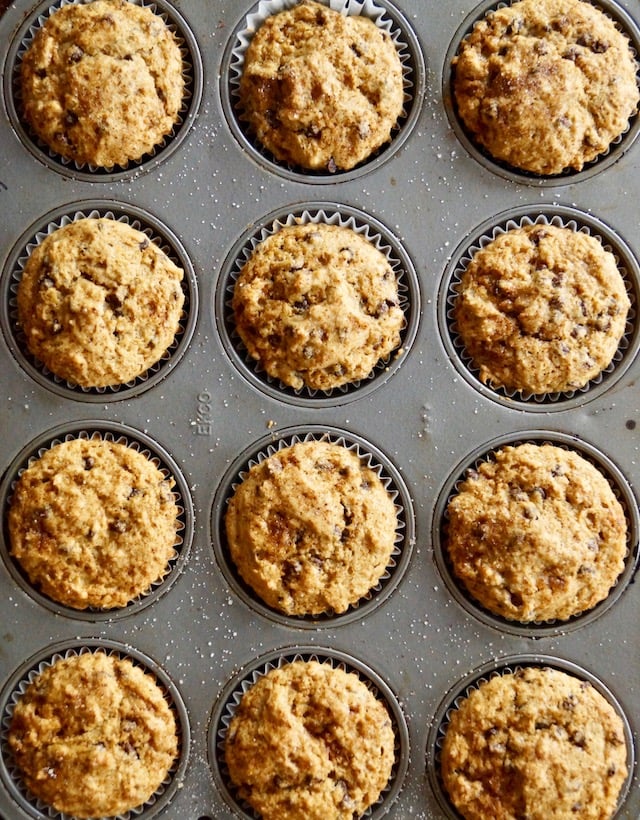 Within 2 days of being home, I could see my dad again — I could see bits of his personality, his smile, his sense of self. At first just glimmers of it, and now one week later, he's really coming back. Mentally anyway. Physically, he has a long road ahead, but he's getting noticeably stronger every day.
He's become a pro with the walker, which I'm convinced he won't need after a while, and his dog is jumping on his lap — and he loves it! As time goes by, I'm more and more optimistic he'll be on a trail again one day. And the best part . . . . so is he.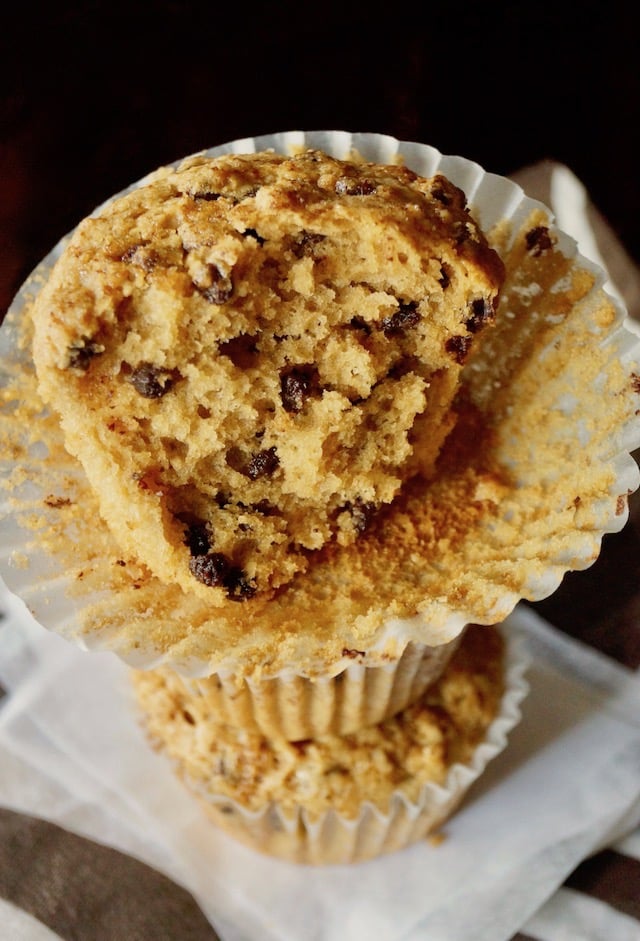 The reunion between my mom and dad was one of the sweetest moments I've ever witnessed between two people. So much love after fifty-two years.
So I still haven't quite figured out how I will manage everything, but somehow I seem to be doing it. It's an adjustment, and I suspect we'll all just settle into this new rhythm and be okay.
Is it too late to talk about the deliciousness of these cappuccino muffins? Have I missed my window?
My cappuccino muffins have brought me comfort with their light texture and rich flavor. They're exactly what I want for a comforting breakfast with my coffee.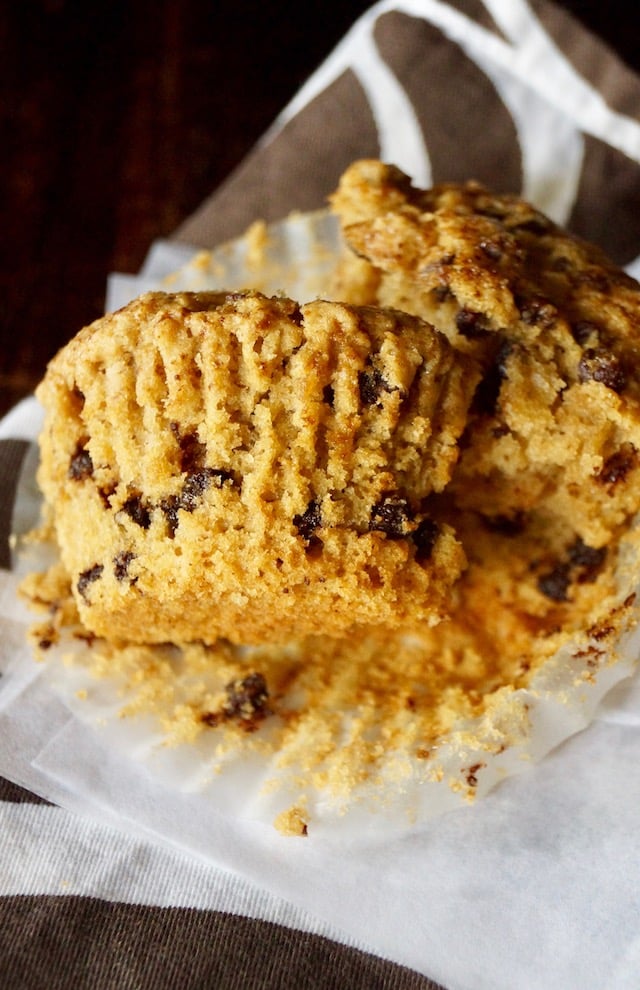 I'm so happy and relieved to be finally coming up for air and getting back in my kitchen!
Enjoy the every bite of your cappuccino muffins with chocolate chips!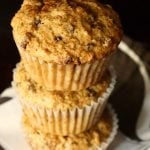 Cappuccino Chocolate Chip Muffins Recipe
Espresso and chocolate is a dreamy combination, and it's together here in these super delicious Cappuccino Muffins! It's a cake-like breakfast muffin, a perfect way to start the day!
Keyword:
desserts for breakfast, great for brunch
Ingredients
1/2

cup

unsalted butter,

softened to room temperature

1/2

cup plus 2 tablespoons

granulated sugar

2

tablespoons plus 1/2 teaspoon

instant espresso powder

(I like Medaglia D'Oro)

1/2

teaspoon

salt

1

large egg

1

cup

half and half

1

tablespoon

vanilla extract

2

cups

all-purpose flour

2 1/2

teaspoons

baking powder

1

cup

mini chocolate chips
Instructions
Preheat the oven to 375 degrees F, adjust the racks close to the center. Prepare muffin tins with approximately 16 paper cups.

In a large mixing bowl, combine softened butter with 1/2 cup of the sugar, 2 tablespoons of the espresso powder and salt. Mix just until everything is evenly incorporated. Add the egg and use a whisk to blend it into the batter. Now add the half and half and vanilla and mix until smooth.

Add the flour and baking powder and mix just until you no longer see dry spots. Then fold in the mini chocolate chips.

Mix the remaining 2 tablespoons of sugar with the remaining 1/2 teaspoon of espresso powder and sprinkle a bit on each muffin.

Bake in the preheated 375 degree F oven until they're set, about 18 minutes.

Let them cool in the muffin tins for at least 15 minutes before serving.
Save
Save
Save