These Banana Peanut Butter Chocolate Chip Muffins are gluten-free, sweetened with honey and fruit, and are a true treat! They're rich in flavor, light in texture, and there's a bit of chocolate in every bite!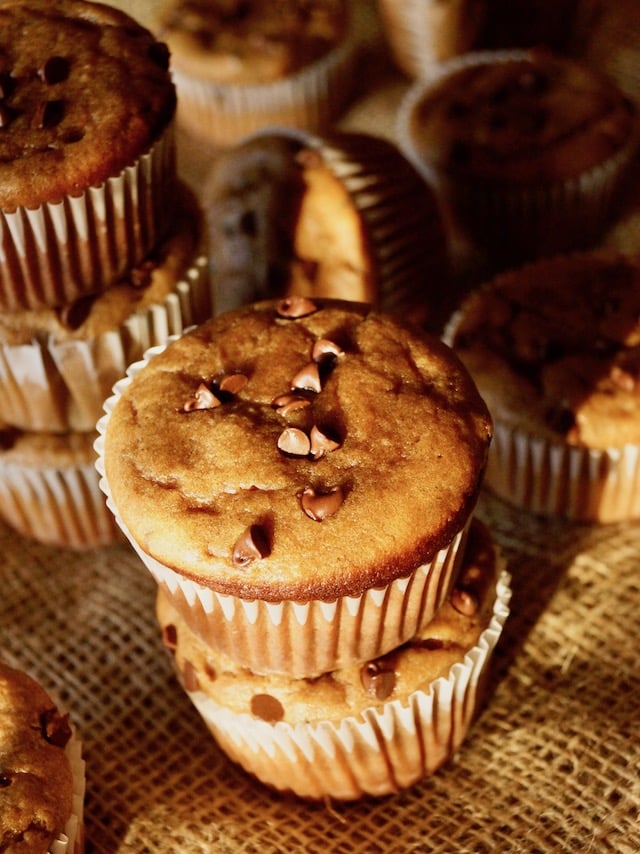 This Banana Peanut Butter Chocolate Chip Muffin recipe employs one of my secrets to good gluten-free baking.
The truth is there are a lot of secrets to good gluten free baking, and there might be different secrets for different chefs -- but, a few stand out to me from my years of experience trying to hone my skills at it.
I've been making all sorts of gluten-free things since my son was diagnosed with Celiac Disease when he was five.
My Favorite Gluten-Free Baking Hack
Egg whites — egg whites whipped to stiff peaks can often create a light and airy texture in gluten free baked goods. And using the egg whites in this way helps to make gluten-free cakes moist. And it's the egg whites that make my Gluten-Free Peanut Butter Banana Muffins work so well.
This muffin recipe I'm sharing today does include a little bit of coconut flour -- it's not replacing anything -- it's just enough to help thicken the batter.
These Banana Peanut Butter Chocolate Chip Muffins are definitely a recipe where you can't tell if it's gluten-free or not.
In other words, it tastes "normal." Whatever that means to you -- to me it just means that it doesn't taste like it's different or off.
Know what I mean?
Serving Suggestions
Okay, obviously there are not rules as to when to serve anything -- it's totally your call. I just like to offer ideas . . .
These protein-packed muffins can be a great power breakfast with your morning coffee.
They would also make for a great afternoon snack -- or really, an "anytime" snack!
And yes, they are certainly sweet enough for dessert. You can even frost them and call them cupcakes for a birthday party.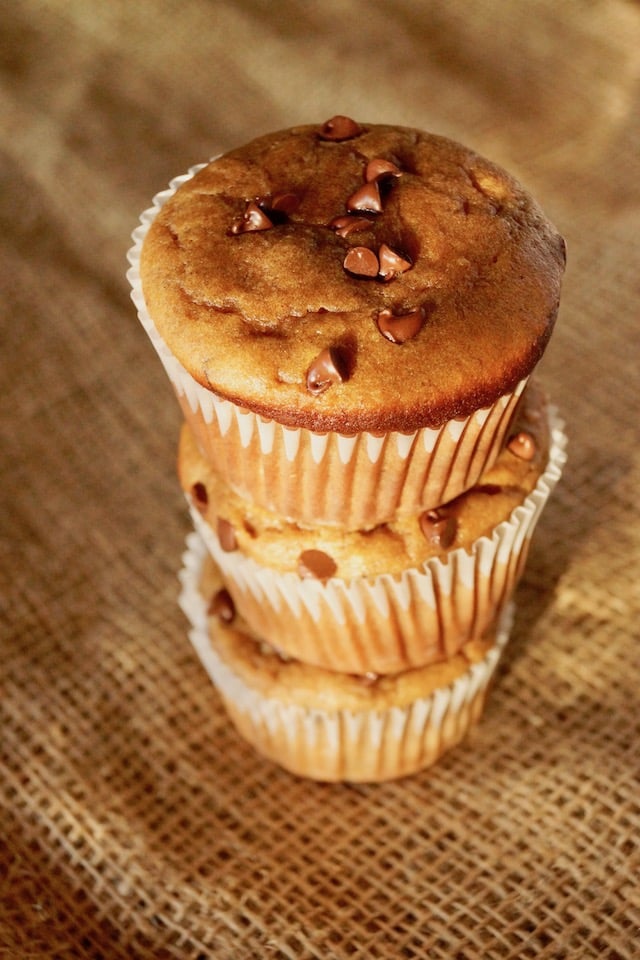 Making Them Ahead and Storage
Room temperature. You can keep them at room temperature if you know the muffins are going to be eaten the next day. The best way to preserve their freshness is to let them cool completely, and then put them in an airtight container. They will last longer this way (two to three days) if you place a dry paper towel below and on top of the muffins.
Freezer. The muffins can be frozen for about three months. The easiest method is to place them in

Ziploc freezer bags

, in a single layer. Let them defrost at room temperature.
Refrigerator. Refrigerating muffins is not ideal, as it can change their texture and dry them out.
A couple more recipes with nut butters: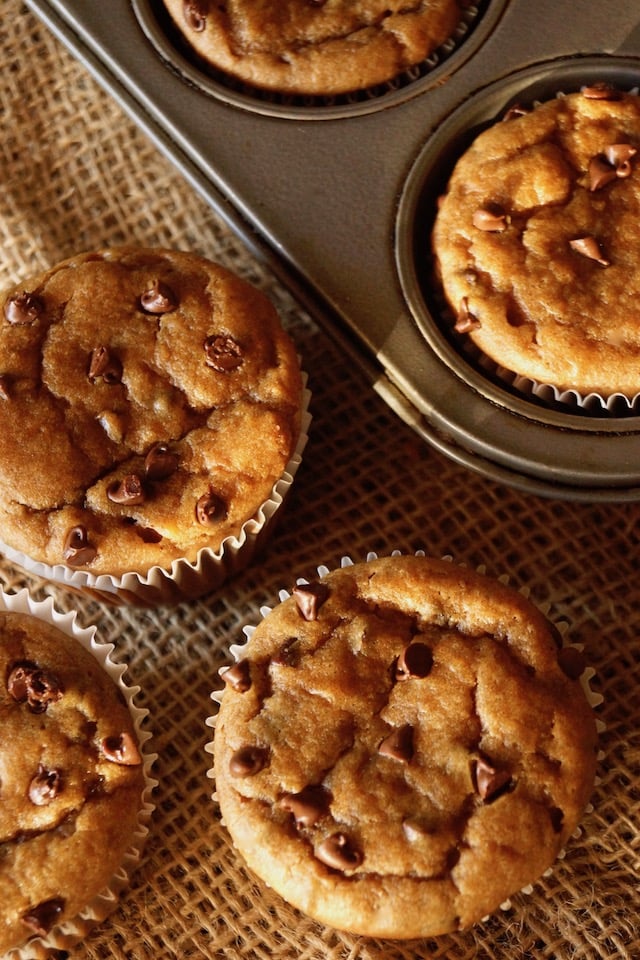 Do you have a favorite gluten-free baked good? What is it? Please tell me in the comments, I'd love to know!
Enjoy!
Banana Peanut Butter Chocolate Chip Muffins Recipe
Sweetened with honey and fruit, these muffins are a true treat. They're rich in flavor and light in texture, and there's a bit of chocolate in every bite!
Instructions
Set the oven and prepare the pans. Preheat the oven to 300°F, and adjust 2 racks towards the center. Prepare two muffins pans with approximately 22 paper cups.

Combine all of the ingredients except the eggs and chocolate chips. Spoon the peanut butter into a large mixing bowl and add the banana, honey, cider, coconut flour, baking soda, salt and cinnamon. Mix to blend and set aside.


Separate eggs, add yolks to the batter, and whip the whites and then add them. If you haven't already done so, separate the eggs. Add the 5 yolks to the peanut butter batter and add the 5 whites to another, clean, large mixing bowl. Use a large spoon or an electric mixer with the beater attachment to blend the yolks into the batter. Set aside. Use an electric mixer with the whisk attachment, or a hand-held whisk to whip the whites just until stiff peaks form. Immediately add the whites to the bowl with the batter and whisk just until it's well incorporated. (An electric mixer will be easier for both, if you have one.)

Fill the muffin pans. Very quickly, spoon batter into the paper cups in the muffin tins — filling them about ¾ of the way up. Then place them in the preheated 300°F oven.

Bake and cool. Bake until the muffins are set and have risen to the top of the paper cups, about 25 minutes. Let them cool for about 20 minutes before serving.
Notes
Calorie count is only an estimate.
Have you tried this recipe?
I'd love to see it on Instagram! Tag me at @cookingontheweekends or leave a comment & rating below.
Cooking On The Weekends is a participant in the Amazon Services LLC Associates Program, an affiliate advertising program designed to provide a means for sites to earn advertising fees by advertising and linking to Amazon.com.