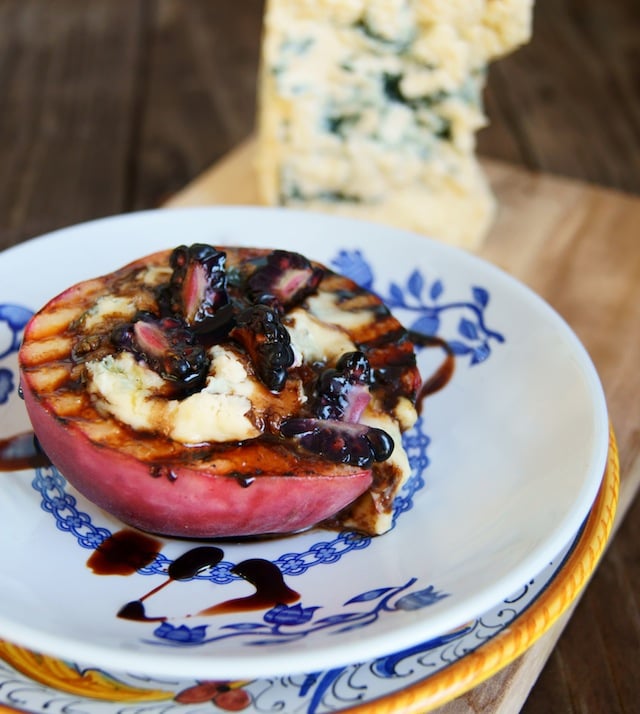 So you know how I love one-pot meals?  Well I'm learning that I also love one-fruit meals.  (I totally made that term up — if you think of a better way to put it, please let me know.)
You see, if a fruit has a pit, you can remove it and fill it with layers upon layers of ingredients, creating something beautiful and delicious — all in one.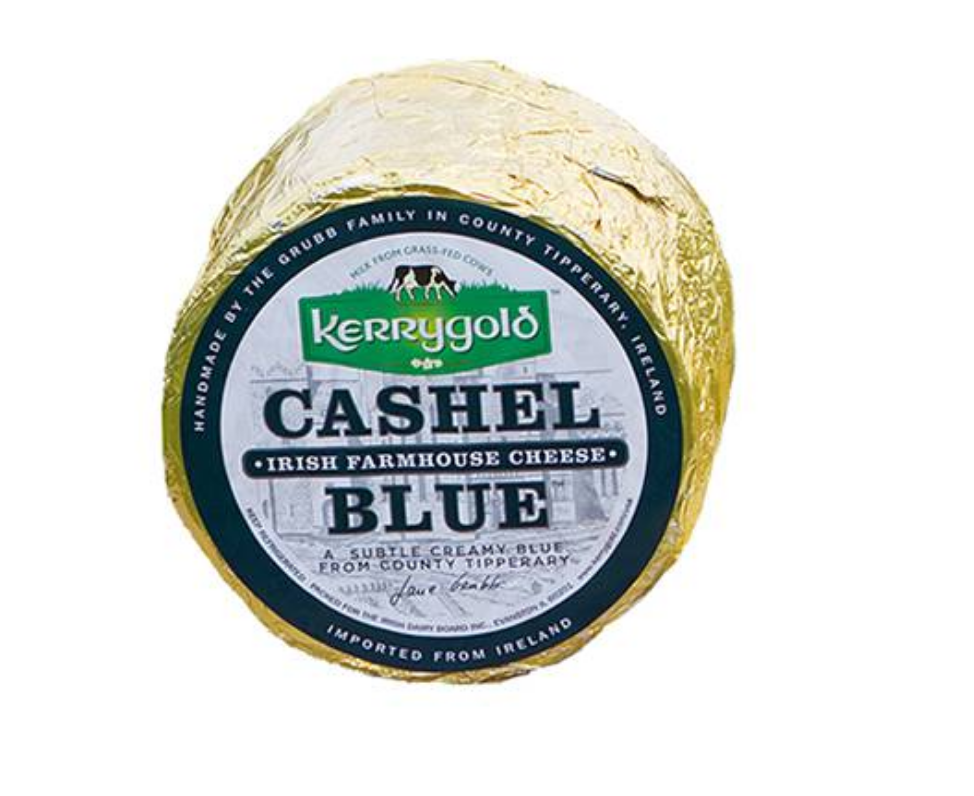 The delectable Irish farmhouse Kerrygold Cashel Blue, lends itself to such meals.
It's creamy texture and tangy flavor create a perfect base where a fruit pit once was, to hold layers of food and drizzles of sauce.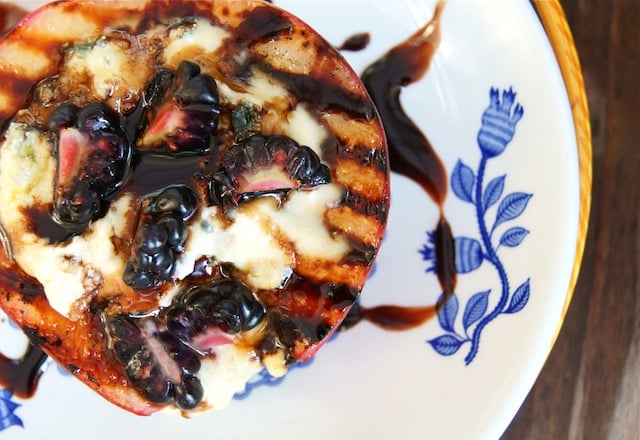 You will wow your guests with this special dessert.  And for a savory one-fruit meal, you might love a Poached Egg Grilled Avocado with Bacon-Onion Compote — also starring Cashel Blue.
This is not a sponsored post — Kerrygold sent me Cashel Blue for recipe testing.  All opinions are my own.
Kerrygold Cashel Blue Grilled Peaches with Honey-Balsamic Glaze
Instructions
Add the vinegar to a small saucepan and bring to a strong simmer over medium-high heat. Simmer until the vinegar has reduced by about half. Then add the honey and stir to blend. Set aside.

Preheat a stove-top (or outdoor grill), cut the peach in half, lengthwise, and remove the pit. Drizzle the grapeseed oil on the surface of each peach half. (If necessary, use your finger to be sure it's evenly coated.) Sprinkle each one with the sugar. Round side up, place the peach halves on the preheated grill. You should hear a strong sizzling sound -- if you don't, the grill is not hot enough. Wait for the sizzle! This is what will create the lovely char marks and flavor. Grill the peach only until it's nicely charred, about 1-1/2 minutes.

Remove the peach halves from the grill, and place them on a baking sheet, cut side up. (If they don't sit steady, you can slice a bit off the bottom to create a base.)

Add 1 tablespoon of the Cashel Blue to the center of each grilled peach half, being sure some of the cheese is on the top surface, around the edges of the center.

Now place the baking sheet with the Cashel Blue filled peaches under the broiler for about 30 seconds -- just long enough to slightly melt the cheese.

Place the peaches on a serving plate, drizzle with the honey-balsamic glaze and top with a few blackberry pieces. (If the glaze has become at all firm, simply place it over low heat until it's pourable, before adding it to the peaches.)
Save