Traditional Caprese, as you probably know, is made of fresh buffalo mozzarella, tomatoes and basil. This Insalata Caprese is thought to have originated in Capri, hence its name.
My Caprese originated in my mind — a place not quite as glamorous as Capri.  It features thinly sliced peaches and asparagus.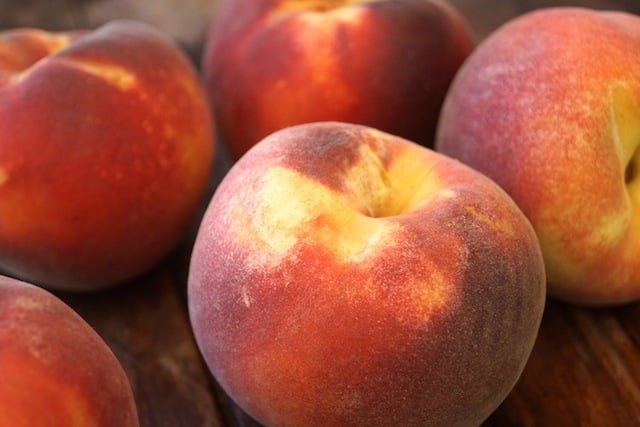 It's as colorful as it is tasty.
I think we should all have as many summer fruits as possible as we slowly see them off and welcome fall soups and stews.
So quick, go get one or two last summer peaches and whip this up!
Friday Flowers will be back next Friday. In the meantime, here's the updated Friday Flowers Gallery.
Peach Caprese with Balsamic Glaze
Ingredients
1/4

cup

balsamic vinegar

About 1 dozen basil leaves

1/2

large peach

cut into12 thin slices

4

1/4 to 1/2-inch slices of fresh buffalo mozzarella cheese

3

steamed asparagus spears

sliced in half lenghtwise

Freshly cracked black pepper
Instructions
Pour the balsamic vinegar into a small saucepan over medium-low heat. Bring to a strong simmer and cook to reduce by about half, until you have a thick syrup. This should less than 5 minutes.

Add a few basil leaves to the surface of two small serving plates. Place a slice of the mozzarella on top of the basil, followed by three peach slices. Drizzle with a bit of the glaze and add a basil leaf or two. Add another slice of mozzarella and three more peach slices to each one, and top with three pieces of the steamed, sliced asparagus and another drizzle of the glaze.

Sprinkle each plate with a bit of freshly cracked black pepper.

Serve immediately!
Save