Kumquat Marmalade with Ginger is a treat during citrus season and beyond. It's lovely on toast, bagels, muffins, and it's also excellent served alongside poultry.
Kumquats are in season approximately November through July, usually peaking in March. During that time, it's near impossible not to walk or drive by a kumquat tree that's full of fruit.
What are kumquats?
kumquat is a citrus fruit that looks like a tiny orange, and is just a bit bigger than a grape.
Originally grown in China, they're now grown in many parts of the world.
There are two main kumquat varieties: Nagami and Marumi. Nagami are the more common variety, and they are the ones pictured and used in my kumquat marmalade recipe. The Marumi variety is a bit more round, yellow, sweeter and juicer.
What do kumquats taste like?
Unlike most other citrus fruits, kumquat peel is sweet and edible. The inside flesh is quite tart, and the combination of the two is what people love about them.
How to Serve Kumquat Marmalade
Of course this is lovely on toast, bagels, muffins, etc.
It's also delicious alongside chicken, turkey or duck.
You can finely chop it and toss it into a salad for added sweetness.
Recipe Tips and Substitutions

I prefer cooking the kumquats whole for this recipe and removing the seeds afterwards. I love the big chunks of fruit in my marmalade, and some people enjoy the crunch of the seeds. You can however, also cut the kumquats in half and remove the seeds before you cook them.
The flavor of the ginger and citrus is delicious together, but the ginger can be omitted if it's not your thing.
If you'd like to use dry ground ginger instead of fresh, use 1 teaspoon. (The fresh packs a bit more of a punch.)
Other fresh herbs that would be lovely are basil and oregano.
How long will kumquat marmalade last?
If you find yourself with tons of kumquats, make as much of the marmalade as you can at once. If stored correctly, they will last about a year. Here is a guide to Sterilizing Jars for Preserves.
Marmalade can last up about three months in a tightly sealed container in the refrigerator.
I hope you love this Kumquat Marmalade as much as I do!
More kumquat recipes:
Other favorite citrus recipes: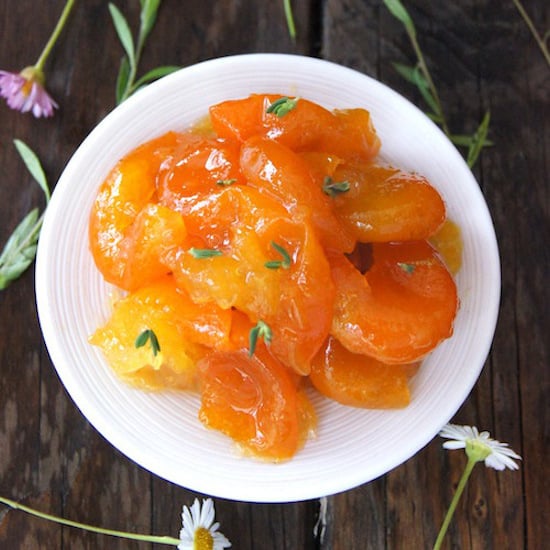 Kumquat Marmalade with Ginger
Kumquat Marmalade with Ginger is a treat during citrus season and beyond. It's lovely on toast, bagels, muffins, and it's also excellent served alongside poultry.*Makes about 2 cups
Ingredients
1¾

pound

fresh kumquats

⅓

cup

water

1¼

cup

granulated sugar

1

tablespoon

fresh ginger pulp

(It's easiest to use a microplane zester to grate the ginger.)

approximately 10

sprigs

fresh thyme,

washed and dried
Instructions
Prepare the kumquats. Place the kumquats in a large pot and cover them with cold water. Place the pot over high heat and bring to a boil. Drain the kumquats and rinse them with cold water. Remove any remaining bits of stems from the fruit and set aside.

Combine the ingredients and cook. Add the water, sugar and ginger pulp to a medium-sized pot and place it over medium heat. Let this get hot and stir a bit, just to dissolve the sugar. Remove the leaves from the thyme sprigs and add them, along with the the kumquats and and bring to a boil. Then reduce the heat to low and let it simmer until it becomes thick, about 40 minutes.

"Pop" the kumquats and remove the seeds. Gently "pop" each kumquat with the back of a fork. The seeds should easily come out -- as they do, remove and discard them with a small spoon.

Cool and serve or store. Let the preserves cool and store them in a jar or tightly sealed container in the refrigerator for up to about three months.
NUTRITION
Have you tried this recipe?
I'd love to see it on Instagram! Tag me at @cookingontheweekends or leave a comment & rating below.
Cooking On The Weekends is a participant in the Amazon Services LLC Associates Program, an affiliate advertising program designed to provide a means for sites to earn advertising fees by advertising and linking to Amazon.com.