Mascarpone Tangerine Ice Cream is rich, creamy and refreshing all at once. Studded with mini chocolate chips, served in adorable Ojai Pixie "bowls," it's over-the top!
Even though it's been fairly cool outside — for Los Angeles anyway — flowers are blooming everywhere and we are entering spring.
And it's making me crave foods with vibrant colors and bright flavors. More specifically, I want to get my hands on the sweetest tangerines possible, and I know exactly what they are.
Ojai Pixie Tangerines, of course!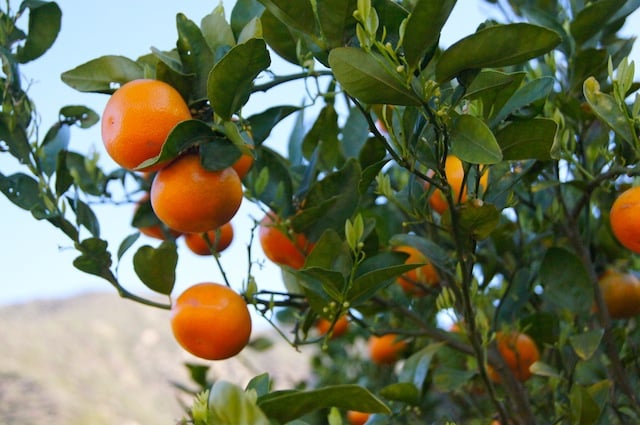 Ojai Pixies are the Sweetest Tangerines Ever
My trip to the Ojai Valley with Melissa's Produce got me in a springtime mood — what with beautifully ripe, deep orange Ojai Pixie tangerines surrounding me at Friend's Ranch and Churchill Brennis Orchard, how could it not?
Ojai Pixie tangerines are so sweet and juicy that it's no exaggeration to say they taste like candy!
While it was difficult not to eat all of the Pixies I brought home, I somehow managed to save enough to make this super delicious Mascarpone Tangerine Ice Cream recipe.
Mascarpone Tangerine Ice Cream Recipe
This mascarpone ice cream is packed with bright, colorful flavors, and the texture is super creamy.
You might notice the bits of chocolate in the tangerine ice cream. Um, have you met me? Been reading my recipes for a while? Of course, there is chocolate in my ice cream!
How fun would this be to serve to your guests for dessert?!
Recipe Tips for Mascarpone Tangerine Ice Cream
If your finished ice cream has been frozen for a while, let it sit out for a bit to soften before serving.
If you want to serve this ice cream in the super cute Ojai Pixie "cups," cut about 2-inches off the top and use a paring knife to carefully remove the fruit. If you're going to do this — do it before you begin, so you can use this fruit to dice and add to the ice cream.
I absolutely adore Ojai Pixie Season! I seriously eat one after another, after another, and so on. They really are the sweetest tangerines I've ever tasted. Like candy, indeed.
A few more Ojai Pixie favorites:
What foods do you crave in the spring?
I want to know, so please tell me in the comments — I might just create a recipe for you.
Mascarpone Tangerine Ice Cream
This tangerine Ice Cream is rich, creamy and refreshing all at once.
*Makes about 1 quart
Keyword:
ice cream with fruit, best frozen desserts
Ingredients
4

large

egg yolks

½

cup

granulated sugar

3

cups

low-fat or whole milk

2

tablespoons

Ojai Pixie tangerine zest

½

cup

Ojai Pixie tangerine juice

(from about 4 Pixies)

1

cup

Mascarpone

1

tablespoon

pure vanilla extract

¾

cups

Ojai Pixie tangerines,

peeled, roughly diced (from about 4 more Pixies)

½

cup

mini chocolate chips
Instructions
Before you begin making the ice cream, zest, juice and then dice the tangerines (see measurements in the ingredient list). Set aside.

In a medium-sized mixing bowl, use an electric mixer or a whisk, to whip the egg yolks with the sugar. Mix until it's very thick and is pale yellow. When you drizzle it, it should rest for a moment before sinking into the rest of the mixture -- this is called the "ribbon stage." This will likely take several minutes.

Pour the milk into a small saucepan and scald it over medium heat. Tiny bubbles will appear on the edges of the pot and it should be very hot, but not boiling. Remove it from the heat to cool a bit.

Very gradually pour about 1/4 of the slightly cooled milk into the egg-sugar mixture, and blend with a whisk until it's evenly combined. Repeat this one more time. Then pour all of this back into the saucepan with the remaining milk. Over medium-low heat, stirring almost constantly with a wooden spoon, cook until it becomes a beautiful, thick custard, about 6 minutes. It's done when it coats the back of the spoon. (Be very careful not to overcook this -- once you notice it becoming thicker, it's nearly there. If you leave it too long it will curdle.) When it's done, remove it from the heat immediately and let it cool for 15 minutes or so.

Now, in a medium-sized mixing bowl, whisk the zest, juice, Mascarpone and vanilla together. Then slowly whisk this mixture into the custard.

Let this cool, stirring from time to time, for about 2 hours.

Pour into an airtight container and place in the refrigerator for at least 4 hours and ideally overnight.

Freeze according to your ice cream machine's directions.

Stir in the diced tangerine and mini chocolate chips.

For a soft ice cream, you can serve it at this point. Or you can freeze it until you're ready -- it should become firm within about 6 hours.
Cooking On The Weekends is a participant in the Amazon Services LLC Associates Program, an affiliate advertising program designed to provide a means for sites to earn advertising fees by advertising and linking to Amazon.com.