Winter Citrus Carpaccio is really a fancy name for a very thinly sliced citrus salad. Drizzled with a lovely yuzu dressing with a touch of heat, this is a fantastic appetizer.
How beautiful is this!? It's almost like a painting.
Citrus varieties can taste and look so different from each other. And I just love how they all look together on a plate.
What is Carpaccio?
Carpaccio is actually an Italian meat dish.
Served raw, the protein is very thinly sliced or pounded.
Traditionally, Carpaccio is drizzled with olive oil and lemon juice, with capers and onions.
Carpaccio is most often served as an appetizer.
So I've really just stolen the name because I've sliced the citrus so thinly — and yes, this does make a difference not only in presentation, but also in taste.
I'd love to paint a room in my house with these stunning, vibrant colors!
What to serve with Winter Citrus Carpaccio (Citrus Salad)
This Citrus Carpaccio dish is fantastic with Pad Thai with Spicy Lime-Peanut Sauce, or Spicy Cilantro Shrimp!
It would also be great along with Simple Honey-Lemon Roasted Chicken.
And here's a crazy idea . . . . what if you added it to vanilla bean ice cream!? I know, delicious!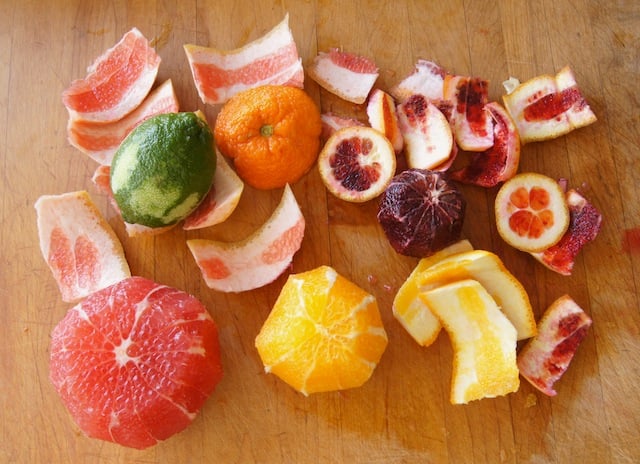 I made a Yuzu-Jalapeño Sauce to drizzle over the citrus salad. It has just a touch of sugar to balance out the flavors.
What is Yuzu?
Yuzu is another citrus variety. Cultivated primarily in Asia, the fruit is very fragrant, sour and tart, with overtones of Mandarin orange.
It's not a fruit you'd eat on its own. It's used for its zest to flavor sauces and dressings.
It looks like a small grapefruit with slightly uneven skin and can be either yellow or green depending on the degree of ripeness.
Can't get enough winter citrus? Here are a few more citrus salad recipes to tempt you:
Enjoy!
If you try this beautiful Winter Citrus Carpaccio, or any of my other recipes, I'd love to hear what you think about it in the comments below. You can also follow me on Facebook, Instagram and Pinterest to see more of my mouth-watering recipes!
Winter Citrus Carpaccio
Winter Citrus Carpaccio is really a fancy name for a very thinly sliced citrus salad.
Course:
Appetizer, First Course
Keyword:
citrus recipes, fruit salads
Ingredients
2

tablespoons

Yuzu juice

zest of 1/2 lime

1

teaspoon

granulated sugar

about 1/2

of a small jalapeño,

very thinly sliced in rings, seeds removed

1

Ruby Grapefruit

1

Naval orange

1

blood orange

a few basil leaves
Instructions
In a very small sauté pan, over low-medium heat, warm the Yuzu juice with the lime zest and sugar. Cook just to dissolve the sugar, about 30 seconds. Add the thinly sliced jalapeño and let this come to room temperature while you prepare the fruit.

To prepare the fruit, use a paring knife to cut about 1/2-inch off the top and bottom of the citrus.

Remove the skin by setting the fruit down on one of the flat surfaces and use the knife, moving downwards into the fruit and cutting only slightly into the flesh.

Then cut very thin round slices and cut those in half. (Save the remaining parts of the grapefruits and juice them -- simply to have on hand!)

Arrange the fruit with the basil leaves in a circular pattern on two plates, and drizzle each serving with the Yuzu-Jalapeño sauce.
Cooking On The Weekends is a participant in the Amazon Services LLC Associates Program, an affiliate advertising program designed to provide a means for sites to earn advertising fees by advertising and linking to Amazon.com.