Hazelnut Honey Roasted Apples are lovely for fall and perfect for a Thanksgiving dessert, in case you want to skip the pie this year. The hazelnut flavor and use of Green Dragon apples makes them stand out from all other honey roasted apples.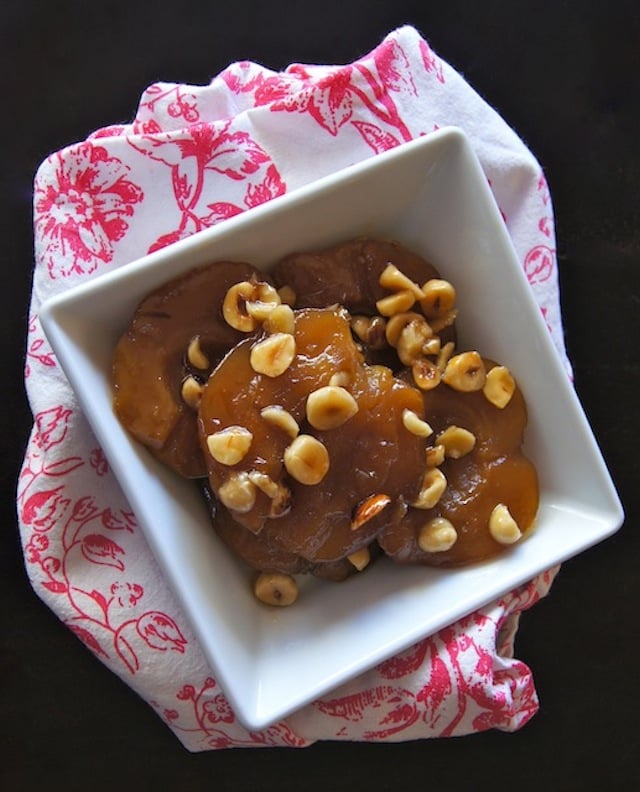 Inspiration for Hazelnut Honey Roasted Apples
Though you could use other apples for this recipe, I used a very special variety. And I almost ate all of them before I cold get them in the pan, with a little help from my boys, who especially love their name -- Green Dragon apples.
This beautiful fruit was the inspiration for this lovely fall apple recipe.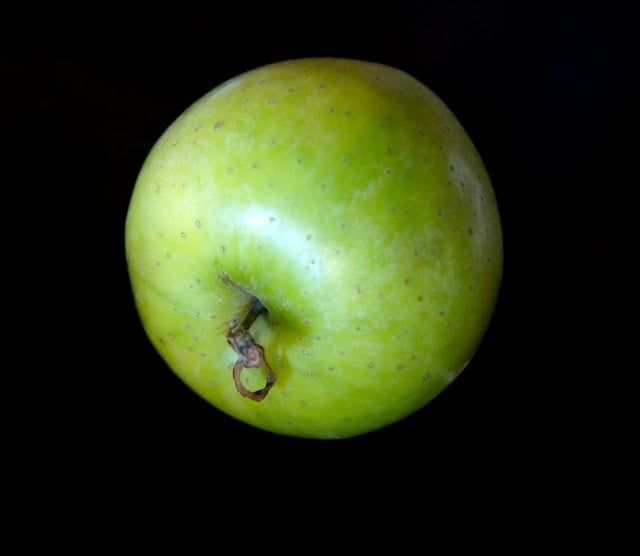 I need two things in an apple -- crispness and sweetness. If either one isn't there, I'm out. There are few varieties that I think have the perfect blend of both, and Green Dragon apples are one of them.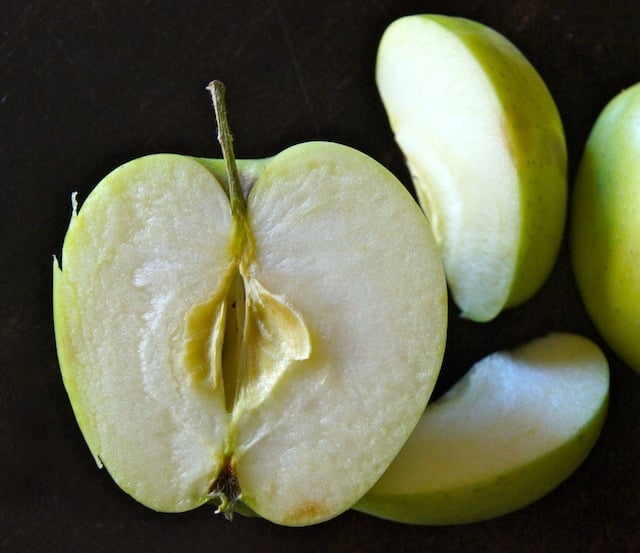 What are Green Dragon Apples?
Green Dragon apples hold a whole lot of goodness, and you'll quickly see why they're perfect for my honey roasted apples.
They have a delicious pineapple flavor.  Really, you'll see.
They're rich in Vitamin C and full of Anti-Oxidants.
And of course, let's not forget crisp, sweet and delicious.
Makes sense that they're named after the Chinese symbol for royalty!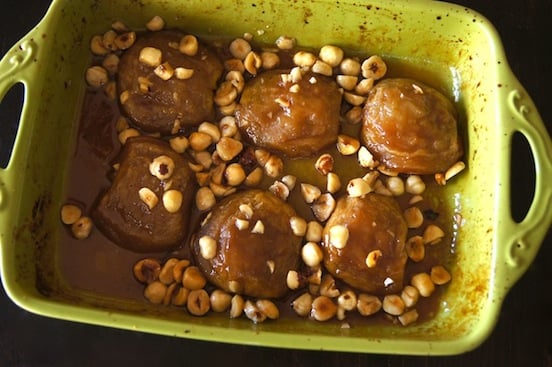 While Green Dragon apples are fantastic to eat raw, when roasted in this Hazelnut Honey Roasted Apples, they're divine combined with the other flavors they soak up.
The apples also hold their shape and will have a super smooth texture.
Where to find Green Dragon Apples
You can find Green Dragon Apples at Bristol Farms and Gelson's, and they'll be in more markets soon.  You can also order them from Melissa's Produce here.  And yes, as I mentioned, you can also use other apple varieties.  Granny Smith would also be delicious.
Do you want to serve Honey Roasted Apples with a dollop of vanilla bean ice cream?  I do! So let's do it.
Enjoy every bite of your honey roasted apples with hazelnuts!
More delicious fall apple desserts:
This is not a sponsored post.  Melissa's Produce sent me Green Dragon Apples for recipe testing, and all opinions are my own. 🙂
Hazenut Honey Roasted Apples
This is lovely for fall and perfect for a Thanksgiving dessert, in case you want to skip the pie this year. The hazelnut flavor and use of Green Dragon apples makes them stand out from all other honey roasted apples.
Ingredients
⅓

cup

hazelnuts

⅓

cup

honey

3

tablespoons

unsalted butter,

melted

2½

tablespoons

Frangelico

(hazelnut liqueur)

1½

tablespoons

vanilla extract

3

apples

(I used Green Dragon)

salt
Instructions
Preheat the oven to 375°F, and place the hazelnuts in a single layer on a baking sheet. When the oven is preheated, roast them until they are very aromatic and the skins are cracking, about 6 minutes. Let them cool for at least 10 minutes, and then they can be rubbed together in your hands, or in a dish towel, and the skins should flake away. (Some tiny bits of skin will remain, and that's okay.) Roughly chop the nuts and set them aside. Do not turn off the oven!

In a small mixing bowl, combine the honey with the melted butter, Frangelico, and vanilla.

Pour about ¼ of the honey mixture into a baking dish -- one that's just big enough to comfortably hold 6 apple halves, without touching. The honey mixture should coat the bottom nicely.

Peel the apples. Then slice them in half, lengthwise, and core them.

Place the apple halves in the baking dish, onto the coated bottom, round side up.

Pour the remaining honey mixture evenly over the 6 apple halves. If they are not completely coated, gently flip them over a couple of times, being sure they are round side up when they go in the oven.

Roast the apples in the preheated 375°F oven for 45 minutes. Use a soup spoon to baste them every 10 to 15 minutes. Then add the peeled, chopped hazelnuts, using the spoon to be sure they become well coated with the honey mixture. (They shouldn't be right on top of the apples, along the sides and between them is best.) Roast the apples for about another 15 minutes.

When they're done, they should be well caramelized with a pretty golden color. They also will have shrunk by about ⅓.

Let them cool in the baking dish for about 10 minutes and then serve, spooning hazelnuts and any excess sauce on top. Sprinkle each serving with a bit of salt.

NUTRITION
Have you tried this recipe?
I'd love to see it on Instagram! Tag me at @cookingontheweekends or leave a comment & rating below.
Save