This Cinnamon Ice Cream recipe is both refreshing and warming all at at once, making it ideal for any season. And the rich creamy texture is so dreamy!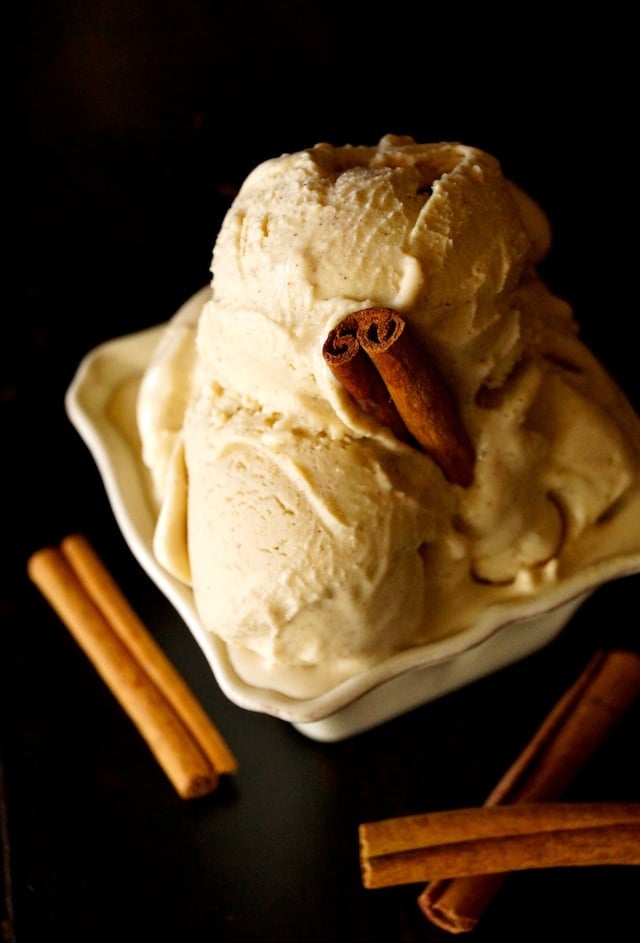 I love cinnamon and I can't imagine life in my kitchen without it.
It's as crucial a staple as olive oil or butter as far as I'm concerned. And I'd be very surprised if any of you didn't have cinnamon in your pantry.
About Cinnamon
This heavenly spice is packed with

health benefits

and adds warmth and delicious flavor to both sweet and

savory recipes

.
It's a sweet, aromatic spice that comes from the inner bark of the Ceylon cinnamon tree. Among other things, it's a natural anticoagulant (blood thinner) that can increase blood circulation and boosts metabolic activity.
You know how you often hear that red wine and chocolate are healthy in moderation? Well I've been hearing more and more recently that a little bit of cinnamon everyday is super healthy -- so what do I do?
Yep, I make a cinnamon ice cream recipe. 😉
I add cinnamon to everything from rich soups and stews, to sweet cookies and pies -- and today, to ice cream. In a straight up Cinnamon Ice Cream recipe.
Some Ice Creams are Better Without Mix-Ins
Now you know, typically I'm all about chunks in my ice cream, but when I was thinking about creating this recipe, I couldn't imagine it to be anything but super smooth and creamy, with each bite uninterrupted by chunks.
Did you know that ice cream can be just as much a fall and winter dessert, as it can be summer one? Sure, it's freezing cold, but cinnamon is a warming spice!
Every spoonful is more velvety than the next, with just enough cinnamon to hit every taste bud.
Serving Cinnamon Ice Cream
You won't want to stop eating this -- and while it's divine as is, it would also be lovely melting over apple pie, or between two gingerbread cookies.
I also think it would be fantastic alongside a spiced carrot cake! Perfect, in fact.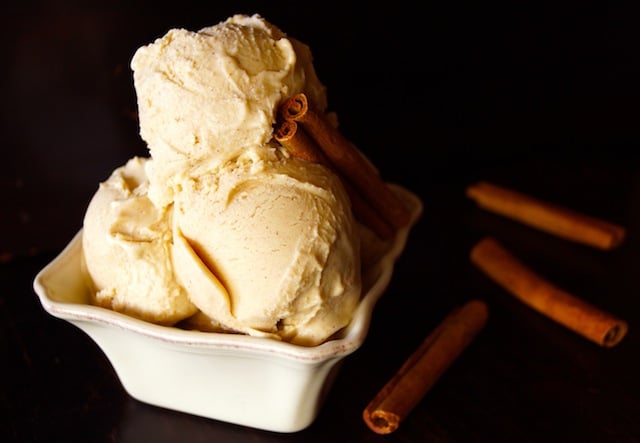 I hope you enjoy every last spoonful of this cinnamon ice cream as much as I do!
More unique ice cream recipes:
Cinnamon Ice Cream Recipe
This Cinnamon Ice Cream is both refreshing and warming all at at once, making it ideal for any season. And the rich creamy texture is so dreamy!*Makes about 1 quart
Ingredients
1

tablespoon

ground cinnamon

3

cups

low-fat milk

2

cups

heavy cream

1

small-medium vanilla pod

5

large

egg yolks

¾

cup

granulated sugar
Instructions
Add the cinnamon to a large, dry sauce pot, and place it over medium heat. Let the cinnamon heat until it's very aromatic, about 30 seconds. Turn off the heat.

Pour the milk and cream over the cinnamon and use a whisk to blend.

Use a paring knife to slice open the vanilla bean vertically. Then with the back of the knife, scrape the vanilla beans into the pot, and add the emptied pod as well. Turn the heat back to medium and scald this mixture. Tiny bubbles will appear on the edges of the pot and it should be very hot, but not boiling. Remove the pot from the heat and let it cool to room temperature, about 1 ½ hours.

In a large mixing bowl, use an electric mixer to whip the egg yolks with the sugar. Mix until it's thick and pale yellow. When you drizzle it with a spoon, it should rest for a second or two before sinking back into the rest of the mixture -- this is called the "ribbon stage."

Strain the milk mixture and then add about half of it to the bowl, and whisk to blend. Then add the rest and blend again.

Pour this back into the pot and over medium-low heat, stirring almost constantly with a wooden spoon, cook until it becomes a beautiful custard, 10 to 15 minutes. The moment you see that's it's thickened, remove the pot from the heat, pour it into a large mixing bowl and let it cool completely -- at least 2 hours and ideally overnight. (If cooling overnight, let it come to room temperature, cover it tightly with plastic wrap, and refrigerate.)

Transfer to an ice-cream maker, and freeze according to the machine instructions.
NOTES
Calorie count is only an estimate.
NUTRITION
Have you tried this recipe?
I'd love to see it on Instagram! Tag me at @cookingontheweekends or leave a comment & rating below.
Cooking On The Weekends is a participant in the Amazon Services LLC Associates Program, an affiliate advertising program designed to provide a means for sites to earn advertising fees by advertising and linking to Amazon.com.


Save