This Ginger Applesauce Recipe from my mom is truly special. It's full of chunks of delicious, tart apples, a bit of a kick of fresh ginger, and the perfect amount of sweetness.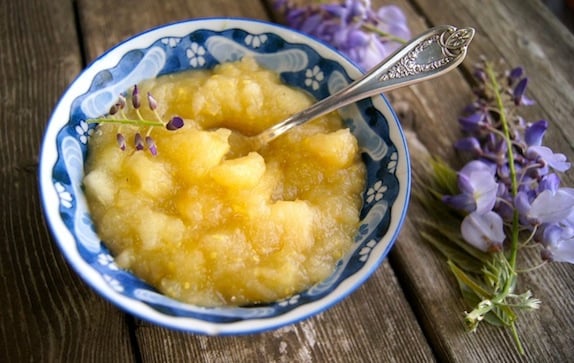 My parents have the most gorgeous Wisteria growing in their backyard.
Years ago, a family of little doves lived in this pretty vine. My mom loved going outside everyday to check on their nest and see how they were doing. She was so sweet and nurturing, just like the mama bird.
Inspiration
In addition to baby bird watching, my mom makes the best applesauce around. There's no question! My kids won't eat any other kind of applesauce, and my cousin gets upset if my mom visits without bringing a few jars.
It's absolutely divine!
My Mom's Antique-Filled Kitchen
My mom also has the most beautiful kitchen around. It's full of gorgeous antiques, lots of love — and delicious food, of course!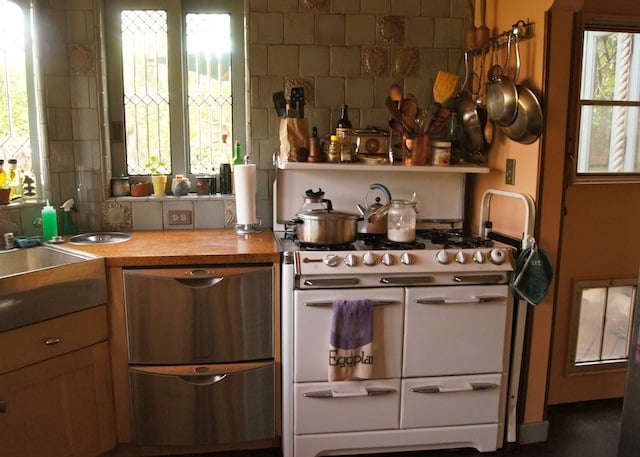 This was my grandmother's stove — isn't it fantastic? It too, is full of love. And do you see all of the beautiful tiles on the walls? Some have sunflower reliefs on them, which my mom designed specifically for each spot where they were placed. Who wouldn't be inspired to cook here?!
And have you ever seen such a cool sink? My dad even designed a foot petal to turn the water on and off. (So convenient!)
And the windows: my Mom has been collecting antiques for most of her life, and she picked these up at a house that was being demolished at least twenty years before she designed the kitchen.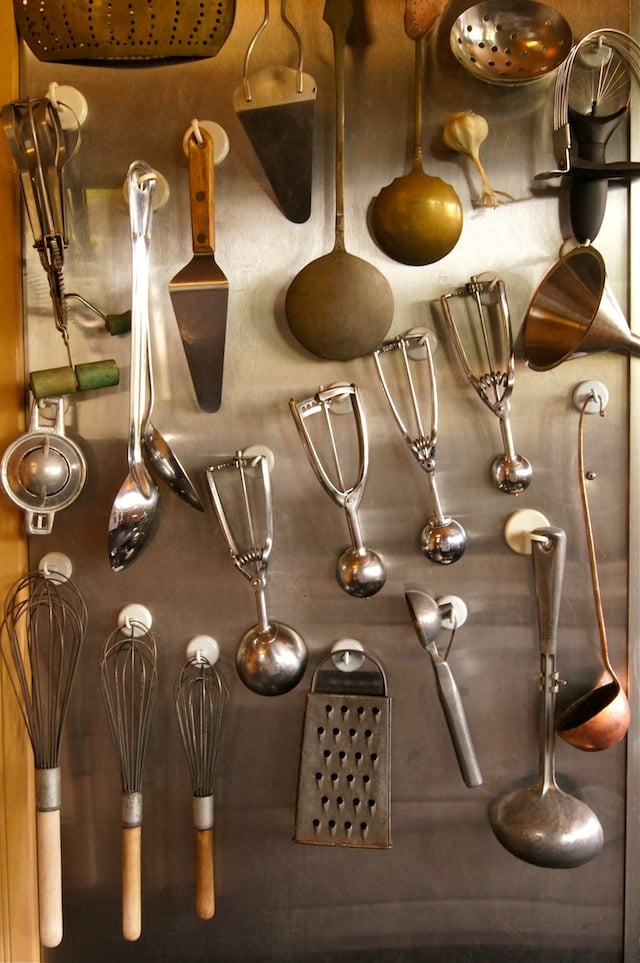 Shouldn't everyone display their kitchen tools the way my Mom does? I think so!
What's in this recipe?
apples (Granny Smith and Red Delicious)
fresh ginger
water
sugar
These few ingredients and about an hour, and you'll have the best Ginger Applesauce ever!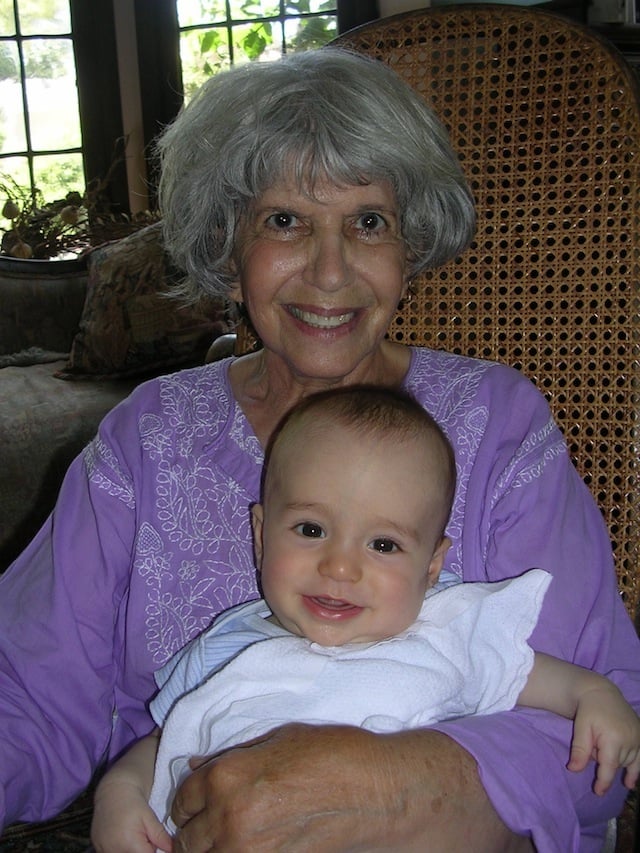 My sweet Mom and one of my applesauce-loving sons when he was a baby.
What to Serve with Ginger Applesauce
It's delicious served with Rosemary Garlic Crusted Pork Chops.
It can make for a great breakfast — it's excellent with granola mixed into it.
Warm a bit of the applesauce and spoon it over vanilla bean ice cream, and it's a delicious dessert!
Enjoy every last bite of My Mom's Ginger Applesauce recipe. Hope you love it as much as my family and I do!
More of my favorite recipes with ginger and apple:
Ginger Applesauce
My Mom's Ginger Applesauce recipe is truly special. It's full of chunks of delicious, tart apples, a bit of a kick of fresh ginger, and the perfect amount of sweetness.Makes about 7 cups
Ingredients
4

large Granny Smith apples

4

large Red Delicious apples

1

cup

water

1

cup

granulated sugar

2

tablespoons

fresh grated ginger pulp
Instructions
Peel, core, and cut the apples into eights. Place them directly into a large enough pot to hold the apples with a good few inches above them.

Pour the water and sugar over the apples, mix, and bring to a boil. Cover the pot and turn the heat to a simmer. Keep the pot covered for about 10 minutes to steam the apples.

Remove the lid and use a wooden fork to begin to break the apples into smaller chunks.


Keep the heat at a simmer, and continue to cook the apples until they are very soft, about 40 minutes. As they cook, continue to stir and break the apple chunks into smaller pieces periodically. This is a chunky applesauce, so don't break them down too much -- just into small bite-sized pieces.

Add the fresh ginger pulp to the applesauce once it's finished cooking. (You can use a

Microplane Zester

to grate the ginger into pulp, or you can cut it into chunks and use a mini food processor -- my Mom does this.) Stir to incorporate all of the ginger into the applesauce.

Let the applesauce cool to room temperature before refrigerating it.
Notes
Measurements might vary slightly depending on the size of the apples used.
Have you tried this recipe?
I'd love to see it on Instagram! Tag me at @cookingontheweekends or leave a comment & rating below.
Save
Save