I think Tatsu Ramen has the best ramen in Los Angeles. From the perfectly textured noodles and the deeply flavored broths, to the freshly grated garlic and ground sesame seeds, this place is amazing.
My brother introduced me to Tatsu Ramen a few years ago and it's hands down the best ramen I've had in Los Angeles, or anywhere.
Tatsu Ramen
Let's start with the awesome mural. The owner of Tatsu Ramen restaurant, Ryu Isobe was born in the Year of the Dragon, hence the awesome art, and it's clearly no coincidence that "tatsu" means dragon in Japanese.
The first things you'll see when you enter the casual and hip restaurant, are several iPads along a clean white wall. Just click away on the images that suit you — and if there's something you don't want in your ramen, there's a place to click for that, too. You can also add more or less of anything in your ramen.
It's quick, easy, and kinda fun.
There's a very cool room inside the room— or box, if you will. It's just across from the iPads.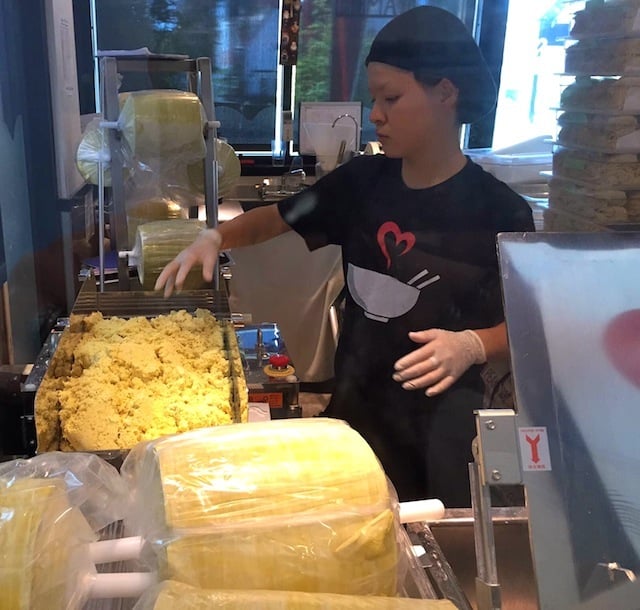 The walls of this "box" are glass and there's one person inside working with ramen dough. She's making the dough, shaping it, putting it through rollers and cutting it.
It was fantastic to watch her work. Two types of ramen noodles are being made — one with egg and one without.
Once made, the beautiful bundles of ramen noodles are all put into large plastic tubs, and then they're whisked away to the kitchen where they'll be at the ready for the next orders.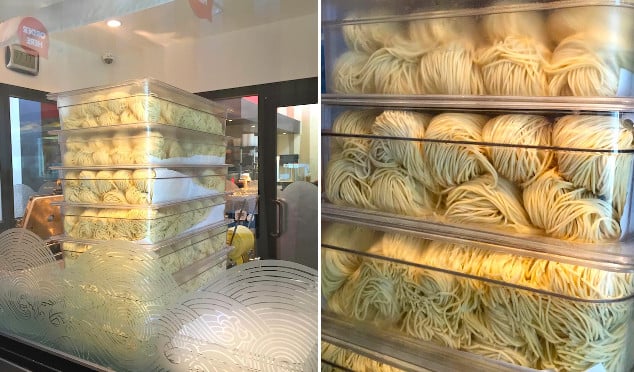 There's more culinary magic happening in the kitchen.
What to Order at Tatsu Ramen
My two favorites are the Soul Ramen and Bold Ramen.
The Soul Ramen includes black garlic oil, sweet umami sauce and ground beef. It's absolutely incredible. I always add and egg to my order.
The Bold Ramen is made with pork broth that I'm told takes 28 hours to prepare. It includes an egg, scallions and fried onions. I usually opt to add the chicken. It's so tender and juicy!
If you're vegetarian, the Hippie Ramen is great. It's flavored with sweet onions, soy sauce and ginger.
The Tatsu Egg! You must try this delicious, seasoned soft-boiled egg in your ramen. You're missing out if you skip it.
They also have gluten-free ramen on the. Be careful though, many of the broths and some of the add-ins include soy sauce, which contains gluten. Ask your server before ordering.
There a many other scrumptious items on the menu, including a Wagyu Ramen Burger and a Juicy Pork Bun. You can see the whole menu here.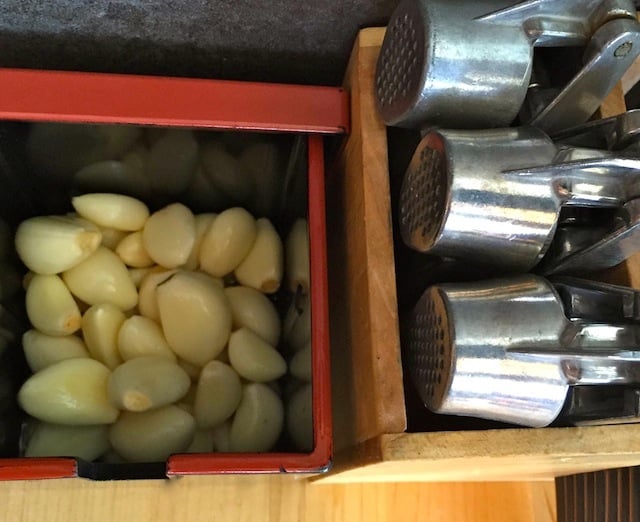 The Condiments
The first time I went to Tatsu Ramen, I spotted a woman at a table squeezing fresh garlic into her ramen with a garlic press. I assumed she worked at the restaurant since she was using kitchen tools, but I was wrong.
Every table has a few clean garlic presses and a container of freshly peeled garlic. Brilliant!
This is the Soul Ramen, with added slices of tofu . . .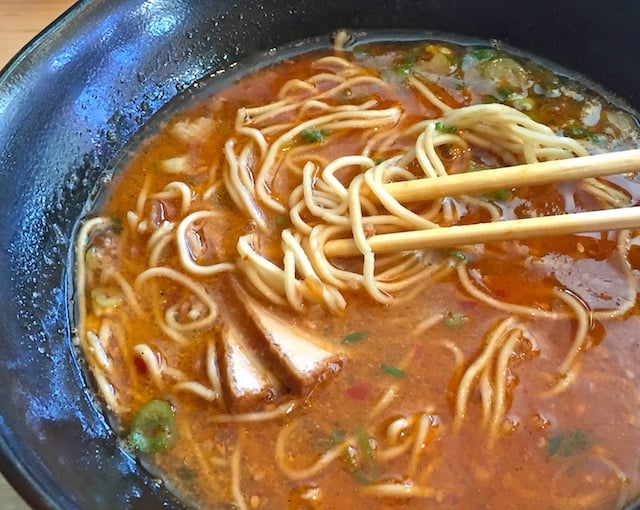 The fresh garlic isn't the only tasty condiment at Tatsu Ramen.
There are also containers of dry seaweed and a sesame seed grinders. Ever had freshly ground sesame seeds over your ramen? You must try it.
I know own one of those awesome sesame seed grinders and use it all the time.
And how fun is this? There's usually some great anime art at the bottom of the ramen bowl.

Tatsu Ramen

locations in Los Angeles and NYC:

2123 Sawtelle Blvd, Los Angeles, CA 90025 – (310) 684-2889
7111 Melrose Ave, Los Angeles, CA 90046 – (323) 747-1388 (pictured above)
319-9 S Arroyo Pkwy, Pasadena, CA 91105 –

(626) 345-5688



167 1st Ave, New York, NY 10003 – (929) 284-7088
An excellent video interview about Tatsu Ramen with owner Ryu Isobe . . .
This is not a sponsored post. I wrote about Tatsu Ramen because I love it!

A few Asian noodle recipes:
Save