Shirataki Noodles, also referred to as Miracle Noodles, have zero calories, are gluten-free and low carb. They absorb delicious flavors very well, and can be substituted in many recipes that call for pasta — Sesame Chicken Shirataki Noodle Stir-Fry recipe is a perfect example!
I'm just going to get right to it today.
Melissa's Produce sent me a bag of Shirataki Noodles to try.  I had never had them before so I was super excited to work with them.  (You know how I get with new and interesting ingredients!)  Well it turns out that these Shirataki noodles are quite good.
What are Shirataki Noodles?
Shirataki Noodles, made from a yam-like plant called Konnyaku or Konjac, are essentially calorie-free, with a fair amount of fiber and traces of calcium and iron.

They're incredibly versatile as they absorb other flavors that are added to them.

Though similar to rice noodles, they are a bit heartier and have a slightly denser texture.

Shirataki Noodles

are fantastic for gluten-free eaters.
With all that going for them, it's no wonder they are often branded as Miracle Noodles!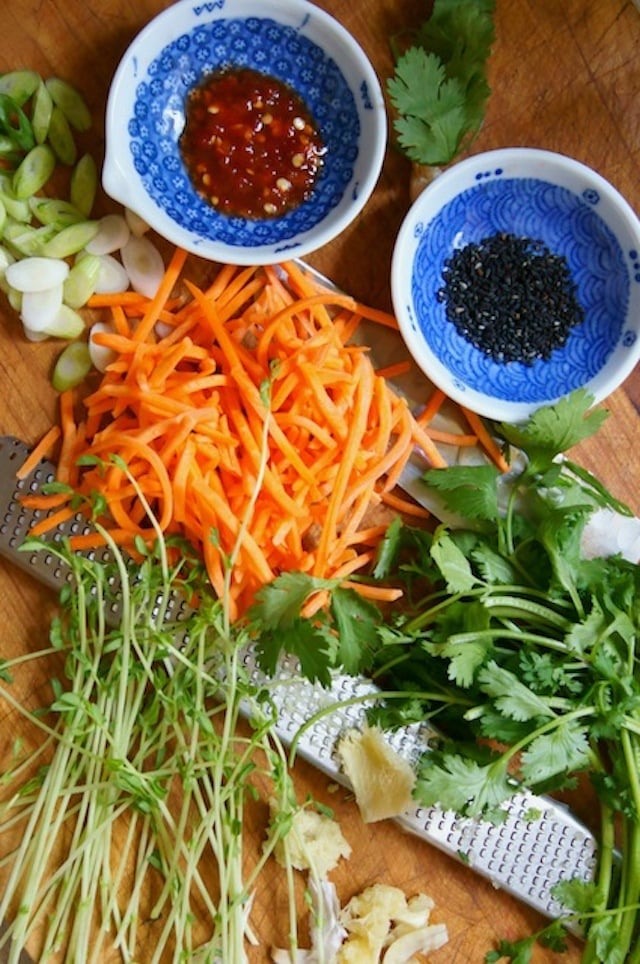 While you can get Shirataki "Spaghetti" Noodles, and Shiratake "Fettucine" Noodles, don't be fooled, they're not one bit Italian — they're a quintessential Japanese food.
You can use them as you would Soba or Udon in soups and stir-fries, like this one.  Just look how gorgeous those ingredients are!
Sesame Chicken Shirataki Noodle Stir-Fry is quick and easy to prepare so it's a perfect side or main course for a casual dinner party.
Oooh, it would be so delicious tonight!
Enjoy!
This is not a sponsored post — Melissa's Produce sent me Shirataki Noodles for recipe testing.  All opinions are my own. 🙂
You can get more information about Shirataki Noodles (AKA Miracle Noodles) here.
Sesame Chicken Shirataki Noodle Stir-Fry Recipe
The Shirataki noodles absorb all of the delicious flavors in this recipe perfectly -- it can be served hot, warm or cold.
Course:
Main Course, Side Dish
Keyword:
best gluten-free noodle recipes, healthy dinner recipe
Ingredients
1

(8-ounce) package

Shirataki (Spaghetti) Noodles

3/4

cup

carrots

grated

1/2

cup

pea sprouts

1/2

teaspoon

garlic

minced

1/2

teaspoon

ginger pulp

1/3

cup

scallions (white and green portions),

thinly sliced

1/2

cup

cilantro leaves,

loosely packed

1/4

cup

cooked chicken,

shredded

2

teaspoons

low sodium gluten-free soy sauce

(see notes)

1-1/2

teaspoons

sesame oil

1/2 to 1

teaspoon

chile paste

(I like Sambal Oelek)

1

teaspoon

sugar

1

teaspoon

black sesame seeds,

toasted
Instructions
Open the bag of noodles -- you'll notice a fishy odor, but don't worry, as this is easily removed by rinsing and boiling the noodles. Open the bag directly into a strainer and rinse with cold water. Then place the noodles in a small saucepan and add enough water to cover them. Bring the water to a boil, and then reduce it to a simmer. Simmer the noodles for 15 minutes. Then drain, return them to the pan, cover and set aside. (The boiling step isn't imperative, but I prefer it -- rinsing is essential!)

Coat a medium-sized sauté pan with the oil and place it over medium heat. Add the carrots, pea sprouts, garlic and ginger and stir to combine. Sauté until the carrots are tender, about 5 minutes.

Add the scallions, chicken and cilantro. Stir to combine and turn off the heat.

In a tiny bowl, mix the soy sauce with the sesame oil, chile paste and sugar. Pour this over the noodles and then add them to the sauté pan. Turn the heat on to low, add the toasted sesame seeds and gently toss all of the ingredients together. Once everything is warm, after a couple of minutes, remove from the pan from the heat.

Season to taste with salt and pepper.
Recipe Notes
Kikkoman makes gluten-free soy sauce. And most brands of Tamari are gluten-free and would work well here, too.
Cooking On The Weekends is a participant in the Amazon Services LLC Associates Program, an affiliate advertising program designed to provide a means for sites to earn advertising fees by advertising and linking to Amazon.com.