Roasted Macadamia Nut Hummus is based on the classic recipe with a subtly sweet, delicious Hawaiian twist!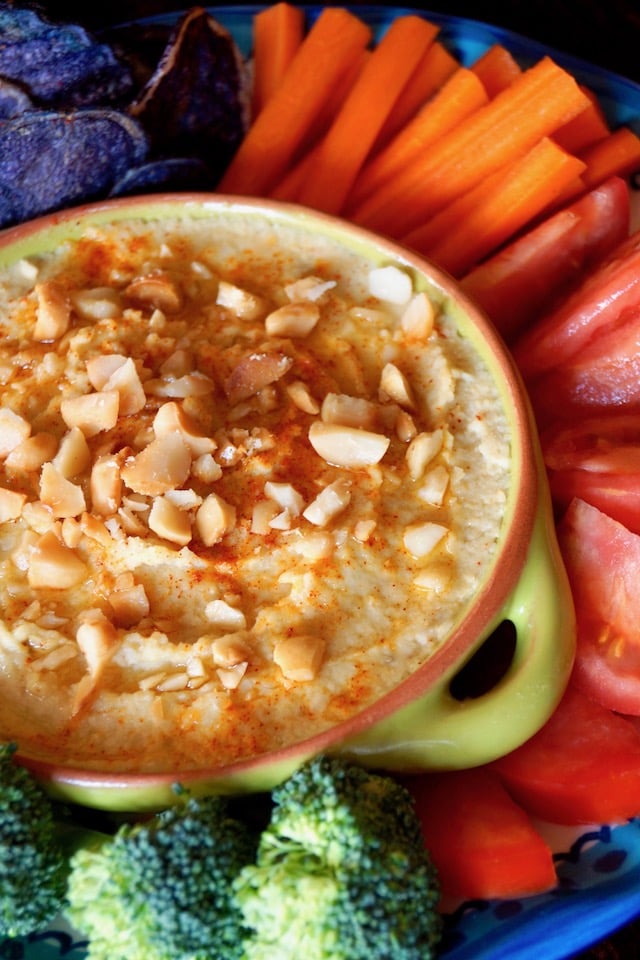 The very first thing my son ordered upon arrival to the Fairmont Orchid's Hale Kai Restaurant in Hawaii was macadamia nut hummus.
This was meant to be his lunch, be he quickly had to order more food, because all of us devoured his hummus, which he was loving.
What I liked the most was the subtly sweet flavor from the macadamia nuts.  And it was so rich and creamy!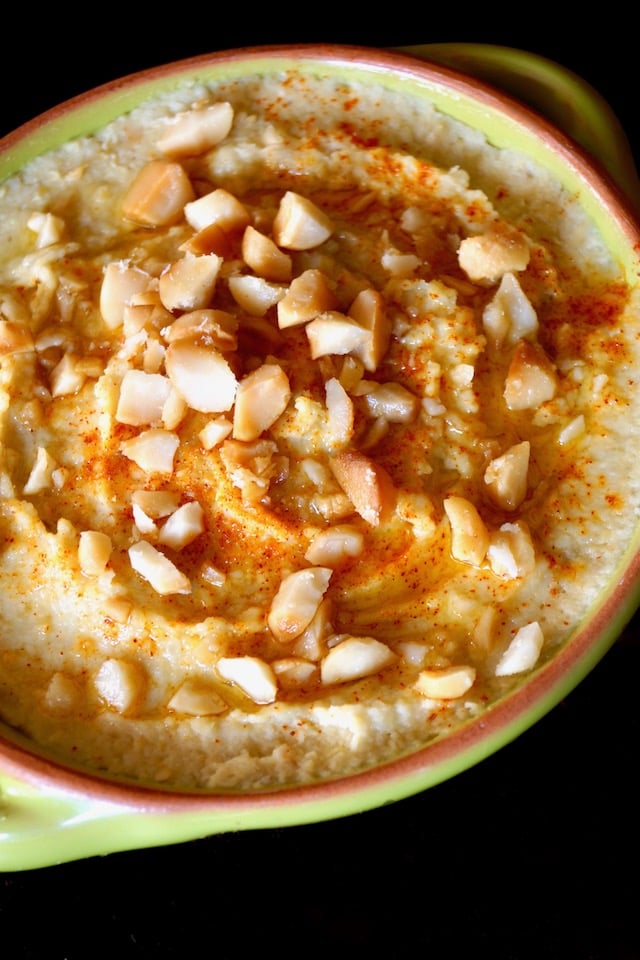 That sweet son of mine left for sleep away camp for the first time ever yesterday, so I decided to make a version of this for him on his last night at home.  He said it was even better than the one we'd had in Hawaii.  Yay!
(And yes, I already miss him!)
My version uses a lot more macadamia nuts than I'd guess the restaurant used — because I wanted more of that sweet richness.  It's so delicious!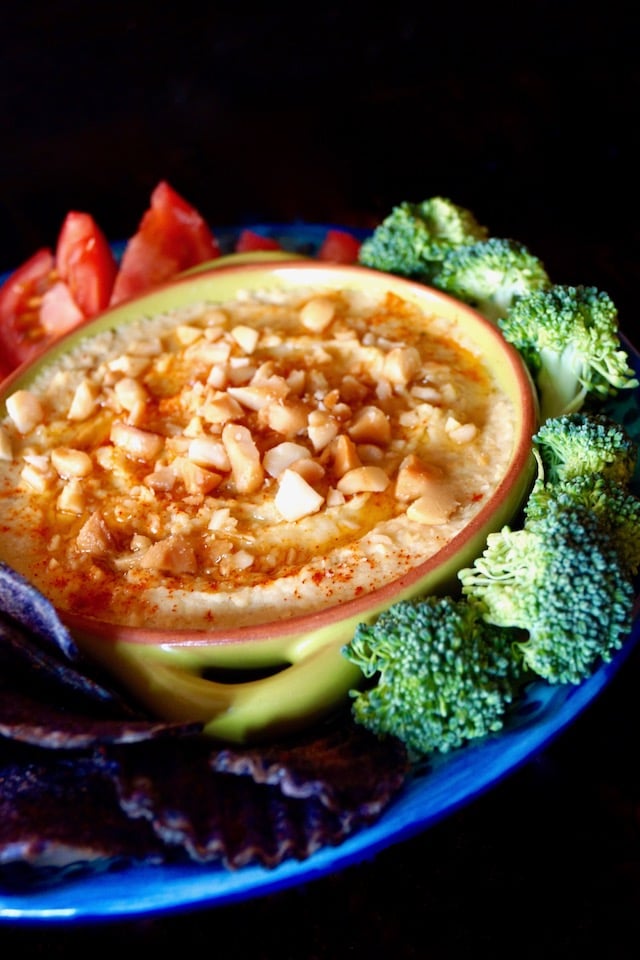 I served it with the same selection of dipping ingredients that restaurant did — raw broccoli, seasonal heirloom tomatoes (my favorite!), carrots and chips that I believe were made from beautiful Okinawan sweet potatoes.
Enjoy!
Roasted Macadamia Nut Hummus Recipe
Roasted Macadamia Nut Hummus is a classic recipe with a subtly sweet, delicious Hawaiian twist!
Keyword:
healthy appetizers, party food
Ingredients
1 1/4

cup

raw unsalted macadamia nuts

2

(15-ounce) cans

garbanzo beans

1/4

cup

Tahini

3

small to medium

garlic cloves,

peeled, stems & roots removed

3/4

cup plus a bit for garnish

extra virgin olive oil

1

teaspoon

sea salt

1

teaspoon

granulated sugar

a sprinkle of smoked paprika for garnish

veggies

(or chips, whatever you want for dipping)
Instructions
Preheat the oven to 375 degrees F and spread the macadamia nuts out evenly onto a sheet pan. Once the oven is preheated, place the sheet pan in the oven just until the nuts are golden and look slightly wet (from the oils coming to the surface), 4 to 5 minutes. Set aside to cool slightly.

Drain both cans of the garbanzo beans, and SAVE THE LIQUID from one of them! Add the beans to a food processor fitted with the blade attachment, and add 5 tablespoons of the saved liquid. (If there isn't enough, you can use water to make up the difference.)

Add the tahini and 1 CUP of the slightly cooled, roasted macadamia nuts to the food processor, followed by the garlic. Roughly chop the remaining 1/4 cup of nuts and set aside for garnish.

Turn on the food processor and blend until the mixture is as smooth as possible. Then add the 3/4 cup of oil, salt and sugar — blend again until smooth.

Spoon into a serving dish, drizzle with a bit more oil, sprinkle with the smoked paprika, and the roughly chopped nuts.

Serve!
 This is not a sponsored post.  I simply love the Fairmont Orchid and want to share our experience with you.

Save
Save
Save
Save
Save