This Okinawan Sweet Potato recipe will wow anyone who tries it. Okinawan purple sweet potatoes are unique and delicious, with a honey-like sweet flavor. This makes for a fun side dish that's excellent with almost anything.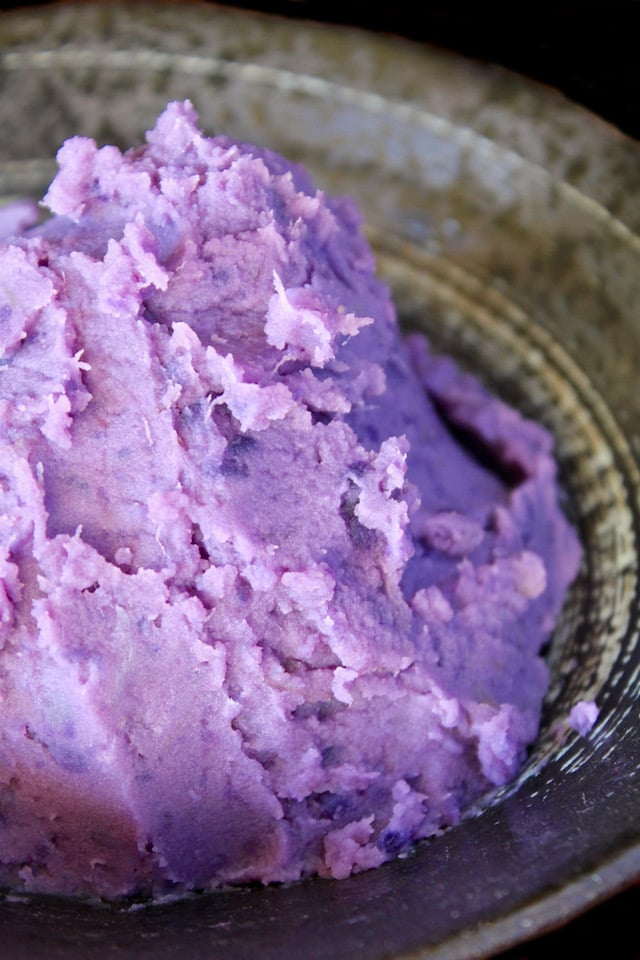 These mashed purple sweet potatoes are stunning, and they're rich, creamy and delicious!
What is an Okinawan Sweet Potato?
---
Also known as Hawaiian Sweet Potatoes or Hawaiian Purple Sweet Potatoes, these unique potatoes are magenta-purple on the inside, and a creamy beige on the outside.
It's believed that these potatoes were brought to the Philippines and China in the 1490s from the Aztecs of South America with the Spaniards.
They are thought to have reached Japan in the 1600s, where they were planted in Okinawa—the southern island of Japan—before they were cultivated throughout Japan.
Later the purple potatoes found their way to Hawaii where they're now a staple and part of their native menu.
As they cook, the purple color of the Okinawan sweet potato becomes deeper and more intense.
Not only are these beautiful and incredibly delicious -- they're also full of nutrients. These purple sweet potatoes are prized for their high level of antioxidants, and are said to have 150 percent more antioxidants than blueberries.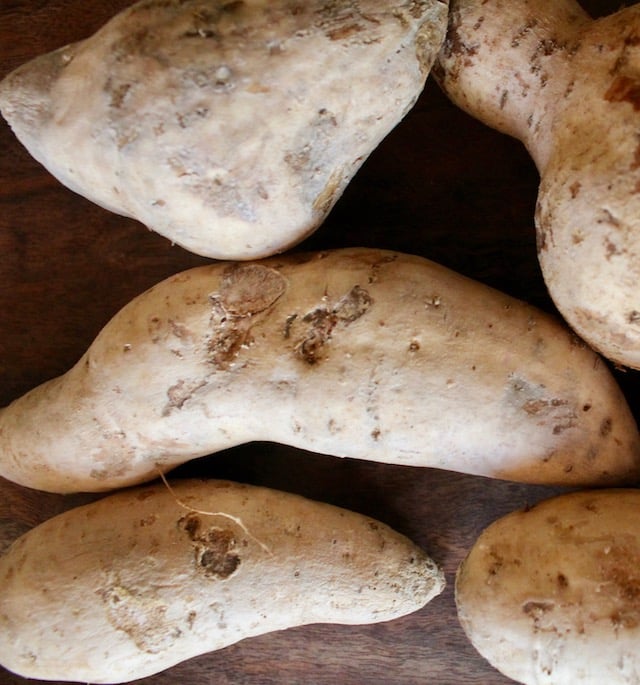 The outer skin is beige, not unlike many other potatoes, including russets.
What do they taste like?
---
They flavor of an Okinawan sweet potato (Hawaiian Sweet Potato) is mildly sweet with notes of honey.
Slightly more dense than other potatoes, when mashed with a couple added ingredients, the result is super rich and creamy.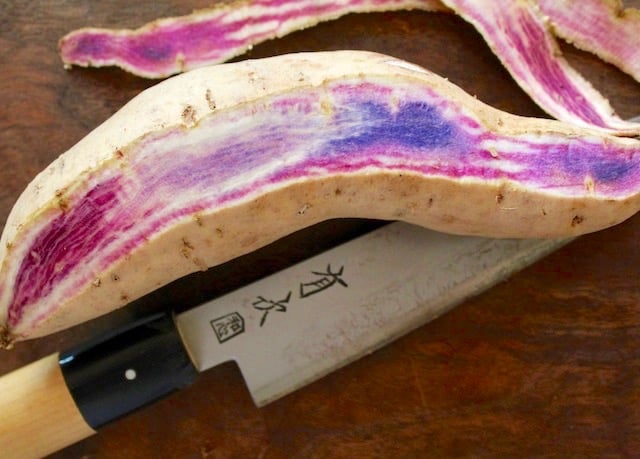 The inside is a magenta-purplish color with streaks of white -- unlike any other potato.
How to Cook Okinawan Sweet Potato
---
Like other potatoes, these purple tubers can be steamed, sautéed, roasted, baked and mashed.
I love them mashed because I think they make for an incredibly beautiful and vibrant side dish.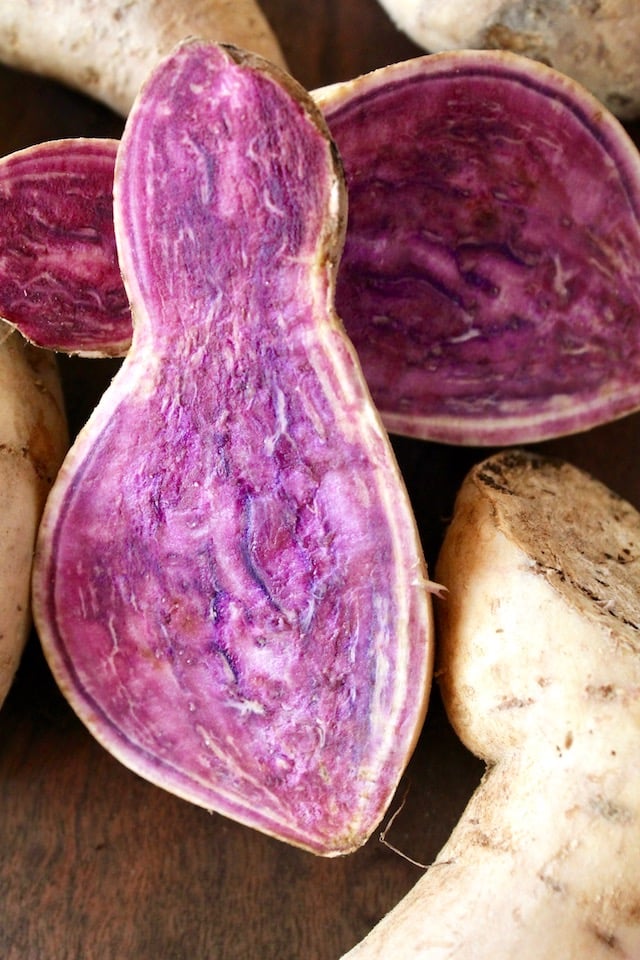 Where to Find Them
---
You should be able to find them in most Asian markets, and often in larger grocery stores. (They almost always have them at Mitsuwa Marketplace, which has locations in southern and northern CA, TX, IL, and NJ.) You can also order them here.
They are usually available year round.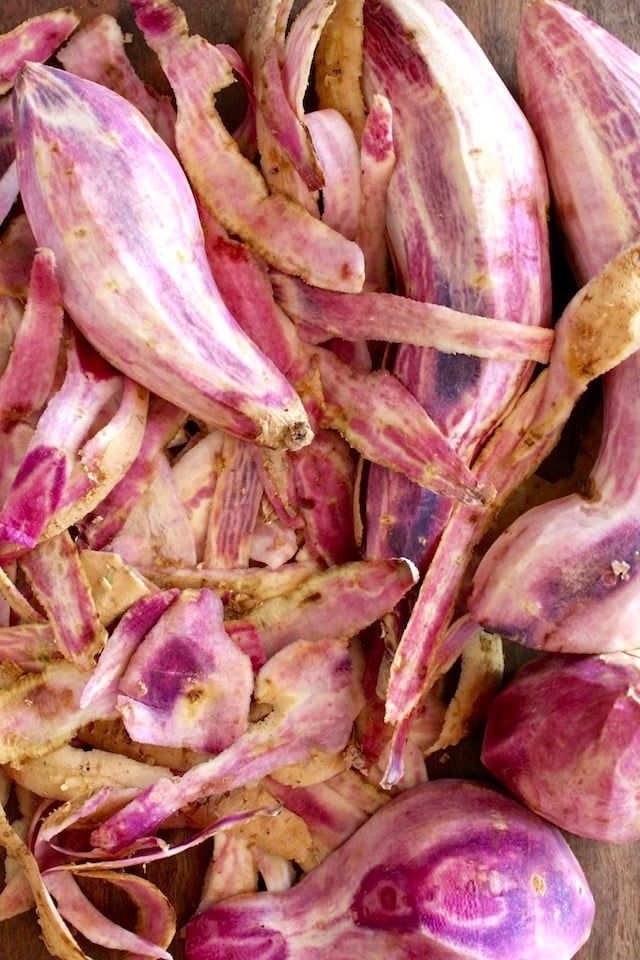 Even the peels are pretty!
Ingredients for Mashed Purple Sweet Potatoes
Okinawan Sweet Potatoes
unsalted butter
half and half
unsalted butter
salt
pepper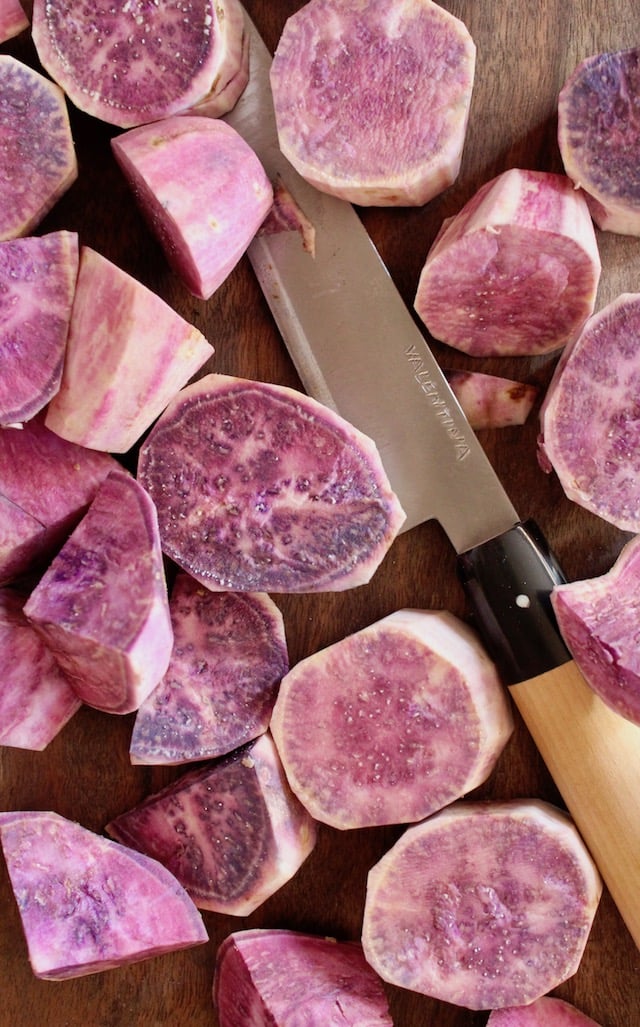 Recipe Tips and Substitutions
---
To make the mashed potatoes even more rich and creamy, use heavy cream instead of the half and half.
If you'd like to make a vegan version, substitute the butter and the half and half with about

½

cup of

Cashew Cream

or a creamy coconut milk.
You can mash the potatoes as much or as little as you'd like. I leave a few small chunks, but make them pretty smooth.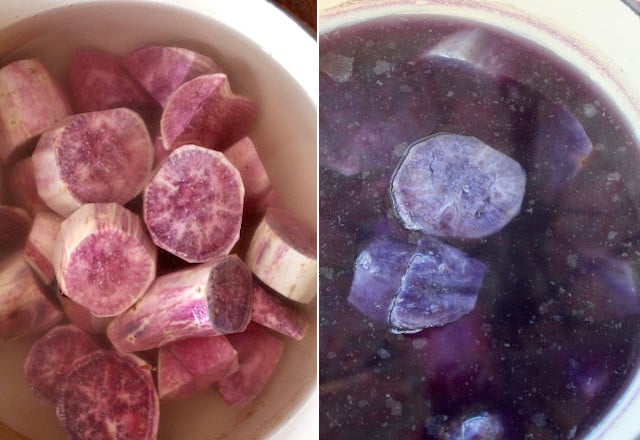 Here are the Hawaiian purple sweet potatoes in water. On the left they're raw and about to be cooked, and on the right, they've just finished simmering for about 15 minutes and are completely cooked.
Look at how the Okinawan potatoes change from magenta when they're raw, to a deep purple color when they're cooked.
That's one of the things that makes these purple potatoes different from others -- most lose their purple color and become dull and/or dark, while these only become more vibrant.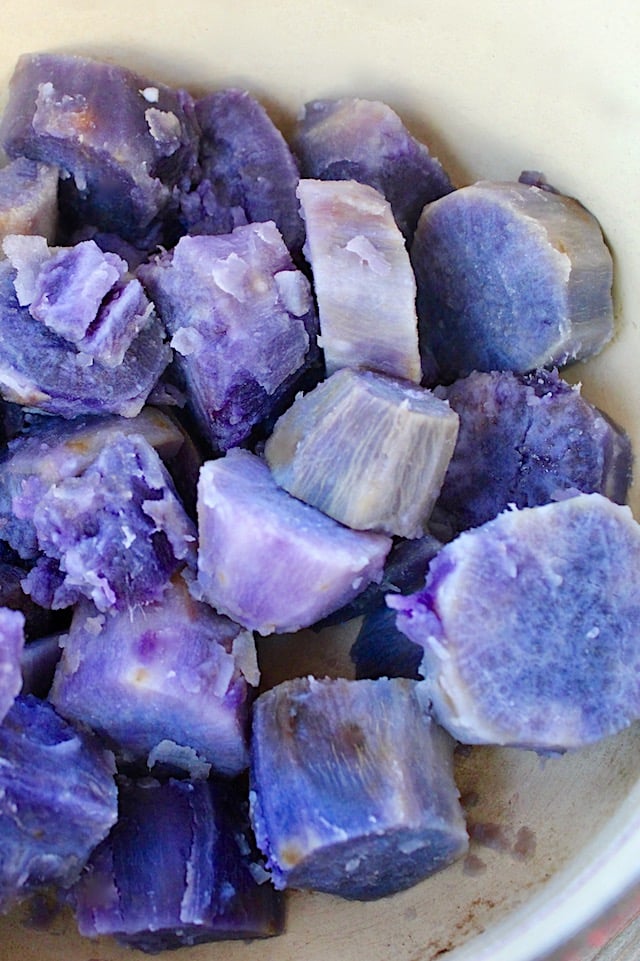 I hope you love this recipe!
More purple potato recipes: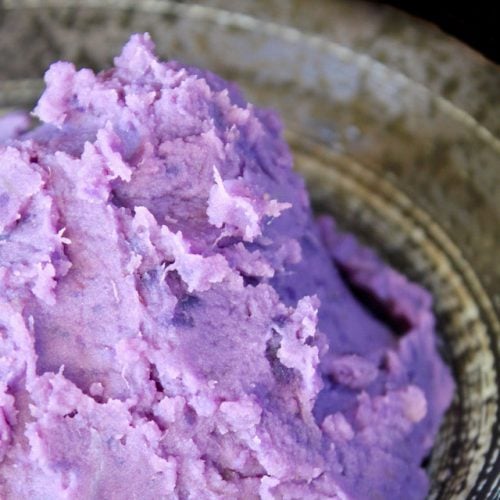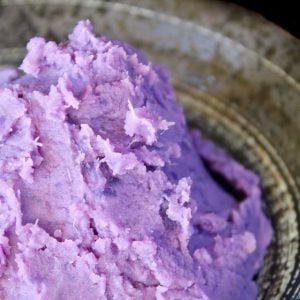 Mashed Okinawan Sweet Potatoes
Rich, creamy and unique, this is a delicious and fun side dish that's excellent with almost anything.
Ingredients
1½

pounds

Okinawan sweet potatoes

2½

tablespoons

unsalted butter

¼

cup

half and half

1¼

teaspoons

sea salt

freshly ground black pepper to taste
Instructions
Cut and add the potatoes to a pot of water. Fill a medium-sized stock pot with cold water. Peel the potatoes and cut them into large chunks (approximately 2 to 3 inch chunks). Add them to the pot with the water as you go.

Cook the potatoes. Place the pot over high heat and bring to a boil. Reduce to low and simmer, uncovered, until the potatoes are tender (they should easily slide off fork prongs), about 15 minutes.

Strain and mash. Strain the potatoes and place them in a medium to large mixing bowl. Use a large fork or potato masher to mash them. (They can be as smooth or as chunky as you'd like.)

Add the remaining ingredients and serve. Add the butter as soon as possible so that it melts into the hot potatoes. Then add the half and half, salt and pepper, and mix only until everything is incorporated. Serve!
NOTES
Calorie count is only an estimate.
NUTRITION
Have you tried this recipe?
I'd love to see it on Instagram! Tag me at @cookingontheweekends or leave a comment & rating below.
Cooking On The Weekends is a participant in the Amazon Services LLC Associates Program, an affiliate advertising program designed to provide a means for sites to earn advertising fees by advertising and linking to Amazon.com.