This Summer Garden Party Menu is fresh, delightful and so delicious. From a refreshing mango cocktail, to a sweet strawberry cake, with savory deliciousness in between, there's something here for everyone.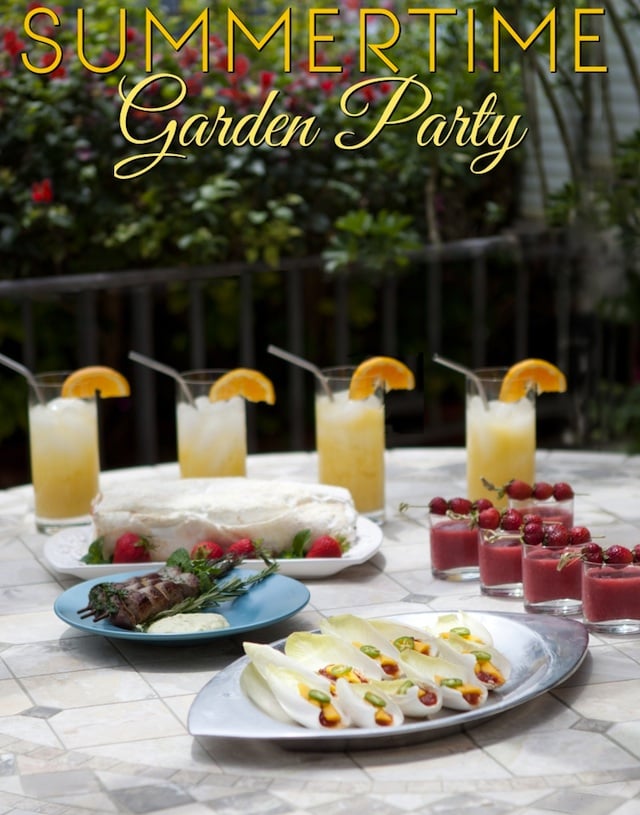 photo credit: shepaused4thought.com
This is an awesome summer party menu that a few of my favorite fellow food blogger friends and I created together.
It's full of delicious summer flavors that beautifully celebrate the season.
I'm excited to introduce you to these fantastic women and their delicious recipes.
left to right: Christina of Christina's Cucina, Moi, Kelly of Tasting Page, Cathy of She Paused For Thought, and Judy of My Well Seasoned Life
---
Spicy Mango Citrus Cocktails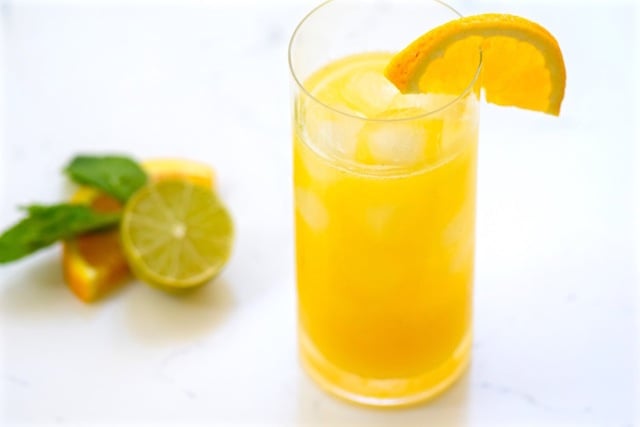 photo credit: tastingpage.com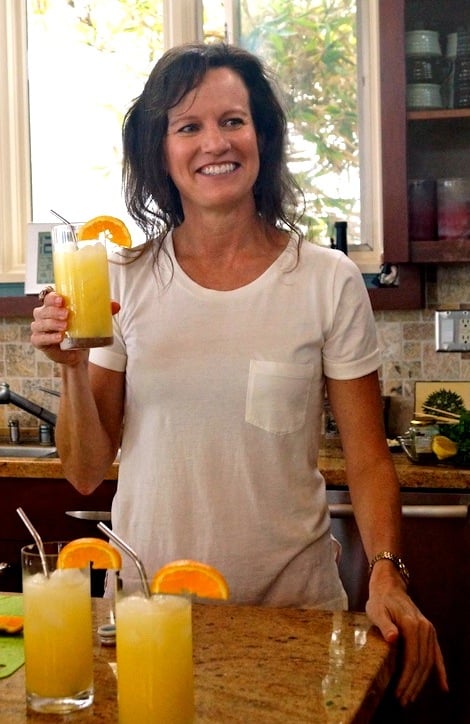 Tasting Page
Welcome! I'm Kelly from Tasting Page, and happy to kick off the Summer Garden Party with an all natural fruit focused beverage.  My blog focuses on unprocessed, real food recipes and this one is no exception. This refreshing summer drink uses no refined sugar because we have all the sweetness we need from ripe mangoes, juicy oranges and a squeeze of lime. Mint brightens things up and jalapeño throws in some spice. Depending on the summer soiree you're looking to have, you can top this with sparkling water for some effervescence and clear-headed thinking, or have some fun, and throw in some tequila to get the party started.
---
Fresh Tomato & Strawberry Gazpacho Recipe
photo credit: shepaused4thought.com
She Paused 4 Thought
Hello! I'm Cathy from She Paused 4 Thought and I think summer entertaining should be simple, flavorful and visually appealing. My blog focuses on getting out of a rut in the kitchen with fun, uniquely combined whole foods with a global spin. This gorgeous gazpacho will have your guests swooning over a unique combination of garden fresh tomatoes and seasonally ripe strawberries. You can make this ahead of time and keep it chilled until your guests arrive. Garnish with strawberries or mint and keep the party rolling.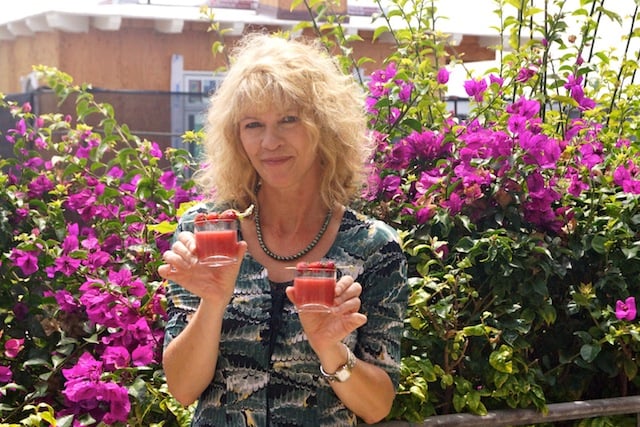 ---
Sweet and Spicy Tomato-Mango Goat Cheese Appetizer
My turn! When I think of food for a Summer Garden Party Menu, mangoes some to mind quickly.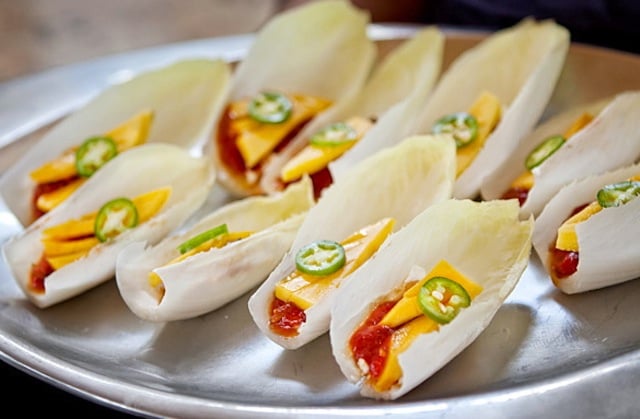 photo credit: shepaused4thought.com
I love rich and intense flavors, and serving them in ways my friends will never forget. This scrumptious summer appetizer is no exception — creamy goat cheese, Spicy Serrano Tomato Preserves, and fresh mango make this a bite to remember!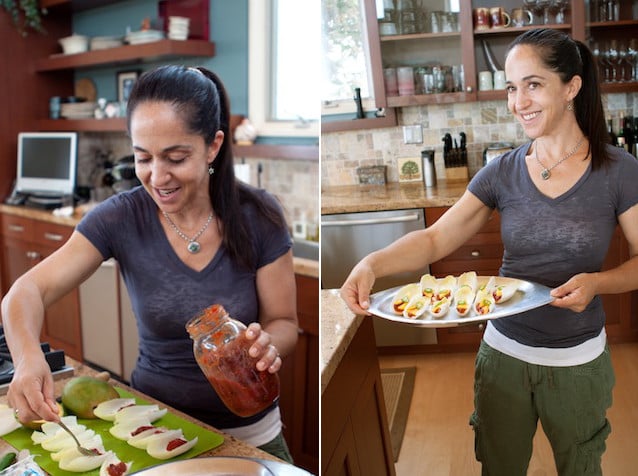 photo credit: shepaused4thought.com
---
Lamb Skewers with Mint & Feta Salsa and Lima Bean Purée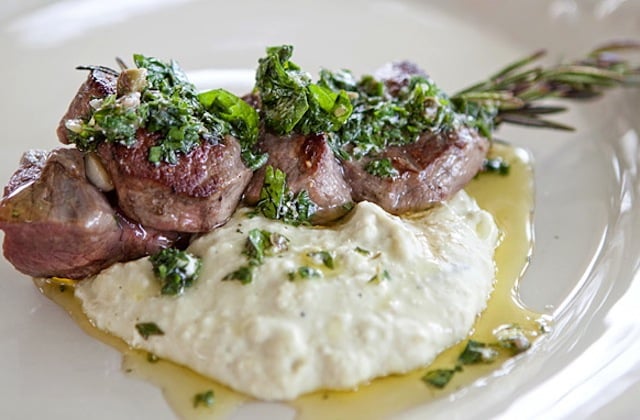 photo credit: shepaused4thought.com
My Well Seasoned Life
I'm Judy from My Well Seasoned Life, where I write thoughts and stories on food, travel and many points in between. I made Lamb Skewers with Mint and Feta Salsa for our party. I love to make this dish for the lamb haters out there. After one bite, I've heard my guests proclaim, "this is the best beef I've ever tasted!" It can be served as a starter or main course, depending on how large you want to make your skewers. Serve it at your next party for beef and lamb lovers alike.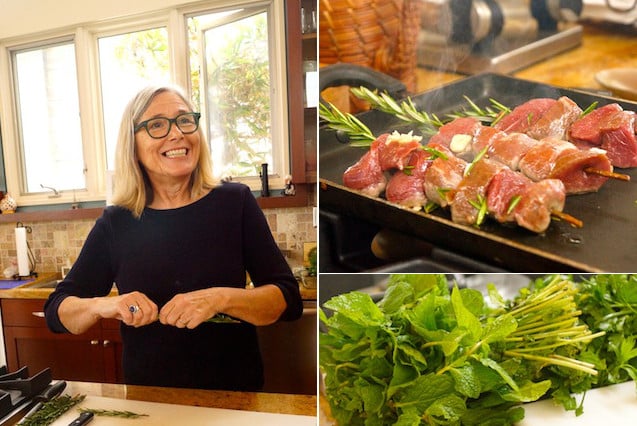 ---
Summer Berry Meringue Roulade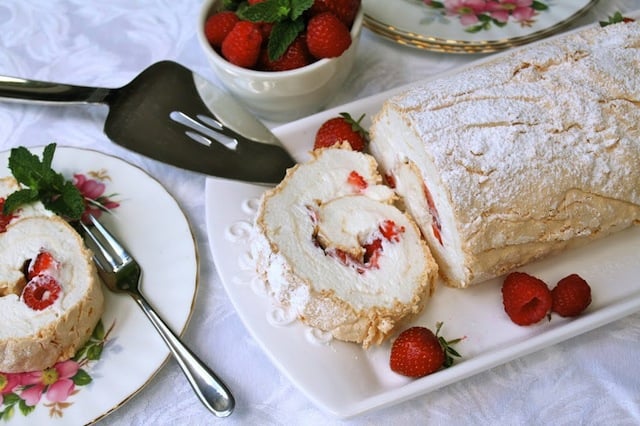 photo credit: christinascucina.com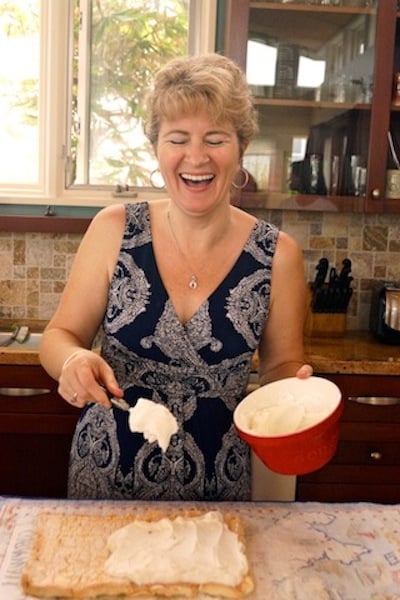 Christina's Cucina
Hi I'm Christina from Christina's Cucina, a Scots-Italian who has been baking since I was 7 years old. Today, I'm sharing a fresh fruit and meringue dessert to end your meal. I was inspired to create this dessert based on a recipe card I saw while in the UK at a Mark's and Spencers grocery store. It's fresh, light and balanced, and should be a perfect way to end your Summertime Garden Party!  Enjoy!
---
And there you have it -- a most delightful and delicious Summer Garden Party Menu!  Cheers!
photo credit: tastingpage.com
A view from the table like this doesn't hurt either.  🙂 
So let's all try to slow down a little, soak up summer, enjoy time with friends and eat well.
I hope you enjoy this Summer Garden Party Menu as much as my foodie friends and I did!
Save