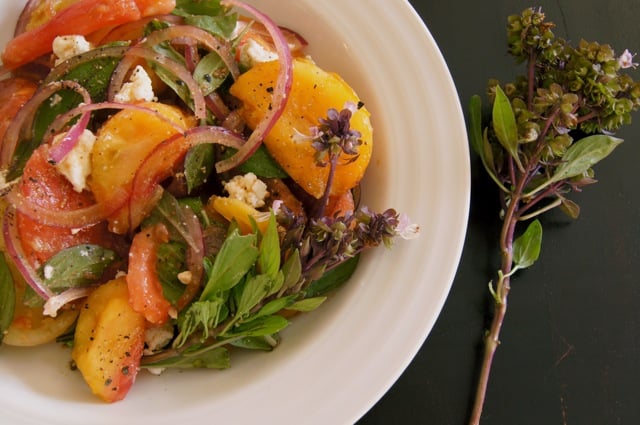 This salad is simple blend of a few ingredients, and it's an exquisite display of vibrant color.  It's all about freshly picked heirloom tomatoes . . .
I can't use a tomato without thinking of my dad's tomato garden.  In the summertime, tomatoes are all he cares about — well, they're just below my mom and their dog.  😉  My dad  is extremely enthusiastic about his many varieties of tomatoes.  He starts them from seeds in teeny-tiny plastic cups in the kitchen.
I absolutely adore this tomato recipe.  While the whole basil leaves add a wonderful boost of flavor, the tomatoes are the true stars of this salad. And they're gorgeous!
Yup, I'm thinking you should definitely make this over the weekend.  Brunch, lunch, or dinner — it'll be a hit.  Go to your local farmers market and get the tomatoes while you can before this glorious summer tomato season winds down!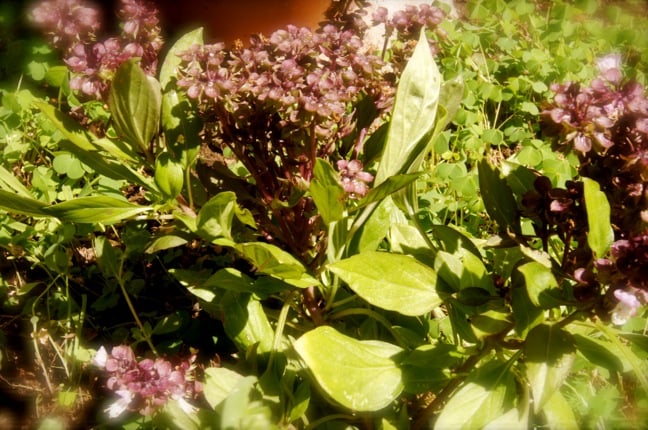 Generally, chefs pull herbs from their gardens before flowers sprout.  Sometimes though, I leave them so I can see all their pretty flowers bloom.  I love them!  Especially these deep, rich, beautiful Thai basil flowers. And today I'm using Thai basil leaves in the salad (though any good basil will do).
Recipe
Serves 4
Total Prep Time: 20 minutes
2 pounds heirloom tomatoes, peeled
1/2 cup packed, fresh basil leaves, washed and dried
1/3 cup very finely sliced red onion
1-1/2 teaspoons minced garlic
1-1/2 tablespoons balsamic vinegar
1-1/2 tablespoons extra virgin olive oil
1/2 cup crumbled goat cheese
Sea salt and freshly ground black pepper
To peel the tomatoes, bring a large pot of water to a boil, and prepare a medium-sized bowl of ice water. Set the ice water next to the stove where you're working.  Next, use a sharp paring knife to remove the tomato stem and root.  Then use the same knife to mark an "X" on the bottom of each tomato, trying to only slit the skin and not really cut into the flesh of the tomato.
Place the tomatoes, a couple at a time, into the boiling water for about 30 seconds, just until you see the skin begin pull away a bit at the X.  (We're not cooking the tomatoes at all — we're just loosening the skin.)
Use a slotted spoon to remove the tomatoes and place them directly into the ice water.  This "shocks" the tomatoes, stopping the cooking process, and helping them to maintain their bright color.  Once the tomatoes are cool, the skin can easily be peeled off the tomato, beginning at the X.  You can use your hands or the paring knife.
Cut the peeled tomatoes into bite-sized wedges and gently use your thumb to remove as many seeds as you easily can.  Add the tomato wedges to a serving bowl and toss them with the basil leaves and onion slices.
Just before serving combine the garlic with the vinegar and oil and toss this mixture into the salad.  Season generously with sea salt and freshly ground black pepper. Sprinkle the goat cheese on top, and serve immediately!
Notes:
While I love every part of  tomatoes, sometimes it's nice to peel them for a smoother, more refined texture. If you're in a hurry, you can skip this step — however, peeling them will bring this salad to another level of deliciousness!