Rosemary Tomato Confit Croustades are an appetizer that is out of this world. Sweet and savory, aromatic and fresh — all at once!
You know that I eat Nutella right out of the jar?
Well, I also eat Tomato-Rosemary Confit out of the jar! It's absolutely divine, and an obviously healthier choice — though I'm not giving the former up! 😉
Sweet and savory, rich and full of flavor — these oven roasted tomatoes are amazing! This is the perfect way to prepare tomatoes during the winter, when tomatoes are not at peak season. This method turns tomatoes into delectable jewels!
Uses for Rosemary Tomato Confit
Once cooked, these tomatoes can be used in hundreds of dishes. Here I use it to make an hors d'oeuvres — a beautiful holiday hors d'oeuvres at that!
These tomatoes are also divine with pasta, in salads, with meat, poultry, or fish, and the list goes on.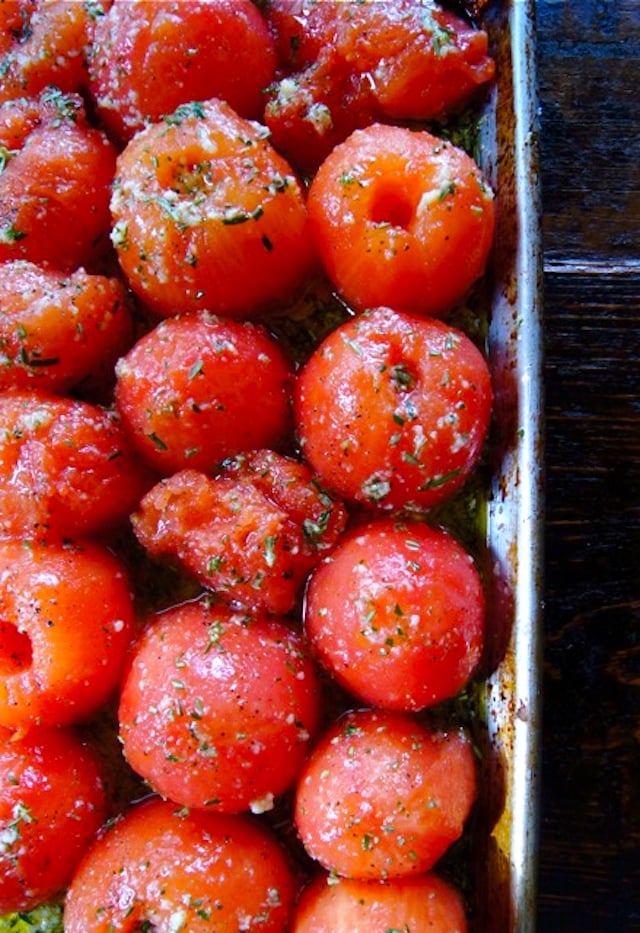 Making these tomatoes is a wonderful weekend cooking project! It's a slow and wonderful process. Once they're in the oven all you have to do is be around.
Rosemary Tomato Confit is Worth Every Minute . . .
And you can get a lot of other things done while making them!
While these tomatoes were slow cooking in the oven yesterday, among other things, I made pizza (dough included) for lunch, then ran out for a Christmas tree and completely decorated it with my boys (which truthfully didn't take too long as the tree is about three feet tall ;-)).
I really, really hope you'll try these tomatoes. I know you'll be so happy you did! What are you doing on Saturday?
You can wrap all of your holiday gifts while the tomatoes in the oven!
So no matter how you serve the Rosemary Tomato Confit, I know you'll love it!
Timeline for Rosemary Tomato Confit

Up to 5 days and at least 6 hours ahead: Make the tomato confit.
Up to 1 hour ahead: Slice and toast baguette.
Up to 45 minutes ahead: Assemble the croustades.
5 minutes ahead: Warm in the oven at 375 degrees F.
Rosemary Tomato Confit Croustades
Rosemary Tomato Confit Croustades are an appetizer that is out of this world. Sweet and savory, aromatic and fresh -- all at once!
*Makes approximately 2 1/2 dozen croustades (about 4 cups tomato confit)
Course:
Appetizer, Condiments, Sauces, Dressings and Vinaigrettes
Keyword:
party food, unique tomato recipes
Ingredients
3/4

cup

olive oil

1 1/2

tablespoons

garlic,

minced

3

tablespoons

fresh rosemary,

washed and dried, finely minced

5

pounds

tomatoes,

peeled, cut in half and seeded

1

large, thin

French baguette
Instructions
In a small bowl, combine the olive oil, garlic and rosemary. Set aside.

Cut each peeled tomato in half, horizontally, and use your fingers or a small teaspoon to scoop out the seeds. Gently shake the tomato half to remove excess seeds.

Now pour half of the oil mixture to cover the surface of an edged baking sheet. Sprinkle with salt and pepper.

Place the tomatoes, round side up on the baking sheet. Don't worry if it's a tight fit -- squeeze in all of the tomatoes, as they will shrink during the cooking process. Season with salt and pepper and evenly pour the remaining oil mixture over the tomatoes.

Roast the tomatoes in the preheated oven for approximately 5 hours, basting every hour and a half or so with the pan juices.

When the tomatoes are done, they will be about half their original size and slightly golden brown along some of the edges. They should not be dry. Season  to taste with salt and pepper.

Turn the oven up to 375°F.

Using a serrated knife, cut the baguette into approximately 30 slices and place them on a baking sheet. Toast in the 375°F oven until the edges are slightly golden brown, about 4 minutes.

Add 1 to 2 tomato halves to the surface of each slice of toasted bread.

Serve either at room temperature or warm.
Recipe Notes
You can use any bread you like. I use the baguette because it's a good size for an hors d'oeuvres. The bread, in this case, is simply a vehicle to carry the tomato.
Save