Fresh, sweet, creamy and slightly spicy — you won't believe how utterly delicious a combination of mango, avocado and pesto is!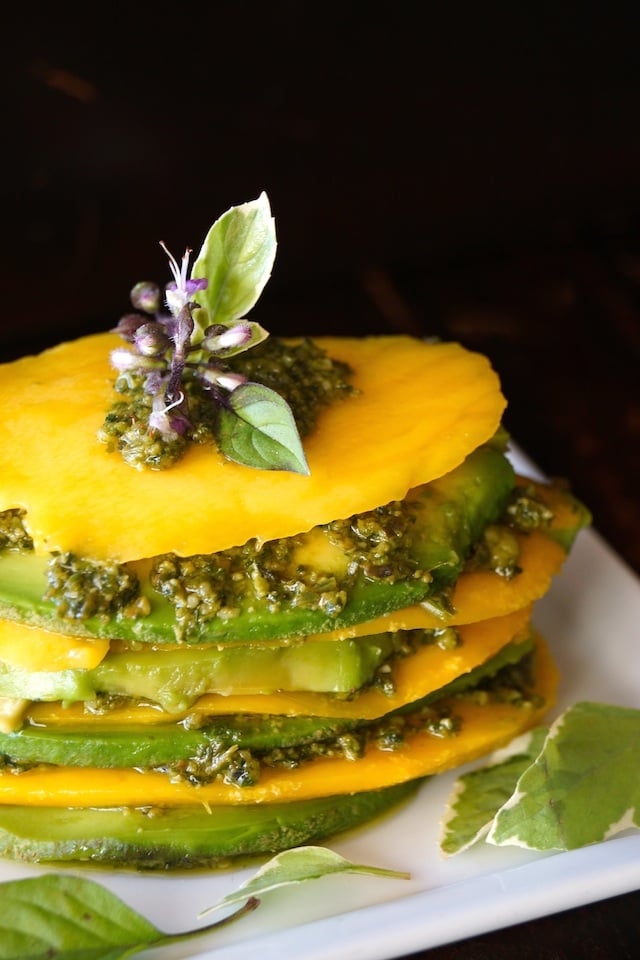 When my 10-year-old son saw this creation he asked if I could really call it a recipe. He said, "You just layered a few things into a stack.  I could do that."
Um . . . . just?  Yep, I layered few beautiful colors, textures and flavors into a gorgeous stack.  And I also spread pesto — and not just any pesto — between each slice of fruit.
Don't get me wrong, I thought his comment was sorta cute, and I certainly don't consider this one of my more intricate recipes.  I did however, proceed to show my son a picture of a Jackson Pollock painting and told him that a lot of people say anybody could do it.  And my answer to them would be, "but you didn't."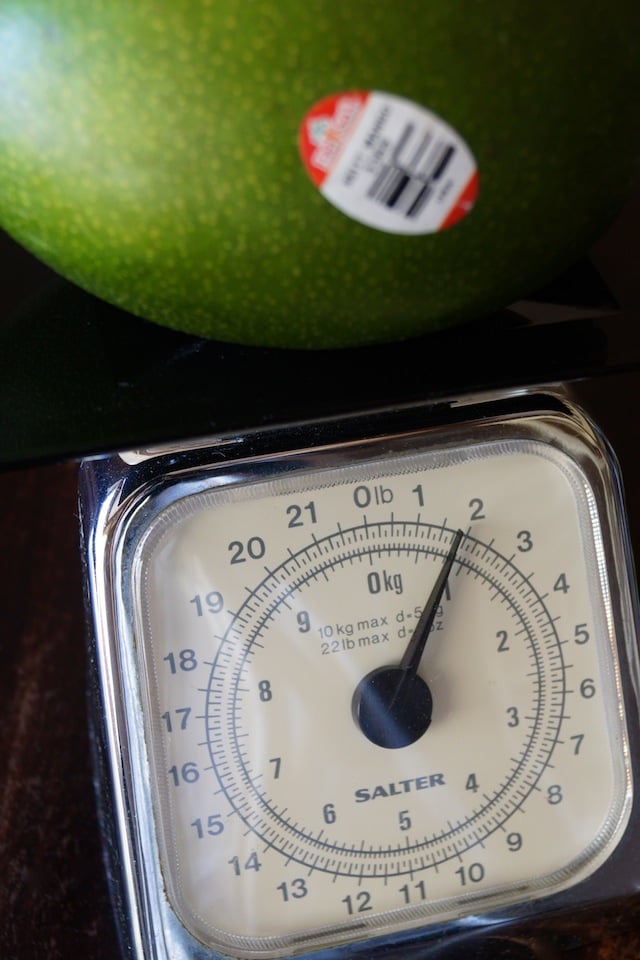 By the way, this was one of the most delicious mangoes I've ever had!  My friends at Melissa's Produce sent me a couple of Keitt mangoes for recipe testing and I was blown away.  Keitt mangoes weigh in at almost two pounds each!  That's almost two pounds of absolute heaven.
Keitt mangoes are much less fibrous than most varieties, resulting in a super smooth texture. They're also left on the tree longer than most before they're picked, which makes them unbelievably sweet.
Can you believe how amazing that looks!?
You can order Keitt mangoes here, or ask the produce manager at your market about them.  And you can make this recipe with any mango variety you love!
Mango Avocado Pesto Stack Recipe
Please not that the prep time does not include making the pesto, which takes about 15 minutes. The pesto recipe is
here
.
Ingredients
1

large mango

1

large avocado

4

teaspoons

Basil-Lemon Verbena Pesto

get the recipe here
Instructions
Spread about 1/2 teaspoon of the pesto on two serving plates. Then alternating the mango and avocado, layer the slices between the two plates, spreading about 1/2 teaspoon of the pesto on every slice except the top.

Garnish with a sprig of fresh basil or lemon verbena.