Lemon Verbena Pesto recipe, a twist on traditional pesto, is packed with fresh and delicious flavors. The texture is smooth and creamy, and the fragrance is unbelievably divine! Lemon verbena recipes are hard to come by, and this one is a keeper for sure!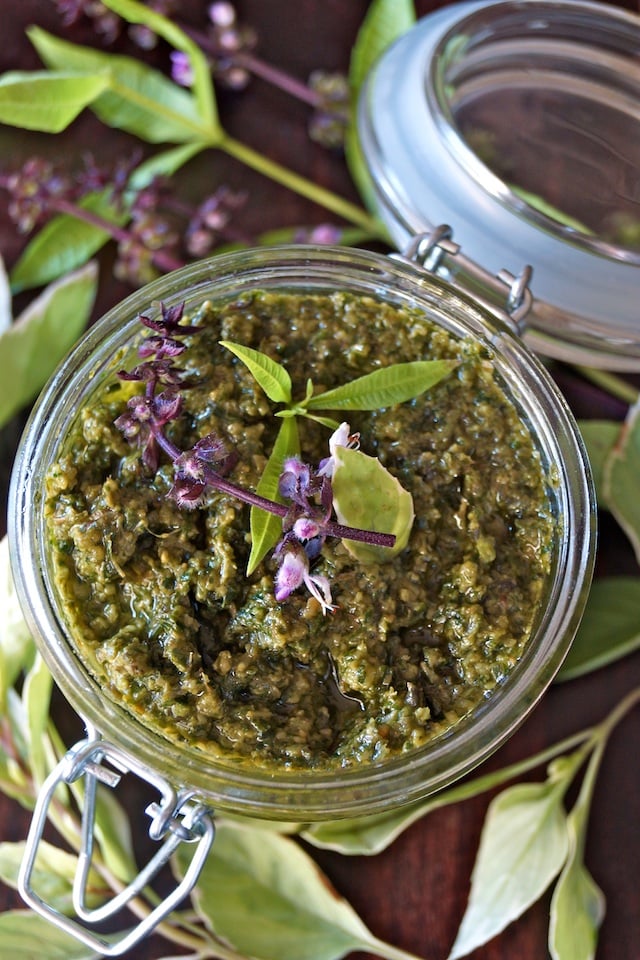 What is pesto?
Pesto is a thick Italian sauce, made with crushed basil leaves, pine nuts, garlic, Parmesan cheese, and olive oil.
Pesto sauce is typically served with pasta, but these days we see it in sandwiches, on pizzas, in soups, and the list goes on.
Pesto usually involves no cooking and is best when made with a mortar and pestle, and eaten when it's fresh. (Of course, for larger amounts, a food processor is okay, too! See below recipe. 😉 )
There are a lot of unique pesto recipes out there because over the years people have been experimenting with all sorts of other fresh green herbs, as well as leafy greens, like kale and spinach.
Enter Basil Lemon Verbena Pesto Recipe!
The same sweet 12-year old who grew the tomatoes in my Avocado Soft Boiled Egg Toast Recipe, is responsible for this gorgeous basil and lemon verbena.
These herbs are so pretty and their scent is over-the-top wonderful.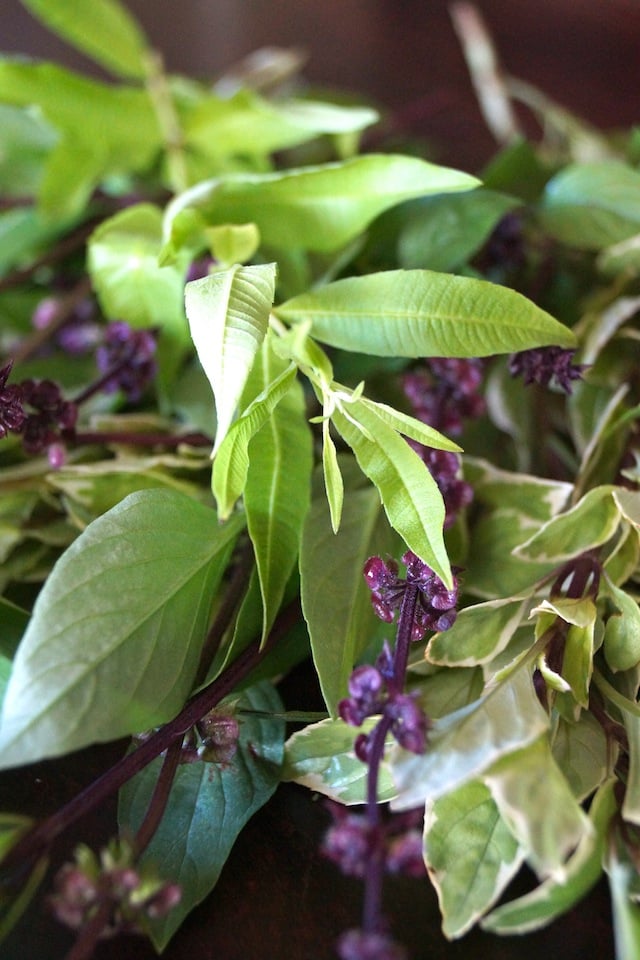 My son is the reason we have an herb and vegetable garden. It was all his idea and it's so awesome!
I find myself running out to grab a bundle of herbs almost every day.
What is Lemon Verbena?
Lemon Verbena is a South American shrub, with lemon-scented leaves.
The leaves are most commonly used for flavoring tea, but can also be used in all sorts of lemon verbena recipes.
Lemon verbena is so incredibly aromatic! If you gently rub the leaves, you will release the most lovely scent imaginable! The fragrance is captivating, relaxing and simply beautiful!
And how beautiful are these basil varieties?
I love the purple and pink flowers in the Thai basil. It's like a painting.
What is Lemon Verbena Pesto, and what are the ingredients?
Lemon Verbena Pesto is simply a twist on traditional basil pesto. With the addition of lemon verbena leaves, the pesto has a lovely, bright, lemony flavor. The ingredients are:
basil
lemon verbena
pine nuts
Parmesan cheese
garlic
salt, pepper, sugar
olive oil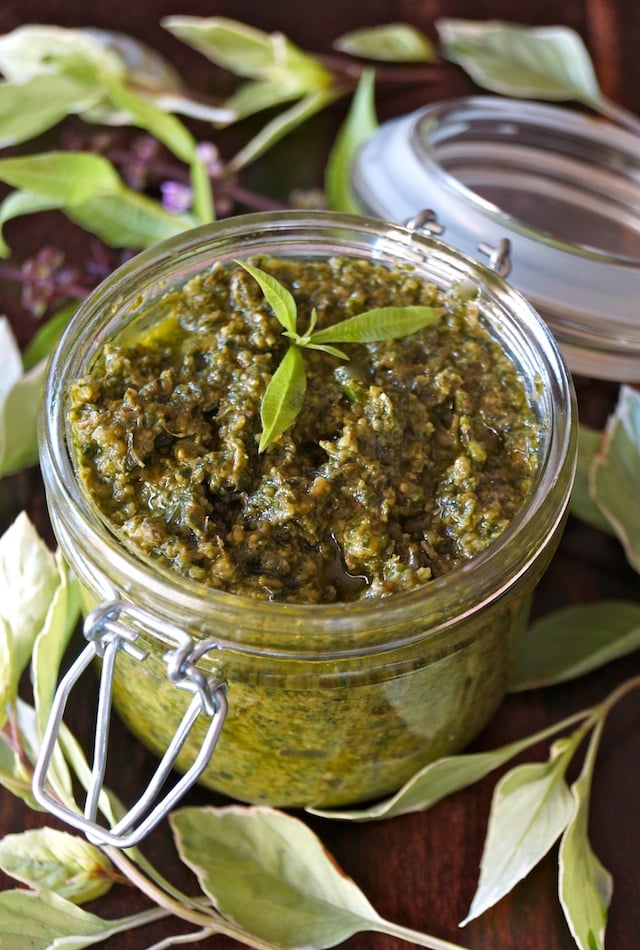 This pesto is super delicious on everything from fish and poultry to fruit and toast!
My gardener (reminder: sweet 12-year-old son), even dips chips into it!
A few more lemon verbena recipes:
A few more unique pesto recipes:
Enjoy!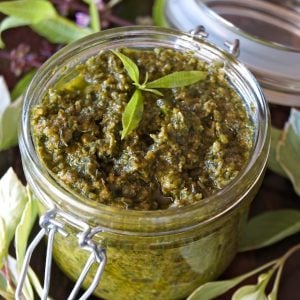 Lemon Verbena Pesto Recipe
This pesto is packed with fresh, intense and delicious flavors. The texture is smooth and creamy, and the fragrance is unbelievably divine!
*Makes approximately 3/4 cup
Ingredients
1/4

cup

pine nuts

5

cups

loosely packed basil leaves,

washed and dried (see notes)

approximately 2

dozen

lemon verbena leaves,

washed and dried

1/4

cup

Parmesan cheese,

finely grated

3

small

garlic cloves,

peeled, with root end trimmed off

1/2

teaspoon

granulated sugar

1/4

cup plus 2 tablespoons

extra virgin olive oil
Instructions
Add the pine nuts to a small sauté pan and place it over medium-low heat. Moving the pan around often, heat just until they're golden, aromatic and shiny, about 3 minutes. They will be shiny from the oils coming to the surface. (Be careful, as they can go from just right to too dark in seconds.) Set aside to cool.

Add the basil and lemon verbena to a food processor fitted with the blade attachment and blend until they're finely chopped.

Add the toasted pine nuts, Parmesan, garlic and sugar and blend until everything is mixed.

Then add the extra virgin olive oil and blend until it's a smooth mixture.
Notes
You can use any variety of basil you like. I used a combination of Thai Basil and Pesto Perpetuo Basil.
The pesto can be stored in an airtight container in the refrigerator for up to about a week.
Have you tried this recipe?
I'd love to see it on Instagram! Tag me at @cookingontheweekends or leave a comment & rating below.
Save
Save