Lemon Verbena Pesto recipe, a twist on traditional pesto, is packed with fresh and delicious flavors. The texture is smooth and creamy, and the fragrance is unbelievably divine! Recipes for lemon verbena are hard to come by, and this one is a keeper for sure!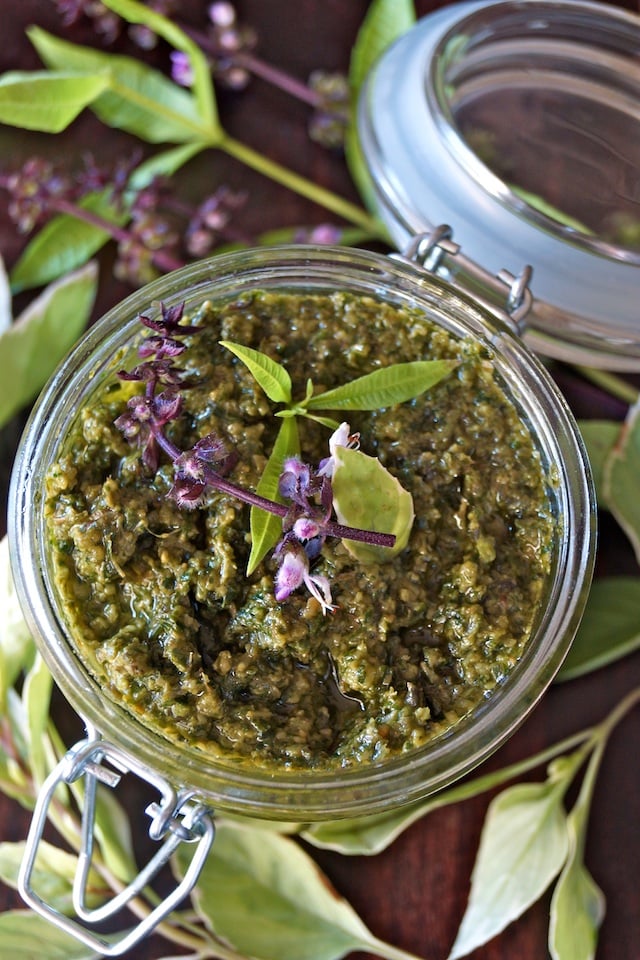 There are a lot of unique pesto recipes out there because over the years people have been experimenting with all sorts of ingredients, reinventing the classic basil pesto.
Recipes for lemon verbena begin with their scent, which is truly over-the-top wonderful.
The minute you open the Lemon Verbena Pesto jar, you'll be lured in by the aroma, and once you have a spoonful, the taste will keep you there.
Jump to:
The Ingredients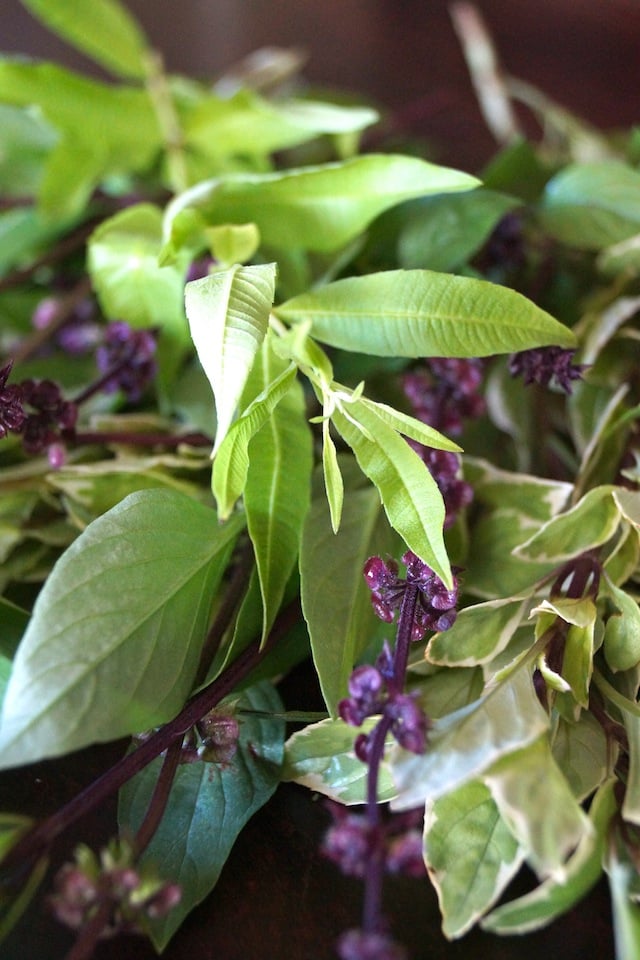 fresh basil leaves - Look for perky bunches and avoid any brown, bruised or yellow leaves.
fresh lemon verbena leaves - Lemon verbena has a hint of lemon that pairs perfectly with the basil. Again, look for perky bunches and avoid any brown, bruised or yellow leaves.
pine nuts - The pine nuts will be toasted before we add them to the recipe, to deepen their flavor and bring their oils to their surface.
Parmesan cheese - Use Parmigiano Reggiano if possible.
garlic - Look for firm heads of garlic without any soft spots or green shoots.
salt - I cook with Kosher salt because of its larger flake size, it usually doesn't contain additives, and it does a good job enhancing the flavor of foods without making them taste salty. (If you use table salt, use half the amount.)
black pepper - Preferably freshly ground.
sugar - Just a pinch.
extra virgin olive oil - I love this one.
(See recipe card below for quantities.)
Substitutions and variations
It's fun to experiment with different greens, fresh herbs and nuts. Here are a few ideas:
Lemon verbena and Basil. It's also fun to make basil with oregano, dill, mustard greens, spinach or kale. You can play with them on their own, or use combination of them.
Pine nuts. The pine nuts can be substituted with almonds, pecans, walnuts, cashews . . . really you can try just about any nut.
If someone has an allergy to nuts, it's also delicious to make pestos with seeds. Sunflower and/or pumpkin seeds would be super tasty.
Recipe Tips
The texture of the pesto will depend on how long you blend it in the food processor. This is one I like on the smoother side, but you can make it as smooth or chunky as you like.
When you're toasting the pine nuts, watch them carefully, as they can go from golden to burnt quickly.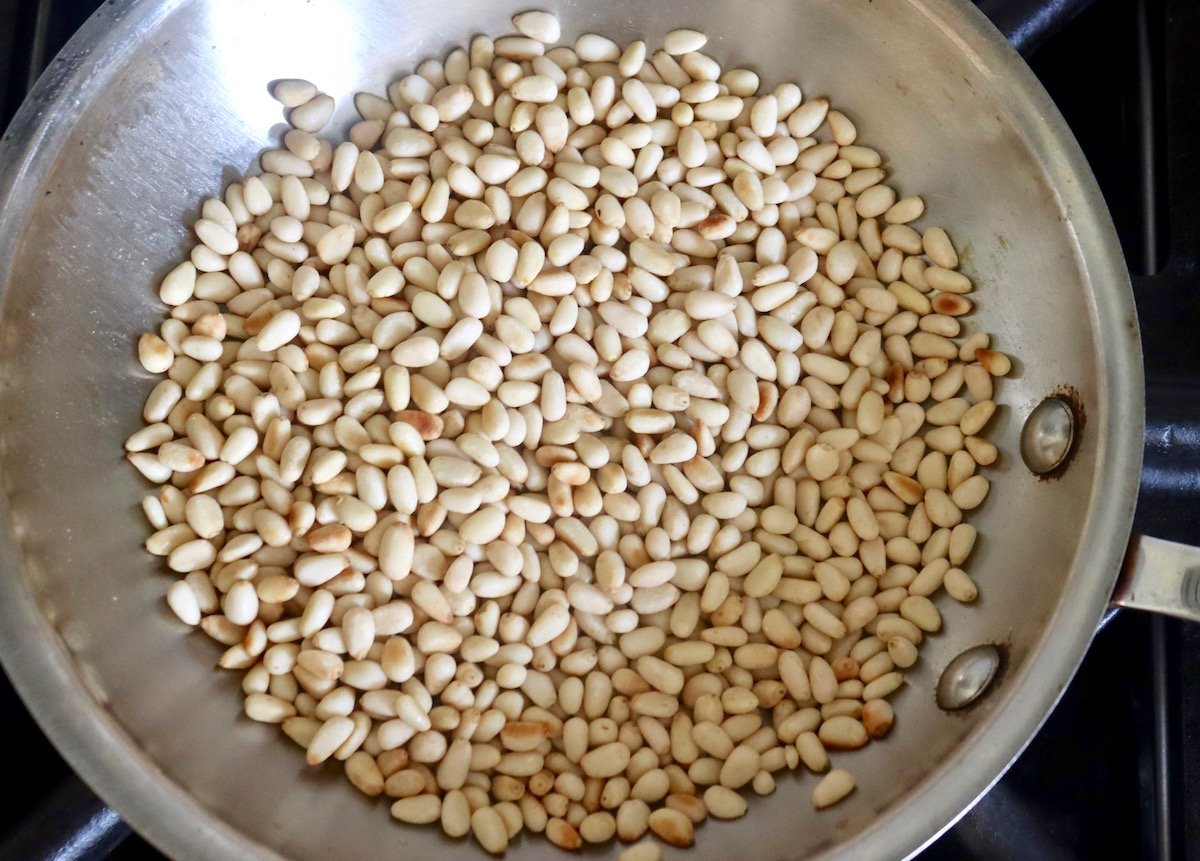 What is Lemon Verbena?
Lemon Verbena is a South American shrub, with lemon-scented leaves.
The leaves are most commonly used for flavoring tea, but other recipes for lemon verbena are becoming more popular.
Lemon verbena is so incredibly aromatic! If you gently rub the leaves, you will release the most lovely scent imaginable! The fragrance is captivating, relaxing and simply beautiful!
What is pesto?
Pesto is a thick Italian sauce, made with crushed basil leaves, pine nuts, garlic, Parmesan cheese, and olive oil.
Pesto sauce is typically served with pasta, but these days we see it in sandwiches, on pizzas, in soups, and the list goes on.
Pesto usually involves no cooking and is best when made with a mortar and pestle, and eaten when it's fresh. Of course, for larger amounts, a food processor is okay, too! See below recipe. 😉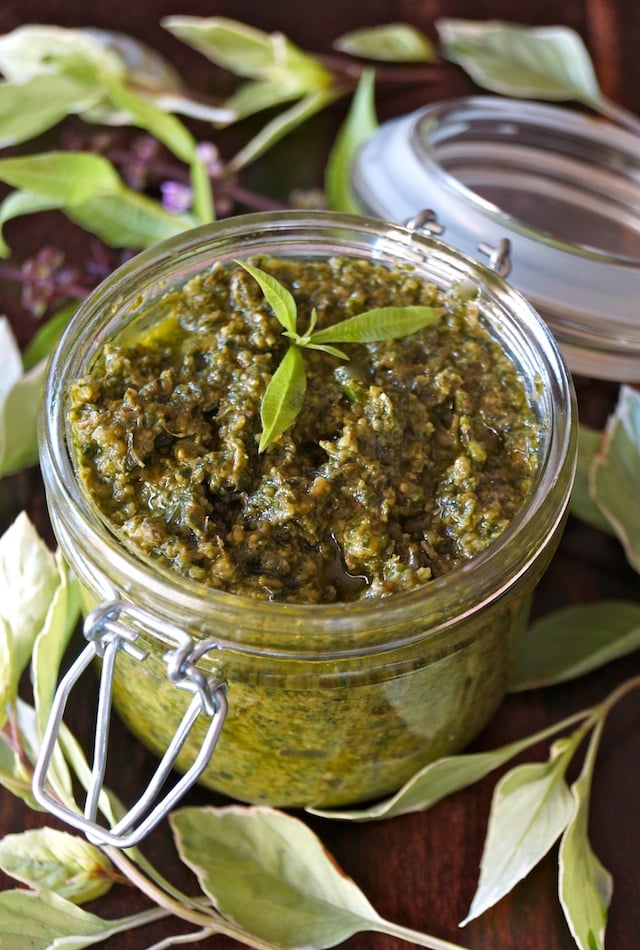 Serving Suggestions
Mix it with a little extra olive oil and it'll become an amazing pasta sauce.
Add extra olive oil and a touch of cider vinegar and use it as a salad dressing.
Bake fish with it.
Spread it on toast!
Serve it with veggies and crackers as an appetizer.
It's amazing on pizzas! Check out this Basil Pesto Pizza.
It's also excellent with eggs, especially mixed into scrambled eggs.
You can add it to sauces and soups.
Roast vegetables with it.
Add a layer of it to lasagna, or use it as the lasagna sauce.
It's a really delicious sauce for chicken, salmon and shrimp.
More Lemon Verbena Recipes:
I hope you love Lemon Verbena Pesto as much as I do!
Lemon Verbena Pesto
This pesto is packed with fresh, intense and delicious flavors. The texture is smooth and creamy, and the fragrance is unbelievably divine! *Makes approximately ¾ cup
Ingredients
¼

cup

pine nuts

5

cups

loosely packed basil leaves*

washed and dried

approximately 2

dozen

lemon verbena leaves,

washed and dried

¼

cup

Parmesan cheese,

finely grated

3

small

garlic cloves,

peeled, with root end trimmed off

½

teaspoon

granulated sugar

¼

cup plus 2 tablespoons

extra virgin olive oil
Instructions
Toast pine nuts. Add the pine nuts to a small sauté pan and place it over medium-low heat. Moving the pan around often, heat just until they're golden, aromatic and shiny, about 3 minutes. They will be shiny from the oils coming to the surface. (Be careful, as they can go from just right to too dark in seconds.) Set aside to cool.

Blend herbs. Add the basil and lemon verbena to a food processor fitted with the blade attachment and blend until they're finely chopped.

Add remaining ingredients and blend. Add the toasted pine nuts, Parmesan, garlic and sugar to the food processor, and blend until everything is mixed.

Then add the extra virgin olive oil and blend until it's a smooth mixture.
NOTES
*You can use any variety of basil you like. I used a combination of Thai Basil and Pesto Perpetuo Basil.
The pesto can be stored in an airtight container in the refrigerator for up to about a week.
Calorie count is only an estimate.
NUTRITION
Have you tried this recipe?
I'd love to see it on Instagram! Tag me at @cookingontheweekends or leave a comment & rating below.
Save
Save