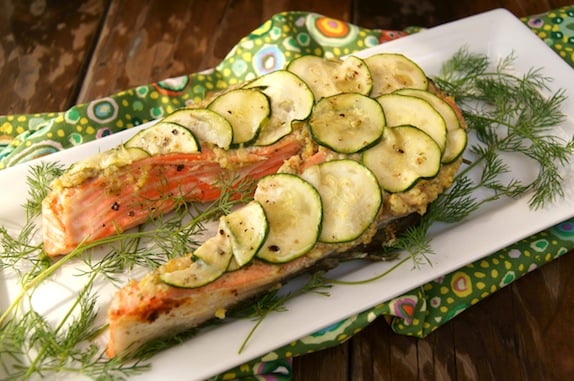 I'm generally pretty laid back.
I hang out in my sweats, I wear flip-flops or Uggs, and I love to have casual dinner parties on my sofa, where I serve a cozy one-pot meal!
While I didn't put heels on or anything, (let's not get too crazy), I did recently make a "fancy" dinner.  Oh, it's fancy alright.
This dish has beautiful layers!  Layers of delicious flavors and colors!  It's a work of art on a plate!
And plated it must be.
This isn't a serve-it-yourself type of dish.  Oh no, it's too pretty  and it's at its best just moments after cooking!
One of the "secret" ingredients in this glorious recipe is my Lemon Caper Pesto.  It's lovely to have on hand, whether or not you're using it in a recipe.  I love it on toasted French bread.
And this salmon should be treated with great respect!  After all California Wild-Caught King Salmon are harvested using "trolling."  Trolling is an environmentally friendly fishing method — the fish are caught one at a time with barbless hooks.  Using trolling, fish that might be too small or the wrong species can easily be returned to the water, unharmed.
Now let's plan our fancy dinner party!  I might even set the table for this one!
California King Salmon with Lemon-Caper Pesto and Zucchini
Ingredients
2

3/4-pound California King Salmon steaks -- about 1 to 2-inches thick

3

tablespoons

Lemon-Caper Pesto

here's the recipe!

About 1/4-pound zucchini

sliced into very thin rounds

Olive oil

Sea salt and freshly ground black pepper
Instructions
Preheat the oven to 400 degrees F.

Drizzle a bit of olive oil on a baking sheet and place the 2 salmon steaks on it. Spread about 1-1/2 tablespoons of the

Lemon-Caper Pesto

, evenly on top of each steak.

Layer the thin zucchini slices on top of the pesto, pressing them very gently so they "stick."

Use pastry brush, or drizzle a bit more of the olive oil over the zucchini slices -- so they shine.

Sprinkle lightly with salt and pepper and place in the 400 degree F oven and bake just until the salmon is cooked, 7 to 9 minutes. It should still be slightly translucent in the center.

Let it cool for a few minutes and then cut each of the steaks down the middle to create 4 portions.

Serve immediately!
Recipe Notes
While fancy, this recipe is easy! Make the pesto the day before and this dish will only take a short time to prepare!
Of course you could also make this with fillets -- dare I say that it might be even fancier! (The cooking time might be a bit less for fillets.)
This is not a sponsored post.
Save
Save